There are a lot of misconceptions about travel that we could spend hours debunking. One of the most common complaints out there, of course, revolves around money. Many travelers may think that a beach getaway, romantic European trip, or a journey through Asia will break the bank. This is, perhaps, no truer than when people talk about Caribbean vacations. To be fair, the region is packed with over-the-top, luxurious beachside properties that are the exclusive province of the rich, famous, and infamous. However, you should know that there are tons of all-inclusives that pack in style, substance, and amazing Caribbean vibes without the same luxury price tag. Here are a handful of luxurious Caribbean all-inclusive resorts and their cheaper (but similar) alternatives.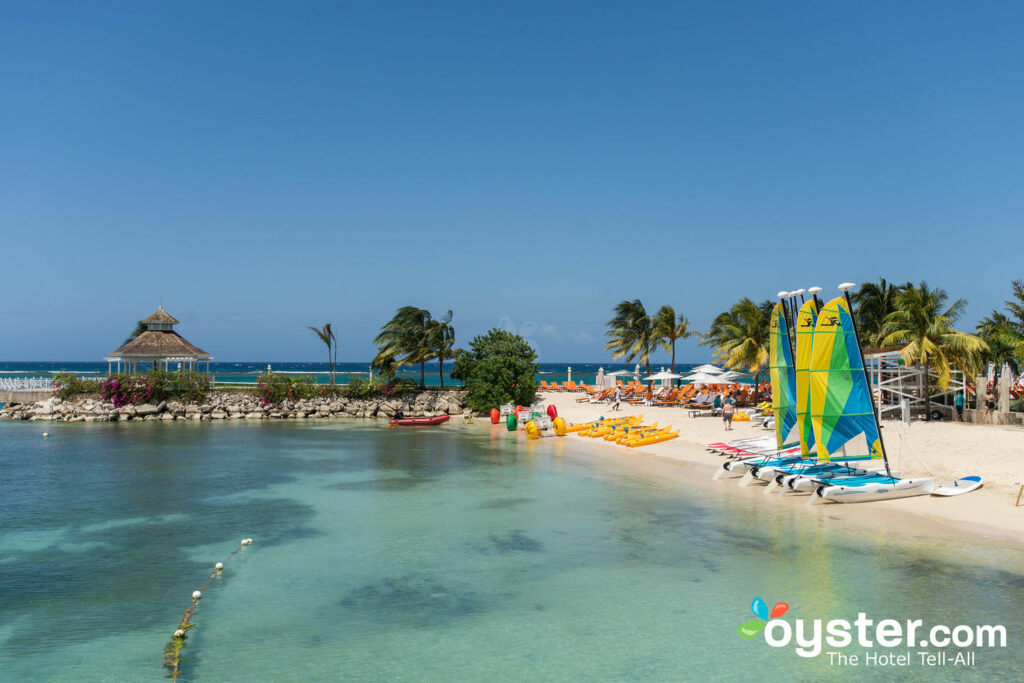 When it comes to all-inclusives, it doesn't get more classic than a mega-resort. These behemoths often feel like bustling cities unto themselves, giving travelers little reason to leave during the entirety of their vacation. And while there's no shortage of massive resorts in the Caribbean, truly luxurious all-inclusive mega-resorts aren't all that common. That's where the Moon Palace Jamaica Grande comes in. Situated outside of Ocho Rios, this sprawling 700-plus-room property is packed with features. Those include surf simulators, a massive spa, multiple restaurants and bars, several pools, and a private beach. Renovations in 2015 gave everything a nice dash of modern polish, though it's unlikely you'll be spending much time in your rooms. Families with kids can take advantage of indoor and outdoor activities, including water sports, and at night, there are clubs and slick bars for the adults.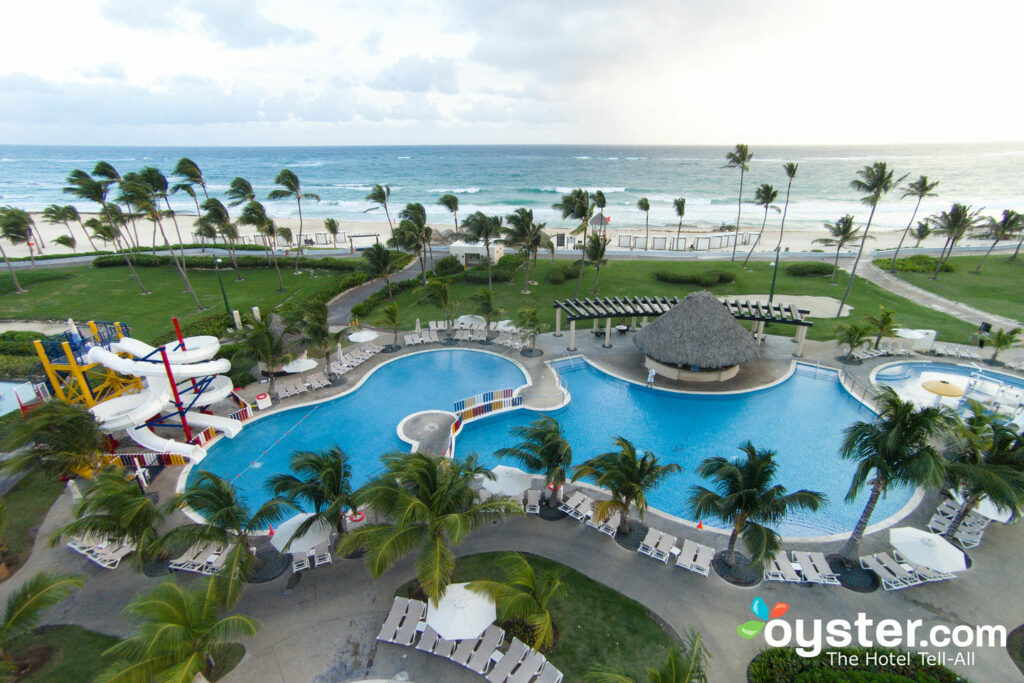 With over 1,700 rooms and features that would make even a Las Vegas hotel blush, the Hard Rock Hotel & Casino Punta Cana is one of the biggest resorts in this part of the world. It also happens to pack in a ton of quality extras that have broad appeal for travelers of all stripes — provided you don't mind sharing your getaway with thousands of other guests. While the brand name might have you thinking twice — and worried about party-hard revelers screaming until dawn — the property deserves attention. It's one of the nicest resorts in Punta Cana, with fresh and modern decor throughout, plus perks like a large casino (by Dominican Republic standards), a nightclub, and live entertainment. There's a large beach (though seaweed can be an issue here), while 13 pools mean that there's plenty of space for everyone to get wet and have fun. And that includes a kids' pool with waterslides. While this is by no means a cheap hotel, you'll spend less than half as much on a night here compared to the Moon Palace.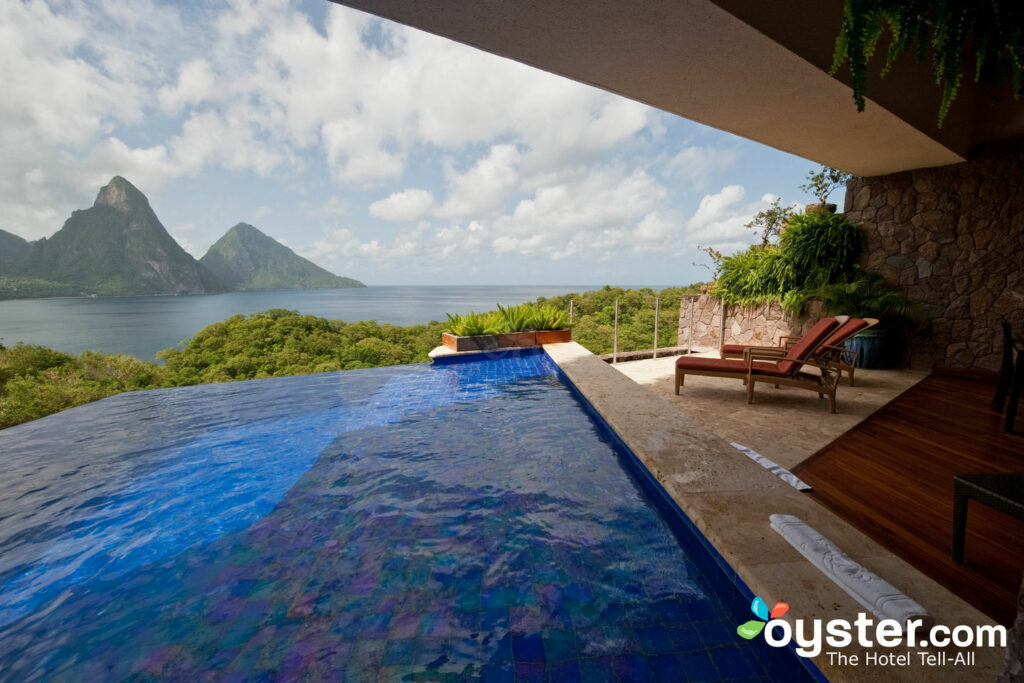 One look at Jade Mountain Resort is enough to explain why this is one of the most impressive all-inclusive properties in the world. Facing the iconic Pitons of St. Lucia and the overlooking the Caribbean waters, the resort has a setting that can only be described as dramatic. And while the natural surroundings are certainly a marvel, the hotel itself is an exercise in high design and style. Open-air marble walkways soar over the jungle below; private infinity pools seem to plummet to the depths below and reflect back the dazzling sky; and subtle natural materials are used at every turn to make this a perfect island escape. Its intimate size — at just 29 suites — also makes this one of the most romantic properties in the region. Rates are easily some of the highest in St. Lucia and the Caribbean as a whole.
It's nearly impossible to score an all-inclusive near St. Lucia's Pitons without shelling out a lot. However, there are some more affordable alternatives on the island that tick the boxes for a tranquil, romantic, and secluded boutique escape. Stonefield Estate Villa Resort & Spa fits the bill for all of those, and adds an all-inclusive option, making it a great alternative to the Jade Mountain Resort. Rates here are often a third of what you will pay at Jade Mountain, and yet there are still cliffside private pools, amazing jungle and mountain vistas, and many rooms displaying Pitons views. Also like Jade Mountain, the rooms here are somewhat unplugged (lacking TVs for peace and quiet). You will be making some trade-offs, though: The style isn't quite as fresh as that found at Jade Mountain, but the country-style rustic charm still makes this a popular option for travelers who like their boutique properties kid-free, romantic, and quiet.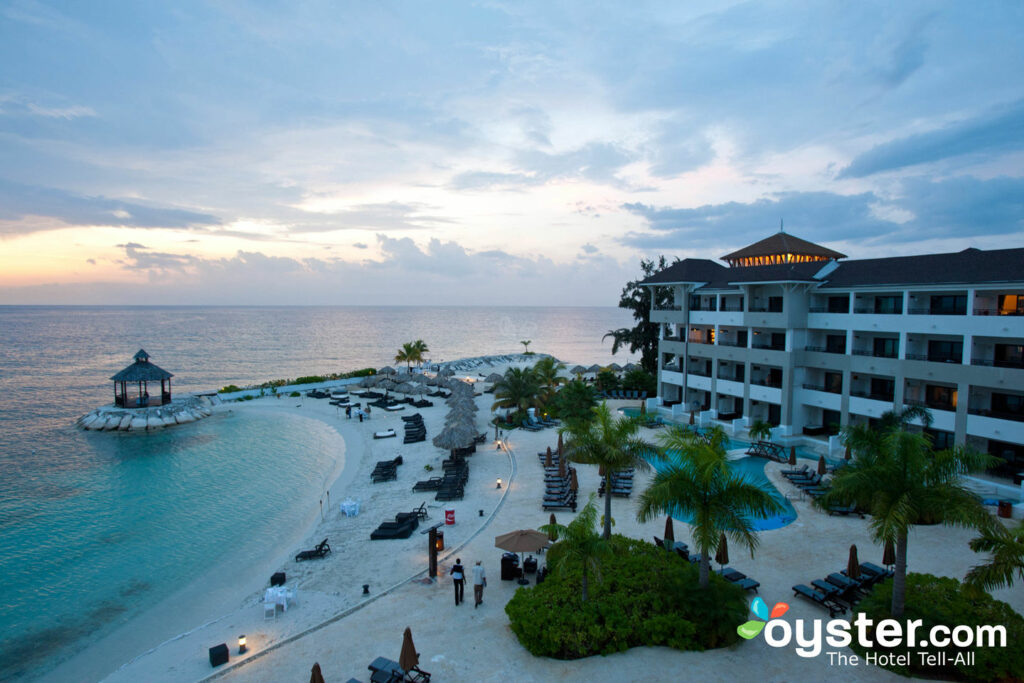 Secrets is certainly no secret when it comes to adults-only escapes, and this luxury chain has been drawing heart-eyed honeymooners for years. The Wild Orchid outpost is one of the nicest in the chain's roster, and has an especially exclusive vibe thanks to its setting on an essentially private peninsula. That means that its beach stays blissfully free of vendors and other vibe-disrupting distractions. The property excels at offering something for everyone, with a spa, pools, a casino, bars, beachfront parties, a theater, and secluded corners. There are numerous dining options on-site, and the rooms have a classic, yet modern, finish that often includes details like four-poster beds or swim-out terraces. The resort is pricey for even average visitors, yet it's the Preferred Club here that scores the most freebies and exclusive atmosphere — an extra that's even more expensive.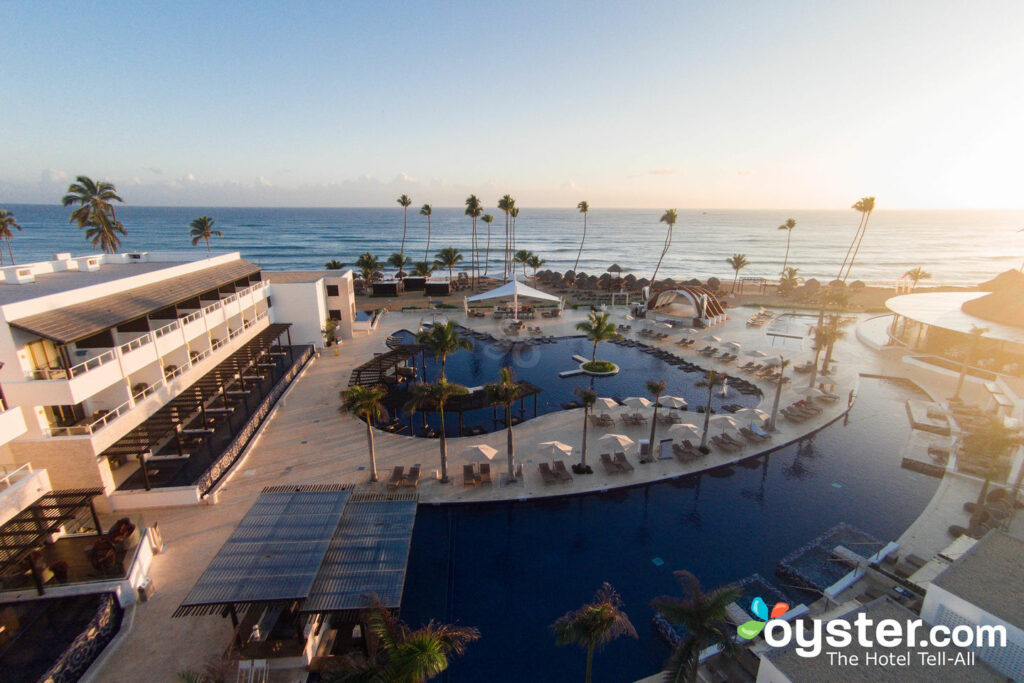 For quality and price, travelers seeking a good-value all-inclusive getaway will generally have better luck looking in the Dominican Republic than in Jamaica. That advice holds true for those looking for an adults-only property as well. While Punta Cana has a party-hard reputation, there are a number of newer resorts that still offer a lively vibe, while upping the atmosphere a notch with creative dining, swish rooms, and posh extras. As such, CHIC by Royalton Luxury Resorts is a stellar alternative to the pricey Secrets resorts, like the Wild Orchid above. Decor is on the edgy side, with bright pops of color, and competing angular and naturalistic forms throughout the property. There's also a lively poolside scene, a beautiful stretch of beach, and an excellent dining program. Each of the restaurants has its own distinct atmosphere and menu, including Middle Eastern, Italian, and sushi. All in all, this makes for a nicely balanced vacation that won't completely destroy your bank account.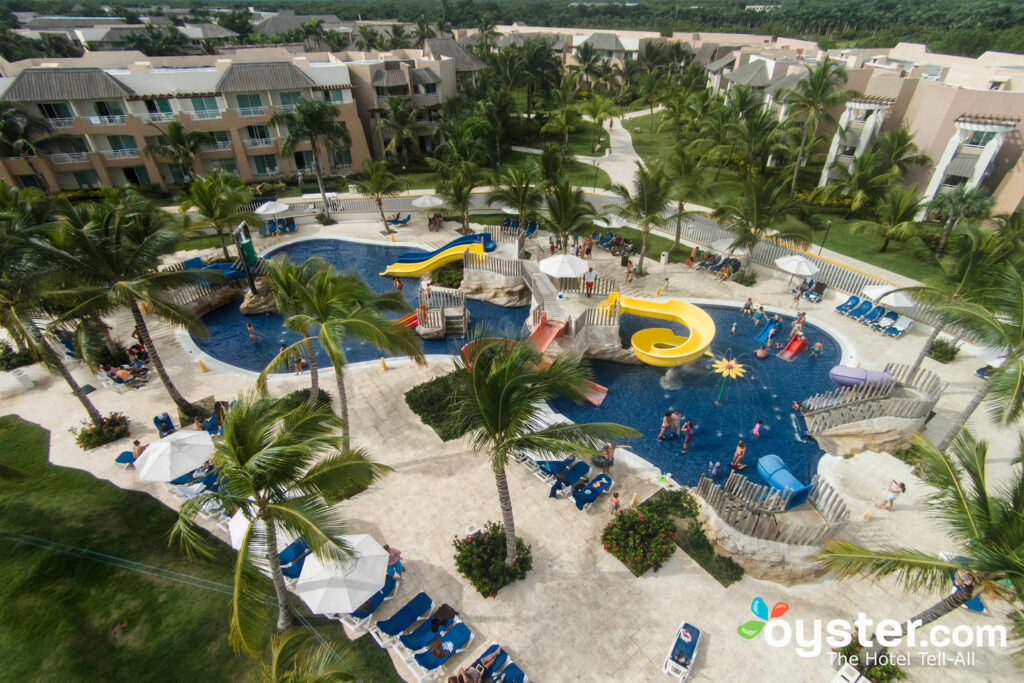 When you think of an all-inclusive resort, the kind of package that's offered at Memories Splash Punta Cana might be what comes to mind. With over 500 rooms, a number of bars and restaurants, pools, and a theater for evening entertainment, Memories packs a lot of amenities into one place. It also has the largest water park in the Caribbean, making it a prime destination for families. This includes waterslides, a wave pool, and a splash pool for the tiniest travelers, though there are also teen and kids' clubs for those with children who'd prefer to stay dry. Rooms are fresh and modern, and the all-inclusive rates cover buffet and a la carte dining. Since few other resorts in the Dominican Republic offer the same kid-friendly features, the resort's rates can be high, and it's worth noting that it's not directly on the beach.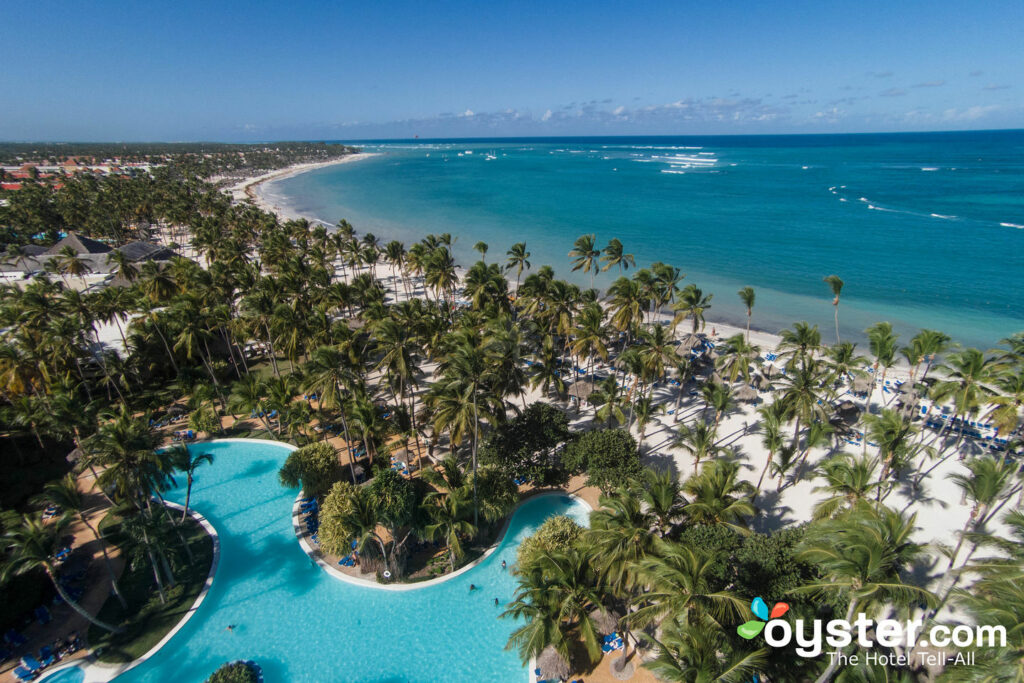 With rooms that are bright and contemporary, all-inclusive rates that cover most (but not all) dining and drinks, and a number of kid-pleasing extras, the Melia Caribe Tropical is a solid alternative to the pricey rates at Memories Splash Punta Cana. And what's more? The Melia sits right on one of the prettiest slices of beach in the Punta Cana region. It's nearly twice the size of Memories, and has sections that help keep couples and families separate so that everyone can enjoy exactly the kind of vacation that they're seeking. To be clear, this Melia can be a bit over-the-top when it comes to decor — some spots look a bit gaudy — but the overall package is attractive. Family-friendly rooms can fit up to five guests. While this resort doesn't have the water park at Memories, there are multiple kids' clubs, activities like zip-lining, and family-appropriate entertainment in the evenings. The rates — often half to a third of what Memories costs — also sweeten the deal.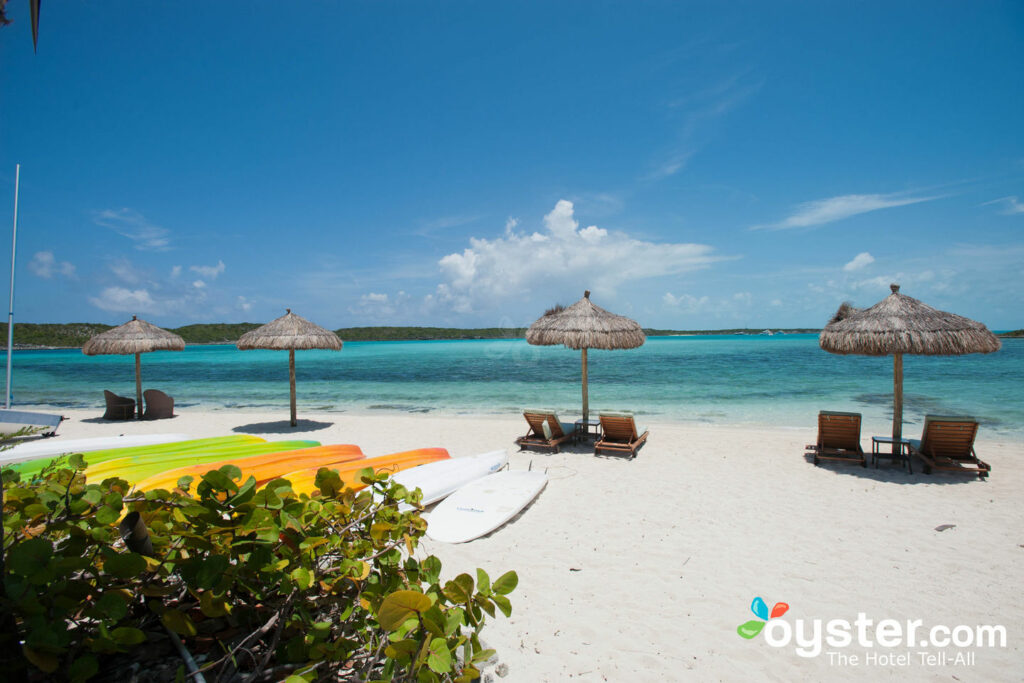 There's nothing quite like tranquil blue seas, white sand, and a barely inhabited island to conjure up images of rest and relaxation. Fowl Cay Resort, in the Bahamas, is one of the most exclusive and secluded resorts in the archipelago. For starters, it's the only resort — in fact, the only anything — to be found on Fowl Cay. And with only 28 guests on the island at any one time, you'll have plenty of blissfully chilled-out beaches and starry nights (almost) all to yourself. There are numerous activities included in the resort's rates, including water sports, tennis, biking, and snorkeling, and each of the private villas comes with its own private boat. Evening cocktail hours are a tranquil affair, and every meal comes in three courses. The villas range from one to three bedrooms and include details like elegant antique furniture and natural and hardwood accents. Some also feature extras like private pools. The island is a 10-minute boat ride from its nearest neighbor, and the Exumas in general are only accessible by limited daily charter flights. The price? Well over $1,500 per night, even in low season.
Scoring your own semi-private island along with modern style and sleek perks doesn't come cheaply. However, if you're willing to sacrifice a bit of polish, the Luxury Bahia Principe Cayo Levantado is a convincing and more wallet-friendly alternative to what's found in the Bahamas. While the Dominican Republic isn't always known for its quiet all-inclusive options, this Luxury Bahia Principe maintains a tranquil away-from-it-all vibe. It's a 15-minute boat ride from Samana, which is one of the D.R.'s least developed provinces. Tucked into its own island's tropical landscape are multiple pools and dining options, as well as spacious rooms with pleasant decor and huge balconies. The food and dining options here, while included, aren't stellar, but keep most guests happy for a week or so. Little touches like cigar rollers and a gorgeous beach also add to the value.
You'll Also Like:
All products are independently selected by our writers and editors. If you buy something through our links, Oyster may earn an affiliate commission.