Part of a French hotel chain known for its stylish, affordable properties, the mid-range Acadia stands out for its excellent location within a 20-minute walk of several top attractions — including the Louvre, the Opera, and the Palais-Royal — as well as for its sleek interiors and many freebies. The hotel's 36 rooms have simple, chic decor, along with coffeemakers, air-conditioning, high-end Omnisens bath products, free Wi-Fi, and minibars stocked with free non-alcoholic drinks. The list of free items doesn't stop there, though. The hotel also offers a hot breakfast with fresh fruit and pastries plus evening social hours with snacks and non-alcoholic beverages in the lobby — both at no extra charge. Oh, and kids up to two years old stay for free. With a similar price range and central location, Hotel George -Asotel and Hotel Lorette Opera – Asotel are also excellent picks.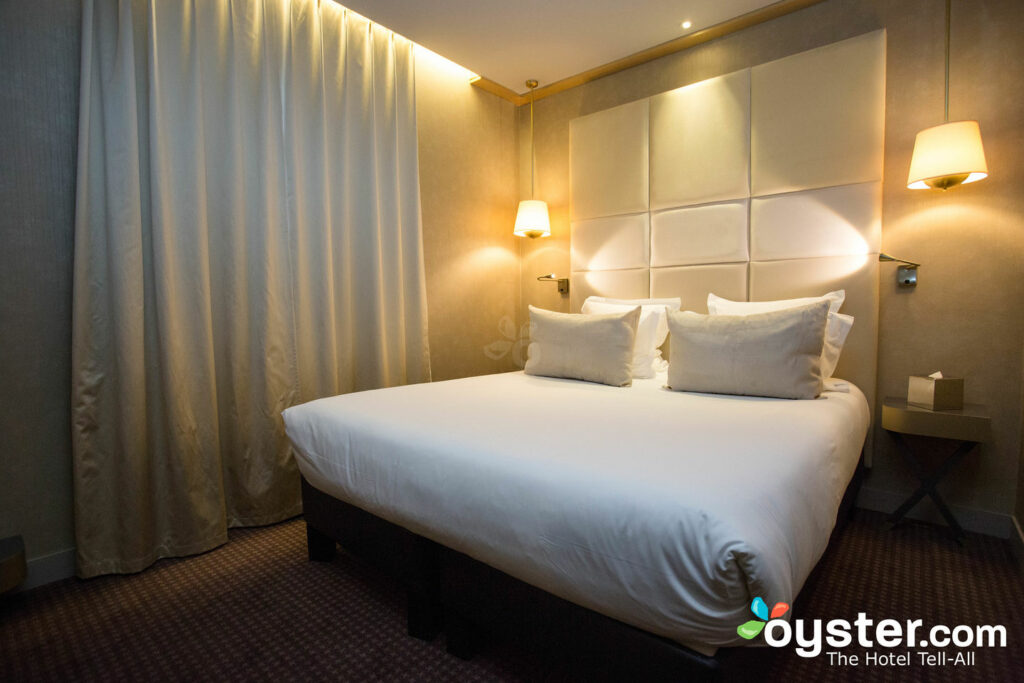 Located in a quiet area about a 15-minute walk north of the Arc de Triomphe, the Armoni is a great pick for travelers who don't mind taking public transport to most major attractions in the city center. While the 17th-Arrondissement location may not seem ideal for some, the property is a three-minute walk from the metro and is among the most affordable boutiques in the neighborhood. As is to be expected in Paris, rooms are small, but they come with amenities that are a notch above your typical three-pearl Paris hotel: Apple Mac Minis connected to flat-screen TVs, free access to a huge array of online newspapers, marble bathrooms with L'Occitane toiletries, minibars, and free Wi-Fi. The honesty bar in the lobby is open 24/7 and offers Champagne, coffee, wine, beer, and snacks, plus room service is available in the evening until the wee hours.
The Maison Albar is a great pick for those seeking luxury at a relatively low price point. It is situated right next to the Arc de Triomphe, the swanky Champs-Elysées, and the Charles de Gaulle metro station, making it a good base to explore many of the city's top attractions. The property is home to 40 sophisticated rooms with bold, posh decor, including black wooden furniture, chandeliers, sexy ceiling mirrors, and silhouette murals on walls. All units come with rain showers, iPod docks, free Wi-Fi, and Nespresso machines, and some have jetted tubs and/or views of the Arc de Triomphe. The on-site cafe serves solid Mediterranean cuisine for lunch and dinner, along with a well-reviewed breakfast buffet with cooked options. There is a tiny fitness center with two machines and free weights, but those looking for a property with an on-site spa may want to compare rates at the nearby Hotel Les Jardins de la Villa.
The list of perks available at Les Matins is outstanding for a three-pearl boutique in central Paris. For starters, get free access to a small spa with a whirlpool and hammam, there is a knowledgeable concierge always at hand, and 24-hour room service and a wine bar with snacks and drinks are also on offer. Rooms are colorful and modern, with free Wi-Fi, Fragonard toiletries, cable TV, walk-in showers, and minibars. Deluxe units add terraces and robes. The property is within walking distance of some of Montmartre's top attractions, including the Sacré-Coeur and Moulin Rouge, plus the Saint-Georges metro stop is just a three-minute walk away. An excellent breakfast is provided for a fee.
The Hotel Basss fits the bill for young (and young-at-heart) travelers seeking something simple, clean, and convenient. It's located within easy walking distance of all of Montmartre's top attractions as well as of two metro stations — Abbesses and Blanche — allowing for easy access to all of Paris. Its 36 industrial-style rooms are compact, which is common in Paris, but all come equipped with great amenities, such as flat-screen TVs, air-conditioning, electric kettles, and free Wi-Fi. Some even have balconies overlooking the picturesque streets. While the wonderful breakfast with fresh orange juice, crepes, charcuterie, and cheeses is only included in some rates, Nespresso coffee and cake are served in the lobby every day free of charge. Additionally, the small patio is a good spot for a quiet drink away from the hustle and bustle of Montmartre.
Located within easy walking distance of the Louvre, Place Vendome, Galeries Lafayette, and Palais Garnier, the charming, 47-room Lyric Hotel Paris is a solid pick for travelers seeking a small, luxury hotel in the heart of the city center. It's not a cheap option, but rates are lower than at most other upscale properties in the area, plus its features are comparable to those found at more expensive hotels. Amenities include a 26-foot heated indoor pool placed under a skylight, and a small spa complete with a sauna, steam room, compact gym, and massage services. Ballet- and opera-themed rooms are modern and cheerful, featuring free Wi-Fi, minibars, electric kettles, and Omnisens toiletries. Deluxe units come with balconies, too.
Travelers looking for a luxury hotel in Paris will be hard-pressed to find a better deal than the Molitor. The property is a half-hour metro ride from the city center, but it offers such a huge array of amenities that most guests don't mind the trek. In addition to its fascinating history (the 1929 property was originally a public pool and then an art gallery), the Molitor is home to some of the most spectacular pools — both indoor and outdoor — you'll see in the City of Lights. The 1,700-square-meter Clarins spa is another highlight, offering salon services, massages, a hammam, and a sauna. Opened in 2017, the yoga studio draws locals and guests with a range of daily classes (for a fee), and the hotel hosts cultural events year-round. Rooms have a subdued, minimalist style and feature excellent amenities, including 40-inch TVs, robes and slippers, Bose docks, Nespresso machines, and free Wi-Fi. To top it off, the brasserie and the wine bar serve top-notch food.
Decked out in decadent silks, dark velvets, and painted wood, Maison Souquet transports guests back to the days when the property was a brothel — but a swanky one at that. While the "pleasure house" theme may not be for everyone, this boutique ticks all the boxes for a luxe stay. Its 20 guest rooms are outfitted with high-end amenities such as Hermes toiletries (including small bottles of perfume), smart TVs, minibars, and personal butler service. The room rate includes one-hour private access to the underground spa, which features a small pool, private hammam, and treatment room. In-room massages are also available on request. The lovely winter garden offers an excellent breakfast for a fee, and the lounge is a great spot for a quiet afternoon, thanks to its fireplace, games, and a food and drink menu. Room service is available 24/7.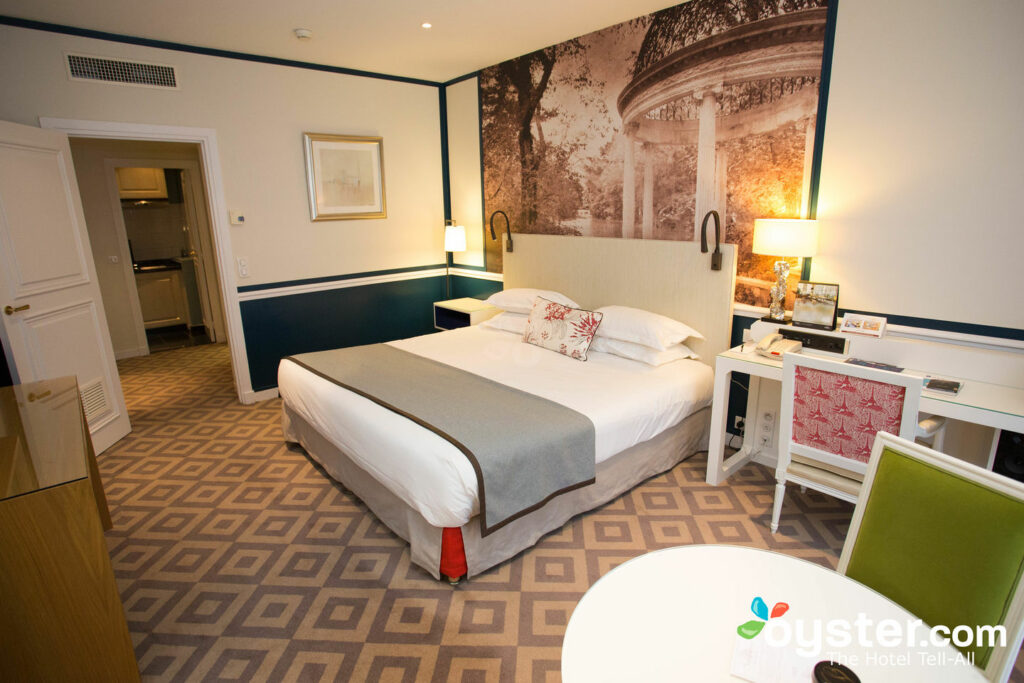 Housed inside a beautiful 1914 building with an ornate sandstone facade, the Fraser Suites Le Claridge Champs-Elysées makes a stunning impression before you even step inside. That's to say nothing of its prime location, right on Paris' iconic Champs-Elysées, close to shops, cafes, the metro, and more. Inside, 110 apartments are huge, especially by Paris standards, and come with full kitchens. Bonuses include free Wi-Fi, a 24-hour fitness center, and free-to-use laundry room. A breakfast buffet is also served, though there's no on-site restaurant or bar.
Originally used as a hostel for boys attending the military school across the street, Hotel Duquesne Eiffel's most valuable asset might be its address — the small, 7th-Arrondissement hotel is located within walking distance of the Eiffel Tower and Musee d'Orsay. The best rooms — located on the top floors — even showcase fantastic views of the iconic tower. No matter which room you book, though, you'll have access to flat-screen TVs, minibars, and loaner phones to use while out and about. Plus, the 24-hour lobby lounge serves premium whiskies and half-bottles of wine, and breakfast (for a fee). is served in the building's original stone vault.
The 57-room Hotel Indigo Paris is located in a quiet, pedestrian-only area in central Paris, but that's not the only thing drawing guests — couples, families, and businesspeople — in. The rooms here are some of the most spacious for the price point in the posh Opera neighborhood. Each one comes with loaner smartphones, bathrobes and slippers, and minibars with free soda, juice, coffee, tea, and waffle cookies. Breakfast is also free for every two guests, and a la carte lunch and dinner are available during the day. Another highlight is the hotel's terrace on a traffic-free street — perfect for a happy hour drink or two.
Renovated in 2018, Hotel du Cadran Tour Eiffel occupies a coveted stretch of real estate near the Eiffel Tower and within easy walking distance of shops and the metro. Location aside, the boutique hotel's rooms are stylish and equipped with flat-screen TVs, minibars, free Wi-Fi, and modern bathrooms. The private spa area that only guests can book is a great perk, as is the vaulted-cellar breakfast room. The breakfast buffet gets good reviews (guests have the option of adding it to their rates).
This Holiday Inn offers great value in the typically pricey St. Germain Des Pres neighborhood. For starters, the mid-range hotel sits within a 10-minute walk of the Montparnasse Tower and Luxembourg Gardens, as well as near several metro stations, making it easy to explore the rest of the city. Flat-screen TVs, free coffee and tea, and free Wi-Fi come standard in the 134 rooms, and extras like free mineral water, bathrobes, slippers, and sofa beds come with upgrades. Rooms also stand out for their double-glazed windows that actually open. Some room rates also include a rather extensive breakfast buffet.
The 45-room Le Parisis Paris Tour Eiffel may be small, but it has a number of great features: a fitness room, a sauna, and a glass-roofed lounge where hot breakfast is served every day, to name a few. Rooms are soundproofed against street noise, and have contemporary decor, Nespresso machines, Handy phones for free data, and LED TVs. The majority also offer views of the Eiffel Tower, and rates can include free breakfast. Plus, the fact that the property is within walking distance of the Eiffel Tower only adds to its overall value.
Situated in Paris' Latin Quarter, near the Pantheon, Notre Dame, and the metro, Hotel Atmospheres blends in on its street of classical Parisian buildings. Inside, however, the mid-range hotel breaks from tradition, with ceilings boldly painted in shades of black and red. The rooms are soundproofed and come with slippers and minibars; the suites add bathrobes and Nespresso machines. Guests can also tack on breakfast. A fitness room with a free-to-use sauna and hydro-massage bed (unusual for a Paris property), as well as an honesty bar in the lobby, round out the offerings.
Attracting hip and trendy travelers, the 172-room Hoxton in central Paris focuses on super-cool design and fostering a social atmosphere. As such, guests will find a series of cool hangout and work spaces. This includes an indoor/outdoor entrance area (where locals and guests work, read, and take informal meetings) as well as Rivie, the hotel's all-day restaurant, bar, and lounge (also open to non-guests). The latter is especially popular for weekend brunch — prepare for long lines. Meanwhile, rooms feature herringbone oak floors and minimalist-chic decor, as well as amenities like flat-screen TVs, vintage-style radios, and boutique toiletries.
You'll Also Like: