Portugal has noticeably emerged from Spain's shadow, drawing visitors with its vibrant cities, quaint coastal towns, scenic coastline, and stunning architecture. Located on the southwestern portion of the Iberian Peninsula, bordering the Atlantic Ocean to the west and south, the country has also been gifted a mild climate that makes for enjoyable visits year-round. Below, we've created a 10-day itinerary that takes in Portugal's main cities, historical sites, and idyllic beaches at a modest pace. If you have more time, consider extending your trip to visit other top destinations in Portugal.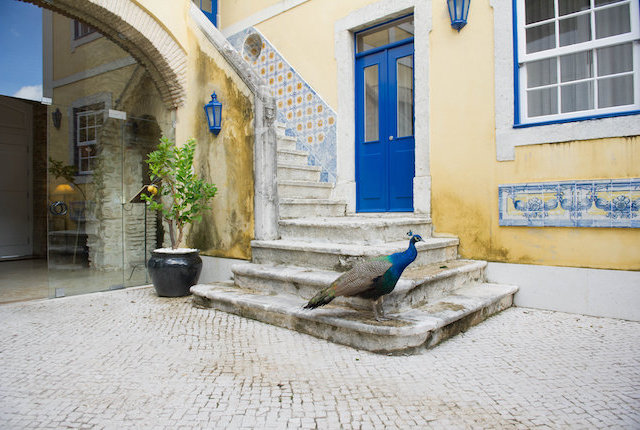 Lisbon, Portugal's bustling capital, is the most practical point of entry, thanks to numerous airlines offering service from cities in North America and across Europe. It's also the beating heart of this relatively small nation, blending contemporary city life with a gorgeous historical cityscape. Lisbon doesn't have a laundry list of must-see attractions, but a proper visit to the Portuguese capital calls for strolling around the cobblestone lanes in the Alfama neighborhood. This is Lisbon's oldest district, and is teeming with colorful facades, laid-back cafes, and charming little plazas. These narrow alleyways must be traversed on foot, but Lisbon's trams help navigate the city's seven hills. Take Tram 28 to explore the main thoroughfares of the Alfama and beyond in comfort. Later in the afternoon, when the crowds have dwindled, make the climb up to São Jorge Castle — an impressive Moorish castle with ruins of the former royal palace. Between the castle's ramparts and 11 towers, there are plenty of amazing views of the city below.
For dinner, descend from São Jorge Castle and head to the Bairro Alto neighborhood, home to scores of cafes, bars, and restaurants. The Insólito offers innovative Portuguese fare in an eclectic setting with panoramic views of Lisbon. A former Bairro Alto mainstay, Pap'Açôrda, has relocated its operations just south inside the Mercado da Ribeira. Despite its expansion, you'll still want to make a reservation to sample acorda, a special shellfish stew. The Portuguese dine on the later side, so plan to eat after 8 p.m. at the earliest.
Where to Stay: Located in the Alfama area, within the walls of the medieval village surrounding São Jorge Castle, Solar Do Castelo Hotel's setting is hard to beat. Plus, the property features much of the original architecture and includes a terrace where resident peacocks roam around.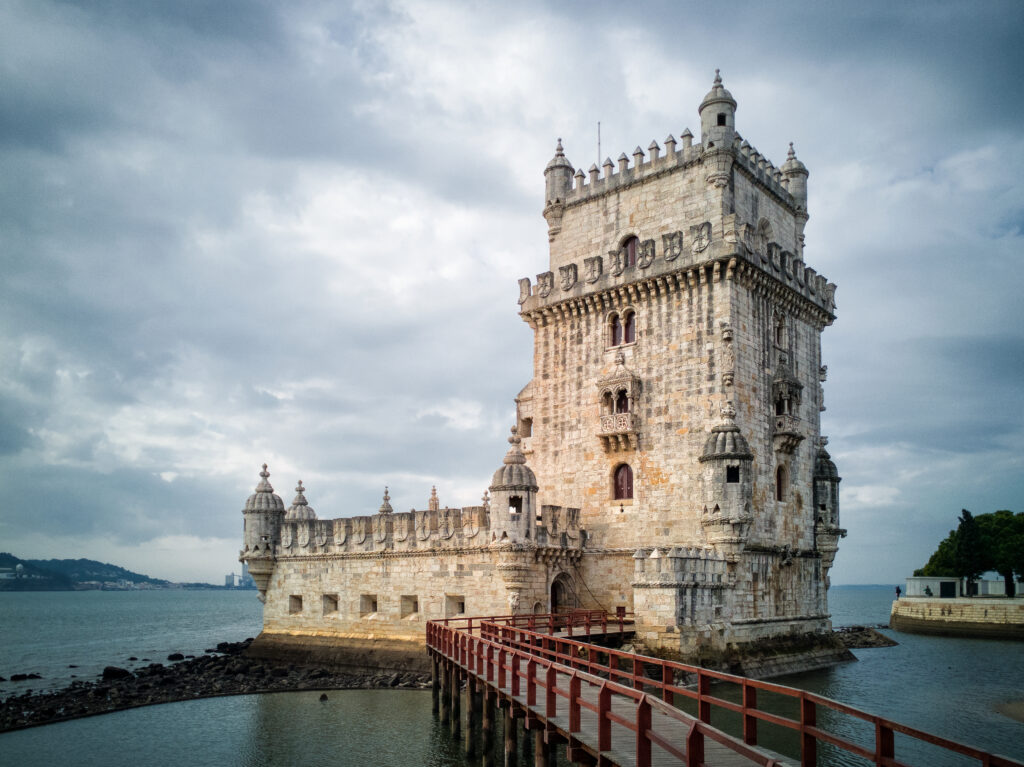 After a day spent exploring Lisbon's historical center, it's time to venture out a bit. Head west to the Belém district for a sweet breakfast treat — pasteis de nata — at Fábrica de Pastéis de Belém. The bakery has been serving this specialty since 1837. Don't be deterred by the long line — these pastry pros will have a custard treat in your hand in no time. After that, stroll along the Tagus River to the Belém Tower, a medieval tower perched just offshore on a tiny river island. Head to the rooftop terrace for views of the surrounding estuary. Before departing Belém, check out the Museu Coleção Berardo, a contemporary art museum featuring works by Picasso, Warhol, and other internationally renowned artists.
Before leaving Lisbon, make sure to see a live Fado performance. The Alfama neighborhood is home to numerous venues as well as the Fado Museum itself. However, a more intimate performance and delicious meal awaits at Maria da Mouraria in the Socorro neighborhood, which is made up of hilly streets and town squares. To keep the night going, head to Bairro Alto to sip port or cocktails at Pharmacia, a funky spot located within an old pharmacy.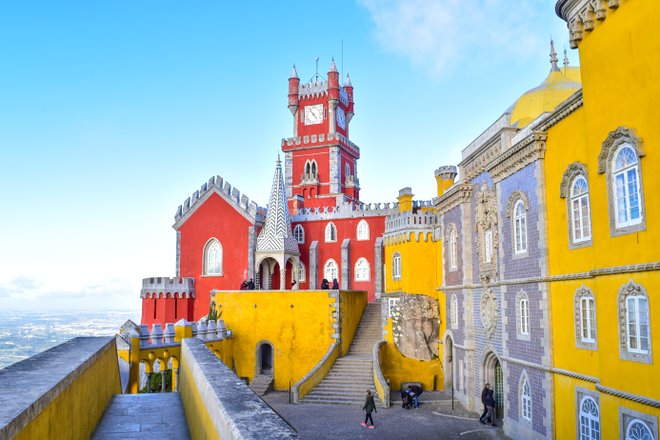 Located just 30 minutes from Lisbon, Sintra is perhaps the most popular day trip from the capital. The main draw to Sintra is the Pena Palace, which once functioned as a monastery before its glamorous renovation into the Portuguese royal family's summer residence. Today, the palace and its grounds are open to the public. If possible, arrive a bit before the gates open at 10 a.m. to beat the tour buses. Visitors will ascend the palace's ramps and go through the arches to reach the interior museum. After exploring the lavish rooms and scenic balcony vistas, head for the walking trails through the royal gardens. Lookout points within the garden grant some of the best views of the vibrant palace. It's thought that Gaudi drew inspiration for the Park Güell in Barcelona from the eclectic colors and romantic styles used in Pena Palace.
However, the Pena Palace is just one of several remarkable palaces and castles in the Sintra region. The Castelo dos Mouros, constructed in the 10th century, is within walking distance of Pena Palace's gates. This fortification was built by the Moors to protect Sintra. The castle walls are open for visitors to explore, and they offer beautiful views on a clear day. For more exquisite gardens and architecture, head downhill and back into town. Stop by the impressive estates at Monserrate Palace and Quinta da Regaleira. Monserrate's mansion combines Portuguese, Arabian, and Indian architectural styles and features a botanical garden. Quinta da Regaleria's bold Gothic towers are complemented by an eclectic garden featuring hidden tunnels, sculptures, and secret grottoes.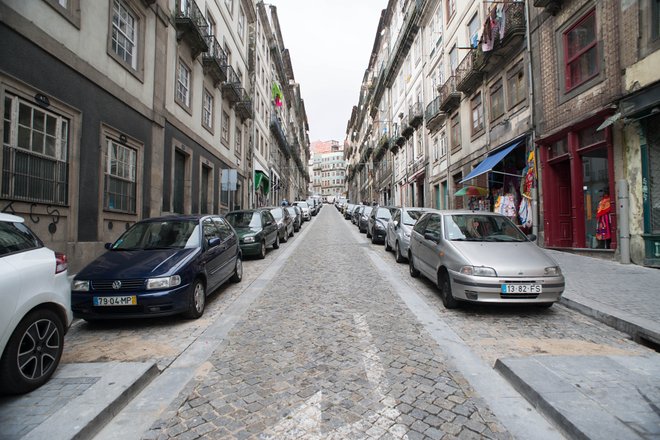 Porto can be easily reached by a scenic three-hour train journey from Lisbon. This city is quite different from the southerly capital. It emerged as a center of commerce and trade and features mainly granite buildings in contrast to Lisbon's colorful baroque structures. That being said, Porto has an undeniable charm that many travelers overlook when planning a trip to Portugal.
Start your exploration in the Ribeira — a UNESCO-designated area composed of medieval alleyways in Porto's city center. The historic district is home to many quaint cafes and taverns along the riverfront and up through its cobblestone streets. From the riverfront, you'll get a glimpse of the city's six bridges. The grandest of these — Ponte de Dom Luís I — has a pedestrian-only upper deck that delivers amazing views of the Old Town below. Sé, another top site in the Ribeira, includes a massive 12th-century cathedral overlooking the medieval Old Town.
As its name suggests, Porto has a long relationship with port wine, which is stored here in warehouses and cellars. Historically, the grapes were sent down the river to be kept in warehouses in Vila Nova de Gaia, across the Douro River. On this side of the river, the port houses, including the popular Cálem and Sandeman, line the banks and beyond, down winding alleys. Be sure to check out one of the smaller cellars, such as Croft, whose vintages are much harder to come by outside the region. The port is superb, but seek out another regional specialty — vinho verde — a light white wine made from young grapes whose flavors complement seafood brilliantly.
Where to Stay: The Carris Porto Ribeira, located in the heart of the UNESCO-preserved city center, provides chic accommodations in a picturesque medieval building.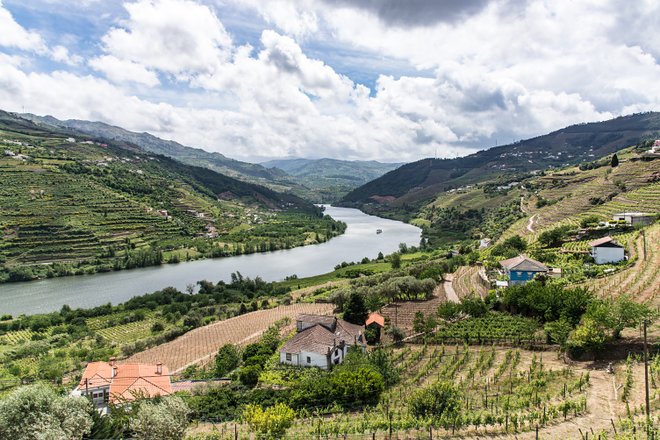 A trip east into the Douro Valley's scenic landscape of vineyards and villages is a must for wine lovers and nature enthusiasts alike. Many of these villages can be reached by train, but with only a few trips per day, it's wise to consult the timetable before embarking. On the other hand, going with a local wine tour will streamline the process and deliver you to more of these picturesque villages. The most easily accessible wineries are in the Baixo Corgo region. Check out Quinta do Vallado for a thorough tour of one of the valley's oldest wineries and Quinta da Pacheca to pair a wine tasting with cooking classes. Heading east, Quinta de la Rosa, offers delectable vintages with views over the village of Pinhão.
If wine isn't your thing, we recommend a day trip to the historic city of Braga. This underrated city in Portugal is a mere hour away and boasts an array of attractions, including baroque churches, grand plazas lined with lively cafes and bars, and plenty of winding pedestrian-only lanes.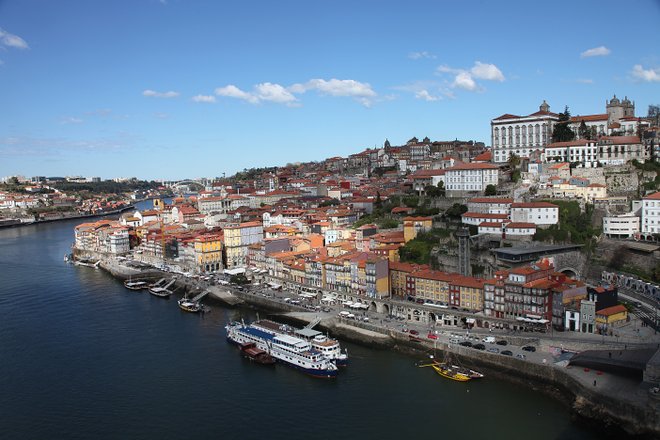 To avoid a mid-vacation slump, spend a leisurely day exploring Porto's world-class museums interspersed with cafe breaks. Head to the contemporary Serralves Museum, which encompasses a massive inner gallery, sculpture park, and Art Deco villa. Another option is the Museu Nacional Soares dos Reis, which houses an impressive collection of fine arts dating back to Neolithic carvings.
If the weather is on your side, head to the massive complex at Bolhão Market to gather provisions and local treats for a picnic on the beach or in one of Porto's well-designed parks. Praia do Carneiro is the closest beach, but head a bit farther to Praia da Luz for a more scenic stretch of sand. Just a little farther north, the Leça swimming pools provide a calm and refreshing spot to cool down. The man-made pools are carved into the craggy coastline, creating a unique setting to safely swim beside the crashing Atlantic waves.
Heading all the way south to the Algarve will take about six to seven hours by train from Porto, but the journey is certainly scenic. The southernmost region of Portugal is home to some of the country's most beautiful landscapes and stretches of coastline. There are plenty of towns and villages to choose from, but Lagos's central location between the western nature parks and other main towns is hard to beat.
Since you'll be arriving later in the afternoon, head straight for the Old Town in Lagos after checking in. Lagos's 16th-century Old Town is composed of quaint piazzas, cobblestone streets, and picturesque churches. Here, you'll find plenty of cafes and restaurants catering to an international clientele. The nightlife in Lagos is some of the rowdiest in the Algarve, with spots like Nox Club and InsideOut keeping the party going into the early morning hours.
Where to Stay: To escape the bustle of the Old Town in Lagos, stay at the Boutique Hotel Vivenda Miranda for its scenic location within minutes of the beach.
Whether or not you had late night out in Lagos, leave the hedonistic scene behind for the Algarve's western coastline. The west coast has preserved much of its natural areas compared to the dense resort towns on the southern coast. Renting a car for the day is ideal for venturing out to these remote beaches and towns, as public transportation is quite limited. Near the village of Sagres, you'll find a lovely crescent-shaped beach — Praia do Tonel — backed by steep cliffs. Another fantastic beach — Praia do Beliche — awaits a couple of miles northwest. Behind the golden sand, narrow caverns penetrate the dramatic cliffs, creating a remarkable setting. Just a bit farther west is Europe's southwestern-most point, Cabo de São Vicente. A lighthouse is perched on the barren cliffs providing panoramic views over the Atlantic. Continue north to the more isolated beaches of Praia da Cordoama and Praia do Amado. The former is a mile-long stretch of sand backed by meadows and interesting rock formations, while the latter is a prime spot for surfing. If you don't stop everywhere, you'll have time to venture north to Southwest Alentejo and Vicentine Coast Natural Park, which includes some of the Algarve's most stunning stretches of coastline, hiking trails, and the chance to spot sea otters.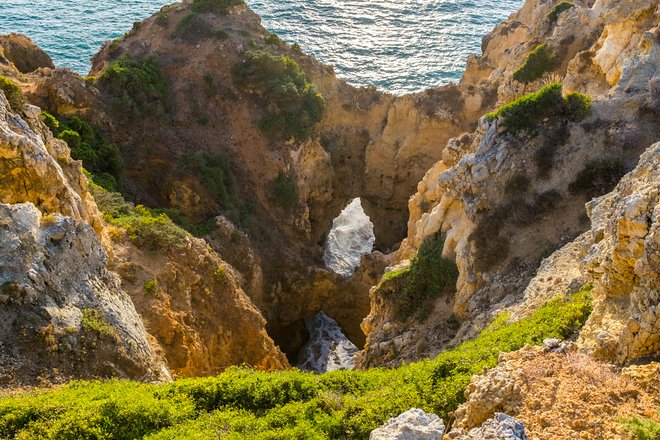 For your last day in the Algarve, stay close to your home base at the Boutique Hotel Vivenda Miranda. There are lots of beaches within walking distance of the property — namely, the postcard-perfect Ponta da Piedade. Translating to "Piety's Point," this striking group of rock formations comprises 70-foot-high golden cliffs, arches, and pillars that lead to hidden grottoes and tunnels. Ponta da Piedade can be reached by foot, but a boat tour allows for an up-close inspection of the beautiful site. On the way back, stop by Martin Barranco Beach. It's worth the climb to reach this tiny cove and swim among the incredible scenery.
Take the three-hour train back to Lisbon to enjoy one last pasteis de nata and stroll through this enchanting city before departing.
Dress like a local with a sustainable dress from Reformation. We're loving the Rue Dress, which is reminding us a lot of Portugal's Azulejo tiles.
You'll Also Like:
All products are independently selected by our writers and editors. If you buy something through our links, Oyster may earn an affiliate commission.