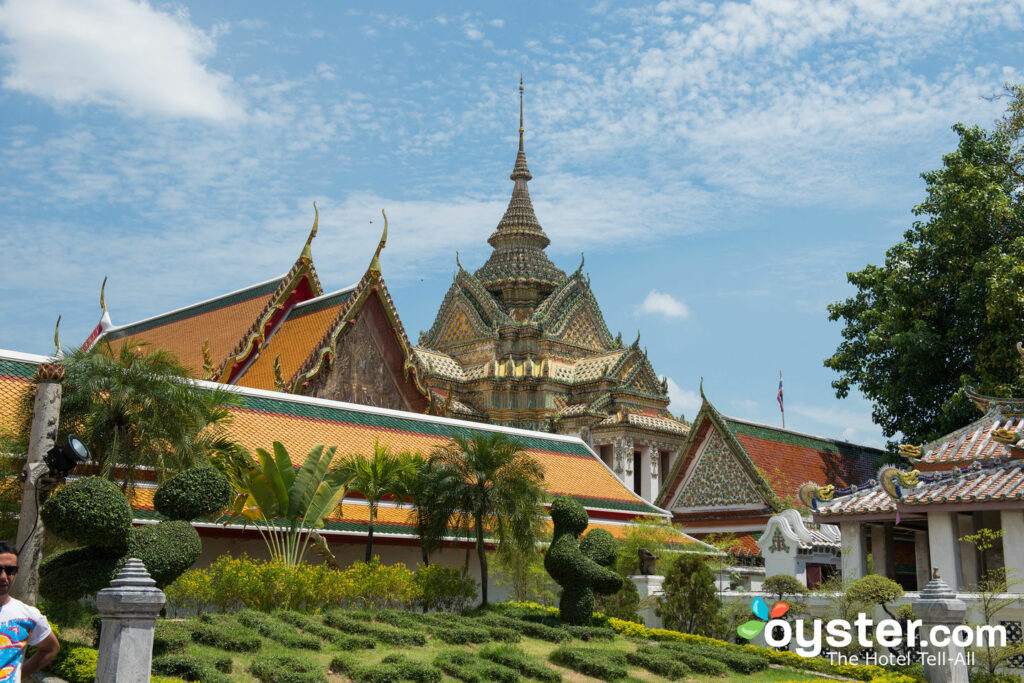 Traveling alone -- especially as a woman -- can seem daunting. Luckily, many countries, like Thailand, are perfectly safe as long as you're smart about it. The Southeast Asian country offers lots of variety: City lovers may want to head to Bangkok, beach bums should plan a trip south to the islands, and culture vultures can visit Chiang Mai. No matter your preference, though, here are eight tips for traveling alone in Thailand.
1. Hostels are your friend.
When deciding where to stay in Thailand, consider hostels. Not only will you save money, but there will be plenty of other solo travelers to meet. In fact, hostels often host events so guests can meet and mingle, plus organize tours and share the best places to visit. If you'd rather stay in a hotel, don't fret. Most hostels have restaurants where you can sit, enjoy a meal, and meet fellow travelers. To top it off, most also have free Wi-Fi.
2. Map it out.
When traveling to a new city, it's always advisable to download the entire city map on your phone. Google Maps is a great resource. If you zoom into various parts beforehand, you'll be able to use the map even when you don't have access to Wi-Fi. The GPS function will still tell you where you are, so you don't need to carry around a map which screams "I'm a tourist" to the locals.
3. Go on group tours.
Another great way to meet new people is by booking group tours. A variety of options await, from exploring the various beaches to snorkeling among the fishes to enjoying a speedboat trip while taking in the scenery. Near Chiang Mai, you'll find jungle tours that include zip-lining among monkeys or bathing elephants. After spending a full day with the same group of people, you're inevitably going to chat — or at the very least, gain a new Instagram friend.
4. Dress the part.
Thailand gets quite hot in the summer, but that doesn't mean you should walk around in short shorts and a crop top. Thai people tend to dress modestly. While there is a little leeway in the cities (girls do wear shorts and tank tops), you're going to want to make sure you cover your knees and shoulders while walking around, especially if you're planning on visiting any temples since you will not be allowed in otherwise. The best option is a maxi skirt or loose pants and a T-shirt that isn't cut too low. When visiting the islands, bathing suits are perfectly acceptable on the beach, but make sure you have a cover-up when heading into town.
5. Take a cooking class.
If you're not into the adventure tours, try a Thai cooking class instead. One of the best parts of visiting Thailand is being able to enjoy all the delicious food, so why not bring some knowledge of how to recreate those meals back home with you? Classes often include a trip to a traditional market where you can see the different vegetables often used in Thai dishes. Then, you'll learn how to make a variety of plates, from spring rolls and pad see ew, to tom yum soup and curry. Best of all, you can eat it all and take home the recipes.
6. Ride the train.
The train a great option if you're on a budget, plus it provides the opportunity to meet people heading in the same direction. If you're traveling between Bangkok and Chiang Mai, take the overnight train. There will often be other solo travelers or small groups onboard, and since you're all heading to the same place, it can't hurt to talk about plans or ask for trip advice. The seats turn into beds for the majority of the night, and when you wake up in the morning, there are small towns and stunning scenery as you make your way into Chiang Mai.
7. Know your travel options.
There are a variety of ways to get around the cities and towns you visit. The metro system in Bangkok is relatively easy to navigate and cheap, but it's only limited to central Bangkok. If you're heading toward many of the attractions in the city, you'll need to take a taxi or a tuk-tuk. While tuk-tuks are more expensive, they're a fun way to get where you're going. Plus, you won't get stuck in as much traffic as a regular taxi. In certain parts of Thailand, you can also use Uber, which can be beneficial, especially when getting to and from the airport.
8. Ask for suggestions.
Whether you're staying at a hotel or hostel, the concierge is your friend. They are there to offer suggestions and help with itineraries. They know the ins and outs of the city — where to get the best pad Thai and Thai massage and what time to visit the temples to avoid the crowds. Once you enjoy your meal or massage, don't be afraid to ask for recommendations from the hostesses or waiters, too.
You'll Also Like:
All products are independently selected by our writers and editors. If you buy something through our links, Oyster may earn an affiliate commission.