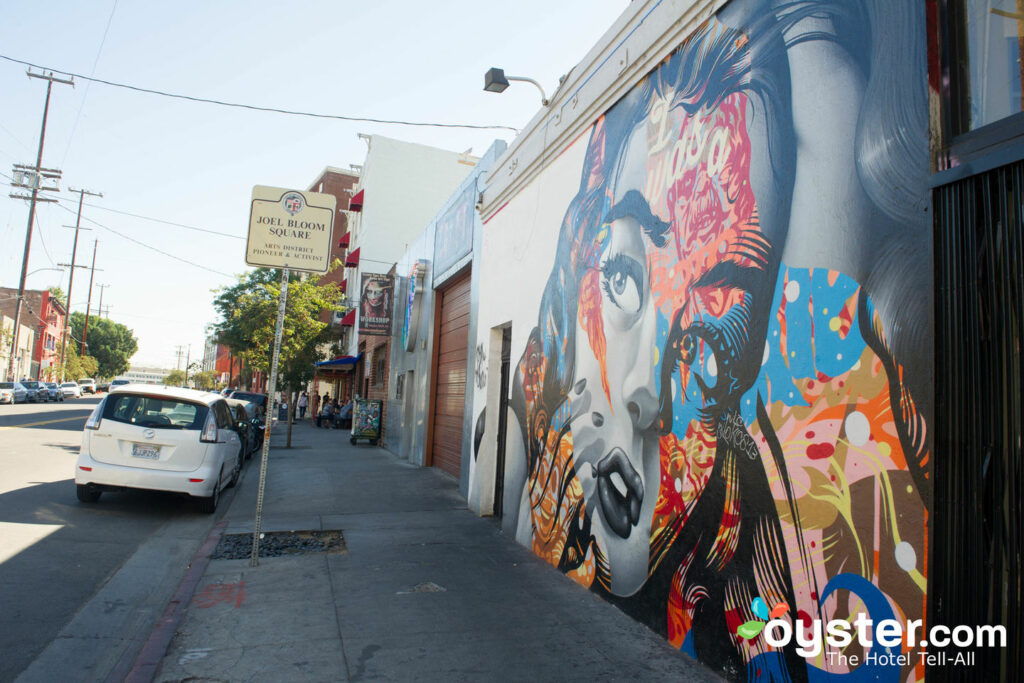 There's no shortage of free to-dos to keep you entertained in the entertainment capital of the world -- from touristy sights to neighborhood walking tours to outdoorsy pursuits. We took stock of myriad options and came up with this curated list of picks for the best free things to do in . The only caveat: Some activities in our roundup require paying for parking (this is L.A., people). For transportation on the cheap, consider taking the metro -- yes, you heard us right -- to points downtown, and even all the way to Santa Monica Beach.
1. Hit the beaches.
Los Angeles County borders more than 70 miles of the Pacific Ocean's coast, and with its wide, two-mile stretch, Santa Monica Beach is one of the city's most popular. If you need to take a break from the surf and sand, there's Santa Monica Pier, and Third Street Promenade is the place to grab a bite or doing some shopping.
Venice Beach is a bohemian enclave with an eclectic mix of characters, from fortune tellers to tattoo artists to skateboarders, and somehow, the cheesy and slightly seedy atmosphere is part of its charm. The actual beach is far from pristine, and plays second string to everything else there is to do here — including strolling the Venice Beach Boardwalk.
But a few blocks away from the water, the area has an upscale flavor. The transport you to a serene place that feels miles away from the fray, and there's prime shopping on tony . For a beach that's less crowded and has a hip, laid-back vibe, Hermosa Beach farther south is your best bet.
A Beachfront Hotel Pick in Santa Monica:
2. Stroll through and graze at markets.
While supporting local farmers and businesses is the main objective of a farmers' market, you won't have to spend a cent ambling through L.A.'s wealth of of them. The largest is The Original Farmers Market, which has occupied a plot of land at Third and Fairfax since 1934. The market is much more than just fruit and veggies, with loads of restaurants and a calendar packed with free events. Be forewarned: It's a crowded place, and parking is no easy feat.
For an experience on the other end of the spectrum, there's Grand Central Market downtown, housed on the ground floor of the landmark Homer Laughlin Building. This market started in 1917, and today, the city's trendiest eateries have booths here. Plus, you can hang with the cool kids on trivia nights and boogie down at weekly dance parties, which feature a rotating roster of DJs.
There are also weekly neighborhood farmers' markets throughout the city, in Hollywood (Ivar and Selma Avenue), Studio City (Ventura Place and Laurel Canyon Boulevard), and Santa Monica (2640 Main Street), and there's small market in Hermosa Beach (Valley Drive and 11th Street) on Wednesdays.
3. Go hiking without leaving the city.
New York and Chicago can battle it out over which city has the best pizza, but when it comes to woodsy outdoor romps within city limits, Los Angeles wins. Griffith Park, located in Los Feliz, is one of the largest urban parks in the country. There's a range of trails for short hikes and longer treks, including ones that lead to Griffith Observatory, which offers knockout views of the skyline, and to a vantage point that'll bring you close to the Hollywood Sign.
For a less strenuous hike — but excellent celeb-spotting — check out Runyon Canyon, which allows dogs and has off-leash areas. More serious hikers will enjoy Topanga State Park, the largest state park within a city limits in the U.S., with 76 miles of trails that are also for horseback riding and biking.
4. See super touristy sights.
Travelers with a list of touristy sights to check off will be happy to know that several are freebies. First-time visitors will want to hit the Hollywood Walk of Fame, TCL Chinese Theatre (originally Grauman's Chinese Theatre), and Rodeo Drive. Hollywood Forever Cemetery dates to 1899, and famous icons of the silver screen are buried here, including Dee Dee and Jonny Ramone, Benjamin "Bugsy" Siegel, and Rudolf Valentino. In summer, you can catch an outdoor flick here for the price of a movie ticket.
5. Get your art fix.
L.A.'s burgeoning art scene continues to flourish, and gallery-hopping, walking tours, and visiting museums can all be free. Downtown, Gallery Row runs from West 3rd and West 8th streets, between South Main St. and South Broadway, and there's a cluster of galleries east of South Central Avenue on and around East 3rd St. The self-guided tour of the Walt Disney Concert Hall is excellent, and there's fantastic street art to see in the Arts District. There's also stunning architecture downtown. Some of our favorites include Central Library, the Biltmore Hotel, Union Station, the Bradbury Building, and the 1300 block of Carroll Avenue in Angelino Heights, which is lined with beautiful Victorian homes.
General admission to The Broad is free, and while tickets book up months in advance was soon as they're released, you can get in on standby (check for updates for wait times on Twitter @thebroadstandby). Other free museums include The Getty Center and the Hammer Museum. MOCA Grand and MOCA Geffen are free on Thursday nights, and the Los Angeles County Museum of Art is free the first Tuesday of every month. There's also free art to see at Abbot Kinney First Fridays in Venice Beach, and the First Thursday Art Walk in San Pedro.
6. Embrace time in the car for quintessential drives.
Traffic in this town is no joke. Bet on wasting time stuck behind the wheel from the moment you arrive until you can gleefully hand over your keys to the rental car agent at the airport. While electing to get in the car just to drive around may seem like an exercise in self-torture, there are some trips that can be worth it — if you plan ahead and get in right frame of mind (tips: don't go during rush hour, make a playlist, and bring snacks). First up, Sunset Boulevard, which runs from downtown all the way to Malibu. Along the way, be sure to stop at Chateau Marmont on the Sunset Strip. You'll also want to cruise Mulholland Drive for views of the downtown skyline. Another must-do is driving along the Pacific Coast Highway (or PCH, to locals) from Santa Monica to Zuma Beach. If you can swing it, we highly recommend a convertible for this diversion.
Need ideas for where to stay? Check out our reviews and photos of 207 hotels in L.A.
You'll Also Like: