Croatia has been a rising star on the travel front for several years now, drawing visitors to its gorgeous Adriatic coastline, charming stone villages, enticing beaches, and extraordinary national parks. Following the dissolution of Yugoslavia and the end of the Bosnian War, Croatia reoriented itself to tourism, yet it still retains an authentic atmosphere compared to many popular Mediterranean destinations. It's far from a large country, but with 1,246 islands, 3,600 miles of coastline, and an impressive list of historic towns and villages to choose from, it can be challenging to plan an itinerary that does Croatia justice. We assembled a 10-day route that captures some of the best that Croatia has to offer in terms of cultural attractions, beaches, and awe-inspiring nature. Travelers with less or more time can either complete a section or expand upon this guide to explore Croatia's islands, coastline, and interior more thoroughly.
Start your vacation in the remarkable walled-city of Dubrovnik. Though it lacks a major international airport, Dubrovnik can still be reached fairly easily via connections through London, Munich, and Paris. The city has been a UNESCO World Heritage site since 1979, but has long been drawing artists and creative types since the Renaissance. Its popularity has only grown following its use as a film location for "The Game of Thrones" series. To get a sense of the city and witness breathtaking views, climb the old city walls, which can be explored by foot for a small fee. After admiring the Old Town from above, head into the maze of pedestrian-only streets, which wind past palaces, forts, churches, and cafes. Stradun is the main thoroughfare, while side streets lead away from the crowds to smaller restaurants and boutiques. If you didn't get your fill of amazing views during the day, consider dining at the upscale Restaurant 360°, which is perched atop the city walls.
Where to Stay:The Pucic Palace offers comfortable and stylish accommodations in an 18th century palace. The boutique hotel is advantageously located in the heart of Dubrovnik's Old Town, giving guests plenty of time to enjoy the cobblestoned streets before and after organized tour groups sweep through town.
Day 2: Lokrum (Overnight in Dubrovnik)
After a day of traversing the city walls and cobblestoned alleyways, escape the crowds and head to one of the nearby islands. It only takes 15 minutes to reach Lokrum from Dubrovnik's rocky shoreline. The island is covered in thick pine forest, with plenty of walking trails between beaches and other points of interest. For such a small island, Lokrum packs in plenty to do and see, including a monastery, the French Fort Royal castle, and a botanical garden (beware of the roaming peacocks). The island has several lovely beaches, including an interior lake known as the Dead Sea, which is fed by sea water through eroded caverns.
The island of Hvar can be reached via a three-and-a-half-hour ferry from Dubrovnik during the high season, which runs from April to October. After you've settled in, explore Hvar's 158 miles of coastline. Head east from Hvar town to Dubovica beach — a pebble beach situated in a tranquil bay and surrounded by olive groves and a pine forest. A selection of nearby bars and cafes serving up fresh seafood and local wine make it easy to laze the whole day away, but resist the urge and carry on east to Jagodna beach. Here, you'll find a rarity in Croatia — sand beaches. The tiny cove is ringed by gorgeous stony cliffs, but is still navigable by foot. Now, it's time to head back to Hvar town for an evening out, but before that, swing by the Španjola fortress for superb views over the town and out to the Pakleni Islands. Fuel up on some local rakija and hearty fare at the Dalmatino. Hvar's most famous club, Carpe Diem, offers the chance to dance until the sun comes up. For a quieter evening, check out the cozy Lola Bar or grab a bottle of vino and find a private spot to stargaze.
Where to Stay: Those looking to partake in Hvar's party scene should stay at the chic Riva Hvar Yacht Harbour Hotel, located right on the bustling boardwalk in Hvar town. For a more relaxed seaside retreat, check out the Hotel Podstine. This property, which is a 20-minute walk from downtown Hvar, includes a pool and a bar and restaurant overlooking the Adriatic.
Day 4: Vis (Overnight in Hvar)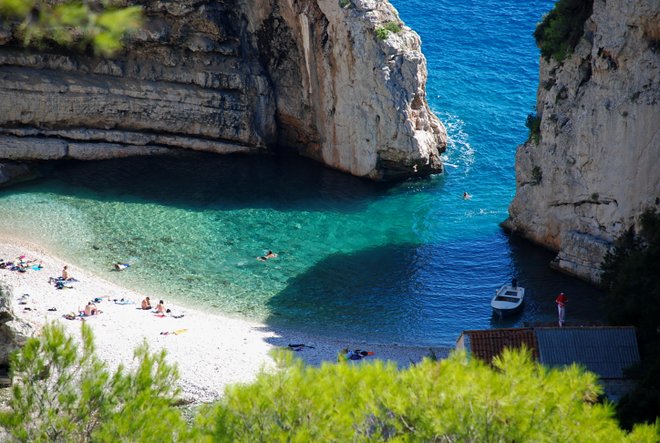 Though Hvar boasts some of the finest beaches in the country, the tiny island of Bisevo has something Hvar doesn't: the Blue Cave. The attraction is best enjoyed when the midday sun illuminates the water inside the cave through a gap in the rock face. The narrow cave entrance can accommodate a few small boats at a time. It's best to head here early, as it can get crowded. Bisevo has just over a dozen residents, so making it a day trip is the best option. Getting to Bisevo is a bit of a journey, though, so it's worth stopping by the larger island of Vis while you're here. Vis is home to some stunning swimming spots, like the sheltered Stiniva beach (pictured). Hikers must descend the rugged hillside to reach the calm water, while those arriving by boat can enter the gap on a dingy.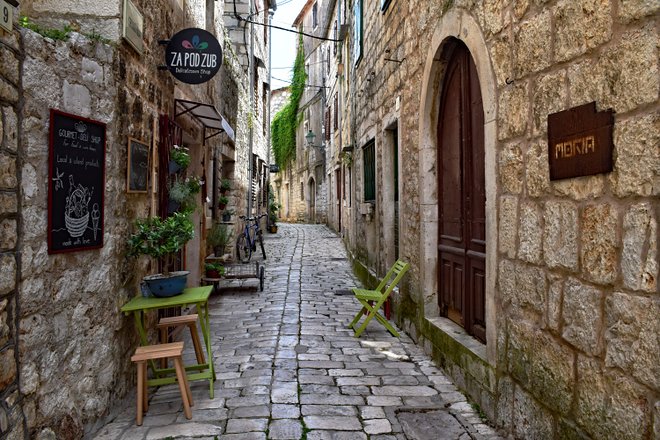 Besides Hvar town, there are numerous other towns and fishing villages worth exploring. These charming areas are comprised of cobblestoned streets, adorable stone homes, gardens, and vineyards. Check out town of Stari Grad, which is situated on a marina and features walking trails leading to pebble beaches. If you're feeling up to it, hike the two kilometers north to Rudina, a 17th-century village with empty squares and rustic homes that appear to be suspended in time and space. An often-overlooked attraction is the Stari Grad Plain, a UNESCO World Heritage site that consists of an ancient patchwork of agricultural fields in one of Hvar's fertile valleys. The fields and stone walls have remained largely intact for millennia. Folks can rent a bicycle in Stari Grad to explore the area on two wheels, or hire a car for the day.
The ferry to Split departs from the town of Stari Grad and takes about an hour and 15 minutes. Split is a large city by Croatian standards, with approximately 178,000 residents. This creates a unique mix of modern and historic character. Split's alleyways merit a leisurely afternoon of exploration. You'll undoubtedly enter the labyrinth of lanes and courtyards housed within the walls of Diocletian's Palace, which was constructed for a Roman emperor. Today, it is lined with trendy bars and shops and serves as the heart of the Old Town. The palace walls feature four ornate gates on each cardinal direction: the Golden Gate, Bronze Gate, Silver Gate, and Iron Gate. For a superb view of the palace complex, climb up to the bell tower of the Cathedral of Saint Domnius.
For authentic Dalmatian fare, head to Konoba Marjan, which serves up seafood and local wine in an understated tavern setting. Later in the evening, consider joining Split's lively youth contingent on the stone pier off the Riva to drink Ožujsko beer and socialize beside the sea. Otherwise, there are plenty of bars in the Old Town that are perfect for a post-dinner drink.
Where to Stay: We recommend getting the most of your experience and staying in the heart of Split's Old Town. The boutique Hotel Vestibul Palace has a top-notch location within the walls of Diocletian's Palace and features a pleasant open-air courtyard. Meanwhile, Palace Judita Heritage Hotel offers luxury accommodations in a historic building beside the People's Square, which is bustling with shops and cafes.
Start your day by exploring Split's impressive Marjan Park, located on the long peninsula jutting west of the city. The park is lined by the Adriatic on three sides, providing fantastic views of the offshore islands. On your way back to town, be sure to walk the southern edge of the park and stop by the Meštrović Gallery, which features sculptures by the deceased artist. More masterpieces dating back to the 14th century await back in town at the Museum of Fine Arts. If you don't have time to continue on to Zadar and visit the picturesque Plitvice Lakes National Park, consider making the one-hour trip from Split to Krka National Park. Krka features walking paths that pass by seven dazzling waterfalls. And although Krka is much smaller than Plitvice, visitors are allowed to swim under the Skradinski Buk waterfalls here.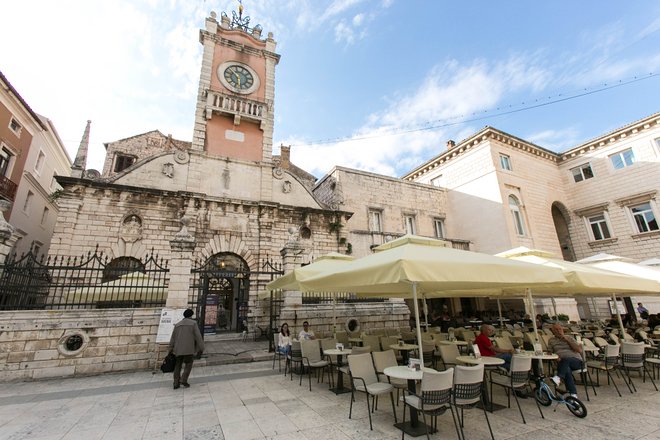 From Split, head north along the Dalmatian Coast to the underrated city of Zadar. This mid-sized city doesn't draw crowds like Dubrovnik or Split, but it possesses an ideal combination of historic sites and unique attractions that cater to both locals and tourists. First, explore Zadar's well-preserved Old Town. The cityscape of terra-cotta roofs is enhanced by the spires and steeples of 34 churches, the most notable of which is St. Donatus Church. Beside the church, mingle with the locals and take a break in the Roman Forum. The public square is strewn with ruins, such as broken columns and stone slabs, as well as food stalls and craft vendors. For a more comprehensive account of Zadar's past, check out the adjacent Archaeological Museum, which houses a collection of ancient artifacts and relics. Before sunset, be sure to head to the city's western waterfront promenade to enjoy some tunes provided by Mother Nature. A 35-pipe organ was installed within the stone steps leading to the water's edge, and utilizes the motion of the waves to create music. Once the sun is down, another ingenious design — the Sun Salutation — comes to life. The large circle of multi-layered glass plates harnesses the sun's energy throughout the day to produce a fantastic light show that locals and visitors gather to enjoy every night.
Where to Stay: The boutique delivers stylish accommodations in Zadar's Old Town. The 10-room property also features a bistro and wine cellar. With top attractions like the Sea Organ and Roman Forum just 10 minutes away, it's hard to beat the Kalelarga's comfort and convenience.
The cascading waterfalls and turquoise pools at Plitvice Lakes National Park sit atop many travel bucket lists. Fortunately, this UNESCO World Heritage site can be reached by car in just one-and-a-half hours from Zadar. The 16 interlinked lakes are formed from mountain runoff, and majestically tumble downhill via a network of waterfalls. An 18-kilometer trail of wooden footbridges and paths meanders throughout the beautiful landscape. Visitors are not permitted to swim in the lakes, but the footpaths take hikers past the most scenic spots while preserving the park's ecology. We recommend starting at the upper lakes to view the full grandeur of the park. From here, head downhill toward Lake Kozjak, the park's biggest lake. You can take a boat across the body of water. Then, you'll continue on through the lower lakes, which are equally stunning, until you reach the impressive Veliki Slap, which is the highest waterfall in Croatia at 255 feet. Next, the trail makes a steep climb (the view is absolutely worth it) before arriving at a bus stop that will take you to Entrance 2. Make a reservation at Pet Bunara, so you can enjoy a hearty, well-earned feast of Croatian delicacies on the open terrace.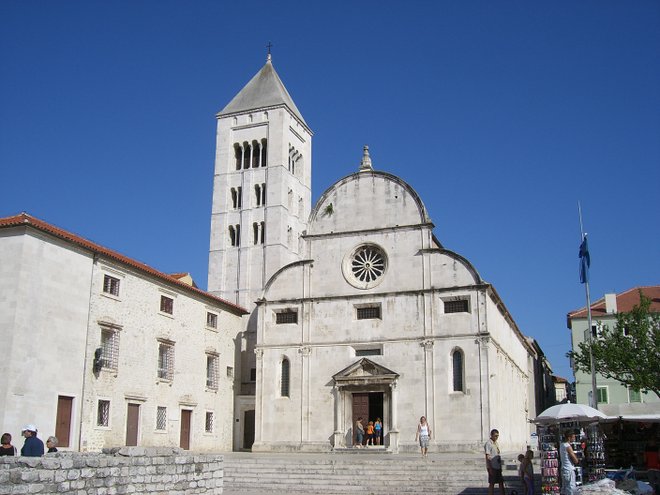 Enjoy one last stroll through the city center and past the Sea Organ before departing. Zadar's airport has connecting flights to European hubs, including London via Ryanair, as well as Berlin and Munich via Lufthansa.
A 10-day stay in Croatia calls for a sturdy, reliable bag. This carry-on from Away offers a USB port and hard exterior shell, so you can charge your phone on the train and keep your stuff safe at the same time.
You'll Also Like:
All products are independently selected by our writers and editors. If you buy something through our links, Oyster may earn an affiliate commission.