When it comes to checking into a hotel, we all have our routines. Do you flop down on the bed for a fluffiness test? Does your germaphobe kick in, pushing you to scan the space for bed bugs and other unwanted critters? Or, do you bolt for the window (or balcony, if you're lucky) to investigate the view? We asked top travel editors, who check in and out of all kinds of hotels regularly, about their first move upon arriving in a hotel room. As it turns out, it's all about the view.
Check the Air-Conditioning
"When I check in, I always request a room that doesn't overlook the street if I'm staying in a city. I'm a light sleeper and this helps alleviate traffic noise and any loud parties or bars that might be overheard. I also make sure to check whether or not the air-conditioning is working, so I can be comfortable while I sleep." — Kyle Valenta, Manager of Editorial Content Operations at Oyster.com
Grab the Perfect Shot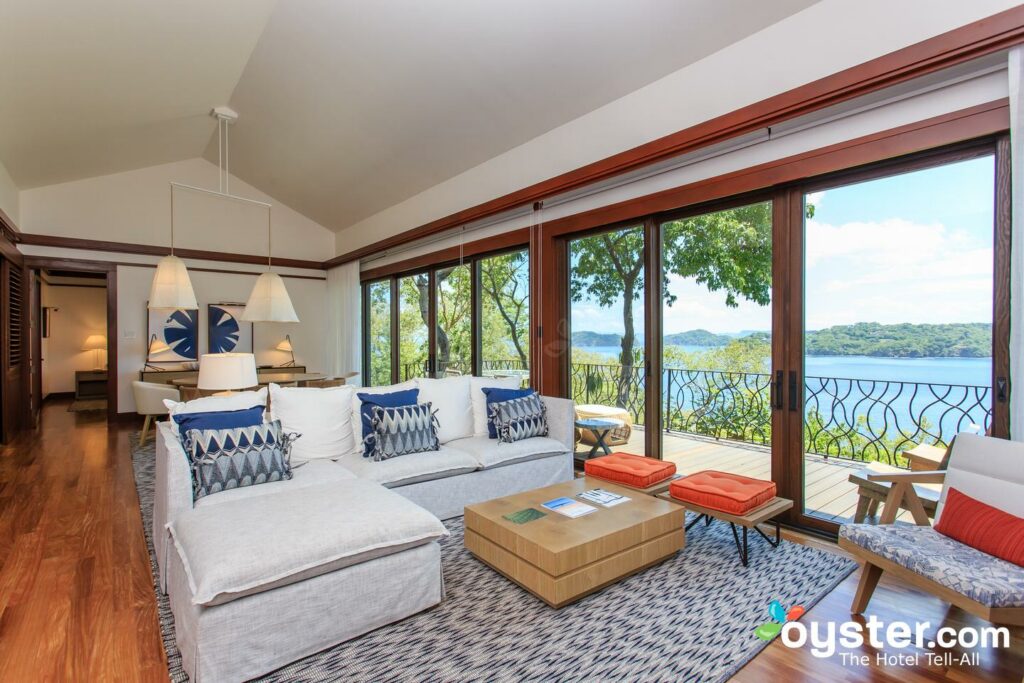 "After making sure the door is firmly locked, the first thing I do in a hotel room is take photographs for work (and to get that gram!). I always follow the same routine to make sure the space looks pristine: I immediately put my suitcase in the closet and shut the door so none of my stuff messes up the shot, open the curtains to let in natural light, and avoid sitting on the bed and wrinkling the sheets until after I'm done with pictures." — Laura Hinely, Senior Photo Editor at Oyster.com
Scope Out the View
"The first thing I do when I get to my hotel room is head straight for the window or balcony to check out the view. My room can be a basic budget spot or a luxurious five-star stay, but it's the view that really makes or breaks it for me. Of course, not every location will permit a stunning oceanfront, mountainside, or city skyline view, but even a parking lot is better than staring at a brick wall or interior hallways. For me, it's worth paying more to have a pretty vista, especially if I'm at the beach. It's also common for hotel rewards members to be upgraded to a room with a better view, so I always make sure to sign up for loyalty programs before booking." — Lara Grant, Editor at Oyster.com
"I've stayed in hundreds of hotels in my career as a hotel inspector and travel editor, and the first thing I always do when I get into the room is pull back the curtains and check out the view. Some memorable vistas have included the Las Vegas strip from the Aria, Disney fireworks from the Four Seasons in Orlando, and Kapalua Bay at the Montage in Maui." — Megan Wood, Editor at WhatToPack,com
Strip Off the Bed Runner
"After I've chucked my bags on the luggage rack and done a twirl around the room, I have one thing I always do: remove the bed runner or bed spread. This gets tossed in a closet along with any decorative pillows. You might wonder why. Do I have a war against decor? Or a hatred of bright colors? Nope, I'm just aware that these items are covered in cooties. In fact, because they're not machine-washable, they rarely get cleaned, which makes them some of the germiest spots in the room. (Don't believe me? .) Once I've moved all these items to a secure location, I'm free to make snow angels on the bed and surf all the cable channels for my favorites." — Maria Teresa Hart, Executive Editor WhatToPack,com
Connect to the Wi-Fi and Unpack Toiletries
"The first thing I do is log on to the hotel Wi-Fi. Then, I throw open the curtains and check out the view; if there's a balcony, I'm on it — with my backpack still on and my key card still in hand. I unpack my dopp kit and turn the bathroom into a mini Sephora (I mentally dock points if hotels don't provide decent counter space). I also hang up any clothing I want to wear that night or the next day in the bathroom, so they can get a good steaming when I take a shower. The other clothes in my suitcase go into drawers or onto hangers in the closet — yes, I'm that person who pretty much fully unpacks, even for a one-night stay." — Anne Olivia Bauso, Editor at WhatToPack,com
Sink Into on the Bed
"Scan the keycard, let the door swing shut, plop down my bags, kick off my shoes, and jump on the bed. Yes, this happens every time I check into a hotel. There's nothing like falling into a fluffy bed — complete with crisp sheets, a cooling comforter, and feather-top pillows that are sleep-through-your-alarm cozy — to instantly relax you after a long journey. Business or pleasure, a hotel bed can make or break my stay, so I like to know what I'm in for the second I walk through the door." — Alisha Prakash, Senior Editor at Oyster.com
You'll Also Like:
All products are independently selected by our writers and editors. If you buy something through our links, Oyster may earn an affiliate commission.