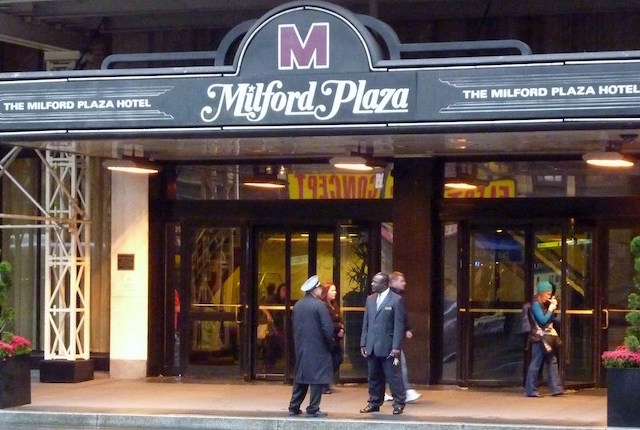 The late decades of the 20th century are back with a vengeance. From politics that many argue have dragged us back in time to chokers, oversized Tommy Hilfiger tops, Adidas sliders, fanny packs, and Nirvana T-shirts, it can be hard to believe it's really 2017 out there. Given the preponderance of all things '80s and '90s in today's world, we thought a healthy reminder of what those decades actually looked like might be in order. And since we here at Oyster eat, sleep, and breathe hotels, we've dug through the archives to find some of the most corny, wild, and double take-worthy hotel advertisements in existence. Buckle up, it's going to be a bumpy ride back in time.
https://www.youtube.com/watch?v=ADZCRZlm4no
Milford Plaza
Dreaming of bellhops that literally hop, waiters who flambe your meals in unison, and singing maids folding comforters in time? Well, the Milford Plaza was the place for you. Perhaps best known as the Lullaby of Broadway — as its most infectious jingle went — travelers of a certain age might remember its omnipresent place alongside frozen TV dinners, Spam, and steaming bowls of Jiffy Pop popcorn. The hotel opened in 1928 as the Lincoln Hotel, and the ornate brick building towers over a stretch of Eighth Avenue that has gone from seedy to tourist-packed over the decades. In 2009, the Milford Plaza closed and reopened in 2011 as the Row NYC, a fresh, contemporary hotel that still draws tourists by the busload. Unfortunately for them, that tantalizing $49 a night price tag is — like the Milford Plaza itself — but a memory.
Days Inn
The late 1980s and early 1990s were a time of — well, we aren't sure. And it's even more confusing to parse if you peep this Days Inn commercial from 1989. We have to give the hotel brand some serious credit for adopting brash and bold humor into its absurdist brew. Here, we have Americans with hair teased to eye-watering heights discussing everything from the French Revolution to crumpets — all over a series of jump cuts set to a blistering soundtrack of shred guitars. Oh, and for good measure, there's a female bodybuilder intimidating a man doing bench presses. Interesting fact: Cecil B. Day, the founder of the brand, considered himself a devout Christian who had ministers and free bibles in all of his hotels for a time.
https://www.youtube.com/watch?v=RJzysc4pIV8
Mount Airy Lodge
These days, this Poconos resort is known as the Mount Airy Casino Resort, and it's a relatively modern mountain escape in a region that's not exactly known for fresh digs. Back in the late 1970s and 1980s, however, if you lived in the northeast United States, the unmistakable jingle of this resort's eminently cheesy commercials is a thing that may still haunt you. It was piped into the tube televisions of nearly every household during primetime with mad-making frequency. Over the decades, the resort's commercials changed tacks, from picture slideshows of middle-aged folks dressed to the nines, riding white horses and fawning over each other, to live-action videos of the same. By 1989, the jingle was given new, multi-layered arrangements, yet the overall effect is still laugh-inducing. Women laze on pool rafts to be surprised by amorous men popping up from the water. Complex dives are executed in indoor pools. In-room pools sit next to beds borrowed from Versailles. In the end, while we miss the unforgettable impression that this commercial made on our youth, we're glad that Mount Airy has adopted its new, updated face.
Club Med
For '90s kids — and millennials who wish they were '90s kids — Club Med embodied everything that capitalist dreams were made of: tan bodies, big hair, neon sunsets, beaches, palm trees, and gazes into the distance. The strains of plucked guitar strings and bongos set the backdrop for a narrator whose voice — we believe — was also featured in previews for some of that era's most famous slasher films. As such, when the tagline suggests that a stay at Club Med will "send you back a human being," it's all a bit creepy. To be fair, Club Med has shown amazing staying power. This chain was once the exclusive haunt of booze-seeking couples and groups of friends on benders, but has become a family-friendly destination with mostly fresh style. Just check out the Club Med Bali or Club Med Cancun Yucatan for proof.
https://www.youtube.com/watch?v=iZSCjyUWPgE
Holiday Inn
Nothing says "a good night's sleep" quite like the fear-mongering strains of nationalistic militarism — or so thought Holiday Inn in the 1970s. The bet must have paid off, though, as this chain of hotels manages to pop up in seemingly every corner of the globe year after year. Still, the gender roles presented in this commercial are a bit nausea-inducing. First, there are the cheerful misogynistic greetings from a male manager to the girls working behind the front desk. This is followed by that same man lecturing a young housekeeper in a room's dark corner. Finally, it culminates with orders being barked for the staff to march in formation to witness the unveiling of the hotel's sign. The whole thing feels a bit like an exercise in groupthink.
You'll Also Like: