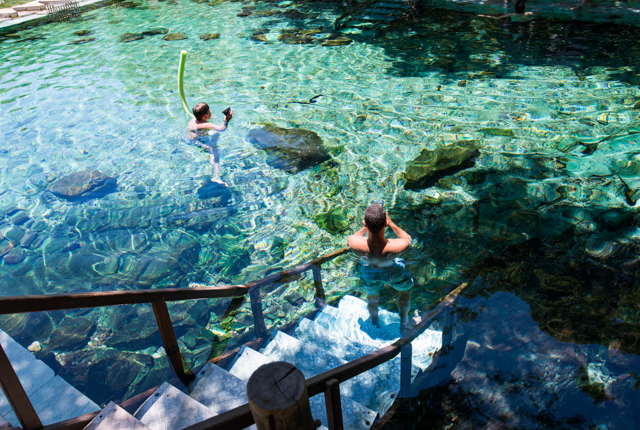 Natural hot springs are found all across the globe, from the Yukon Territory to Tuscany, from Budapest to Bali, from Iceland's Blue Lagoon . . . the list goes on. The South American continent is a major, ahem, hot spot for geothermal pools and springs -- after all, nearly all of its western coast is part of the Pacific Ocean's Ring of Fire. Mineral-rich waters bubble up to the surface in South American places as spectacular and various as a remote high-altitude desert, a temperate rain forest, and even inside one of the world's deepest river canyons.
1. Entre Rios, Argentina
Naturally hot groundwater has made this Argentinian province between the Uruguay and Parana rivers a mecca for springs seekers. The area is home to more than a dozen thermal centers — almost all of which are built-up waterpark complexes with full and well-staffed facilities. Termas de Federacion and Termas de Villa Elisa (on the Uruguay) and Termas de la Paz (on the Parana) are some of the most popular. Fun fact: the waters at Termas de la Paz are four times saltier than ocean water, so visitors can float to their heart's (and joints') content.
About an hour's drive southwest of Mendoza, Parque de Agua Termal – Termas Cacheuta is a year-round, family-friendly hot springs water park with several tiered stone-lined pools and jaw-dropping views of the Mendoza River, the cacti-studded terrain, and the rugged Andes Mountains. In addition to the variously heated wading pools, there are a kids' area with a slide, an elegant rectangular swimming pool on a grassy lawn with sun loungers, and a natural grotto that serves as a steam room and sauna (a dry sauna is also available). Facilities include a snack bar, picnic tables, and changing rooms with showers and rentable lockers.
A Boutique Hotel Pick:
3. Aguas Termales de Polques, Bolivia
Experiencing these hot springs in Bolivia's Salty Desert may quite literally feel out of this world. A large stone pool fed by volcanic water (courtesy of the Polques volcano) sits at the edge of a rocky and remote Andean expanse, hazy with steam. Go after the sun sets to see the night sky in all of its infinite glory — shooting stars, Milky Way, and all. Day trippers may spot a herd of alpaca or a flock of flamingoes.
Thermal waters were discovered in this part of Brazil in the early 1700s, and today, the municipalities of Caldas Novas and Rio Quente form one of the most popular hot-springs destinations in the world. Caldas Novas is dominated by Wisconsin Dells-like water parks, with pirate ships and wave pools (diRoma Acqua Park and Nautico Praia Clube are two of the top attractions), while Rio Quente's network of thermal resorts feature enormous and elaborate hot pools and mineral baths. The group's Novo Hotel Pousada, surrounded by thick jungle, also offers river activities, like kayaking, snorkeling, and even scuba diving in the crystal-clear Rio Quente.
An Upscale Hotel Pick:
5. Pucon, Chile
Adventure tourists from all over the world come to Pucon to hike through ancient forests and volcanic craters, horseback ride across the Patagonian countryside, and ski and snowboard down the slopes of the 9,380-foot Villarrica volcano. Of course, hot springs are the ideal antidote to all that activity, and there are many within and near Pucon. The most spectacular of these is Termas Geometricas, a series of 17 volcanic hot pools and cascades built into a gorge, deep in the rainforested wilderness. Termas Geometricas' facilities are well maintained, with a cafe at the entrance and red wood bridges leading to the various pools, but the place is so rustic as to not have electricity — at night the decks are lit by candles. Time your visit right, and you could soak in piping-hot water as snow pelts down around you.
6. Puritama Hot Springs, Chile
High in the Atacama desert close to the Bolivian border, the thermal baths of Puritama is a middle-of-nowhere string of waterfalls and warm pools, connected by wooden walkways. Most people arrive via car, but intrepid visitors make the challenging canyon hike along the Rio Puritama toward the springs. (Note that the hot springs are nearly 11,500 feet above sea level, so all travelers here should take it easy, whether on the uphill hike or on the steep walk from the parking lot to the pools.) The sodium sulphate water is more warm than hot, but many visitors find that attribute especially relaxing, as they can linger longer than in truly hot springs. Facilities here are limited to changing rooms with bathrooms, but no showers, and lockers. Bring your own lock, food, and drinks — there is no cafe, but there is a shaded picnic area overlooking the canyon.
7. Chivay, Peru
The riverside thermal springs along the Colca River are tailor-made for adrenaline junkies exploring Colca Canyon, the second-deepest canyon on the planet — it's about two times deeper than the Grand Canyon — and a renowned haven for hikers. Both La Calera Thermal Waters in Chivay (a pool complex with changing rooms and a bar) and Hot Springs Chacapi (a more rustic facility with natural and manmade pools) offer rustic swinging bridges over the river and breathtaking views of the canyon and its traditional Peruvian terracing.
You'll Also Love:
All products are independently selected by our writers and editors. If you buy something through our links, Oyster may earn an affiliate commission.