Best Hotel Spas in Iceland
Geothermal bathing is just as crucial an Iceland itinerary item as ice cave touring and glacier hiking (and horseback riding, and whale-watching, and road-tripping to geysers, volcanoes, waterfalls, mountains, and fjords…). In fact, soaking in warm water — whether in one of Iceland's many natural hot springs, a geothermally heated hot tub under the stars, or in a spa whirlpool — is the perfect antidote to an adventure-packed day exploring an icy-cold, otherworldly terrain. Read on for the Iceland hotels with the best spa facilities, from Reykjavik boutique hotels to remote escapes in Iceland's dreamy countryside.
See All Iceland Hotels
1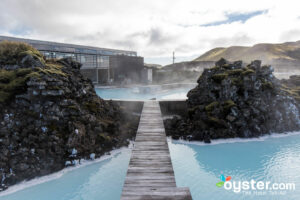 Steam billows from the rugged landscape all around Silica Hotel, an upscale geothermal healing facility built on an old lava flow about half a mile from the famous Blue Lagoon resort. Limited access to the public Blue Lagoon is included in Silica's rates, but the hotel also has its own private and beautifully designed geothermal lagoon. Exclusive to guests, Silica's bathing pool has the unique mix of minerals and seawater algae that's found only in Iceland. Admission is free, so only a naked shower is required before entering the prized, medicinal water. Full hour-long massages can be taken in the water, while floating gently on a rubber mat. Renowned psoriasis treatments are available, along with a range of more typical body treatments, using the Blue Lagoon's branded products. The clinic has its own changing rooms, as well as a fitness center and a yoga studio. Silica Hotel's 35 understated rooms have patios with incredible views of the stunning landscape of mountains and lava flows.
2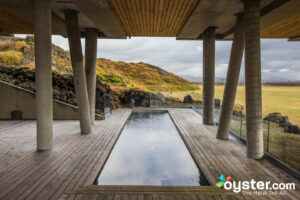 If you've ever been to Oyster.com before, then chances are you're aware of our healthy and well-documented obsession with ION Luxury Adventure Hotel. The super-secluded, geothermal-powered designer hotel -- an architectural marvel that looks lifted from a science-fiction fantasy -- is located in Thingvellir, a mountainous region dotted with lakes and natural hot springs. (A 4x4 is recommended to visit.) ION's sleek spa has a sauna built of lava rocks, a gorgeous 33-meter-long outdoor pool and hot tub, and a full range of treatments, many of which use Icelandic herbs. (We picked ION's 90-minute "Healing by Icelandic Nature" -- a body scrub, body wrap, mini-facial, foot massage, and body massage -- as one of our favorite outrageously indulgent spa treatments in Europe.)
3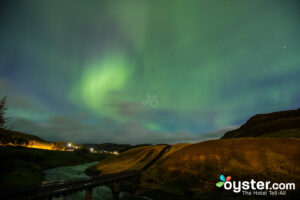 Set in an otherworldly, four-wheel-drive-demanding terrain, Frost and Fire Hotel is a tranquil mountain getaway along the Varma River. Lazy plumes of steam emerge from the hotel grounds (where there's steam, there's the faint smell of sulfur, of course), and at night, the sound of the river has a lulling effect. The hotel doesn't have a full-service spa (its one specialty treatment is an hour-long mud bath using natural geothermal mud from surrounding mountains), but its spa and wellness facilities are its top features -- starting with the river, which is naturally heated by the region's hot springs and warm enough for wading, depending on the season. There's a heated  wooden Kniepp baths in a candlelit room, and a geothermal sauna with an outdoor shower. Two geothermal by the river make prime perches for watching the steaming hot springs and lava fields -- and the seasonal Northern Lights dance across the sky. The area is filled with hiking trails, and excursions like horseback riding to river rafting can be arranged.
4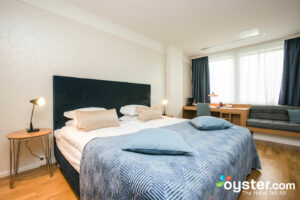 A pay-to-enter spa in an airline-run airport hotel may not be what you have in mind when you think of quintessential Iceland spa experiences (see above for that). But we give the adult-only Soley Natura Spa a nod for a few reasons. One, it has some water-circuit essentials: a heated, capital-B-shaped saltwater pool; a bubbling whirlpool; and a steam bath and sauna (all are unisex and require swimsuits). By the main pool is a relaxation lounge with pale-wood floors, cushioned furniture, woven throws, and a floating fireplace -- a nice touch. The show's showpiece is their holistic-inspired treatment list, which offers a dozen different facials, body scrubs, and massages, including one using hot and cold stones -- plus mani/pedis, waxing, and brow shaping -- using Icelandic Soley Organic products. Made from native ingredients like volcanic clay from Eyjafjallajokul and hand-picked birch, willow, yarrow, and bearberry from the highlands of Iceland, Soley's products are formulated in a tiny village at the foot of Kaldbakur, the tallest of the Westfjords Alps. The water used in Soley products is sourced from a Kaldbakur spring. All of this is to say that Soley products are as pure and quintessentially Icelandic as a soak in warm, healing spa water.
5
The remote Hotel Ranga, close to some of Iceland's most spectacular natural wonders, is aimed at celebrities, honeymooners, and Northern Lights seekers. Like Frost and Fire, it doesn't have a full spa, per se, and only offers one treatment -- here, it's massages in 20-, 30-, or 60-minute sessions. But this offering combined with Ranga's three outdoor geothermal hot tubs earn it a spot on this list. That's because guests can gaze at the stars and the magnificent Aurora Borealis (if the timing's right) from the river-facing hot tubs. Ranga also has its own Hotel Ranga Astronomical Observatory, which has a retractable roof and computerized telescopes, through which guests can see details on the surface of Mars, the rings of Saturn, or, with a special white-light filter, the sun.
6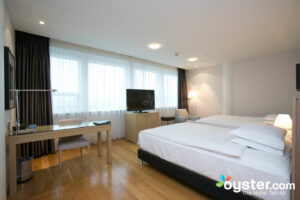 Like Icelandair Hotel, a Hilton probably doesn't strike you as a worthy spa destination. The Reykjavik outpost of the chain brand is contemporary and has Nordic touches everywhere -- including a spa with indoor/outdoor hot tubs, a blue-tiled floatation pool, and an outdoor sauna. The available body treatments are impressive for any spa, much less one in a corporate hotel: there is reflexology, Yumeiho therapy, kinesio and acupressure taping, body contouring and scrubs, and a "Fire and Ice Stone Massage," which uses warm river stones and cool marble stones. Some treatments can be administered while guests are soaking in one of the hot tubs; Hilton Reykjavik Spa also has special massages tables for pregnant women and floor mats for those who opt for a traditional Thai massage. Facials, mani/pedis, and wax and brow services are also available.
7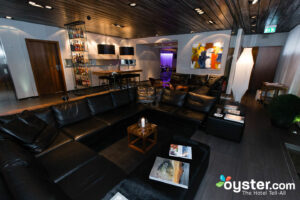 With a design concept that evokes an Icelandic cave, the hotel's spa has a dark central room with a large hot tub made to look like its been chiseled from stone, where guests can have shoulder massages while they soak. The spa also has a sauna, rainfall shower, and a couple of treatment rooms. There is a fee for entry (the one-time fee for guests covers their entire stay), but the small fitness room with limited cardio and free weights is available free of charge.