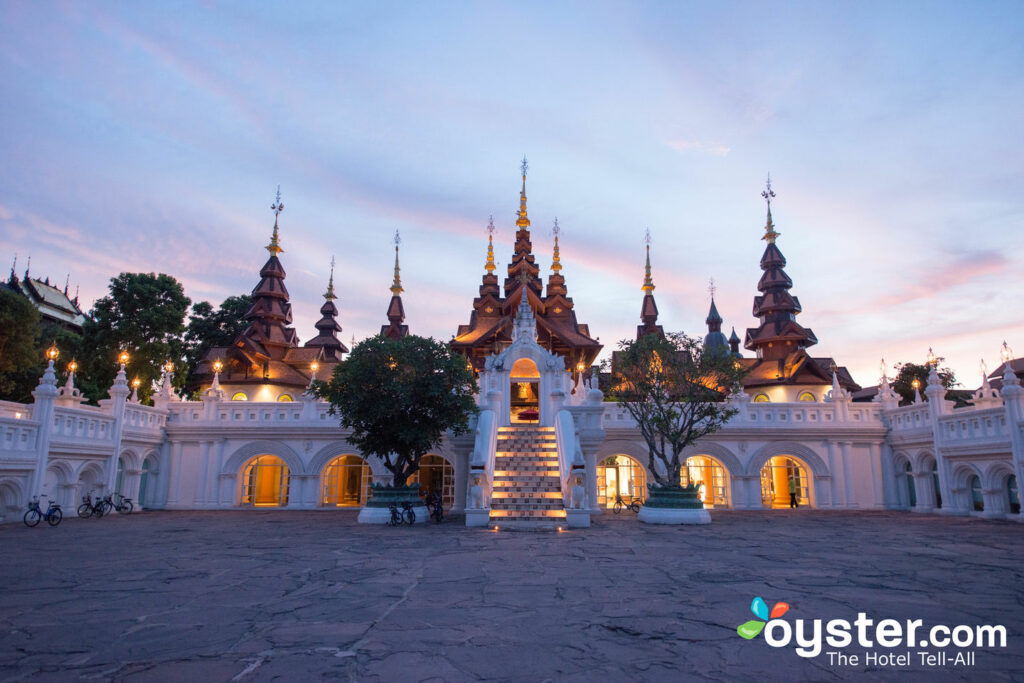 Things you should always do in Chiang Mai: visit dazzling temples, indulge in delicious local food, and stock up on gorgeous artisanal crafts. Things you should never do in Chiang Mai: Well, keep reading. Ahead are some of the most common mistakes to make in this ancient city in northern Thailand -- an enchanting mecca for foodies, creatives, and animal lovers.
1. Shy Away From Street Food
If you've been burned by street food before, it's understandable if you want to play it safe and stick to Chiang Mai's sit-down restaurants. But that would be a mistake! Cheap street eats (and drinks) are simply part of the equation of this vibrant foodie mecca. Fruit smoothies, chicken satays, fried quail eggs, crispy pork rinds, khao soi (northern Thailand's famous curry noodles), and more are available at sidewalk carts, sprawling food markets, and bustling night bazaars. If you don't dig in, you haven't been to Chiang Mai.
2. Not Take a Cooking Class
Chiang Mai is a major foodie destination — not just for its incredible street-food scene, but for its many (almost 100) cooking schools. Not only are cooking classes a great way to learn more about the ingredients that go into Thai stir-fries and curries, but you'll also get to meet and break bread (er, spring rolls) with fellow Chiang Mai travelers. Most cooking schools offer half-day (lunch or dinner) or full-day courses, and include local market visits to shop for ingredients.
3. Visit During Weekdays Only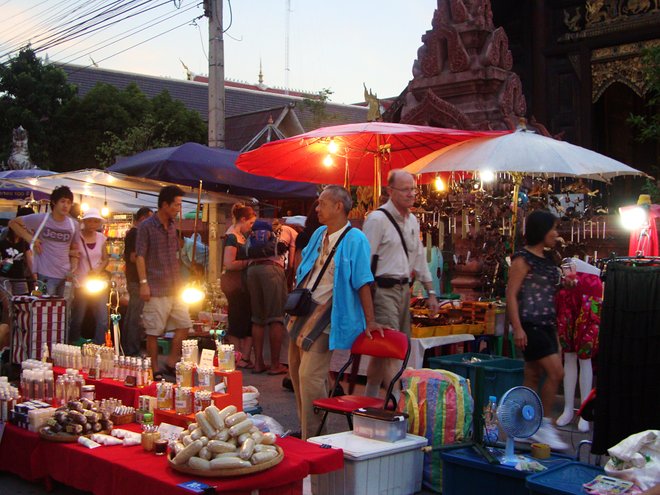 Chiang Mai's many night markets can be found all over the city, any night of the week. But the Saturday and Sunday night markets are really something else. (If you're hailing from the U.S.: Picture the midway of a state fair on opening night and multiply it by 10.) Street-food stands are everywhere, and the sidewalks are packed with vendors selling local artisan crafts, from stunning indigo tie-dyes to handmade soap. If you need a break from all of the crowds, chaos, and walking-induced foot cramps, you can opt for a massage or reflexology session right there on the sidewalk. The Saturday market follows Wua Lai Road by the south city gate, and the Sunday market kicks off by Tha Phae Gate on the east side and trails Ratchadamnoen Road, which is closed to traffic for the night. The Sunday market runs by the intricate Wat Phan Tao and the 600-year-old Wat Chedi Luang.
4. "Sleep On" Things You Want to Buy
Chiang Mai is Thailand's craft central. Artisans come down from nearby villages to sell handmade umbrellas, wood carvings, embroidery, and so much more. If you see something you want, buy it. Don't wait. You may not find that specific vendor or item again and you don't need the "keep in mind" buys clogging up your mental space. Just buy what you like as you see it. You'll be supporting the local economy as you rack up keepsakes. Most travelers find Thailand extremely affordable, and generally, what you're agonizing over is a matter of dollars. Plus, if you over-shop, then you'll simply have more gifts for friends and family back home.
5. Rent a Motorbike If You Are a Newbie
Motorbikes are dirt-cheap to rent here. If you know what you're doing and are accustomed to driving on the left, then they are an efficient way to get around. Americans and inexperienced drivers (and especially inexperienced American drivers), steer clear. Thai drivers are notoriously hasty, roads are busy, pedestrians are everywhere, and rains could unleash at any moment. Incompetent motorists are potentially endangering themselves, other drivers, and innocent passersby. Plus, many rental companies deliberately entice drivers with the super-low rates, then, upon return, upcharge for "repairs" that may or may not be necessary.
6. Show Up at the Temples Underdressed
Seeing glorious ancient temples is a big part of any Chiang Mai itinerary. Much like the rest of Thailand, temples here have strict dress codes, so don't show up in a skimpy, shoulders-exposing top and cutoff shorts and expect to get in. Your shoulders and knees must be covered to enter, and you'll need to remove your shoes. (And, for some, you'll have to pay a small fee.) Your best bet is to wear full-length, loose-fitting clothes, such as a maxi dress and a light wrap or a long-sleeve linen top and flowy harem pants.
7. Take Selfies With Tigers
Animal lovers might jump at the chance to get up close and personal with one of the most beautiful animals on the planet: the tiger. Chiang Mai's infamous Tiger Kingdom gives tourists the opportunity to do just that. The facility allows visitors walk up to, pose with, touch, and even lean on the big cats — all while snapping pictures, of course. It may sound irresistible, but think this through for just a minute. Tigers are predators. They're the largest cat species in the world. They have really big incisors. They are not, by nature, docile around humans. And docile is exactly how the creatures at Tiger Kingdom appear, leading many visitors to question whether the animals have been sedated. Tiger Kingdom maintains that they don't drug the animals, but this is the impression left by people who have come here and regretted it. Many also say that they were devastated to see the animals in cages and disturbed to witness the handlers poke them with sticks for the sake of a selfie. In 2016, TripAdvisor, Oyster's parent company, stopped selling tickets to cruel animal attractions, such as Tiger Kingdom and other similar attractions.
8. Ride an Elephant
Elephants are a big draw in Chiang Mai. It's not surprising that people want to see them, but they should recognize some caveats. There are dozens upon dozens of tour operators leading daily trips to the elephant-inhabited jungle surrounding Chiang Mai. Research them thoroughly, and whatever you do, do not plan to ride an elephant, and eliminate any company that offers elephant riding from your list of potential operators. Elephants may be the world's largest mammal, but they are not meant to carry humans. They are trained to do so, with owners and mahouts using methods that in almost all cases involve chains, knives, bullhooks, isolation, and food deprivation. The process is meant to emotionally and psychologically break the animals, and the practice can lead to spinal damage and worse.
This is not to say you can't visit elephants while in Thailand. Seeing elephants is an incredibly special experience that may even be the highlight of an entire Thailand trip. But research sanctuaries (and "sanctuaries") exhaustively ahead of time and do not support a facility that also offers riding. Many of the nature parks simply allow visitors to feed the animals bundles of bananas and sugarcane, walk with them through the jungle, and give them a bath. Compared to riding, these activities are far more ethically tolerable. But keep in mind that you are paying a place that, no matter their intentions, keeps animals in some form of captivity and where, at the end of the day, you simply don't know the full extent of the elephants' treatment.
9. Go on an Organized Tour to the Hill Tribes
Visiting the mountain tribes around Chiang Mai and learning about their way of life is 100 percent something you should do. Similar to above, there are many, many tour operators who organize excursions to the tribal villages. Yes, some of these operators may truly care about the welfare of the villagers, but, more likely, they're just in the business of charging tourists for photo ops with other human beings. Instead, arrange your own visit, whether by driving yourself or hiring a driver for the day (ask your hotel's front desk for recommendations). And for goodness sake, buy something from the villagers.
10. Take Photos of Children in Traditional Dress — During School Hours
It's understandable if your first instinct is to whip out your camera and wallet at the sight of adorable Thai children in colorful traditional garb. But check your phone or watch first. If it is during school hours, the children are probably skipping school in order to lure tourists for photos, donations, and perhaps pickpocketing opportunities. And actually, the day and time doesn't matter. Avoid taking photos of or with children you don't know, period.
11. Skimp on Sun Protection
The cooler climate of Chiang Mai is a blessed relief after time spent in steamy Bangkok and on tropical Thai islands. With the yearly average hovering around 78 degrees, the mountain city's weather is generally pleasant year-round. Bullet-proof sun protection is nonetheless critical. Visitors should regularly apply sunscreen to their face and body, and don full sun-blocking regalia: sunglasses with 100 percent UV protection, a baseball cap or wide-brim hat, and lightweight, full-length clothing, such as the Thai-style harem pants available at markets all over Chiang Mai for a few bucks. If you can't bear to put on long sleeves, at least wear a T-shirt that covers your shoulders or a tank top under a featherweight linen scarf. For more tips, check out all the products you need to keep your skin safe on a tropical vacation.
A peaceful respite outside of Chiang Mai's old city, Shewe Wana Boutique Resort and Spa is a wonderfully charming resort with two sides: one with 16 hotel rooms and another with 15 one- and two-bedroom suites. The tandem sections share all of the hotel features, including a spa, two garden pools, and two restaurants — one of which serves a robust free breakfast with healthy and local a la carte items. Rooms on both sides of the resort have an elegant, Old World feel to them, thanks to stately furnishings and traditional decor. Those rooms on the boutique side have especially charming touches, like hand-painted doors and mosaic tile flooring, while suites have more space and kitchenettes. The entire resort has a tranquil quality that nearly all guests find enchanting. For a more modern stay closer to the Old City, travelers could look into X2 Chiang Mai Riverside Resort.
You'll Also Like:
All products are independently selected by our writers and editors. If you buy something through our links, Oyster may earn an affiliate commission.