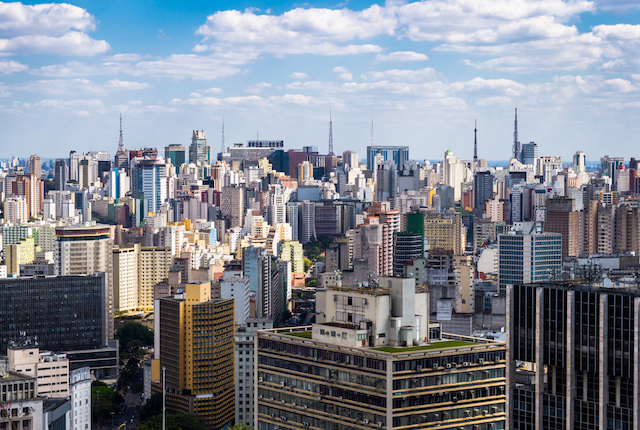 Have you ever Googled images of Sao Paulo's sprawling skyline? It's a big one. Sao Paulo is the fourth-largest city in the world, with over 21 million Paulistanos, or residents. (By comparison, New York City has 8.6 million.) Unlike beach-y Rio de Janeiro, Brazil's business capital is set about 50 miles from the coastline. What it lacks in sand, however, it makes up for in fantastic markets, world-class restaurants and nightlife, and even a green space that rivals Central Park. But without one particular hub where all the action can be found, it's hard to know where to start when planning an itinerary. To help lessen the intimidation, we've compiled a list of the best things to do while in this mighty megalopolis. Read on to learn more.
1. Stroll down Paulista Avenue.
The best way to get your bearings upon arrival in Sao Paulo is to walk the length of the nearly two-mile-long Paulista Avenue, which features an interesting mix of historic and modern buildings. This is also where the world's largest gay pride parade is held each year, as well as championship celebrations, political protests, and relaxed Sunday bike rides when the street is closed to automobiles. Paulista Avenue stays busy all week due to the posh skyscrapers holding the city's business and banking headquarters, in addition to exhibition spaces and cultural institutions like the iconic Sao Paulo Museum of Art. The latter shelters one of the finest collections in the southern hemisphere, including pieces from Renoir, Picasso, and Van Gogh. The wide street is also home to an extensive shopping area that includes large-scale shopping malls, coffee shops, restaurants, and even some historic mansions. If you don't feel like walking, Paulista Avenue is a major artery for the subway and bus lines, so this is a great opportunity to dive into the city's the mass transportation options.
2. Check out the Mercado Municipal de Sao Paulo.
For an introduction into the city's market scene, pay a visit to this massive indoor location. Located in downtown Sao Paulo, the Mercado Municipal is notable for its Belle Epoque exterior with a series of domes and stained-glass windows. On the inside, you'll find a variety of foods like vegetables, fruits, seafood, spices, and sweets, as well as a dining area where you can sample local delicacies like pastels (deep-fried pastries stuffed with your choice of ingredients, like salt cod). The market attracts a big crowd every day, partly due to its location in the old city center, where a number of grand old buildings are located. If you're visiting on a Saturday, combine this trip with a visit to the nearby Calixto outdoor market (open all day), which has vendors selling antiques and handicrafts in the morning and live samba music and dancing starting around noon in the central food court. Note: The streets around this area may feel edgy, so stick to daylight hours and keep an eye on your belongings.
3. Sip a rooftop drink and savor the view.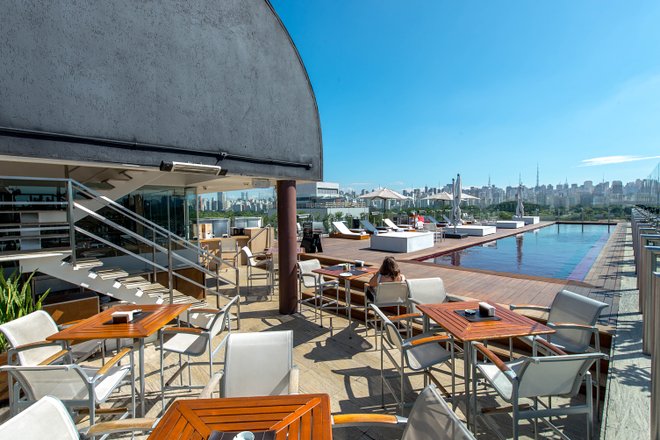 Another fun way to orient yourself in this enormous city is to order a cocktail at one of Sao Paulo's best viewing spots, and that means going all the way up. Establishments like The View Bar, Alto da Harmonia, and Balsa Bar are some of the more popular options serving cocktails with a view, as is Hotel Unique in the upscale neighborhood of Jardim Europa near Ibirapuera Park (more on this later). The Skye bar is open every evening at 6 p.m. and DJs play later in the evening (no reservations needed). A more traditional option is the Terraco Italia bar on the 41st floor of Edificio Italia, one of the tallest buildings in Sao Paulo. The view is especially great at sunset, though you may have to pay a cover charge in addition to the cost of an expensive drink. Once you've had a rooftop experience, you'll be ready for a caipirinha or glass of chopp (really cold beer) at one of the more local drinking establishments — perhaps a corner bar with an outdoor garden.
4. Catch a flick in an art-house cinema.
Film lovers will be in heaven in Sao Paulo, home to dozens of thriving art-house cinemas. With so many to choose from, a good place to start is Reserva Cultural, which shows independent films and foreign productions outside the Hollywood circuit in both 35mm film and digital formats. Reserva's central location in the center of Paulista Avenue also makes it a popular choice. A favorite with the locals is SPCine Olido, a popular movie theater of the 1950s that has a retro vibe (think marble stairs, brass touches, and red armchairs). Perhaps the most unique option in the city is Caixa Belas Artes with a specific theater that has seats from old automobiles. The name? The Drive-In.
5. Explore the modern art scene.
There are innumerable contemporary art galleries to explore around the city, from underground spaces to gleaming showrooms in upscale neighborhoods. A good place to start is the Galeria Choque Cultural, which features a rotating selection of some of Brazil's most outstanding artists. For a half-day experience, visit the seven-floor Instituto Tomie Ohtake where the building is a work of art in itself. Sao Paulo is also considered one of the best cities in the world for street art. There are many examples in the city center, but the best place for this medium is the artsy area of Vila Madalena — specifically, Beco do Batman (or Batman's Alley). Some of Sao Paulo's best graffiti artists have taken over this cobblestoned lane. While you're here, take a walk around the area's funky restaurants and corner bars where you'll likely want to stay for tapas and drinks.
6. Become a Brazilian food expert.
Brazil's largest city is not surprisingly a Brazilian and international food mecca. Check out the street food carts found on every corner, as well as padarias (bakeries), fresh juice bars, botecos (small bars and restaurants), chic bistros, upscale restaurants serving tasting menus, and even an Eataly location. Sample the pizzas, ceviches, empanadas, coxinhas (fried dough stuffed with chicken), fritters made from black-eyed pea flour, and even pork sushi. The city has a long legacy of Syrian and Lebanese cuisine, as well as Italian and Japanese fare, due to large immigrant populations. For a real splurge, snag a reservation for dinner at D.O.M. — number 30 on the World's 50 Best Restaurants list and the only restaurant in the country with two Michelin stars.
7. Have a picnic in the park.
When you need a break from the city's traffic, smog, and endless skyscrapers, head to the peaceful environs of Parque Ibirapuera — one of the largest city parks (390 acres) in Latin America. It receives thousands of visitors each day. There is plenty to do within the park's borders, like walking, jogging, and biking. The beautiful tree-lined streets, museums, and interesting works from Oscar Niemeyer, one of Brazil's most famous architects, provide more to see and do. Pick up some supplies and have a picnic in one of the large grassy areas, then visit the Japanese Pavilion — a replica of the Katsura Palace in Kyoto.
8. Tour the cathedral, monastery, opera house, and library.
These four notable cultural attractions in the city center are within easy walking distance of one another and make for a great half-day walking tour. Start at the Sao Paulo Cathedral, the largest church in the city, and then head inside where you can marvel at the marble interior, intricate carved details, and stained-glass windows. Admission is free, and tours in English and Portuguese are offered daily. Next, walk to the Mosteiro de Sao Bento, a beautiful monastery completed in 1914. Here, you can gaze at the ornate ceilings, walls, altar, and, if you're lucky, catch the daily Gregorian chorus. There's also a bakery that belongs to the monastery called Padaria do Mosteiro — a nice stop where you can pick up a snack and souvenirs. From here, you can walk to the Theatro Municipal de Sao Paulo, modeled after Paris's Palais Garnier, with Renaissance, Baroque, neoclassical, and Art Nouveau styles. If you can't see an opera, play, ballet, or symphony, take one of the free guided tours, held daily in English. Finish your walking tour with a trip to Mario de Andrade Library, the city's largest public library and one of the most important research libraries in the country. Designed by the French architect Jacques Pilon, the library is considered a landmark of modern architecture in Sao Paulo.
9. Dance to samba on Saturdays.
Every Saturday, do as the Paulistanos do and let loose with food and music. Considered the most traditional of the Afro-Brazilian sounds, samba and its catchy beats might make you think of Rio de Janeiro's Carnival, but Sao Paulo also has a strong history with this music genre. On Saturdays, you can find live samba music starting at lunchtime in many of the city's bars, like Bar Samba in Vila Madalena. Here, you can order feijoada, the traditional Brazilian feast of beans, rice, dried meat, kale, and oranges. Arrive early to get a table, keep track of your food and drink on the comanda (a slip of paper), and stay as long as you like.
You'll Also Like:
All products are independently selected by our writers and editors. If you buy something through our links, Oyster may earn an affiliate commission.