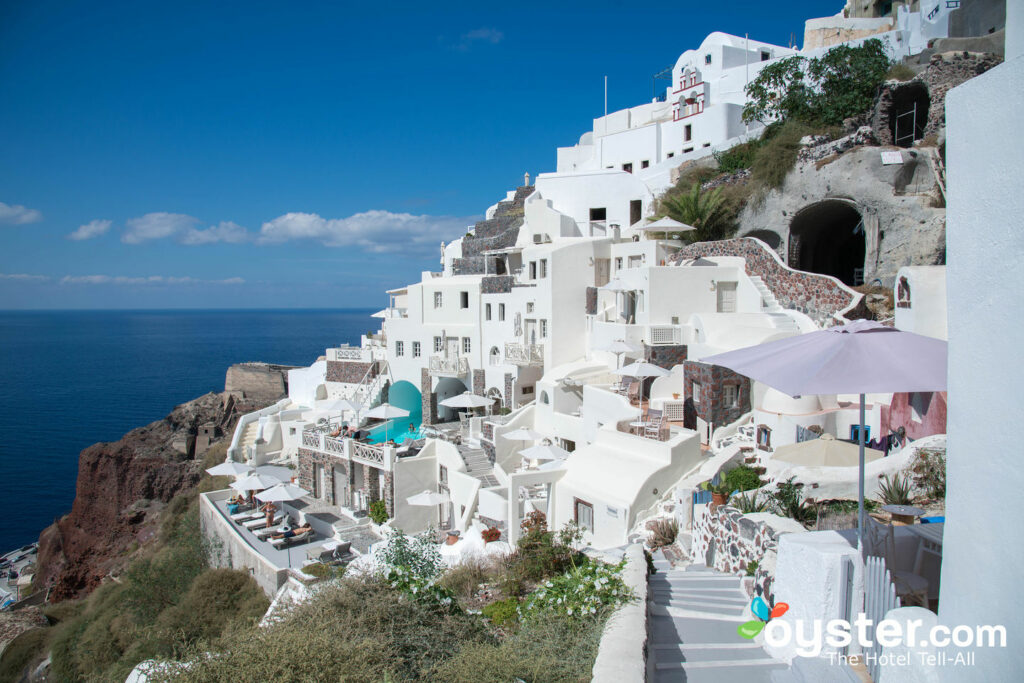 Santorini is one of the most popular islands in the world for destination weddings and honeymoons. It's also a highly prized backdrop for dramatic wedding photo shoots, even for brides who aren't tying the knot anywhere near the Aegean Sea. And while the gorgeous caldera cliffs, delicious seafood, unique red and black lava stone beaches, and Cycladic architecture make for a memorable and enjoyable vacation, there are a few caveats on the island that might make it a less than stellar pick for a honeymoon. Read through our list, and if in the end you decide that Santorini is still your dream honeymoon spot, we fully support that decision -- we just think newlyweds should be fully informed.
1. It's crowded.
If you're imagining a peaceful sunset stroll along the caldera hand in hand with your partner, then you should know that Santorini has an overcrowding problem. Nearly two million people visit the small Cycladic island every year (it's small enough that a fit person could walk from the southern village of Akrotiri to the northern village of Oia in about eight hours), and 8,000 people can arrive via ferry or cruise ship per day. In the high season, you'll be dodging selfie sticks and stepping around brides' wind machines. The ancient fishing villages of Fira and Oia were built for donkey traffic, not throngs of tourists on a package vacation. To avoid the crowds, we suggest spending most of your time at the beaches or in Akrotiri and Megalochori villages. Another option is to visit during the low season in April and October, though the weather is chillier.
Akrotiri Hotel Pick:
2. The plumbing isn't great.
Honeymoons are all about romance, but it's difficult to feel fun and sexy when you and your new spouse (and everyone else on the island) are required to place all used toilet tissue in a wastebasket. The ancient island's plumbing infrastructure simply cannot handle flushing anything other than human waste and water, which makes for some unpleasant bathroom situations. Additionally, the water isn't potable so you'll be drinking only bottled water. Much of the water that comes out of the showerheads is slightly brackish and salty, leading to some less than stellar hair days — an important note to make for brides and grooms who want to look their best for social media pics.
3. There's little privacy.
Fira, Oia, and Imerovigli are vertical villages. This means that the hotels are built directly into the cliff face and right on top of each other. That being said, an upper neighboring hotel's restaurant can easily loom directly over your honeymoon suite's "private" whirlpool and sun terrace. Nothing kills hot tub romance like 85 tourists watching you soak while they eat calamari. The hotels have to creatively use the small space and it's not uncommon for guest rooms to share terraces with neighbors.
4. The pools are cold.
Santorini is home to some of the most incredible plunge pools, since architects have done a superb job of making sure the pool decks have the best real estate. The vast majority of caldera hotels offer dramatic views from pools that seemingly perch just over the edge of the 1,200-foot-drop (Imerovigli is the highest point in Santorini, if you want the very best views). From afar, the pools look like the perfect place to while away entire afternoons sipping local wine and soaking in the sun and sights. But unless you're visiting on the hottest days or brought a wetsuit, these unheated pools (high electricity costs are to blame) are too cold for anything other than a quick plunge. There are a few heated pools on the island, like at Astra Suites.
You Might Also Like: Greece Hotels with Private Plunge Pools
Book Your Stay at Astra Suites:
5. You might not enjoy the cave-style rooms.
Many of the boutique hotels (which were once private mansions) along the caldera offer cave rooms. On paper (or a hotel website), cave-style rooms sound like a not-to-be-missed experience. And some people truly do love them as a cultural experience. Ancient fishermen used to live in caves, which were protected from the elements. Today, cave-style usually means a room that was built into the cliff with whitewashed walls, minimalist furnishings, and a large front-facing window or terrace for caldera views. There's only so much a hotel can do with a cliff room, which means that sometimes ceilings are low and there isn't much natural light — many cave rooms have protruding boulders in the ceilings. You also won't find any uniformity in the layout, even in cave rooms at the same hotel, which can lead to misunderstandings if guests want a specific room and end up booking something that's more narrow than they wanted. Other downsides include dampness, musty odors, and lack of privacy. Since the only natural light comes from the front of the room, honeymooners have to choose between leaving the shades open or sitting in the dark. Thankfully, some cave-style rooms are beautifully decorated and offer extras like private plunge pools or whirlpools that are set farther away from public areas for more privacy, like some of the rooms at Aris Caves.
Book Your Stay at Aris Caves:
You'll Also Like:
All products are independently selected by our writers and editors. If you buy something through our links, Oyster may earn an affiliate commission.