Best Hotel Service in Miami
Just because it's an upscale hotel doesn't mean the service is great. Here's our list of the most attitude-free Miami hotels, where you will be waited on hand and foot throughout your stay — from check-in to checkout, from the beach to the pool, and from your room to the restaurant.
See All Miami Hotels
Service is full of small but classy touches, like the extra towels that are delivered to rooms on wooden trays. Around the pool, food is brought with both a table by your lounge chair and a bed tray, should you wish to lie back and nibble. The concierge staff is especially accommodating, from getting yoga class schedules from the beautiful Sports Club/LA gym to making restaurant reservations. All requests are dealt with promptly and thoroughly.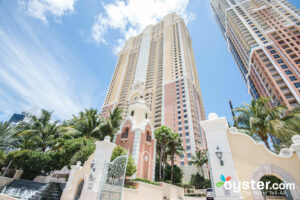 Effortlessly magical service: Bags transport themselves to rooms, and a woman roams the beach handing out free mango smoothies all day. As soon as you enter the beach or a new pool zone, someone will ask you if you need anything. When attendants seat guests at the beach, they plant a flag in the sand next to lounge chairs so that guests can raise it when they want service. It could be almost too much, but it's done with a casual grace that makes everyone feel at ease.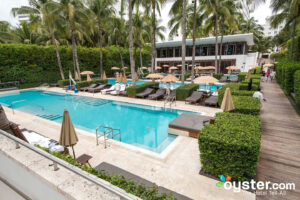 From freshly mixed tropical fruit juice and cold hand towels at check-in to hand-delivered letters confirming dinner reservations to doting poolside drinks service and refreshing spritzes on the beach, guests receive the perfect amount of attention -- neither too smothering nor too aloof. The chocolate cookies and large glass bottle of Evian at turndown are especially appreciated.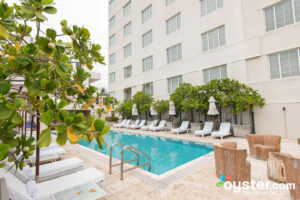 Check-in takes place in the room, preceded by a tour of the hotel. Staffers are available at your beck and call 24/7, and every guest is assigned a personal assistant who acts as a private, personalized concierge. They'll do everything from make restaurant reservations to arrange business meetings to meet the "outlandish" requests promised on the hotel's website. Poolside service is particularly phenomenal -- extremely precise margarita instructions are followed to the letter. Best of all, the service isn't in the automated, self-conscious, you-better-tip-me South Beach tradition.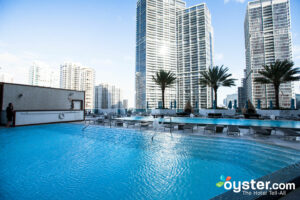 The prompt porters do more than carry your bags -- they actually remember your name throughout your stay. Unlike at other hotels, where calls for service are met with constantly ringing lines, every call here is promptly answered by a staff member happy to send extra toiletries your way or help plot a jogging route around Downtown Miami. Everyone who works at the Epic -- a member of the service-savvy Kimpton Hotel Group -- is clearly proud of this freshly opened resort (as of 2009) and is delighted to show it off. It really makes all the difference.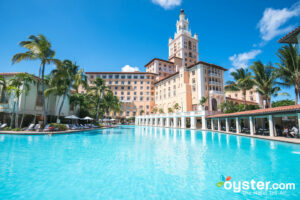 It's rare for porters to turn down a tip, but no gratuities are necessary at this historic Miami hotel. (All tips are included in the $28 resort fee.) With 24-hour room service, personal trainers in the gym, a golf school for beginners, and prompt poolside service, the Biltmore service has impressed its guests for more than 80 years.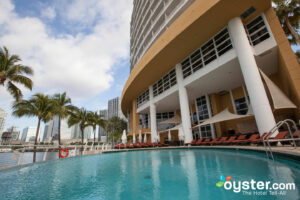 From yoga trainers at the gym to waiters who can patiently explain the entire wine list at Azul to complimentary use of the spa and locker rooms long after checkout, the Mandarin Oriental's service is designed to accommodate guests with whatever they need, whenever they need it.