Best All-Inclusive Resorts in Morocco
Take a look at the best all-inclusive resorts in Morocco.
See All Morocco Hotels
1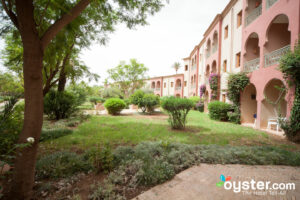 The 319-room upscale Eldorador Club Palmeraie is a family-oriented
all-inclusive resort on 25 acres outside Marrakech. It's surrounded by
palm and olive trees, lawns, and three swimming pools, including one for children. There are plenty of
activities for young and old, including baby and kids' clubs, and trapeze classes, soccer, tennis, water
polo, and more. The medina is a 15- to 20-minute ride via the hotel's shuttle, which runs from morning into
the night, and is included in some reservation packages. Rooms combine modern and traditional decor, and while they show a bit of
wear and tear, are clean and comfortable.
2
The Club Med Marrakech La Palmeraie caters to families desiring a taste of Moroccan culture and a lot of organized activity in an upscale, all-inclusive setting. Located in a quiet area about 15 minutes' drive from the center of Marrakech, the resort has 360 modern, air-conditioned guest rooms with private terraces and flat-screen TVs. There are two pools, including one with a sandy deck, and another that's smaller and somewhat secluded. A kids' club and organized sports keep everyone busy, though English-speaking guests have found it difficult to participate in the activities. Meals and drinks are served in a buffet restaurant and at a poolside bar. The Pullman Marrakech Palmeraie Resort and Spa is about 15 minutes farther out, but offers all-inclusive and half-board options in a somewhat less family-focused atmosphere.
3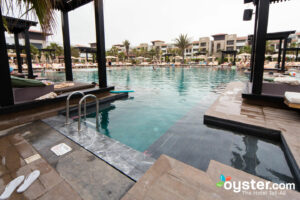 The upscale Hotel Riu Palace Tikida Agadir has the relaxed atmosphere of a resort on the water. It has a private section of beach, two pools, a kids' club, and theater offering live entertainment. It's one of Agadir's more expensive hotels, but its all-inclusive rates cover almost everything, including around-the-clock quality food and alcoholic beverages. The 444 rooms, which include Junior Suites and Suites, are large and modern, and all have private balconies or patios that overlook the garden grounds or the Atlantic Ocean. There are less-expensive resorts along this strip of coastline, but not many can match the Riu Palace Tikida in amenities.
4
Part of a regional chain, Kenzi Club Agdal Medina is an upscale Moroccan sanctuary flanked by 24 acres of olive trees, with the resort offering multiple
restaurants and bars, four outdoor pools, a spa, sports center, and kids'
club. There are 314 large, contemporary guest rooms here with flat-screen
TVs, mini-fridges, and patios or terraces. Several dedicated meeting rooms make
the property a viable option for business travelers as well. But the multiple
fees for the in-room safes, indoor pool, and spa leave some guests
dissatisfied.
5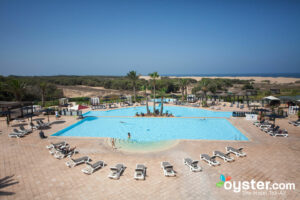 This three-and-a-half-pearl, 343-room resort offers a picturesque beachfront location and relaxed atmosphere. Guests are predominantly German, though staff speak good English. Moroccan decor is seen throughout, and spacious guest rooms feature air-conditioning, flat-screen TVs, and furnished balconies with lovely sea or mountain views -- though Wi-Fi and minibars are noticeably lacking. The hotel offers family-friendly amenities, with a kids' club, two outdoor pools, and direct beach access. There are plenty of sports on-site, such as tennis and beach volleyball, plus a modern fitness center and full-service spa. The all-inclusive rates cover almost everything, with three quality restaurants offering Moroccan a la carte cuisine and buffet dining. Travelers looking for a similar property with in-room Wi-Fi should consider the nearby Sofitel Agadir Royal Bay Resort instead.
6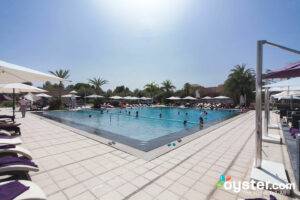 There's a little bit of everything going on at the all-inclusive, five-pearl Pullman Marrakech Palmeraie Resort and Spa. The resort shines in its activities for children, while adults can chill out in the spa and traditional hammam. Spacious and contemporary rooms include furnished patios or balconies. Large grounds are family-friendly with a big pool, but quiet and relaxing enough for couples or business travelers attending on-site conferences. The food is surprisingly good, though service can be slow and inattentive. Guests can opt for room-only rates, but high food and drink prices make the all-inclusive rates a better deal, especially since there's not many places to eat in the area, and the resort is about a 20-minute ride into town.
7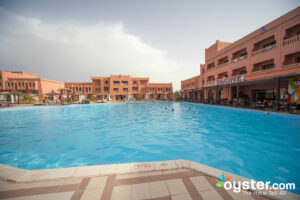 This all-inclusive, self-contained resort with a massive water park is designed for families with young children. Be aware, though, that the water park, a seemingly endless expanse of giant water slides and pools, is not heated and cannot be used in the colder months. Food and beverages are included in the room rates, but the quality, aside from the pizza and French fries, is at best uneven. Guest rooms come with small balconies or patios -- a nice touch -- and there are larger family-style rooms available, though all lack Moroccan character. Frustratingly crowded in the high season, the three-and-a-half pearl LABRANDA Aqua Fun is 11 miles south of the city center, and families interested in exploring Marrakech's culture, historical sights, and good food might want to stay elsewhere.
8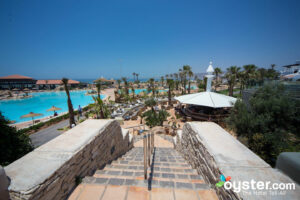 The four-pearl ClubHotel Riu Tikida Dunas is one of Agadir's more upscale all-inclusive resorts, and family-friendly facilities are extensive alongside private beach offerings. The 406 neutral-tone rooms are contemporary and air-conditioned, outfitted with sofa beds, mini-fridges, and furnished outdoor spaces. Vast pools have shallow areas for kids, and are accompanied by lounger-equipped terraces. Several bars and restaurants are well-reviewed, plus there are a spa, sports facilities, and and daytime and evening animation -- the latter of which is reportedly mediocre. This property is pricier than the majority of all-inclusive competitors, so for a more budget-friendly vacation, consider the Labranda Amadil Beach.
9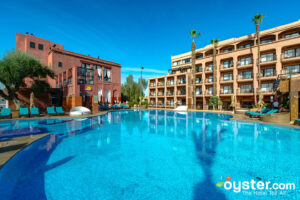 The three-and-a-half-pearl Sensimar Medina Gardens is an adult-only hotel in central Marrakech. It has two pools, a spa, gym, and daily entertainment program, though activities are generally low quality. The hotel also provides all-inclusive meal plans and seven dining options on-site, serving everything from local to international cuisine. However, the food quality is also reportedly low. The 167 rooms are contemporary, with a romantic vibe and include stocked mini-fridges, kettles, and air-conditioning. For something more intimate, chic, and romantic, Zamzam Riad, which has a small spa and lovely free breakfast, may be a better alternative.
10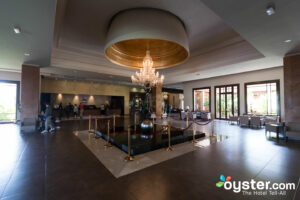 ClubHotel Riu
Tikida Palmeraie is an upscale, all-inclusive family-friendly resort located in the Palmeraie, about a 15-minute drive -- without traffic -- to the medina. The 388 air-conditioned rooms include Doubles, which come with mini-fridges, satellite TV, and terraces, and Junior Suites, with living room areas and sofa beds. Packed with activities, the resort includes indoor and outdoor swimming pools with a poolside bar (the all-inclusive package includes unlimited alcoholic and non-alcoholic drinks), a kids' club and pool, three restaurants, a sun terrace, a gym, a spa with traditional hammam, whirlpool and massages, a sports center, tennis courts, nightly entertainment, even an art program. Spread out over a large palm grove, the modern resort was built in the adobe style, and decorative Moroccan touches punctuate its rooms and sprawling interior.
11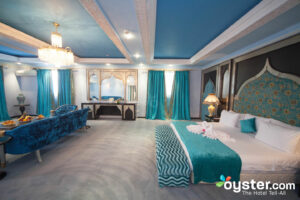 The Royal Mirage Agadir is a 177-room three-and-a-half pearl hotel conveniently located for Agadir Beach. This family-friendly, all-inclusive property has smart, classic rooms with attractive views -- but some decor is on the dated side, especially in bathrooms and public areas. Facilities include two lovely pools, a large gym, spa with steam room, and tennis courts and kids' clubs. The restaurant's international buffets are decent but can get repetitive; breakfast is available until late. There's a separate bar, but only a limited drinks selection and the evening entertainment is popular. Drawbacks include charges for internet outside the lobby, no in-room Wi-Fi, and charges for parking. The nearby and similarly priced Kenzi Europa offers free Wi-Fi throughout.
12
The 115-room Opera Plaza Hotel provides a
serene retreat in an otherwise busy and noisy, but central, location. The property
features Moorish furnishings, a stylish spa, and outdoor lagoon pools with a
swim-up bar. There are also numerous on-site restaurants along with a cafe,
cigar bar, and nightclub. Rooms feature stylish dark-wood furniture,
flat-screen TVs, and balconies with pool views. Keep in mind, however, that the location is highly-trafficked
and street noise can be bothersome. Comparably priced rooms at El Andalous
Hotel reportedly offer a quieter night's sleep.
13
The Kenzi Europa is a family-friendly and predominantly all-inclusive upper-middle-range resort that's a four-minute walk from Agadir Beach, and close to shops and nightlife. The 236 spacious rooms are surprisingly smart and well furnished, given decor elsewhere is a tad outdated. Attractive grounds include three lovely pools, and one of the kids' pools has animal-shaped slides and waterslides. Other extensive facilities include a great spa, sauna, steam room, small gym, tennis courts, basketball court, and kids' clubs and play areas; the live entertainment is also popular. The international breakfast, lunch, and dinner buffets get mixed reviews, as does the bar. Note there are some extra charges, as well as maintenance and housekeeping issues. Upscale Hotel Timoulay is a similarly priced alternative for those seeking peace and quiet.
14
Set on several palm tree-studded acres three kilometers east of Marrakech's historic Medina, the Riu Tikida Garden hotel is a family-friendly, all-inclusive resort that's popular primarily with European tourists who want a familiar, comfortable stay within easy access of the city. The 255 guest rooms are decorated simply, and all have air-conditioning, mini-fridges, safes, and flat-screen TVs. The mid-range resort offers a shuttle several times daily to and from the city. Six restaurants and bars guarantee there's plenty to eat, the large swimming pool and extensive sports grounds allow for lots of time in the sun, and entertainment programs are available.
15
The three-and-a-half pearl Atlas Targa & Resort is a family-friendly property with waterslides and two pools located about 10 minutes from the city center. There is plenty of space to relax and play outside, whether on the clay tennis courts, at the full-service spa with hammam, or at the outdoor Tent Bar. The 239 guest rooms are tastefully decorated in earth tones, and have flat-screen TVs and safes; suites with kitchenettes are available too. In keeping with the full-on resort experience, there is live entertainment in the evenings and two restaurants serve Moroccan and international cuisine, though the all-inclusive option doesn't include everything. Staff isn't always helpful, and Wi-Fi is available only in the common areas.