You know the feeling: You have your towel, beach chair, and sunglasses in tow, ready for a relaxing beach vacation, when you're met with hordes of tourists looking to do the same. While some spots are worth braving crowds for, we're often looking to get some peace and quiet, where we can listen to the sound of waves crashing and not our neighbor's conversation or music. Check out some of the most crowded beaches in the U.S. and where to go instead, so you can avoid fighting for a spot along the sand.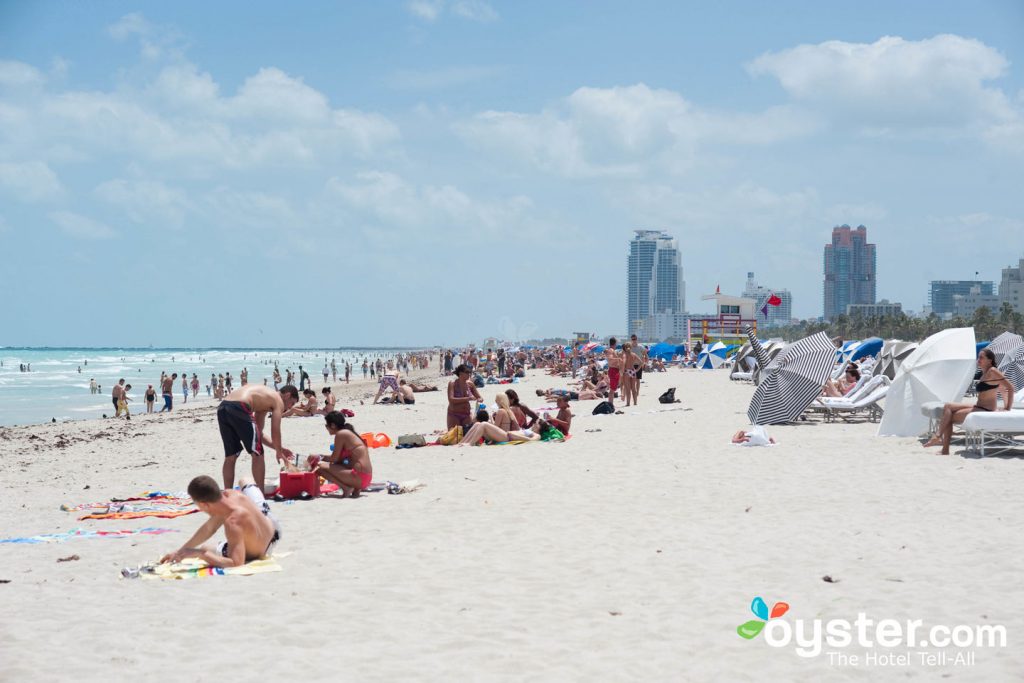 Of the over 15 million visitors that traveled to Miami in 2016, you can be sure a lot of them made their way to South Beach. The white sands, plethora of nearby bars and restaurants, and topless sunbathing are huge pros for many that flock here, but the loud music, abundance of space occupied by hotel loungers, and overt party attitude doesn't exactly scream peaceful beach getaway.
Instead, you can head two and a half hours north to Vero Beach, a small city with an upscale feel. There's a strict policy that no building can rise higher than four stories, leading to a far more charming feel than what's found in Miami. Sophisticated boutique shops, casual seafood dining, an art museum, botanical garden, and high number of turtle hatchings provide enough activity for the whole family.
A Luxury Hotel Pick:
Famous for its surfer-friendly waters, Huntington Beach in Orange County is one of the most-visited beaches in California, with 11 million visitors each year. Add in the 200,000 people that call the city home, and those nearly 10 miles of sand can fill up quickly. Lots of stores and eateries — including a Walmart and several Trader Joe's — make it convenient for families, but hotels are separated from the sand by the Pacific Coast Highway.
A smaller town with fewer tourists and hotels directly on the sand, Laguna Beach is a better option. The town of around 23,000 is very laid-back, and it has an artistic vibe with its galleries, museums, and theaters. Dining options range from fast-food joints to upscale eateries, and a Whole Foods and Ralph's make grocery shopping easy for travelers staying in apartment-style properties.
A Romantic Hotel Pick:
In recent years, Myrtle Beach, South Carolina has attracted a whopping 17 million visitors to its long stretch of sand. Family-friendly attractions like an amusement park, ferris wheel, and Ripley's Believe It or Not! mean kids are never bored, but that also leads to tons of noisy activity that's less suitable for those without rambunctious little ones in tow. Lots of high-rise properties lining the sands aren't the most attractive surroundings.
Far less built-up is the tiny beachfront town of Litchfield, located a 40-minute drive south of Myrtle Beach. There's little more than peaceful sands, a few casual eateries, and a nearby golf course for travelers.
A Beachfront Hotel Pick:
Given its proximity to the airport, and calm stretch of golden sand, it's no surprise that Waikiki Beach is such a popular destination. But the widespread development of big-name chain hotels, abundance of fast-food eateries, and well-known stores, has rid the area of its local charm and replaced it with hordes of tourists. Although traveling families may love the home comforts, there are other O'ahu beaches that actually fit the paradise moniker.
Just a 30-minute drive from Honolulu International Airport, the tiny town of Kailua offers a more relaxing Hawaiian escape. The beach and turquoise waters here are drop-dead gorgeous, and a congregated area of restaurants and shops help it retain a less-touristy vibe. As of now, there aren't any mega chain properties here, and we for one hope that remains true.
A Romantic Hotel Pick:
Seeing around eight million visitors each year, Ocean City, Maryland has a similar allure as Myrtle Beach, with its lively boardwalk housing an amusement park, water park, mini-golf course, and ample spots to grab a drink. The city manages to appeal both to fun-seeking families and party-focused adults, resulting in the wide stretches of beach being filled with sun-lovers.
A 30-minute drive north, and crossing the state line into Delaware, Bethany Beach is a quiet, laid-back town with a long and pretty stretch of sand. Though much smaller than Ocean City's, a boardwalk along the beach is pleasant for walking and ducking down side streets for quaint candy shops and frozen custard spots.
A Beachfront Hotel Pick:
Particularly popular with college kids during spring break (though a new springtime alcohol ban might change that) and families during the summer, Gulf Shores, Alabama sees around six million tourists annually. Its long white-sand beach is undeniably lovely, but it can get crowded. Plus, an amusement park, zoo, and chain eateries detract a bit from the pretty ocean setting.
About an hour-and-15-minute drive away, Pensacola Beach offers the same pretty sand and water, but with a less-developed atmosphere. That's not to say there aren't hotels, restaurant, and bars, but it's a more subdued city that's suitable for couples and families on vacation. It sees fewer crowds than Gulf Shores, and hotels with beach setups are even quieter.
A Luxury Hotel Pick:
Thanks to its excellent location just north of Venice Beach and a roughly 35-minute drive from Los Angeles, Santa Monica gets about 7.5 million tourists each year. Somewhat surprisingly, 57 percent of those are international travelers — with the largest percentage coming from Australia and New Zealand. Santa Monica's pier, amusement park, retail promenade, and Muscle Beach mean there's a lot to do and see, but prepare to do so surrounded by lots of people.
A 90-minute drive up the coast, and 40 minutes south of Santa Barbara, Ventura offers some of the same attractions — a lovely pier and beautiful beach — plus a scenic bike path, parks for picnics and volleyball, and fewer people.
A Kid-Friendly Hotel Pick:
Once known as the spring break destination, Panama City Beach, Florida was practically synonymous with college-aged partying; that is, up until 2015 when the city banned drinking on the beach and cut bar hours. Though the spring break crowds have dwindled in response (to the locals' delight), the city is still seeing about two million visitors each year thanks to theme and water parks, and well-known brands like Dave & Buster's and JCPenney.
For travelers looking for fewer shopping malls and amusement parks on vacation, head to the adorable town of Seaside an hour away. The walkable city is the epitome of cute beach town, with cute cafes, ice cream shops, and boutiques around a central square. A beautiful stretch of beach means you won't miss the sands found in Panama Beach.
A Luxury Hotel Pick:
You'll Also Like:
All products are independently selected by our writers and editors. If you buy something through our links, Oyster may earn an affiliate commission.