To call Mexican food one of the world's great cuisines is an understatement. At this point in history, it's been exported to places as far flung as Bali, India, and Australia, and nearly every city in the United States has its go-to Mexican joint. But Mexico is a big place and sampling all of its culinary traditions in one visit would be impossible. Luckily, Mexico City exists -- and it happens to be one of our favorite cities in the world. Heed our advice and head there right now to get your fill of all of the crave-worthy awesomeness being grilled up streetside or served in hyper-buzzy restaurants like Pujol, where reserving a table is a feat in its own right. What follows is by no means exhaustive -- there are too many cultures and traditions in this massive metropolis to cover the eating habits of even a fraction of the locals. So what can we guarantee? If you consider these recommendations, you definitely won't come home hungry.
Need a place to stay? Check out our expert reviews and photos of 36 hotels in Mexico City.
Chilaquiles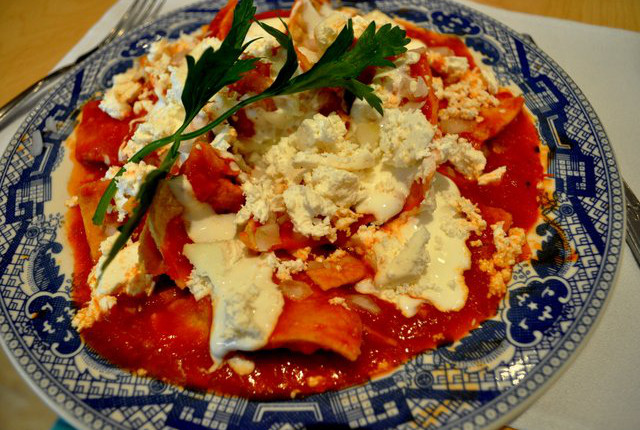 To visit Mexico City and fail to indulge in this most iconic of dishes is tantamount to a cardinal sin. Known as the ultimate killer of hangovers, chilaquiles taste just fine to us regardless of the time of day (or how hard one partied the night before). Chilaquiles are almost like deconstructed nachos. The best take extra-crispy tortilla chips and sauté them with red or green salsa and crema fresca. This indulgent mix is then topped with cheese, onions, more crema, and eggs or chicken. You can find this dish almost everywhere, from the quaint cafes of Condesa to the cafeterias of the Centro, like El Cardenal. In fact, Mexico City even has its fair share of chilaquiles-only joints — look no further than perennially popular Chilakillers for proof.
Tacos
You can find these ubiquitous delights on nearly every corner of the capital city, though don't expect to snack on the hard-shell sodium-bombs you grew up eating on taco night in the States. Mexican tacos come on small, warm soft-shell corn tortillas and pack a lot more flavor than just salt. Each is topped with any manner of grilled, stewed, or roasted meats, plus a wide array of salsas (look out for the pureed avocado-based green sauce for a real mouth-pleaser). This concoction is then garnished with everything from radishes to beans and fresh cilantro. Vegetarians be warned: Aside from the city's few vegan taco stands (check out Roma's perpetually busy Por Siempre Vegana Taqueria), make-it-my-way orders are discouraged and most stands lack any substantial meat-free options.
Tamales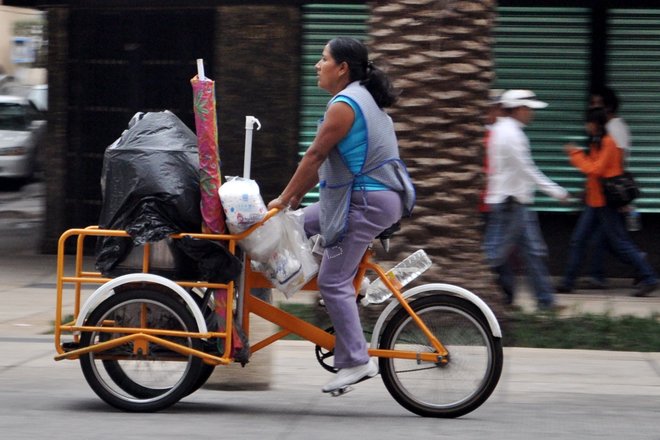 Keep your ears peeled to find this street-food delight. Tamale vendors in Mexico City generally make their rounds in any given "colonia" (or neighborhood) on bikes rigged with crates holding tall barrels of this steamed breakfast dish. So how will you know it's them? A pre-recorded jingle of sorts often blares from their bike-mounted speakers on loop, letting those nearby know about the particular "tamales oaxaqueñas" that they're selling. Step up and spend very few pesos on what is one of Mexico's most recognizable dishes: corn meal that's steamed inside of a corn husk until it reaches a dense, polenta-like consistency. They're most frequently stuffed with chicken or "rajas" (poblano chilies and cheese).
Churros
The trans-Atlantic churro rivalry is legendary — or at least it is in our dessert-obsessed minds. While Spain has iconic outlets like Chocolatería San Gines cranking out this fried dish alongside mud-thick cups of hot chocolate, Mexico's churros are a bit more power packed. That's because Mexican churros typically come coated in a layer of cinnamon-sugar, and the chocolate isn't necessarily made for dipping. In fact, Mexican hot chocolate's more fluid consistency makes it better for sipping than dunking. If you're wondering who churns out Mexico City's most legendary churros and chocolate, look no further than the long lines and packed tables at Churrería El Moro in the Centro. If you don't feel like waiting for a table, grab your order to go and post up on the steps next to the metro station outside with the rest of the locals.
Coyoacan Market
In-the-know travelers might scoff at their computer screens right about now — there's not much about Coyoacan that isn't insanely touristy. It's the home of The Blue House, the former residence of Frida Kahlo and Diego Rivera, plus a number of other historic sights and galleries. And trust us, we are well aware of the seemingly never-ending stalls of "Virgencita" statues and "calavera" skulls. But buried amid all of that is an authentic Mexican market. Locals flock here for everything from kitchen supplies to clothing, but the star of the show is the sprawling food court in the center of the market. Here, dine at any number of stalls selling everything from "pozoles" to "huaraches" and "tortas," the sandwich that's an all-day staple at plenty of street-food carts around the city.
Elote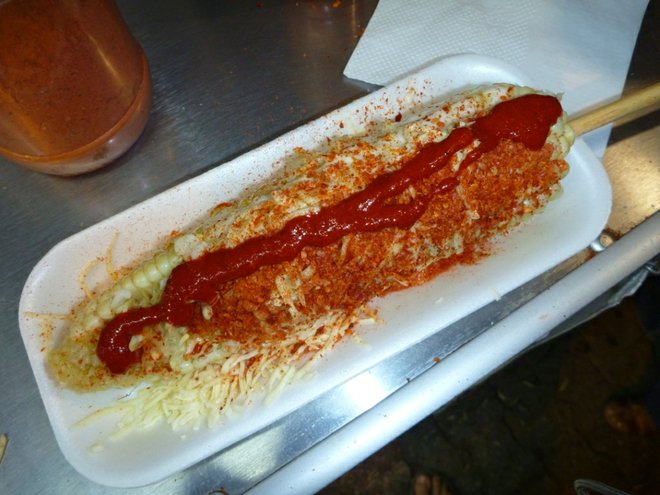 Here in New York City, we have our sacred spots for picking up Mexico's famous grilled corn, but for the real deal, prowl the wholesale district on the east end of the Centro. There, men and women preside over grills that have sometimes been improvised from converted shopping carts and husk, grill, and dress ears of corn at a pace that can blur the eyes. The charred and chewy ears are bathed in mayo, queso fresco, lime, salt, and chili powder, making for a delicious afternoon snack. Be prepared to get messy, though, so you should probably have a stack of your own napkins with you — just in case.
Paleterias
https://www.instagram.com/p/BTURD1WgEv8/
Head to any Mexican town and you're likely to find these bright ice cream shops lining many of the streets, buzzing with everyone from families with kids to abuelas carting their day's shopping home from the market. In Mexico City there's at least one in every neighborhood, though the offerings are essentially the same: popsicles, ice cream, fruit, chips, sweets, and aguas frescas — drinks that range in flavors from "jamaica" (hibiscus) to "horchata"(a spiced, rice-milk based beverage). Grab any one of these options and sit curbside or at the metal tables set up next to the counter for a glimpse of the eternal warm-weather vibes that you wish your hometown had. La Michoacana is one of the most recognizable chains, though plenty of neighborhood options abound as well.
Polanco and Pujol
Mexico is not all street food. In fact, the high-end dining scene here is going strong. Polanco, home to the city's most well-heeled residents, is packed to the gills with eateries ranging from wallet-busting to casual, most of which open out onto breezy sidewalk cafes (which are perfect for people watching). Head to Polanquito for the largest and most densely concentrated number of eateries, bars, and cafes, serving everything from artisanal burgers to Italian. The colonia is also home to what is considered one of the best restaurants in the world: Pujol. The multi-course menu incorporates Mexican traditions into ecstatic plates of food that translates to months-long waits for reservations — be sure to book ahead!
Tlacoyos
https://www.instagram.com/p/BSlL50XgrUK
Those of us north of the border probably aren't familiar with tlacoyos, but they can be found in every major street-food intersection throughout Mexico City. A little larger than the palm of your hand and similar in shape to a "sope" (a tortilla-esque dish), these snacks are made from blue corn masa and stuffed with a thin layer of beans, meat, or cheese. Once they're fried on an iron griddle, they're topped with hot sauce, cheese, and, in some cases, "nopales" (cactus). Order a couple to make a meal of it — your bill will likely be less than a couple of bucks.
Pastelerias
Mexican pastries aren't often the subject of poetry, but we think they deserve a place in the annals of food lore. Yes, the vast majority are humble — think bread or hard rolls coated in layers of sugar. However, once you take your first bite, the simple pleasure of that carb-and-sugar experience is liable to be addictive. "Conchas" are the most popular type and are rolls topped with patterned chocolate or vanilla cookie dough, while "mantecados" are even simpler — thick slices of bread coated with butter and sugar. It's not all so simple, though, and everything from "ojo de buey" ("eye of the bull") to donuts and other delicious, intricately crafted options can be found at pasteleriasacross the city. For a real treat, check out the massive spread — complete with the constant clamor of the large metal trays used for holding your selections — at Pasteleria Ideal in the Centro. If you're in Condesa, head to Pasteleria Suiza.
Chips, Dorilocos, and Chicharron
In the mood for deep-fried everything? These carts found across the city are your go-to destination. There's a dizzying array of fried foods to choose from, so feel free to go wild. Each vendor will have salt, hot sauce, and lime for you to dress your pickings with, and portions aren't small. For those looking to truly indulge, seek out one of the Doriloco vendors, where snack-size bags of Doritos are sliced open horizontally and buried in everything from grilled meat and hot sauce to fresh vegetables, cheese, crema, and lime. The chicharron vendors frequently sell chips as well, though the star of the show at these carts are the giant, air-puffed slabs of deep-fried pork rind.
Gourmet Food Halls
This species of eatery certainly isn't an only-in-Mexico phenomenon, and nearly every major city in the world has at least one at this point. But in Mexico CIty, they draw locals in droves. There are options in nearly every one of the city center's more upmarket colonias, including Juarez, Condesa, and Roma. In any of these, you're able to pick and choose just what you'd like to eat, and it all may look a little familiar. There's expensive, single-origin coffee, organic sandwiches, artisanal popsicles, and everything else your heart could desire. While it may not exactly scream "Mexican," it's hard to argue with having an open-air beer or coffee, surrounded by packs of friends enjoying their day or night.
Where to Stay
Hotels are numerous throughout Mexico City's most popular neighborhoods, particularly in Polanco, the Centro, Juarez, and the Zona Rosa. If design is your thing and you want to bed down among the city's poshest residents, check out Las Alcobas Mexico DF. It's a chic and stylish boutique option amid Polanco's luxury shops and buzzing dining scene. Looking for something more historic? Try Gran Hotel Ciudad de Mexico, which is near the historic Centro. If a tiny bed-and-breakfast is more your style, check out The Red Tree House, in trendy (but peaceful) Condesa.
For even more Mexico-related stories, check us out on Flipboard.
Now Watch: Oyster's Tour Through Mexico City
https://www.youtube.com/watch?v=TPBNBRFhpa4
You'll Also Enjoy:
All products are independently selected by our writers and editors. If you buy something through our links, Oyster may earn an affiliate commission.