Whether it's discovering the rugged coastline, exploring the rich history and culture, or holing up in a traditional Irish pub with a pint, there's plenty of magical moments to be found all over Ireland. There's also no shortage of great places to stay, from authentic medieval castles to gorgeous Georgian townhouses. Even better, you don't need to spend a fortune to stay at many of them. We've compiled a collection of Ireland hotels that make the most of your money.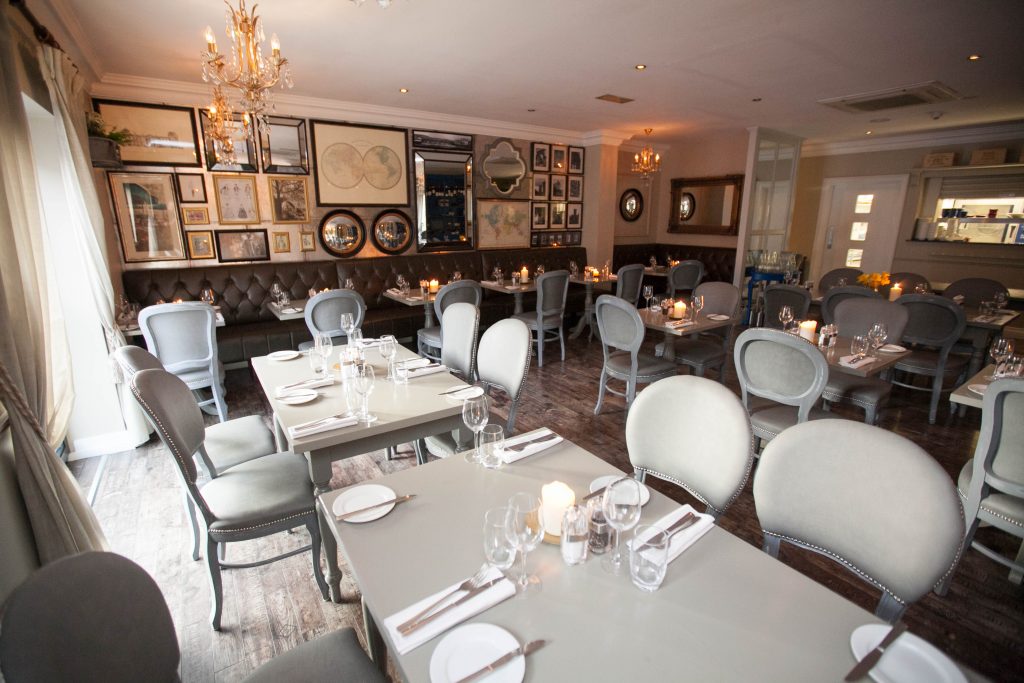 A fully restored Georgian townhouse in Limerick's historic neighborhood, this upscale property squeezes in a lot — and for a pretty decent price. Aside from its sensitively restored 1830s architecture, stylish interiors, and prime location near shopping, dining, and cultural attractions, this boutique hotel offers residents some impressive on-site treats. For example, its excellent restaurant, Sash, is open for lunch and dinner and has a menu featuring local and homegrown produce. Meanwhile, the lovely spa is set in a vaulted basement with a thermal suite that includes Irish mist showers. To top it off, some gorgeous period-style guest rooms come with roll-top tubs and 24-hour room service.
With numerous castles across Ireland, it stands to reason that so many have been converted into high-end hotels, but they often charge a king's ransom. That's not the case at the Lough Eske Castle, with rooms starting at less than $200 a night. You can still certainly expect oodles of historic charm at this centuries-old residence, together with top-notch facilities that include a full-service spa, an excellent restaurant, and two bars — one that hosts regular live Irish music. Guest rooms are spread around the estate, each offering high-end amenities and spacious bathrooms with separate showers and tubs.
With a spa, an indoor pool, two golf courses, and a traditional Irish restaurant, most guests will find little reason to venture beyond the grounds of this picturesque Georgian country estate. Despite its country club vibe, rates are often surprisingly reasonable. Plus, guest rooms are spacious with decent amenities. Splash out for the Master Suite and you'll get some serious period style, with an elegantly carved four-poster bed and original fireplace. During the weekend, you can also expect to rub shoulders with a few locals in the hotel's bar, complete with a cozy open fire.
Set on Ireland's famed Causeway Coastal Route, the setting of this 17th-century castle alone makes it something special. It is also the only hotel in the area, and one whose rich history even includes its own ghost. Breakfast here is a veritable feast, brimming with local produce. Guest rooms are spacious with iPod docks and super-comfy mattresses, plus many feature superb views over the coast. "Games of Thrones" fans will get even more from their stay, with tours available around locations where the hit TV show was filmed.
While certainly not the cheapest property on this list, as far as unique settings go, you'd be hard-pressed to find many hotels in Ireland like this one, making the rates here more than reasonable. Set on a promontory flanked by sandy beaches, and on a small island overlooking the Atlantic Ocean, the location is spectacular. Rooms come with Nespresso machines, bathrobes, free Wi-Fi, and balconies or terraces — most with splendid views. The hotel's spa is also top-notch, offering a range of seawater therapies as well as a heated seawater pool.
If you are looking for a base to explore the quaint medieval town of Kilkenny, but also want a spot with leisure facilities and a price that's easy on the pocket, this the place. The Kilkenny Ormonde Hotel is the only hotel in Kilkenny city with a swimming pool and spa, while their leisure club features a kiddie pool, whirlpool tub, sauna, steam room and gym — all free to residents. Families are particularly well catered for, with rooms featuring bunk beds, plus there's a summertime kids' club.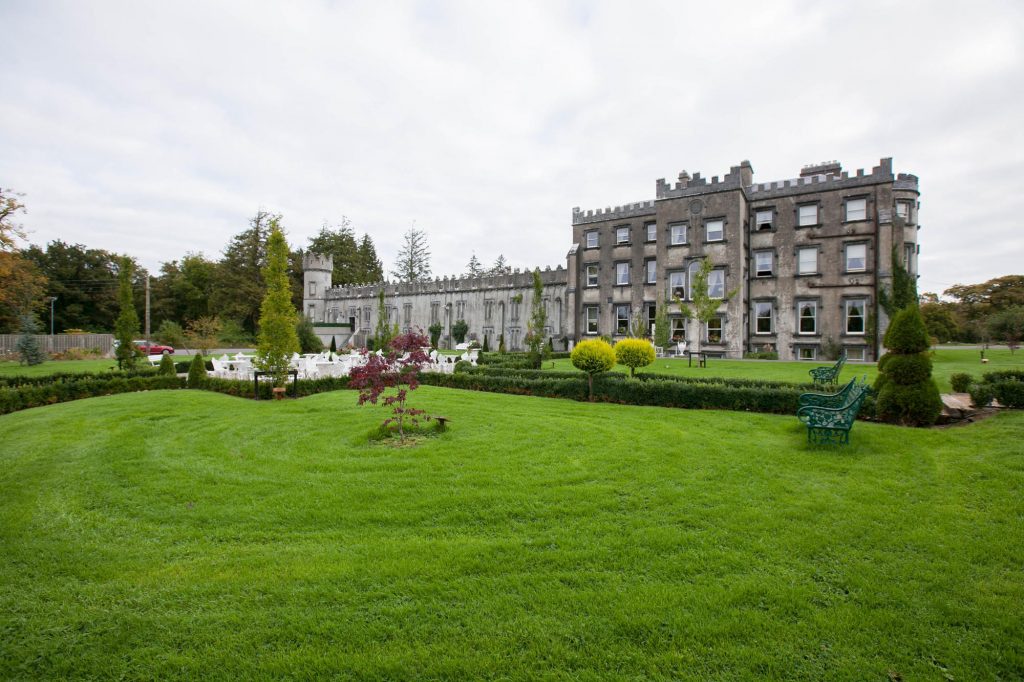 Surrounded by forests and fields and set in beautiful gardens, Ballyseede Castle may be remote, but it certainly has wow factor. The 16th-century castle is an imposing ivy-clad, gray stone building with battlements. Aside from the decadent, historic charm of the place, and the stunning formal gardens, the castle's main pull is its excellent restaurant, which serves seasonal Irish produce and attracts guests and locals alike. The hotel also has a surprising number of perks for families, such as babysitting services, generously sized family rooms, and donkeys and horses on the grounds.
While this is one of the top luxury hotels in Cork, there are some real bargains to be had. Its location on a picturesque bend of the River Lee means plenty of its guest rooms offer lovely views, together with huge HD TVs and beds dressed with crisp linens and down comforters. Guests also get free access to the hotel's health center, which features a heated 65-foot swimming pool and well-equipped gym. The River Club restaurant channels vintage New York with leather banquettes and an international menu. Alternatively, it's a 10-minute walk to Cork center's many restaurants.
Not only is this hotel housed in a meticulously restored 16th-century castle, but it's also set on its own private river island in the southeast part of the country. Complete with turrets, arrowslits, and battlements, it's a genuine piece of medieval history, but stuffed with an impressive collection of Victorian-era furnishings and curios. There are numerous things to do in and around the estate, including an 18-hole golf course, tennis, archery and even clay pigeon shooting. Traditionally styled rooms have large Victorian-style bathrooms, plus added comforts like fluffy robes and coffee machines.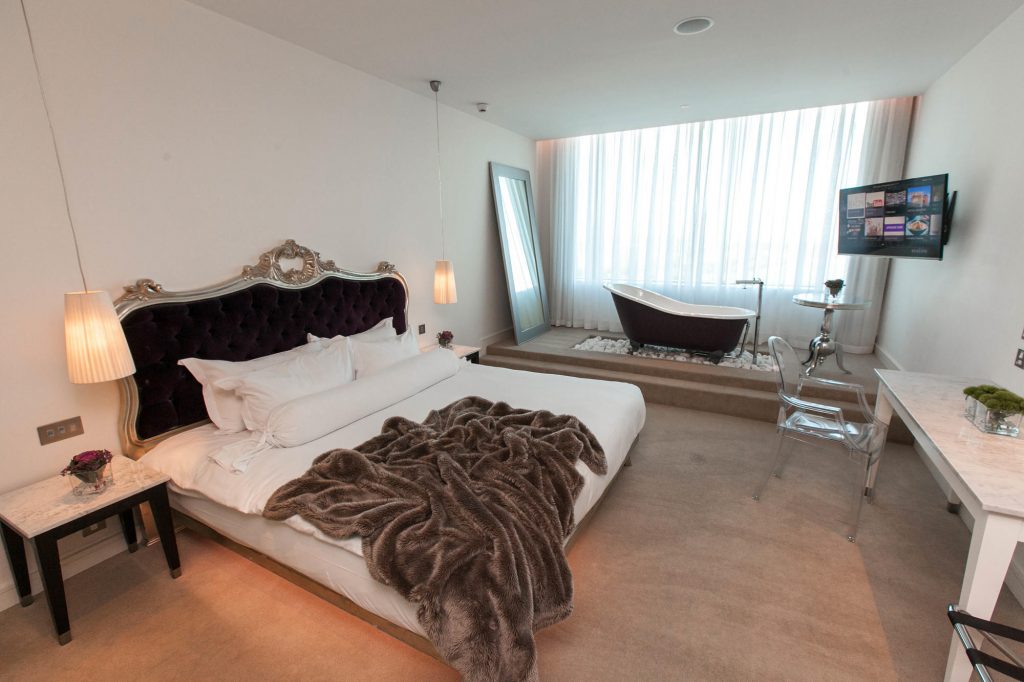 Travelers looking for hip over historic will love this fun and funky property located in the southern outskirts of Dublin. The setting won't send any hearts aflutter, but couples seeking a romantic night or two will find bright and spacious rooms with monsoon showers, luxury toiletries, leather sofas, and room service around the clock. On weekends, a courtyard opens up for summer parties and barbecues, plus there's a buzzy cocktail bar and swanky Thai restaurant on-site.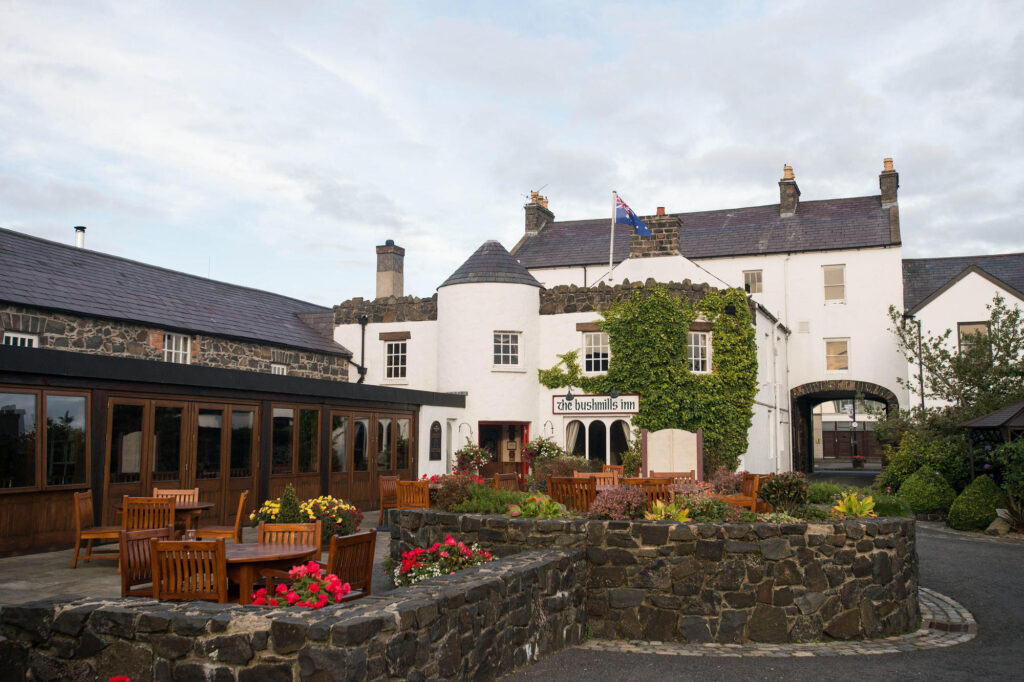 Formerly a 17th-century coaching inn, this quintessentially Irish hotel has as much traditional charm as money can buy. Fireplaces burn peat, a gas-lit bar hosts live trad music, and rooms feature touches like four-poster beds, exposed beams, and clawfoot tubs. Its restaurant is also one of the region's finest, using only seasonal local produce and featuring an alfresco patio for warmer months. It is also located a short drive from two of Ireland's favorite attractions: Giant's Causeway and The Old Bushmills Distillery.
With its classical Georgian architecture, 300-year-old gardens, and impressive relaxation facilities, rates at the Maryborough Hotel & Spa are a bargain. The health and wellness center here is the main attraction, especially its large indoor heated pool and hot tub. Roman-style saunas, aromatic steam baths, and vitality pools also stand out, plus there's free entry for all guests. The rooms are modern, and most offer lovely vistas over the pretty gardens. Plus, the restaurant has a fine-dining à la carte menu that uses local ingredients.
There aren't many hotels that can claim llamas, peacocks, and ostriches wander their grounds, but the Finnstown Castle Hotel is one of them. This ivy-clad 17th-century manor house is set on 45 acres of woodland and gardens, just a 20-minutes car ride from the center of Dublin. While many guest rooms are housed in annex buildings, most enjoy pleasant views over the grounds. But it's the leisure facilities, including a heated indoor pool, tennis court, sauna, and gym, that really offer value. On-site dining is also more than decent, plus there are a couple of bars that are popular with locals — always a good sign!
Still lugging around that outdated carry-on from 2006? It's time for an upgrade. With 360° spinning wheels, a TSA-approved lock, a super hard exterior shell, and a USB-port for charging whatever it is you need charged, the Carry-On from Away is built to be your last.
You'll Also Like:
All photos courtesy of Oyster.com
All products are independently selected by our writers and editors. If you buy something through our links, Oyster may earn an affiliate commission.