If you're taking a vacation to Aruba, you probably love the beach. The Caribbean island is 74 square miles (about the same size as Brooklyn) and is loaded with some of the most breathtaking stretches of sand in the Western Hemisphere. Unlike many Caribbean islands, however, Aruba is less tropical and more of a desert. That means the environment offers diverse beach landscapes -- everything from soft white sand and calm blue water to waves large enough for surfing to gorgeous rock formations surrounding a natural pool. Visitors can also take a boat to an offshore island to see flamingos on the beach. Aruba's small size makes getting around to several different beaches on one trip feel like a literal day at the beach. Below, we rounded up the seven best beaches in Aruba.
1. Eagle Beach
Arguably the most famous beach in Aruba, Eagle Beach took third place in TripAdvisor's Best Beach in the World contest in 2017. It's the widest beach in Aruba (and walkable in over a mile in one direction), plus there's plenty to do. Water sports like stand-up paddleboarding, swimming, parasailing, and jet-skiing are popular here. Many of the island's budget-friendly low-rise hotels are on the sand or just across the street. Lots of properties have sun loungers for guests and there's a handful of bars for beers and cocktails. Vendors wander around, but are not aggressive or intrusive. Eagle Beach is also home to two of the most photographed fofoti trees in Aruba. This is definitely a buzzing and busy tourist spot.
Nearby Hotel Pick:
2. Palm Beach
Palm Beach is Eagle Beach's upscale neighbor. It has the bright white sand and clear blue waters usually found on postcards. The two-mile stretch is also home to most of Aruba's luxe high-rise hotels. The sand is super fine and the ocean is usually calm and warm enough for kids to swim in. What's different here is the inland backdrop where you'll find Aruba's expensive shops, restaurants, and casinos. Two of Aruba's largest shopping malls are on this side of town. A movie theater, water fountain shows, and bowling alley provide the fun after the sun goes down.
Nearby Hotel Pick:
3. Boca Catalina
Boca Catalina is north of the High-Rise district, in the small, secluded bay in the Malmok Beach area. It's popular with tourists renting private homes in Noord and guests at the nearby OCEANZ Boutique Hotel. Apart from a few rustic palapas and parking, there aren't any facilities here. But that hardly matters, as most flock here for the golden sand and sparkling blue water that's ideal for swimming and snorkeling. Since crowds are fewer and Boca Catalina is closer to the rockier shores of Aruba, you'll see more fish here than in the equally clear waters of Palm and Eagle beaches. If you're lucky, you might even get the whole place to yourself at sunset on a weekday.
Nearby Hotel Pick:
4. Arashi Beach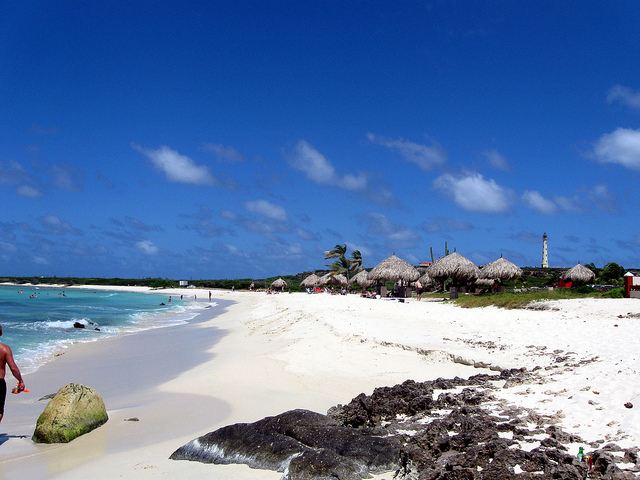 Just north of Boca Catalina, this white-sand beach is hugely popular with local families, thanks to handy features like showers, lounge chair rentals, and live music at the bar. There's also a good snorkeling spot just left of where you enter the water. Small waves mean it's safe for swimming, but still good for boogie boarders. Parking is ample, or you can arrive by bus in about 15 minutes from the High-Rise district. There's also free shuttle service to Arashi Beach from Tierra del Sol Resort & Golf, a six-minute drive away.
Nearby Hotel Pick:
5. Flamingo Beach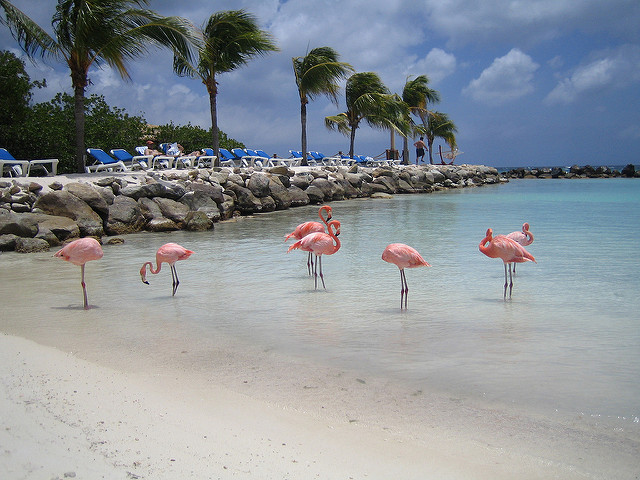 The 40-acre Renaissance Island is privately owned by the hotel Renaissance Aruba Resort & Casino, and lies about a 10-minute water taxi ride from Oranjestad. The island comes with all the expected trimmings of a gorgeous beach getaway — translucent water, soft sand, swaying palm trees, and water sports galore. It's also home to Flamingo Beach, where you can find beautiful pink-feathered birds. Those who aren't spending the night at the hotel can purchase a $99 day pass to get in on the action. Note that the flamingos are not native to Aruba and have been brought there to keep tourists happy.
Nearby Hotel Pick:
6. Wariruri Beach
The northern side of Aruba isn't as visited as the southern side (where you'll find Palm and Eagle Beach), due to the lack of hotels there. But it's most definitely worth a visit to see the country's more rugged side filled with hidden beaches and stunning scenery. During Easter week, Aruban families camp out on this side of the island. At Wariruri Beach, expect to find powdery sand dunes, a natural bridge, and limestone cliffs. The surf is too strong for swimmers, but there are surfers and fishermen who brave the waters. The area is accessible via Jeep, ATV, or a guided safari-style tour with De Palm Tours. On the bumpy path out to Wariruri Beach, you'll find other attractions like the Bushiribana Gold Mill Ruins, Alto Vista Chapel, and the famous Baby Bridge.
7. Aruba Natural Pool in Arikok National Park
For adventure seekers, the epic journey to Aruba Natural Pool is a must. The pool is located on the rugged northeastern coastline, and is only accessible from a dirt road full of large rocks. You'll have to enter Arikok National Park at the San Fuego side and purchase passes for $11 USD per person for the day. For the first part of the journey, the road is paved, then it quickly turns to gravel to go around the (non-active) volcano. The other option is to hike in, though it's over three miles one way and should only be done early in the morning to beat the heat. Whether you hike or drive, once you make it to the natural pool area, there's a long set of stairs to bring you down to the shore and pool. The swimming hole was formed by a ring of high rocks that protects it from the rough surf on Aruba's northeast coast. At around 20 feet long and 25 feet wide, the oval-shaped pool is slightly wider than it is long. Tip: Bring a snorkel, as there's plenty to see underwater.
You'll Also Like:
All products are independently selected by our writers and editors. If you buy something through our links, Oyster may earn an affiliate commission.