Cancun is one of the world's top beach vacation spots, with beautiful sandy beaches, teal waters, and an annual average temperature of 80 degrees Fahrenheit. That being said, every month in Cancun has its pros and cons for potential travelers -- meteorological, monetary, or otherwise. Here, we break down what to expect each month.
January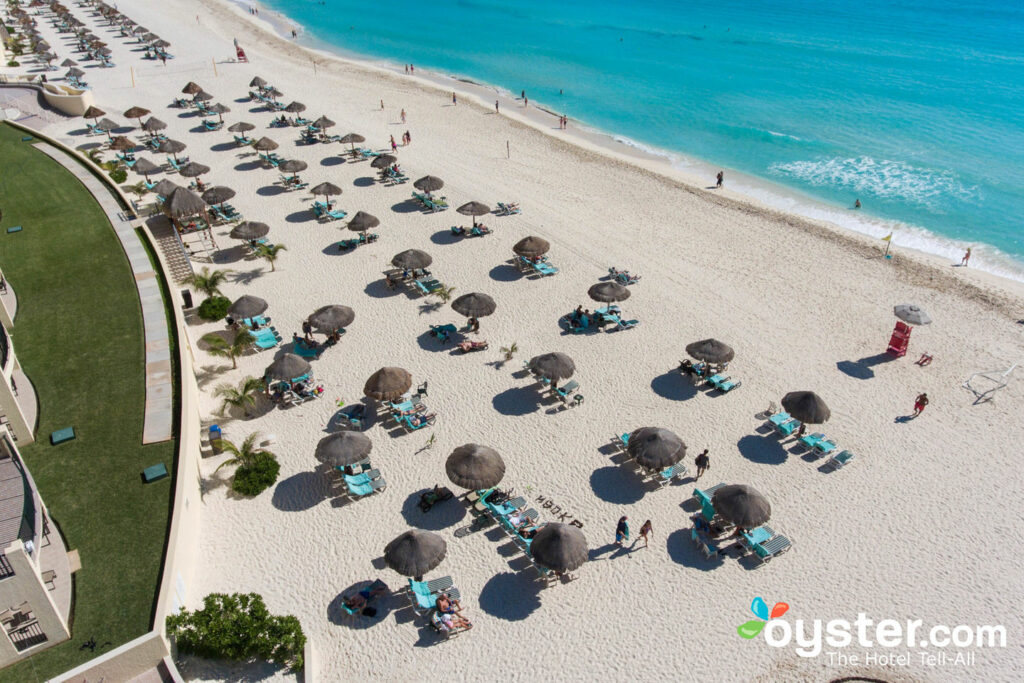 For Americans and Canadians looking to trade their winter blues for the turquoise waters of Cancun, a January getaway is a no-brainer. One snag: Thousands upon thousands of other travelers have this same thought every year. January is smack in the middle of Cancun's high (and dry) season, which kicks off in late November and goes through early March. High season means higher prices, and this is especially true from the week before Christmas through the middle of January. So, really, there are two snags: bigger crowds and steeper prices. The trade-off is average temps hovering in the high 70s (cooler than most of year, with nights brisk enough to merit long sleeves), water warm enough to swim in, and very little chance of drizzle — January is Cancun's driest month of the year.
February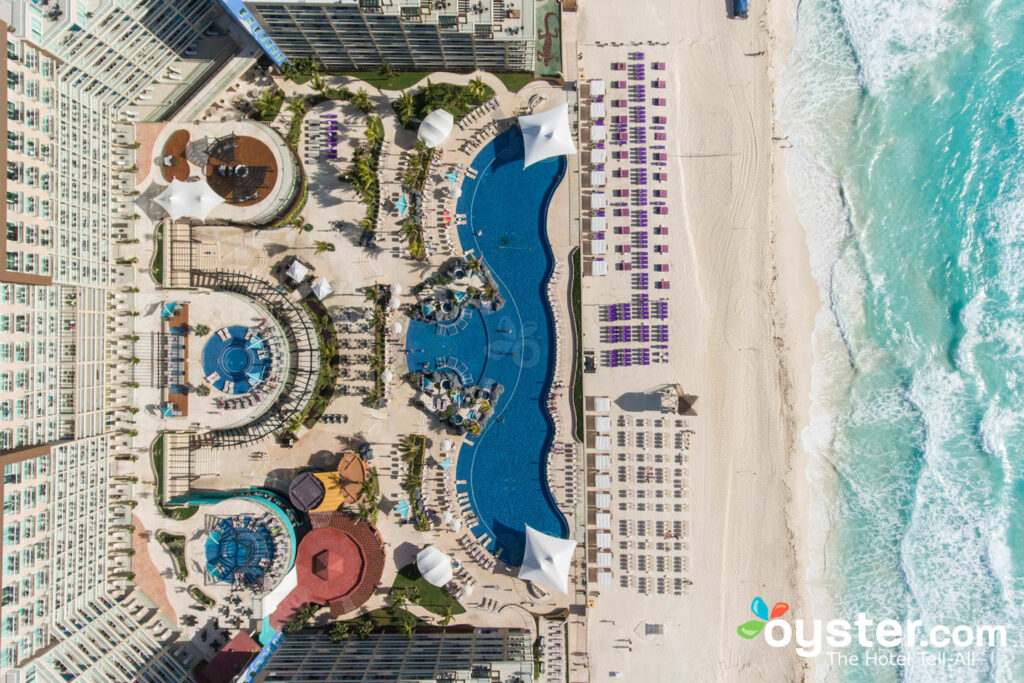 February in Cancun enjoys a similar climate to January, just with an extra hour of sunshine a day (February has nine sunshine hours, while January has eight) and a greater possibility of scattered showers. Prices are lower than January's peak, yet crowds remain the same. This month is the start of the spring-break onslaught, with American students flocking to Cancun's Hotel Zone for rum slushies on the beach and all-day, all-night parties.
March and April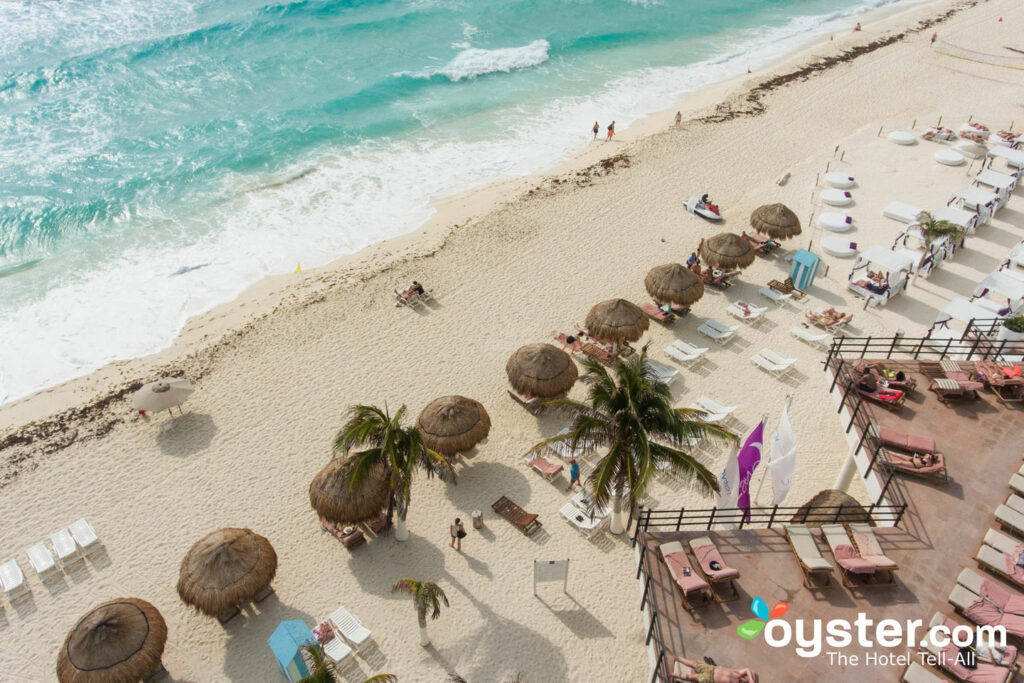 March signifies the end of the high season (and higher prices). Even so, the town remains in full-throttle spring break mode throughout the month and into early April. Both March and April are blessed with more warmth and sunshine, and little rainfall. Rates have dropped a bit by now, but dry season has yet to come to a close. From here, temperatures continue their march up the mercury and Cancun embarks upon its wet season.
May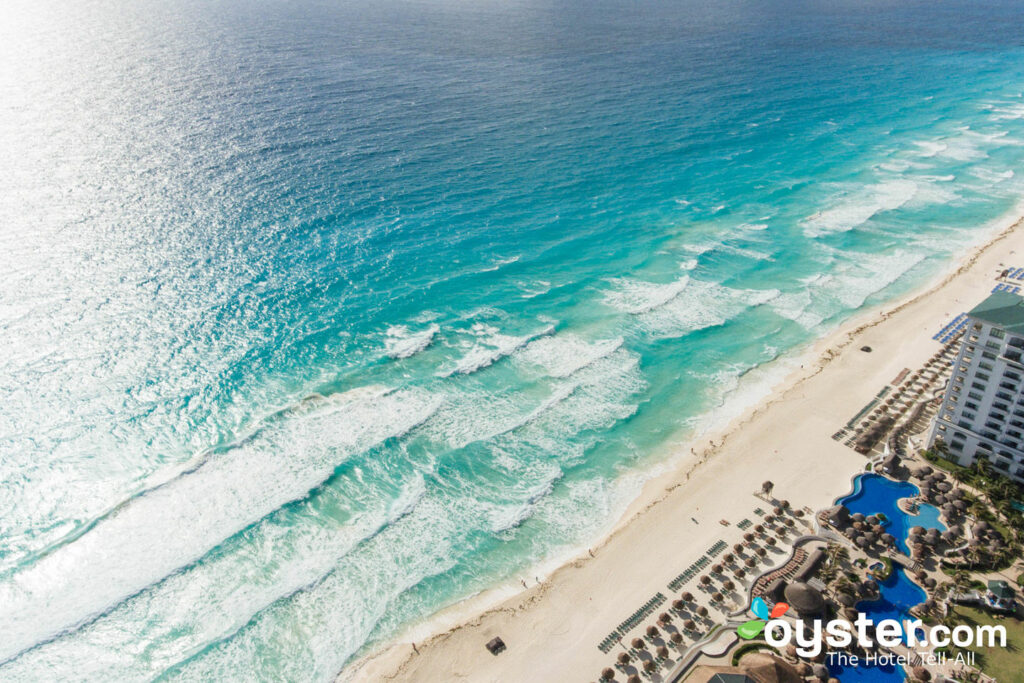 From both a finance and a forecast perspective, May is a great time to visit Cancun. Rates are generally cheaper than peak and spring break seasons (November through March and February through April, respectively) and heat has yet to hit its summer intensity. Though May's temperatures can tip into the 90s, the weather generally sticks to the low 80s. Wet season is officially underway, but precipitation is a fraction of what the upcoming months have in store. Whale shark season begins in late May, with daily boat tours departing every morning from Cancun and heading towards Isla Holbox, where travelers and see and swim near the aquatic giants, as well as turtles, manta rays, and dolphins.
June, July, and August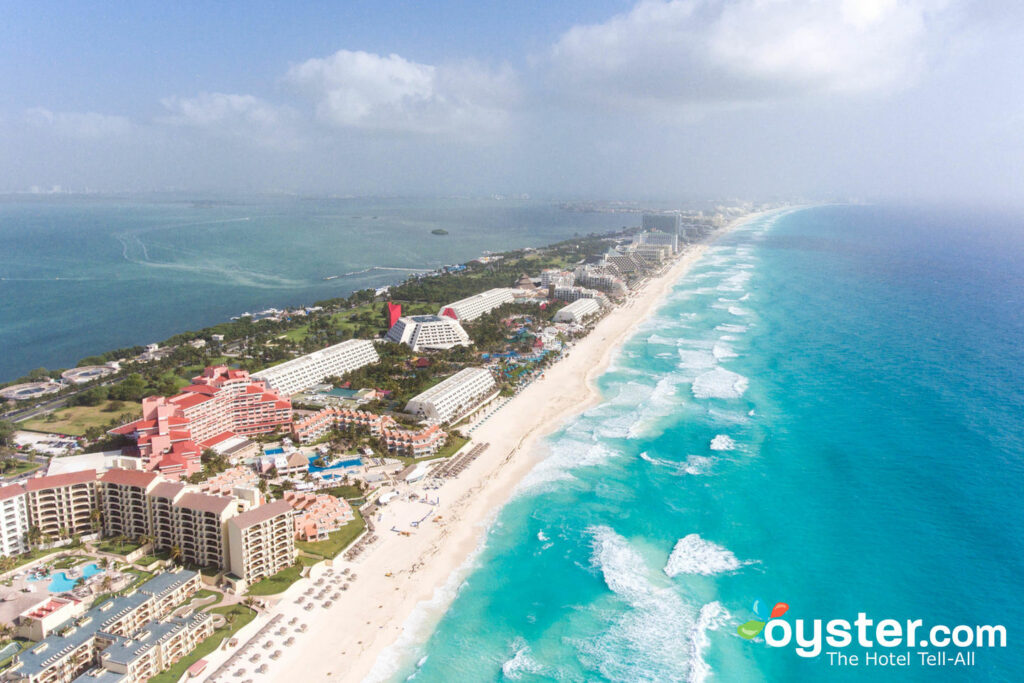 Surprise! Once summer hits its stride, Cancun's heat and humidity swell to a sultry peak. As always, the hot air is alleviated by Caribbean Sea breezes, and — this time of year — greater precipitation. June brings the official beginning of the Atlantic hurricane season and Cancun's wet season, so travelers should prepare for a lot more wetness than November through April (but not as much as September and October). Most of this moisture comes in the form of mighty afternoon downpours that end as quickly as they begin. July and August are the best months for spotting whale sharks (daily tours leave from Cancun).
September and October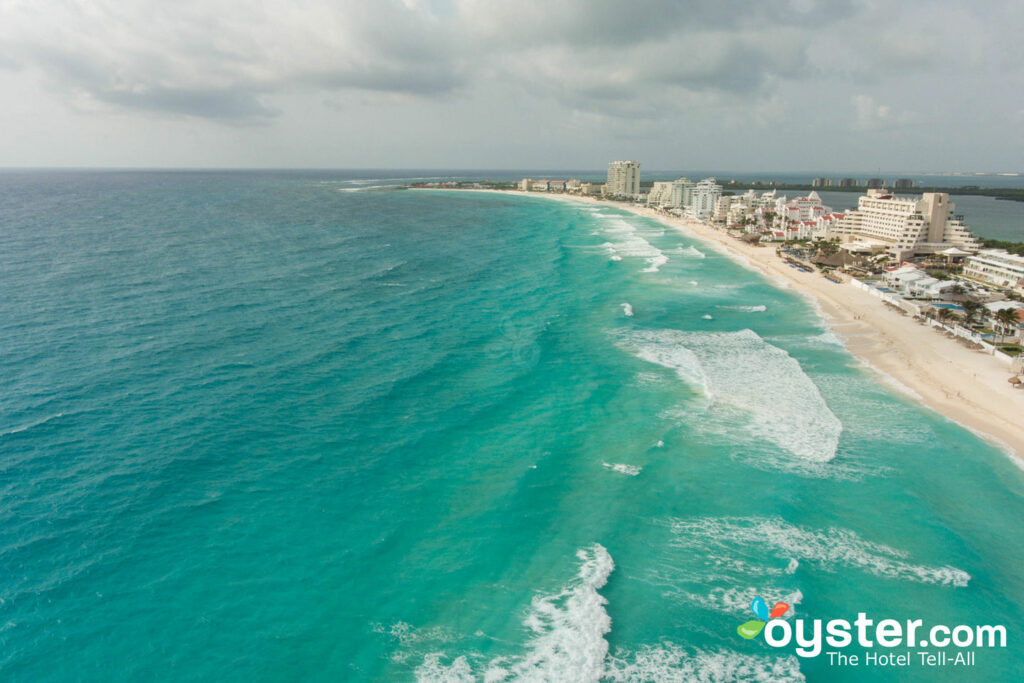 The power of the summer sun barely subsides in the fall. While September and October's daytime temps stay pretty steady with summer averages, hotel rates take a dramatic dip and the rain factor skyrockets. These months are peak hurricane season and the wettest time of the year in Cancun (October specifically takes the honor of being the rainiest month). Now, those afternoon deluges of summer are apt to toughen into tropical storms — or even violent, high-category hurricanes — that can last multiple days. Hotel rates reflect this.
November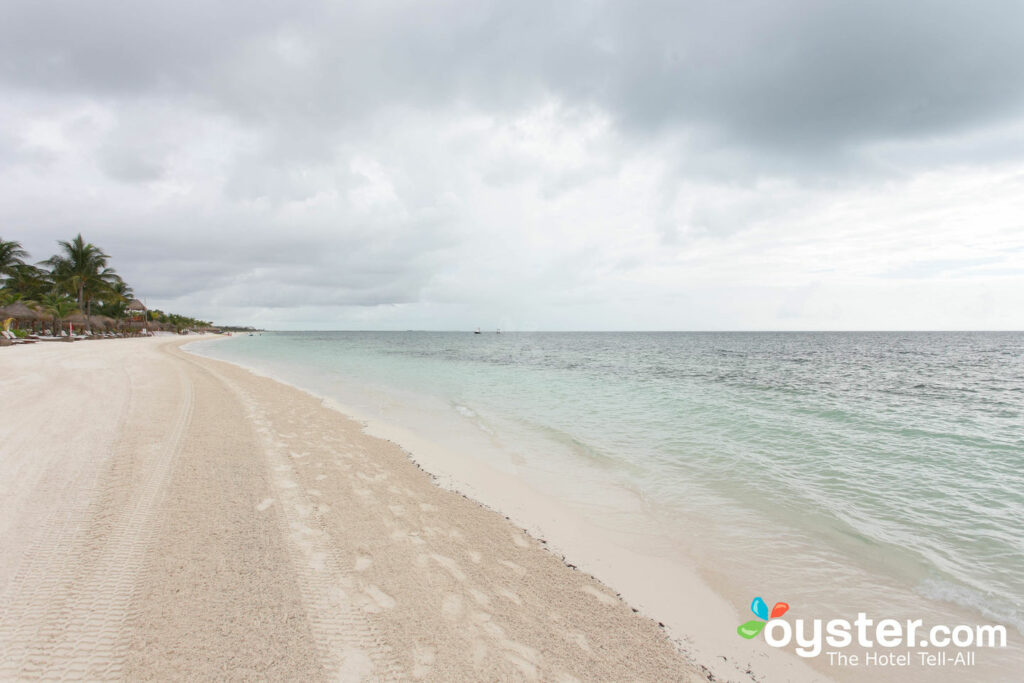 November sees the end of hurricane season and the return of high season. Slightly cooler air brings relief from the scorch of summer and the lavish humidity of fall. This is still technically Cancun's wet season, but raininess (and mercifully, the threat of hurricanes) tapers off in November. Though hotel rates do creep back up throughout the month, they have not yet reached their mid-December through mid-January height.
December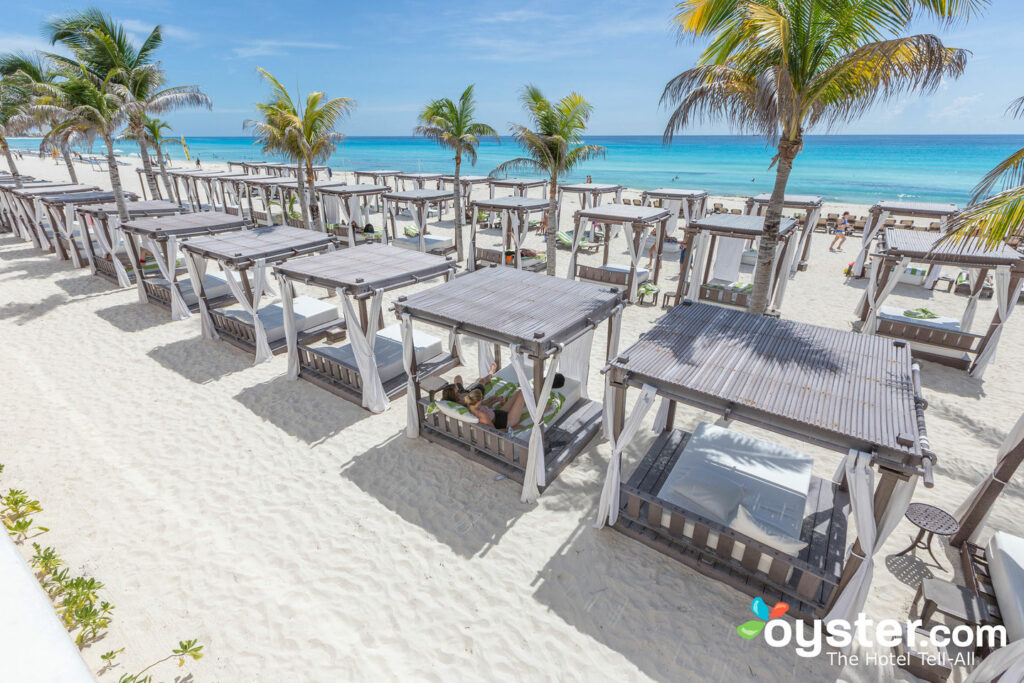 December is the coolest time to visit Cancun (and by cool, we mean that low temperatures fall in the neighborhood of 70 degrees). This is also one of the priciest months of the year, though there are still some deals in the first half of the month. Dry season is in full swing by now, so there's little risk of rain blighting your beach days.
Some of Our Favorite Cancun Hotels:
This 450-room luxury all-inclusive is set in the heart of a private resort community to the north of Cancun. Modern, luxurious rooms are huge and have big whirlpool tubs; all have balconies and some have ocean views. Certain categories have swim-up access or private plunge pools. All the features expected for this caliber of resort are here, including seven pools, nine restaurants, 11 bars, and a high-end spa.
The luxurious, 260-room Le Blanc Spa is the best (and priciest) adult-only all-inclusive in town. It stands out for its gorgeous white-sand beach in the heart of the Hotel Zone, decadent spa (guests get free access to the hydrotherapy area), stunning pools (two with swim-up bars), and especially its pampering service, from the butlers who will unpack your clothes to the pool attendants who will provide cool towels for your eyes.
This 307-room hacienda-style resort on a pristine stretch of beach in the Hotel Zone is one of the area's top all-inclusive luxury options for adults only. The stylish, colonial-style rooms all have balconies with phenomenal ocean views, which are also enjoyed from the whirlpool tubs.
Developed for super sensitive skin, this non-nano sunscreen is great for people from 0 to 100. Not only that, but its formula keeps it lightweight, hypoallergenic, and gluten, soy and dairy free.
You'll Also Like:
All products are independently selected by our writers and editors. If you buy something through our links, Oyster may earn an affiliate commission.