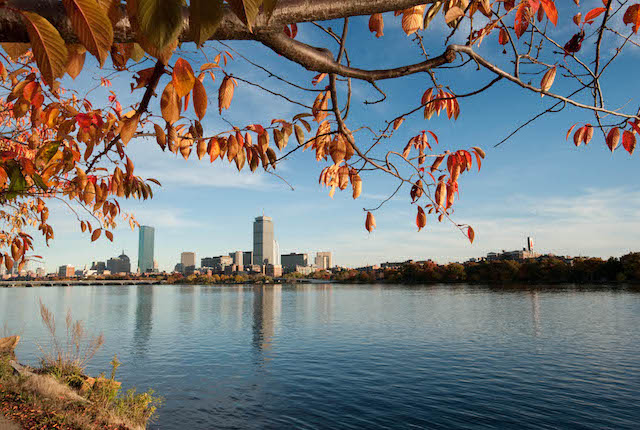 With plenty of historical attractions (Faneuil Hall, the Paul Revere House), an impressive breadth of museums, lovely public parks (Boston Common, Public Garden), and sports activities galore (the city is home to the Red Sox, Celtics, Bruins, and Patriots), Boston has lots to offer visitors. Even better, the city is surrounded by places that provide travelers with rocky beaches, delicious cuisine, and forested mountains. That said, for travelers yearning to get out of town for just a few hours (or an entire day or night), Boston is a great option. Below, take a look at the 10 best weekend getaways from Boston.
Under an hour away by train or car, Salem is easy to reach from Boston. Naturally, the 1692 witch trials are the city's biggest draw, and you can see spine-chilling reenactments of the chaos at the Witch Museum. Be sure to tour The House of the Seven Gables, made famous by the creepy novel written by literary legend Nathaniel Hawthorne (who was a descendant of one of the judges of the witch trials). There's also the Peabody Essex Museum, which displays one of the major collections of Asian art in the U.S. For the biggest thrill of all, drive up for Halloween and attend the legendary costume ball at the Hawthorne Hotel.
Salem Hotel Pick:
Are you craving creamy clam chowder made from fresh seafood caught by grizzled old fishermen? Of course you are — you're in New England, after all. Amble along the newly restored industrial harbor of the historical fishing village of Gloucester, complete with an aquarium and interpretive exhibits. Get your chowder at Causeway Restaurant or Gloucester House. Then, head up to Hammond Castle, a medieval-style fortress built in the 1920s, or to Halibut Point State Park for rocky granite ledges and tide pools crawling with life. The famous Singing Beach (yes, it's exactly as it sounds) at the tip of Cape Ann is also worth a visit.
Cape Ann Hotel Pick:
No visit to Newport is complete without a tour of one of the extravagant mansions in the area. The Breakers, the ancestral home of the Vanderbilt dynasty, was built on 14 acres of lush gardens overlooking the the Atlantic. The Newport Regatta, the keynote sailing race that takes place each summer on the East Coast, is also worth the two-hour drive. Don't miss the Newport Folk Festival, where you can grab a dinghy and a cooler full of Samuel Adams beer and enjoy some of the biggest acts in independent music while floating in the harbor.
Newport Hotel Pick:
4. Lowell, Massachusetts
In Lowell, you can witness the birthplace of the American textile industry, thanks to Francis Lowell's 1819 introduction of water-powered mills. There, thousands of immigrant workers, known as the Lowell Mill Girls, lived and worked under strict conditions while they kept the economy humming. Visit the Lowell National Historical Park to tour factories and try weaving with hands-on demonstrations. Lowell is also the birthplace of James McNeill Whistler, and his childhood home has been converted into a museum of American art. About an hour away by car or train, the city is so close to Boston that you'll have plenty of time to enjoy a glass of wine at one of the bistros on Main Street.
Over a two-hour drive from Boston, the Cape Cod paradise of Provincetown might be a schlep for the average day-tripper. But with ferries that leave at 10 a.m. from Boston Harbor, you can enjoy a scenic trip with views of the Harbor Islands and arrive in time for lunch and a stroll through the town's art galleries and sculpture gardens. Also worth a visit is Race Point Beach, with its historic lighthouse. This should give you ample time to down a fancy martini during happy hour at The Monkey Bar before jumping back on the ferry.
Provincetown Hotel Pick:
The Pilgrims arrived at Plymouth Rock in 1620 and, as legend has it, the same rock still sits there today. But the real attraction is Plimoth Plantation, a living history museum where you can observe how 17th-century Puritans lived, worked, and ate. Ask them — they'll tell you. For even more historical fun, you can visit a replica of the Wampanoag village, featuring natives in traditional dress. And if you're really lucky, you can even hitch a ride on a replica of the Mayflower II, and watch sailors hoist the main sheets the same way they did in the time of King James.
Plymouth Hotel Pick:
7. Blue Hills Reservation, Massachusetts
There are a handful of ski areas near Boston, but none better or more convenient than Blue Hills, which was first surveyed by John Smith in 1614. Despite being around a 30-minute drive from the city, the park spans over 7,000 acres of hills — the highest land between Boston and the Florida Keys. In the summer and fall, the fun doesn't stop. During these seasons, you can enjoy hundreds of biking and hiking trails, pausing to observe the picturesque views of the city below.
8. New Bedford, Massachusetts
An hour south of Boston lies New Bedford, the historical whaling village that was once the home of Moby Dick — or at least his creator, novelist and one-time sailor Herman Melville. At the can't-miss New Bedford Whaling Museum, you can view a gigantic whale skeleton that has been slowly oozing oil on the floor for 20 years, and Seaman's Bethel, which was immortalized by Melville for its bow-shaped pulpit. In January, you can attend the annual Moby-Dick Marathon, an out-loud reading of all seven exciting volumes of the novel.
If you don't feel like heading south, drive an hour north to New Hampshire and check out Portsmouth, where stately 17th-century homes — many of which have been converted into museums — dot the Piscataqua River. You'll find plenty of options here, including Strawbery Banke, an outdoor living history museum where reenactors teach visitors how to cook over an open hearth and fire an 18th-century musket. You can also tour the research submarine USS Albacore, which sunk 13 Japanese ships during World War II.
Portsmouth Hotel Pick:
10. Manchester, New Hampshire
Located on the Merrimack River, Manchester is the largest city in New Hampshire, with a population of over 100,000. It's big enough to give you a bustling, big-city vibe, yet still small and compact enough to see in a day. Plus, it's just an hour away from Boston. Check out the mid-century interiors at the Frank Lloyd Wright-designed Zimmerman House. Fast-food chicken tenders have nothing on the Puritan Backroom Restaurant, an institution located just a few blocks away from the Currier Museum of Art and its works by Claude Monet and Georgia O'Keeffe.
You'll Also Like:
All products are independently selected by our writers and editors. If you buy something through our links, Oyster may earn an affiliate commission.