Cambodia has been gaining attention in the travel community for some years now. For a relatively small nation, the Kingdom of Wonder, as it's known, boasts a cache of attractions -- ancient temples, vibrant cities, a welcoming countryside, and idyllic islands, to name but a few. For many, it requires a long journey to reach, so you'll likely want to take plenty of vacation days to explore the country fully. That said, we've broken down a 10-day itinerary for Cambodia that takes in the best cities, magnificent temples, and wilder remote areas.
Arrive in Siem Reap, a compact city that has boomed in recent years due to its proximity to the temples of Angkor Wat. Wherever you traveled from, it's likely you endured a long journey with multiple connecting flights or perhaps a bumpy bus ride from neighboring Thailand or Laos. Therefore, it's wise to spend the day acclimating and getting your bearings. For starters, head to the Angkor National Museum to dive into the Angkor Empire's rich history and the centuries of prosperity that accompanied the construction of these remarkable temples. The museum showcases thousands of artifacts, many of which are displayed in the serene Gallery of 1,000 Buddhas. Interactive displays give visitors an understanding of the various architectural styles and trademarks that each of the Khmer kings employed in their respective temples. Next, grab a tuk-tuk and head north of town to buy your Angkor Pass at the Angkor Park ticket office. To make the most of your time here (and to avoid packing it all into one day), opt for the three-day pass, which is valid for 10 days.
Where to Eat: For the perfect introduction to authentic Cambodian fare, head to the airy and atmospheric Sugar Palm. Chef Kethana's dishes are best enjoyed family-style. Favorites include the stir-fried ginger, korko soup, and fish amok, which is comprised of steamed fish, coconut cream, and herbs.
Where to Stay: Both Rambutan Resort – Siem Reap and Diamond D'Angkor Boutique offer intimate and comfortable accommodations conveniently located within walking distance of downtown, but far enough away to escape the noise of late-night revelry. For something a little more luxurious in the heart of downtown, try Park Hyatt Siem Reap.
If you've done your homework or been to the Angkor National Museum, you know that Angkor Wat is an individual temple as well as the name commonly used for the entire complex. Many people rush to Angkor Wat when admission opens at 5 a.m. to catch the sunrise over the reflection pond. Though this is a remarkable sight to behold, it's an early and somewhat competitive introduction to the temples, so let's hold off on an early start for another day. Instead, head to Ta Prohm when it opens at 7:30 a.m. to beat the tour buses. The temple remains in nearly the same condition as it was found, with massive trees growing out of the structures. Ta Prohm is much smaller than Angkor Wat and Angkor Thom, so it's really worth prioritizing an early visit here.
Next, hop back in a tuk-tuk and head northwest toward neighboring Ta Keo temple. You might even be fortunate to have this five-tiered sandstone temple to yourself. Climb up the series of staircases to reach the upper towers and enjoy the excellent views of the galleries and terraces below. Before it gets too hot, be sure to head to Bayon temple inside the sprawling Angkor Thom complex, which was the last capital city of the Khmer empire. The Bayon temple is renowned for its elaborate decorations and massive carvings of smiling stone faces. There is plenty to admire as you make your way to the temple's upper terrace, where you can get an up-close look at the exquisite stone faces (216 in total). Now it's time to leave the crowds behind and head to Ta Nei temple. Due to a narrow sandy road, tour buses cannot reach this tree-covered sanctuary. The picturesque ruins haven't seen much restoration and include a handful of massive trees slowly reclaiming dominion over the 900-year-old stones. Before it gets too hot, head back to Siem Reap town and enjoy the amenities at your hotel — there are more temples to be climbed tomorrow.
Where to Eat: Located in a traditional Cambodian wooden house, Cuisine Wat Damnak expertly blends Cambodian and French fare while utilizing local ingredients, like water lilies and fresh fish from the Tonle Sap lake. The menu changes every two weeks, with two choices of five-course tastings.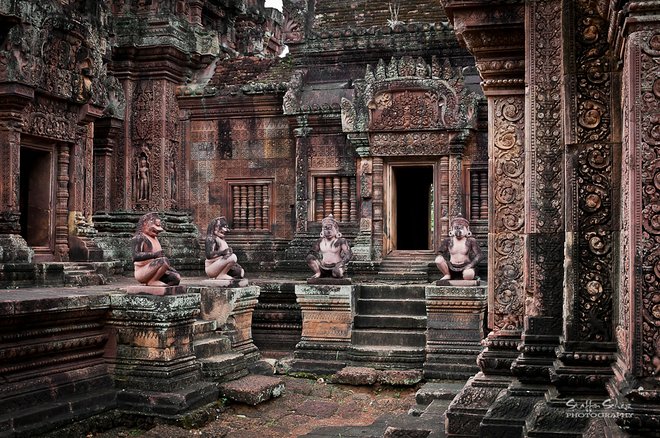 Get up on the early side to travel one hour by tuk-tuk (or 45 minutes by car) to the northerly Banteay Srei temple for its 7:30 a.m. opening time. Banteay Srei features immaculately preserved carvings in its pink-hued rock, making it a unique attraction among other Angkor temples. Translating to "Citadel of the Women," Banteay Srei was commissioned by a brahman rather than a king. Women are well-represented among the carvings, with many etchings of females holding lotus flowers.
Having traveled all this way, it's logical to tie in a visit to Kbal Spean, which is a bit farther north on road 66. Located within the jungle of Phnom Kulen National Park, the Kbal Spean archaeological site features an ornately carved riverbed and a series of waterfalls. Carvings include the 1,000 Lingas along the riverbed, which are easily seen through the shallow water, as well as motifs of animals and Hindu gods. To reach the site, you'll have to travel by foot along a two-kilometer path that meanders past massive boulders and dense foliage. The added effort is well worth it.
Where to Eat: Now that you've had an introduction to Cambodian cuisine, venture out with the experts from Siem Reap Food Tours to sample street food at the bustling night market outside of town.
It's your last day in Siem Reap, meaning it's time to finally catch the sunrise over Angkor Wat. If you are committed to getting a perfect photo, get there at 4:45 a.m. sharp to be well-positioned on the reflection pond. Find a spot as close to the water's edge as possible, but avoid spots with too many lily pads, as they'll obscure the reflection. For a more relaxed experience, consider heading to Angkor Hill to enjoy a view over the temples as the sun rises from behind. Conversely, you could come here for sunset views when the temple is lit from the front. Coming from Angkor Hill, you'll head south to cross the massive moat surrounding Angkor Wat. Don't delay on getting to the innermost temple, which rises above the outer galleries, granting panoramic views of the surrounding ancient city. Be sure to allot enough time and energy to take in the extraordinary carvings stretching along the outer gallery walls. Sections include the Heaven and Hell gallery on the southern side, Battle of the Gods and the Demons to the north, and Vishnu Conquers Demons on the eastern side. If you're still in the mood to explore, head northeast to Preah Khan, Neak Pean, and Ta Som temples. Situated along the same road, these three temples showcase differing styles and see far fewer crowds than Angkor Wat and Bayon. Before leaving Siem Reap, try to catch an act by the talented acrobats at the Phare Ponleu Selpak performing circus. These young Cambodian artists incorporate a mix of modern and traditional themes and music styles into their gravity-defying performances.
Where to Eat: To enjoy traditional fare and homemade cocktails, head to Spoons cafe, an open-air restaurant that also offers education and training to local youth.
To make the 300-kilometer journey to the Cambodian capital, your options include a six-hour bus ride or 45-minute domestic flight. Giant Ibis is one of the most reputable bus companies, and costs $16 (as of 2019), while a flight with Cambodia Angkor Air will set you back roughly $90 to $100, depending on when you book.
Though Siem Reap is certainly buzzing with tourist traffic, it has nothing on the rapid growth that Cambodia's modern capital is currently experiencing. Every year, more and more skyscrapers fill what was once a skyline made mostly of pagoda spires and tin-roofed homes. Phnom Penh's markets still reflect the city's past, especially the Art Deco-style Central Market. Vendors and sellers crowd into stalls within and between the market's four wings, creating a maze of sights and smells. If you're here at lunch time, browse the food stalls for lo-cha (a type of short, stir-fried noodles), grilled squid, and other delicacies. The variety of fruit on offer is pretty remarkable, too, including sweet mangosteens, spiky jackfruit, and fuzzy rambutans. For some local expertise, book a city tour with Motogirltour. This female-operated tour company zips folks around Phnom Penh's markets and major sights on a customized trip. Come evening, head to the National Museum of Cambodia for a classical dance performance that incorporates folklore, traditions, and village life.
Where to Eat: After the show, walk a few blocks west to Romdeng, an NGO restaurant that trains youth in culinary arts and hospitality. Their menu features many local favorites, as well as some more novel options, like fried tarantula.
Where to Stay: The Plantation provides a calm oasis in the heart of Phnom Penh — a location that's hard to beat.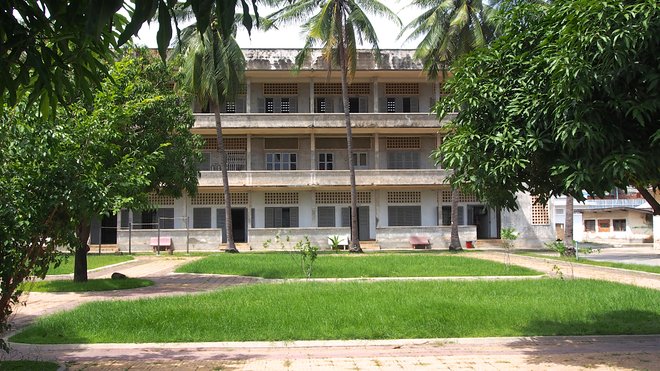 Having spent the first leg of the trip admiring the great Cambodian dynasties, Phnom Penh's Tuol Sleng Genocide Museum provides testament to the crimes of the Khmer Rouge. Before its tenure as a museum, the building was originally a high school and then converted into a security prison known as S-21. The Khmer Rouge forces kept thorough records of their prisoners and torture practices, demonstrated by the thousands of black-and-white photographs of S-21's victims. When Vietnamese forces finally liberated Phnom Penh in 1979, only seven prisoners were still alive at S-21. Each of the survivors' stories are told at Tuol Sleng, including how they used skills, such as painting portraits of officers, to stay alive. A visit to Tuol Sleng is certainly harrowing, but learning about this recent history is essential in grasping a fuller picture of Cambodia. If you're feeling up to it, the nearby Russian Market's labyrinth of vendors is worth a stop for chromas (plaid traditional scarves) and other thrifty finds.
Where to Eat: Before departing Phnom Penh, explore the boutique bars and restaurants dotting Bassac Lane — a collection of alleyways that provide a hipper alternative to the seedier bars on Street 51 and the riverside.
Day 7: Explore Kampot and take a sunset boat cruise.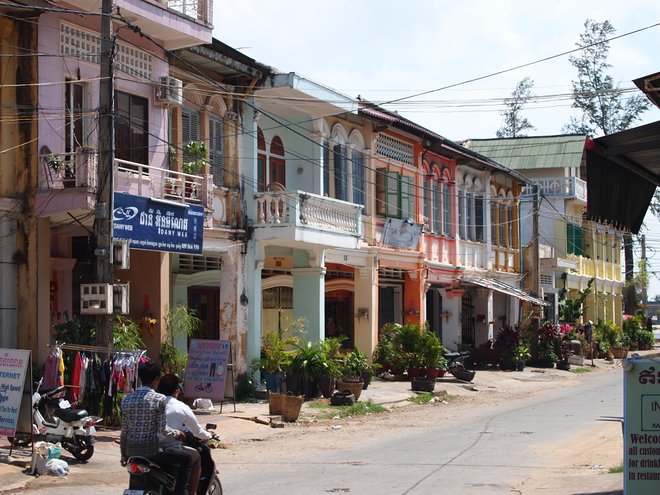 Escape the bustle of Phnom Penh for a slower pace in the riverside town of Kampot — just three hours south of the capital by bus. Straddling the brackish Praek Tuek Chhu river, Kampot is scenically situated between lush Bokor Mountain and the Gulf of Thailand. Downtown Kampot features some of the best-preserved French colonial architecture in Cambodia, with many of the faded, canary-yellow buildings operating as cafes and shops. It'll only take part of the afternoon to stroll the riverfront promenade and quiet lanes branching out from the Old Market. However, to escape the midday heat, consider stopping in at Epic Arts Cafe or Cafe Espresso Roastery for a refreshing iced Khmer coffee (with sweet milk). Epic Arts Cafe and its adjoining craft shop are operated by Epic Arts, a local NGO that uses art as a form of empowerment and expression for those with and without disabilities. Around 5 p.m., make your way back to the river for a leisurely boat cruise up the Praek Tuek Chhu river. The sunset cruise will only set you back $5 (as of 2017), and includes a can of beer. Plus, the sky behind the 3,500-foot Bokor Mountain turns a miraculous pink hue.
Where to Eat: Following the sunset boat cruise, you'll be dropped off on the riverfront, beside Rikitikitavi, around 7:30 p.m. The upstairs bar and dining room serve a mix of Cambodian and international dishes while providing an ideal place for people-watching and enjoying the night air.
Day 8: Summit Bokor Mountain and get a history lesson.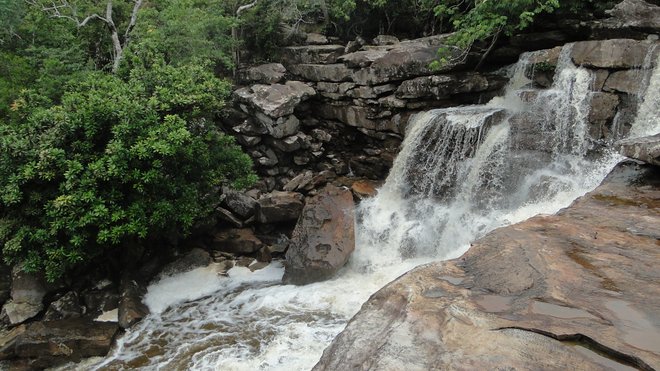 Having spent much of your first day in Kampot admiring the looming presence of Bokor Mountain from below, it's time to venture up the winding road to reach its summit and explore part of this 579-square-mile national park. If you're comfortable driving a motorbike, companies such as Ratanak Tour offer reasonable rates for full-day rentals. Otherwise, you'll need to hire a private car for the day since tuk-tuks cannot scale Bokor's steep slopes. Despite illegal deforestation in the park, the dense jungle is still home to sun bears, gibbons, and numerous bird species. An unmarked network of trails crisscrosses the terrain, allowing visitors to easily find solitude among the dense — and often foggy — forest. It's wise to hire a guide if you'd like to do a longer trek. Although the area has been demined twice since the Khmer Rouge surrendered, it's highly recommended to stay on the trails as a precaution.
Though many are drawn to Bokor for its natural beauty, there are a few fascinating relics from the French occupation, usually just referred to as the casino and the church. The abandoned concrete shell of the casino was formerly known as Le Bokor Palace Hotel and Casino, built in 1925 (the better-preserved Catholic church was also built during this time). Both structures were used as shelters for Vietnamese and Khmer Rouge soldiers, and they still bear bullet holes and scars from the conflict. Other highlights in Bokor include the misty Popokvil waterfall, the otherworldly rock formations known as 100 Rice Fields, and Wat Sampov Pram.
Where to Eat: After a tiring, yet rewarding, day of exploring Bokor, treat yourself to dinner at Atelier, a stylish bistro serving up innovative dishes that combine Cambodian and international flavors.
Day 9: Take a day trip to Kep (and spend the night Kampot).
The coastal province of Kep is a mere 15 miles from downtown Kampot, making it an easy day trip via tuk-tuk or motorbike. This seaside town was a former retreat for the French and Cambodian elite until the end of France's occupation in 1953 and the coup by Lon Nol in 1970. Many of these relics, like the Kep-Sur-Mer hotel, sit in picturesque decay with vegetation slowly reclaiming the landscape. There'll be time to explore these ruins in the afternoon, but first, catch a fishing boat from the pier to Rabbit Island. There isn't much here besides a few restaurants and a row of lounge chairs on the main beach, but swimming in the warm water and getting to know the pack of lazy beach dogs is an ideal way to spend a tranquil day. Boats will start making the 20-minute journey back in the afternoon — we recommend hopping on an early departure, so that you have time to explore Kep's seafood market. Here, fishermen lay out that day's catch while vendors grill squid, stingrays, and other less recognizable creatures in their waterfront stalls. For those not brave enough to nibble their dinner right off the stick, many nearby restaurants also prepare Khmer and western seafood dishes.
Where to Eat: If you didn't get your fill of fresh seafood, stop by the chicly designed Sailing Club for a delicious meal and sunset views over the Gulf of Thailand.
Day 10: Head back to Phnom Penh.
Make the three-hour bus journey back to the capital, where you can catch a connecting flight home or extend your Southeast Asia trip to nearby destinations like Kuala Lumpur, Bangkok, or Ho Chi Minh City.
You'll Also Like:
All products are independently selected by our writers and editors. If you buy something through our links, Oyster may earn an affiliate commission.