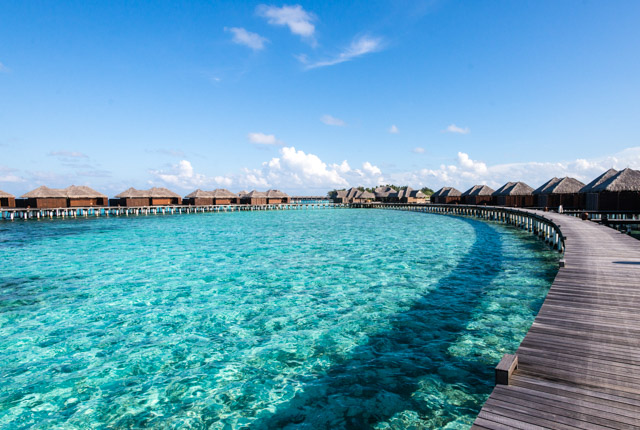 Whether you're a scuba diver, snorkeler, swimmer, or toe-dipper, it's tough to turn away from mesmerizingly clear, blue water. While the Caribbean is a reliable place for great beaches with excellent underwater visibility, we wondered where else we could find such pristine water around the world. Below are eight of the most impressive, clearest, and bluest bodies of water, from untrammeled locales with spectacular biodiversity to beaches surrounded by lush forests to a lake that rivals the clarity of distilled water.
Jiuzhaigou Valley Scenic and Historic Interest Area is a UNESCO World Heritage site in China's northern Sichuan province, combining alpine mountains, coniferous forests, and karst formations. Then, there is the water — clear, mineral-rich, and ranging in color, from blue to green to purplish. Among the lakes, pools, and waterfalls is Five Flower Lake, a shallow body of water that features multiple prismatic shades of blue, green, and yellow, as well as a bottom that's criss-crossed by ancient tree trunks.
2. Radhanagar Beach, Andaman Islands
This remote diving spot is one of several beaches on Havelock Island, which is among the approximately 300 Andaman Islands in the Bay of Bengal. While getting here takes considerable effort, you'll be rewarded with powdery, white sand and impeccably clear turquoise water, all backed by lush forest. After a snorkeling or diving session, stick around for the incredible sunset. Arrive between mid-January and mid-May for the best weather and diving conditions, before monsoon season hits in late May.
Come for the glamorous resorts and spas in the Maldives and stay for the warm, clear water that brings divers and snorkelers face-to-face with a slew of tropical marine life. Gaze at schools of vibrantly colored fish, explore caves and corals, or head out into deeper water (particularly in October and November) to ogle enormous whale sharks, manta rays, and — in the Baa Atoll Biosphere Reserve — up to five different species of marine turtles.
You can't swim in this protected lake in New Zealand, but you can hike through the Travers-Sabine Circuit track in Nelson Lakes National Park to see it. A sacred place for the Ngati Apa, a local Maori tribe, this lake is considered the clearest in the world, with a visibility of 76 meters, compared with 80 meters for distilled water, according to The Guardian. Water from a pristine upper lake filters through glacial debris before flowing into Blue Lake, resulting in its remarkable clarity. Even more fascinating, all of the lake water is naturally replaced almost daily.
Another UNESCO World Heritage site, Cocos Island National Park sits about 350 miles off the Pacific Coast of Costa Rica. Formed by volcanic rock, the island is covered in tropical rainforest, has the most diverse coral reefs of the Eastern Tropical Pacific, and is a favorite among biologists and divers. Thanks to the island's far-flung setting and conservation efforts, the water here offers a glimpse at the biologically rich tropical oceans of the past. Expect to see large marine species, including hammerhead and whale sharks, manta rays, dolphins, tuna, green turtles, and much more swimming around this awe-inspiring place.
Less than 15 miles from Bonito, Brazil, you'll find the transparent waters of Rio Sucuri. The Amazon might be more famous, but this freshwater river springs from artesian wells, making its entire length crystal clear. It can take about an hour to float or snorkel your way down the river while viewing tropical fish and lush subaquatic gardens along the way. (Boat trips are a good option for families with small children.) Look out for groups of monkeys along the shoreline.
7. Atauro Island, Timor-Leste
Timor-Leste (or East Timor), which gained its independence from Indonesia in 2002, is Southeast Asia's relatively new country. Tourism is growing slowly here and the country remains largely undeveloped, leaving the tropical landscape and dive sites, especially off Atauro Island, mostly pristine and filled with biodiversity. Atauro is located a quick boat ride from the capital, Dili, and is surrounded by clear waters that have more reef fish species per dive site than anywhere else in the world (an average of 253 per site, according to Conservation International). Expect simple accommodations here.
This freshwater lake on Australia's Fraser Island is what's known as a perched lake, which means it sits high enough above the water table to be filled only with rainwater (not groundwater). Lake McKenzie is not stream-fed and doesn't flow into the ocean, and very few species can survive in such pristine and highly acidic water. Swimmers can explore the impeccable pool of blues and greens and stroll the soft pure-silica sand. Camping facilities and showers for hikers are available as well. Just wash off your sunscreen and lotion before taking a dip — the chemical compounds can pollute the water.
NOW WATCH: 5 Best Pink-Sand Beaches in the World
https://www.youtube.com/watch?v=lQXTHGbbSUs
You'll Also Like: