The secret is out! One of our favorite sleepy, BoHo-chic beach towns has officially been chosen as the world's number one "Destination on the Rise." We love Tulum because of its friendly locals, delicious food (and drinks!), eco-consciousness, and the (almost) total escape it provides from the buzz of our phones -- not to mention its killer location. Tulum's laid-back, health-conscious, and artistic vibe has many likening the locale to Southern California, but we believe there are quite a few things that set it apart.
Rubbing up against the coast, just two hours south of Cancun, Tulum is a prime location for easy-peasy day trips to the marine playground of Xel-Ha, climbable ruins of Coba, and the beach party hub of Playa del Carmen. Plus, you know those iconic pictures of ancient Mayan ruins set high on a cliff with a gorgeous beach beckoning below? Yeah, those are in Tulum. And the world's largest mapped underwater river system? NBD, just flowing under Tulum. What about the beautifully intense 1,235-square-foot UNESCO World Heritage Site beachfront biosphere reserve Si'an Ka'an? You guessed it, in Tulum.
In other words, if you haven't been to Tulum, we suggest you get down there before a a serious case of FOMO sets in and every John, Joe, and Jess takes over. We've even made you our own personal guide to Tulum so you'll know where to go, what to bring, where to eat, and all the other what, when, and wheres for an unforgettable trip.
Did we miss something? Hit us with your Tulum tips in the comments!
When to Go: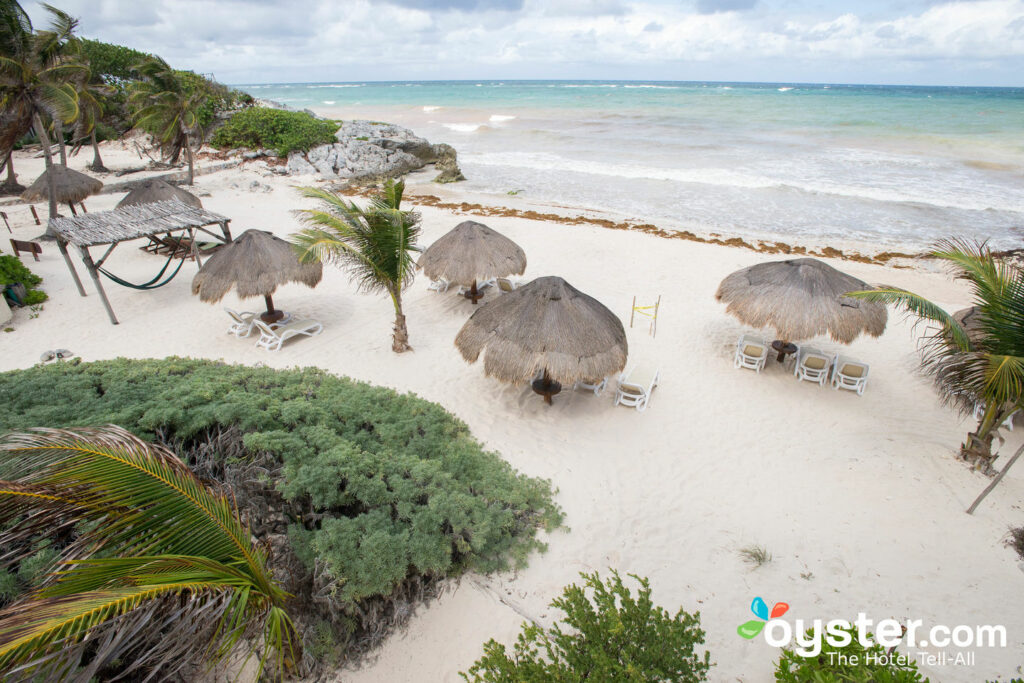 Tulum is one of those unicorn destinations where it always seems to be beautiful, though we aren't going to lie — it gets rain like the rest of the coast (luckily, we love warm summer showers). While you'll find it most bumping between January and March, we think the best time to visit is during shoulder season. Why? Well, head out in October, November, or December and you'll beat hurricane season, catch warm breezes, and hopefully snag some shoulder season prices. Plus, you'll get more of the beautiful beach to yourself and less competition at the most popular restaurants, all of which we can definitely cheers a frosty margarita to.
What to Bring: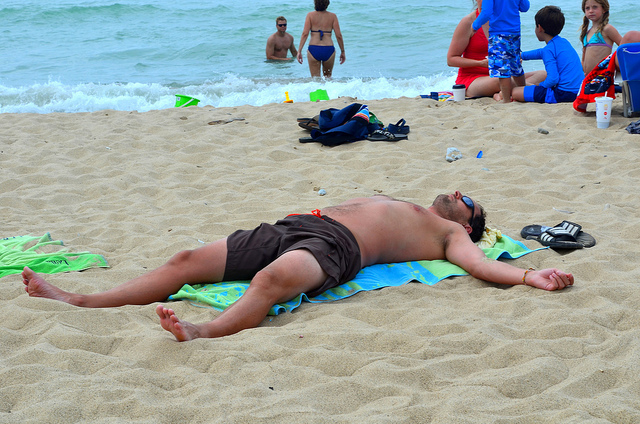 Pack light. Most places are casual and we suspect you'll be spending a lot of time on the beach. We suggest a bathing suit or two, sarong or cover up, sturdy sandals or flip flops, and a few mix-and-match short sleeve tops with shorts for daywear. Toss in a light long-sleeved cardigan and one pair of jeans or long skirt for windy days or nights out at fancier places. Ladies, you can leave your makeup at home (or if you must, just bring the essentials) — but definitely don't scrimp on the sunscreen or bug spray. Both of these items can cost a pretty penny once you land. And while you may want to bring accessories like a hat or sunglasses, you can leave your laptop at home. Tulum is where you come to unplug.
Tip: If you forget anything, you can always make a trip to Chedraui, Tulum's Wal-Mart-like mega-store.
What to Know About the Beach Side: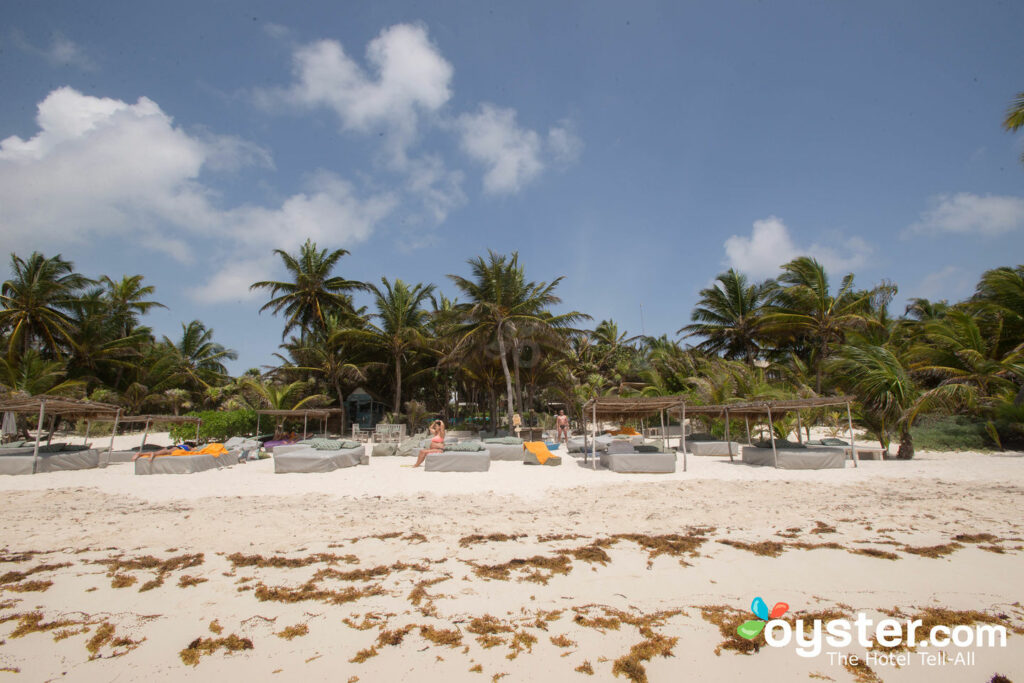 Depending on where you are staying, your experience of Tulum's beach will either be rocky and rough or smooth, white-sand sailing — both are beautiful environments for a day soaking up the sun, and they give way to some lovely warm waters. Either way, plan on seaweed being a frequent uninvited guest. Unlike those in most other tourist areas along the coast, Tulum's beachfront doesn't just grow at the backend of the town — the thick jungle of Tulum National Park rises up between the town proper and the sandy shores. This means there's only one way in and one way out; a narrow road that stretches down the coast. Lined with chic and eco-friendly boutique hotels, bars, small pop-up shops, and excursion providers, this is a tourist-only area. There are a few beach clubs, but for the most part, beaches are reserved for hotel guests.
What to Know About Tulum Pueblo (The Town Side):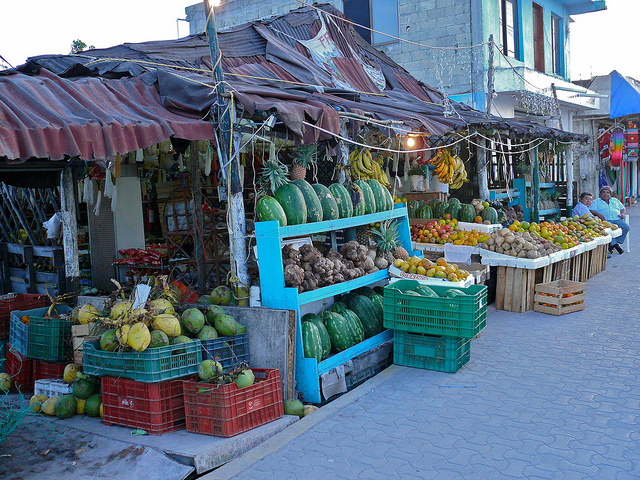 Though notably smaller and less bumping than some of the Mayan Riviera's other popular town centers, Tulum Pueblo has just enough buzz to feel alive while still keeping its overall relaxed Mexican vibe. Since most tourism is centered along the beach, the town is where you'll find much of the local flavor. The streets are organized in a grid, making the area easy to navigate, though most of the action is directly off the main highway road that bisects the town. Prices here are noticeably cheaper, but you still may get quoted tourist prices or given tourist menus — feel free to haggle with the souvenir shop owners and cab drivers.
Where to Stay:
It's also good to note, for all of our phone-addicted friends, that cell reception and data services are almost non-existent out by the beach. Sometimes, it's even hard to get a good Wi-Fi signal, so whether you like it or not, you're likely to be unplugged. Since Tulum's beach area isn't hard-wired for much, many of the smaller resorts and boutiques run on solar power or alternative energy — by necessity;others have gone all-out unplugged in order to make their hotels have a minimal negative impact on the environment.
Just beware: plenty of places in the surrounding area claim to be Tulum hotels, but some that make this claim can be up to a 45-minute drive from Tulum beach proper. Here are our picks of where to stay, right in actual Tulum.
All-Inclusive: Kore Tulum Retreat and Wellness Center; There are no massive all-inclusives in Tulum (yet), so Kore is about as close as you can get, if you are into that kind of thing. But, unfortunately, the exchange is a rugged beach area with no direct ocean access.
Adults-only: Be Tulum; This swanky spot has a great beach, huge spa complex, and super-convenient strip location. There's a tiny pool, gorgeous views from rooftop rooms, and Mezcal tastings at the bar.
Nudist: Azulik Hotel & Maya Spa; Really this is the only place where clothing is optional. This garden-set rustic spot has thatched-roof huts and minimal electricity and Wi-Fi; it's an ideal spot to undress and unplug. Hey, think of all the savings on checked luggage!
Eco-Friendly: Casa de las Olas; This spot is Mexico's only Platinum-certified LEED property. The hotel is known for using local products and foods, hosting killer retreats, and providing sizable rooms with kitchens.
Budget: Nueva Vide de Ramiro; This is a garden-set property, with a relatively decent price tag for the Tulum strip, that has a big, gorgeous stretch of beach. Rooms are rustic, with certain hours of electricity, and — a little birdie told us — it's popular with younger celebs!
Solo Traveling: Cabanas Tulum; If you are looking to get some quiet "me" time, this small beachfront spot has comfy rooms, free breakfast, daily yoga, and a tranquil vibe to help you finish that book or stretch out that ommmmmmm as you swing by the sea.
In Tulum Pueblo: Posada Yum Kin; Looking for a bit of local flavor? This family-owned guesthouse is at the end of a residential road in town and has large rooms, kitchens, leafy grounds, rooftop spa treatments, and a small pool with food and drink service.
Where to Grab a Drink:
There's no shortage of drinks flowing in Tulum, but we've got a few favorite places where we think they really know what they are doing — and the price is right.
On the beach: With their daily two-for-one margarita happy hour, the beachside Mezzanine Hotel is a popular spot come late afternoon. Drinks are strong, come in creative varieties, and can be sipped overlooking the rocky coastline. If you want to tuck your feet into the sand and wrap your hand around a tropical daiquiri, then head over to Ziggy's on the beach. This hut-style spot's swing seats fill quickly, and with two-for-one daiquiri deals, people tend to stay — so get there early! On the flip side, if you've come to Tulum for some rest and health recuperation, El Pez at Turtle Cove's bar has fresh juices and wellness tonics (okay, and a great selection of cocktails, too) that will get you relaxed or buzzed just as good as any other happy hour.
In the town: Anyone who has been will tell you that you cannot skip a sweet, fresh-pressed sugarcane mojito from Batey. Located off the main road, just a few doors down on Calle Centauro Sur, you can't miss the classic VW Beetle transformed into a one-man sugarcane juicing hut. The specialty here is mojitos, which are served with free tapas boards and a side of live jazz music.
Where to Eat:
https://www.instagram.com/p/yL8kKvDehc/
One of the things we love about Tulum is the unexpected variety of quality eats — from traditional Mexican ceviches and tall glasses of seafood cocktails, to whole fried fish on the beach, a top-ranking pizzeria (yes, pizza) and gourmet burger spot, to super-sustainable places that go back to the basics. So, depending on what you're looking for, here's some of our favorite spots to grab a bite in Tulum…
A meal in the jungle: We've all done dinner and a movie, but what about a film and some food in the jungle? While Zine Food and Films does serve up some delicious tapas and desserts, the main draw here is the experience. Located a few blocks off the town's main highway road (down toward the southern end), guests sit in their own private movie theaters (for up to six), pick a flick, and enjoy dinner and a movie surrounded by the Mexican jungle.
A meal with zero impact: Over the last year or so, Hartwood, a small little spot, slightly hidden in the jungle leaves off the main beach road, has gotten some major attention. So much so that people dedicate full days (or even hire someone) to wait in line. This spot keeps it simple, cooking all of the food in an electricity-free kitchen fueled by a wood-fire oven, locally sourcing its ingredients each day — from spear-caught fish to handpicked vegetables and fruits — and creating a 100-percent compostable waste that is then put back into the mangroves and farmland. The limited menu changes daily, depending on the harvest, and the kitchen closes when the food runs out.
A local favorite in town: A typical rule of thumb is that if tons of locals are eating somewhere, it's got to be good. Being next to the sea makes for great seafood restaurants in Tulum, but we found love at El Camello, Jr. Located at the very edge of the town, this spot is famous for having some of the freshest catch in town. Come hungry and order big because you'll want to try one of their massive seafood cocktails — served in a cocktail glass, stuffed to the brim with eats like shrimp, octopus, and whole fried fish — and don't skip on the octopus with garlic, it's some of the best you'll ever have. Our runner-up? Right next door at Los Aguachiles, another local favorite.
The secret spot: When a receptionist told us about a "secret" spot that serves the area's best ceviche and whole-fried fish right on the beach, we had to try it. It's about a 15-minute drive outside of town off Soliman Bay, down a few winding roads, directly on the sands, and completely incognito. In fact, you're likely to just see a bunch of locals resting on hammocks, playing soccer on the beach, and sitting at tables with their families. Though there are no signs anywhere (we're not even sure there's a menu), this spot is called Chamico's. The entire operation is run out of a small hut where servers cut limes, assemble the lobster ceviche, and send fish right out back to the fry station. Here, wood-fire stoves sizzle with pans of whole, fresh-caught snapper. We don't know what heaven is like, but we think maybe something like this.
Related Links: