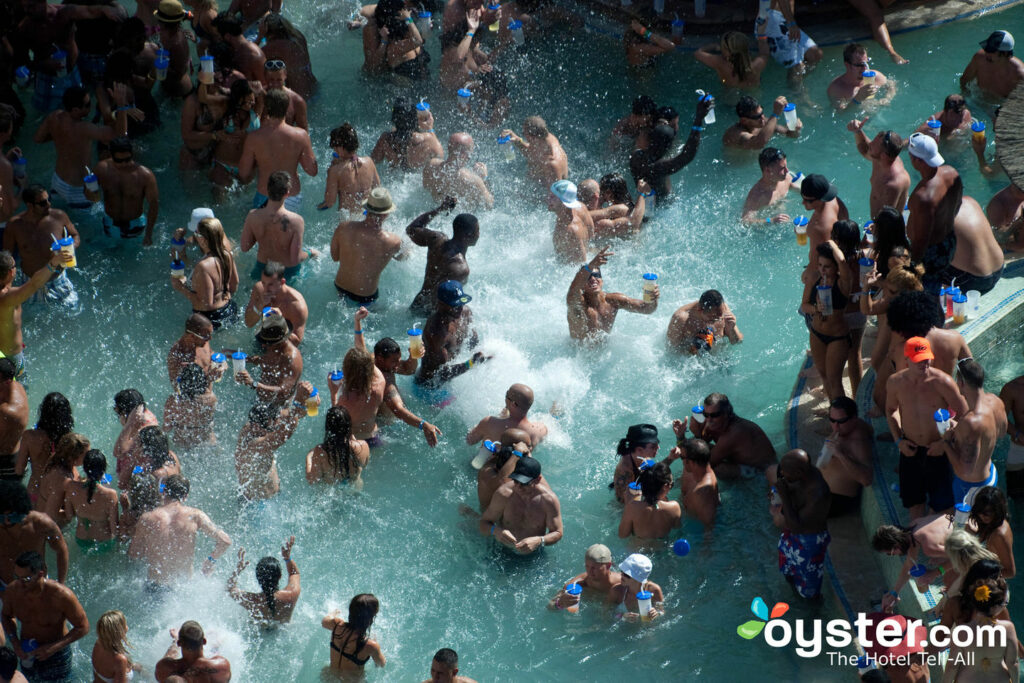 Men and women across the United States must come together to make a singular important decision: Do we party in Las Vegas or do we party in Miami? Both destinations were built for benders. There's top-notch nightlife, bottle service, day-long adult entertainment, and food scenes seemingly designed to cure hangovers. You can't go wrong overindulging in either locale, but there are some key differences that might sway you to choose the ocean or the desert. Miami's Art Deco architecture, white-sand beaches, and gay-friendly scene make it a standout party destination. Las Vegas has the neon lights, desert oasis, and innumerable places to let loose. We pitted the two party players against each other for a complete face-off in the most important categories. Read on, then party on.
1. The Hotel Vibes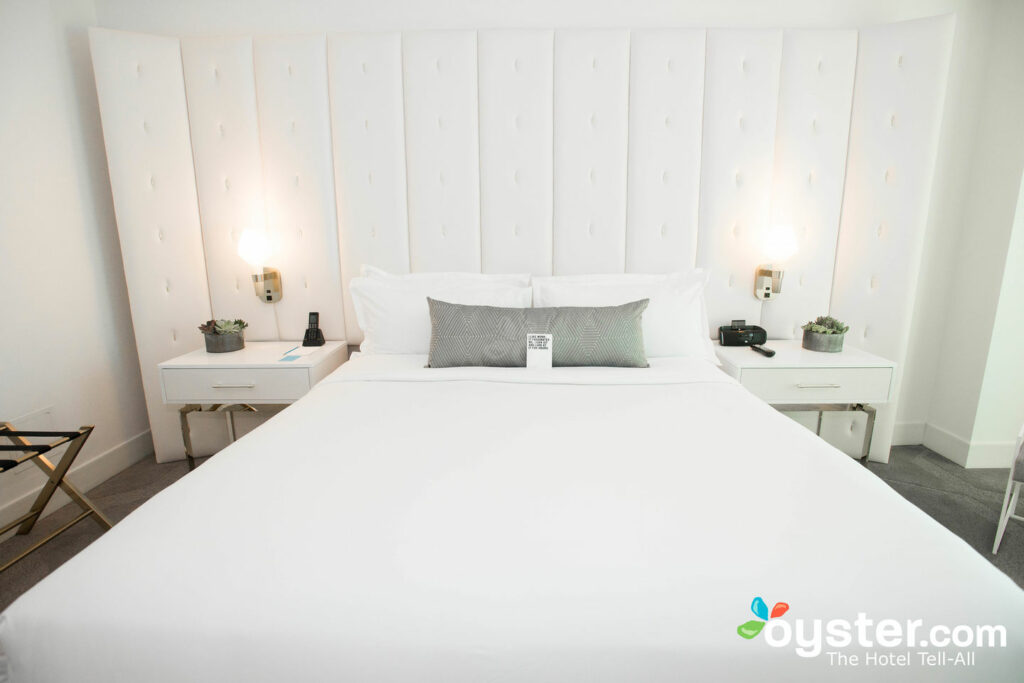 The Delano Las Vegas and the Delano South Beach are a solid 2,500 miles apart (to put that in perspective, it would take 827 hours to walk between the two properties). Both are owned by the same brand, and offer bold design that attracts an affluent and sexy crowd, but the hip party properties are a prime example of the different hotel vibes between Miami and Las Vegas. For instance, the boutique-style Miami outpost has just 195 rooms, while the expansive Vegas version houses 1,117 rooms. Hotels in Miami tend to be smaller and focus on beach proximity and swimming pools. On the other hand, Vegas hotels are mostly designed to offer everything (casinos, nightclubs, bars, pools, spas, and restaurants) under one roof. It's no surprise that resort fees are common in both expensive locales. That said, The Cosmopolitan of Las Vegas, Autograph Collection won our 2018 Editor's Choice Award for best party hotel.
Book Your Stay at The Cosmopolitan of Las Vegas, Autograph Collection:
Book Your Stay at Delano Las Vegas:
Book Your Stay at Delano South Beach:
2. The Nightlife Scene
If you're taking a party vacation, the nightlife scene is the most important thing. Las Vegas and Miami are two of the best U.S. cities for busting out sky-high stiletto heels and low-cut tops — in fact, many clubs have strict dress codes and snobby bouncers who seek out the best-dressed customers. Dress to impress, especially in a place where you're paying a cover charge or there's a DJ. Hotel bars are usually more casual, especially before sunset. Both cities offer over-the-top nightclub and dance scenes with celebrity DJs, model hosts, and bottle service. However, there are some key differences.
Most epic nights out in Las Vegas start and end at the 24-hour casinos. Gambling is legal in Vegas, giving Sin City a major leg up over its party competitors. Players, especially those at the high-stakes tables, get free perks like alcohol and occasional room upgrades. Gamble enough money at the MGM Grand and you may be invited to the secret Chinese restaurant for high rollers only. Las Vegas also has unparalleled performances: there's always a pop star or two in residence (Lady Gaga just signed a two-year deal at Park MGM) and acrobatic Cirque du Soleil shows are still going strong and selling out. Add magicians, comedians, and drag shows and there's always something to do between dinner and dancing.
Miami's nightlife scene is smaller, but no less subdued. The evening usually starts with watching the sun set into the ocean with a cocktail in hand — easily done at The Standard Miami, with South Beach on one side and Miami's skyline on the other. Once the sun is gone, the party starts. Miami celebrates its LGBT-inclusive visitors and citizens. Palace is especially popular for drag queen shows that spill out on Ocean Drive's sidewalk. The dance scene focuses on the city's proud Latino population, with an emphasis on salsa, merengue, and tango. Plus, you'll find celebrities and their entourages getting down in VIP areas all over town. LIV inside Fontainebleau Miami Beach has hosted everyone from Snoop Dogg to Justin Bieber and most of the Kardashians.
3. The Daytime Scene
Nursing your hangover aside, there's plenty to do in Miami and Las Vegas while the sun in shining. Boutique shopping, day-long pool parties, foodie scenes, and outdoor activities are just a few of the fun options to partake in between dance parties.
From March through Labor Day weekend, Las Vegas is notorious for sexy pool and "beach" clubs. Visitors can rent tricked-out VIP cabanas with misters and private bottle service or watch bikini contests and take body shots at the bar. The pools are packed and wild water behavior is expected. For something more subdued, Forum Shops at Caesars Palace offers 160 specialty stores, including Louis Vuitton, as well as the Fall of Atlantis animatronic show. Nearly every celebrity chef in the game has a restaurant in Vegas: Nobu Matsuhisa, Guy Savoy, and Wolfgang Puck all have outposts.
You Might Also Like: The Best Pool Parties in Las Vegas, Ranked
Obviously, Miami has Las Vegas beat when it comes to the beach. The publicly-owned beaches in the city are beautifully maintained and the water is crystal clear. Visitors can rent a lounge chair or just throw down a towel and watch the parade of swimsuit models playing in the surf. Jet skis and parasailing excursions are on offer. Fresh coconuts are for sale from vendors and there's a long stretch of restaurants with patios facing the beach on Ocean Boulevard. The Cuban food scene is the best in the country.
4. Debauchery, Drugs, and Nudity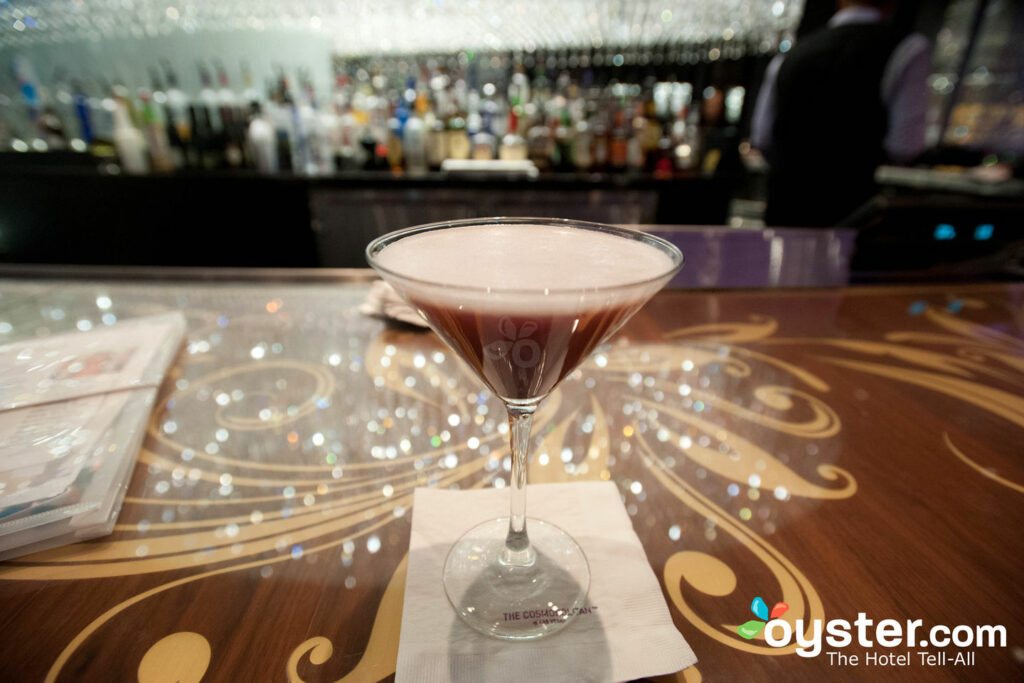 Like anywhere in the United States, the purchasing age for alcohol is 21 in Miami and Las Vegas. Both cities are serious about combatting underage drinking and almost everyone gets carded, regardless of appearance. That said, both hot spots are home to some more nefarious activities than taking shots.
Prostitution is illegal in Las Vegas, but you're likely going to see hundreds of escort flyers on the Strip and may be propositioned at bars or in clubs. Remember that Las Vegas allows open containers of alcohol to be consumed on the streets, but not in cars or taxis (party limos are an exception). Nightclubs set their own hours, and some are open 24 hours a day. Drugs, including marijuana, are illegal.
South Beach is a topless beach and Haulover Beach offers over a mile of legal nude sunbathing. For those who prefer to leave nudity to the professionals, you'll have to head to the strip club. Miami used to be home to an all-male nude strip club, but it closed earlier this year. Female strip clubs are still popular, and the best ones (like Scarlett's Cabaret) don't get going until 2 a.m. and stay wild until breakfast. It's illegal to drink on the streets and beaches, though some hotels have a private area of sun loungers with beverage service. Nightclubs usually stay open until 4 a.m. Drugs, including marijuana, are illegal.
5. The Nitty-Gritty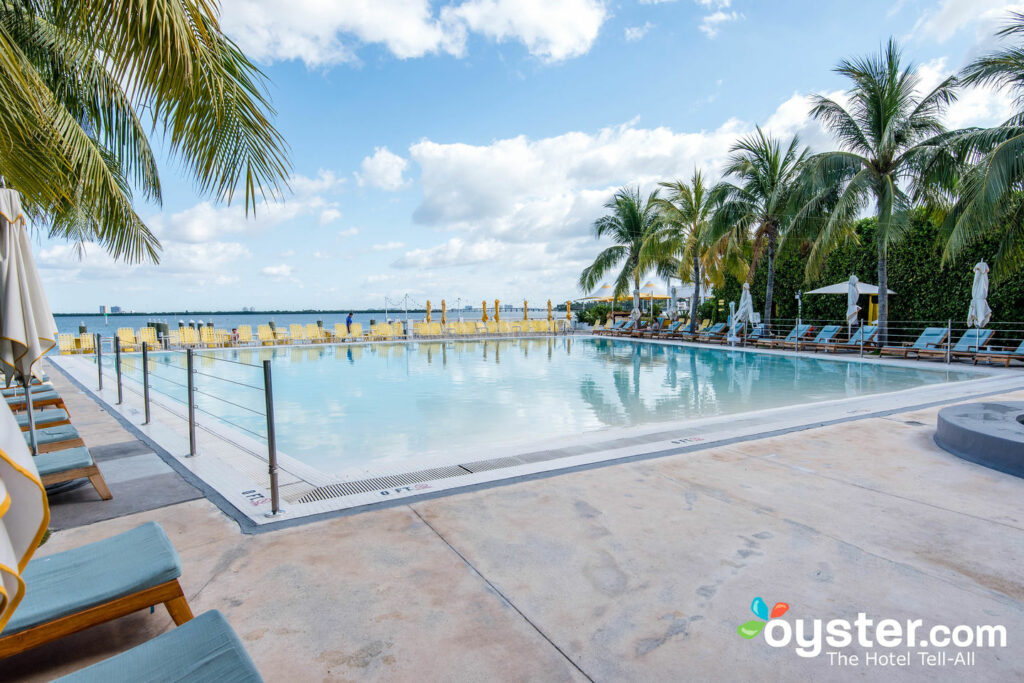 The majority of Miami's party scene takes place in and around South Beach (from South Pointe Park in the south to Dade Boulevard in the north), while the happenings in Las Vegas generally occur on the Strip (about a four-mile stretch of Las Vegas Boulevard between Sahara Avenue and Russell Road). That said, hotel, drink, and restaurant prices are also the highest in these concentrated areas — so many partiers book cheaper spots nearby and commute to the fun. Hotel rates tend to soar during spring break for both locations.
Airports:
McCarran International Airport is only five miles from downtown Vegas, and is the major point of entry into the city. Californians are known to drive the four hours between Los Angeles and Las Vegas. Note that cab drivers are notorious for taking passengers on longer routes and charging them more. Tip: Ask for city streets and avoid the freeway.
It's about a 20-minute drive from Miami International Airport to the heart of South Beach. For those who are mixing Miami's parties with a cruise, the Port of Miami is around the same distance.
Weather:
Las Vegas was built in the Mojave Desert. Summer temps soar into the triple digits during the daytime, making even the swimming pools uncomfortably hot in the mid-afternoon. Rain is rare, and the city sees over 300 sunny days per year. Winters are mild and short, but temps do dip at night.
Miami's location on the Atlantic Ocean means the weather is more varied, but still warm enough to enjoy the beach year-round. Temperatures hover around the 70s during the winter and the 90s in the summer with lots of humidity. The city gets a good amount of rain during its hurricane season from mid-May through October (though hurricanes are pretty rare). However, rain storms are usually short.
Crime:
Both cities have safe tourist-heavy areas that are monitored by police officers on bikes and foot. That being said, these are both major U.S. cities with pockets of poverty and crime. Visitors should not accept drinks from strangers and remain aware of their surroundings and belongings at all times. Use the safe in your hotel room and don't leave valuables unattended on the beach while swimming.
Don't head into your next trip with outdated luggage from your college days, bring along Away's carry-on with 360 degree spinning wheels, a hard exterior shell, a USB port, and a TSA-approved lock.
You'll Also Like:
All products are independently selected by our writers and editors. If you buy something through our links, Oyster may earn an affiliate commission.