Greece has thousands of islands, yet most travelers tend to focus on the same 10 or so. Although popular islands like Santorini and Mykonos are both idyllic locations for a vacation, they're also extremely expensive during the high season. And while the Acropolis and Parthenon are must-see historic sites, strolling through them when they're overrun by tourists and student groups isn't ideal. Instead, opt for going where the locals go, and you'll be able to enjoy the wonderful sunshine and historic charm of Greece without having to pay top dollar or wrestle a gauntlet of tourists. Below, check out the top destinations in Greece where Greeks go.
Located in the center of the Cyclades islands, Paros isn't exactly a secret, but it rarely gets as crowded as Mykonos. For visitors looking for a traditional Greek backdrop, classic blue-and-white houses line the island's coast, as do numerous fishing villages. Golden Beach hosts an international windsurfing competition every summer. Naoussa, the second-largest town on Paros, is home to several nightclubs and bars that stay open late. And in the summer, the Valley of the Butterflies becomes populated with winged beauties on the lookout for a mate. In Roman times, Paros was known for its soft and translucent marble, much of which came from the Marathi Marble Quarries, which can still be visited today. For those in search of monuments, the Panagia Ekatontapiliani is one of the earliest Byzantine churches in the west, dating back to 300 A.D. Or, if you don't want to do much of anything, you can stroll through the stone-paved streets of Lefkes with a coffee frappe in hand.
Paros Hotel Pick:
The locals cherish Naxos' unpolished finish. The island is less touristy than many others in Greece, but still boasts a notable amount of attractions, including the portal, a gateway dating to 525 B.C. and the only finished part of a temple dedicated to Apollo. Plus, Naxos' archeological museum has one of the most impressive collections of Cycladic figurines outside of Athens. Visitors can also check out the Della Rocca-Barozzi Venetian Museum, which is housed in an Italian-style mansion and regularly rotates its exhibits, as well as the Domus Cultural Festival, a series of jazz, classical, and Greek music concerts scheduled from June to October. Several mountain villages lure visitors, too — Tragean Halki features houses with Venetian towers and well-preserved Byzantine churches. The Panagia Drosiani, located a couple of miles north of Halki, is another ancient church known for its seventh-century frescoes. During the Turkish occupation, nuns secretly taught the Greek language to local children in its cavelike chapels.
Naxos Hotel Pick:
Lefkada is little-known to Western tourists and many of the island's smaller villages aren't focused on tourism at all. Located just off of Greece's western coast and connected to the mainland by a causeway, it's most easily reached by taking a flight to Preveza Airport and then driving the rest of the way. Coastal towns such as Nydri and Vassiliki draw water sports fans, thanks to their big breezes. However, a beach like Egremni, located south of Athani, rarely gets packed because travelers must use 355 steps to access it. For those who appreciate long walks, the village of Sfakiotes has picturesque olive groves, wells, and ancient water mills. For a bit of history, tour the Castle of Santa Maura, which was finished in 1302. At one point in time, whoever controlled the castle also ruled the island. In 1938, much of the building's material was sold to support the Hellenic Army Pension Fund.
Lefkada Hotel Pick:
Nisyros
Known for its volcano, Nisyros' lava pipe has exploded about three times in the past 45,000 years. Over that time period, the volcano's flow has formed numerous hydrothermal craters and ragged cliffs, creating a very distinct landscape. The northeastern section of the island is known for its uncrowded and pristine beaches, some of which have nude sections, so be prepared. The geothermal activity also makes the water in the municipal baths as hot as 140 degrees Fahrenheit. Numerous artists also come to the island to join a strong creative community. The non-profit organization Sterna supports artists and also hosts an art exhibition in August, which features creators from Greece as well as around the world. Plus, several times in the summer, locals will celebrate at religious festivals with traditional music and classic cuisine.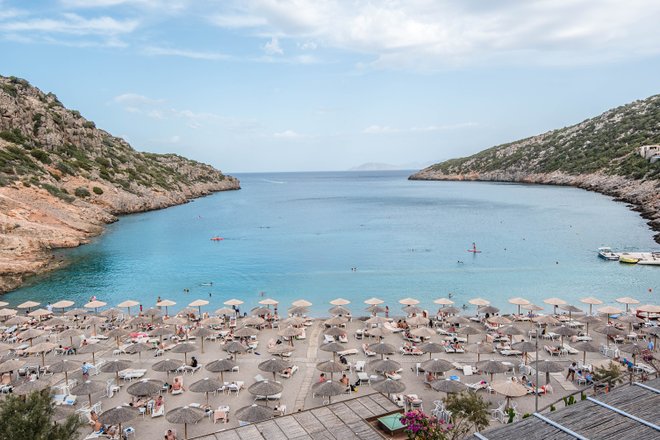 Chances are, you've probably heard of Crete. Locals from all over Greece visit the country's largest island thanks to its variety of terrain and cultures. Since the seventh century B.C., Crete has been ruled by Minoans, Romans, Venetians, Ottomans, and more. As a result, the island is home to buildings and relics that connect to all of those civilizations. The Palace of Knossos is a testament to the architectural brilliance of the Minoan civilization. The Heraklion Archaeological Museum shelters relics that span 5,500 years. For those who want to spend a little more time outdoors, Balos Beach overlooks two islets and offers swimmers a gorgeous turquoise body of water.
Crete Hotel Pick:
Greece's islands may get a lot of the attention from tourists, but the country's peninsulas are also impressive. The region (which, on a map, looks like a cartoonish claw with three fingers) has booming nightlife, luxury resorts, and plenty of history. The Petralona Cave, which dates back over 700,000 years, is lined with stalagmites and stalactites and one controversial fossilized skull. With clear water, luxury hotels, and excellent seafood tavernas, Nea Fokea is one of the area's most popular resort towns. Sithonia has quite a few nightclubs for dancing along the beach. Philosophy buffs may want to stop by Stagira, the birthplace of Aristotle. The Greek philosopher's tomb was recently confirmed in the past couple of years.
Halkidiki Hotel Pick:
Fans of the Venus de Milo can see her home town by sailing to this island. The statue was discovered in 1820 by a French navy ensign who was killing time on dry land by looking for antiquities when he noticed a farmer had found the top half of the statue. The two helped unearth the bottom half of the masterpiece, and the Frenchman bought and presented it to Louis LVIII as a gift. Still, there's much more to this island, including 50 beaches, several of which rank among the country's finest. Klima is known for its white buildings and dramatic rock cliffs. Nearby, visitors will find the only Christian catacombs found in Greece. The burial site, which dates back to the first century A.D., contains the remains of 5,000 bodies.
Milos Hotel Pick:
If you want to come back from Greece with a slew of beautiful landscape pictures, stay a couple of days on the island of Zakynthos. A glass-bottom boat ferries visitors into the blue caves, known for their azure waters. At Smuggler's Cove, tourists are told about a pirate ship that smashed into the rocks before running ashore. The story isn't true, but the beach is still one of the most beautiful in Greece. A short boat ride away lies the islet of Marathonisi, home to the country's endangered loggerhead turtles.
Zakynthos Hotel Pick:
NOW WATCH: The 9 Best Greek Islands
https://www.youtube.com/watch?v=ngcjOSgLKAg
You'll Also Like:
All products are independently selected by our writers and editors. If you buy something through our links, Oyster may earn an affiliate commission.