Best Hotels for Celebrity Sightings in New York City
There's nothing quite like the thrill of spotting a famous face — a not-so-rare occurrence in New York — and the experience can turn a trip to New York from good to can't-stop-talking-about-it great. If you're dying to rub elbows with celebrities, here are our recommendations for the best places to stay — or to pop into for dinner or a quick drink.
See All New York City Hotels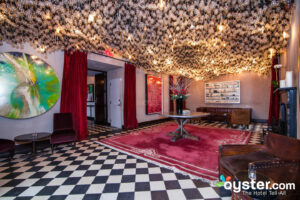 The Gramercy Park Hotel is a choice hangout for the hip, beautiful, and famous, and its velvet-heavy Rose Bar is currently the epicenter of the New York bar scene. Our reporter glimpsed Sting during his stay. The week before Janet Jackson was spotted admiring the artwork in the Rose Bar; Kid Rock was seen outside smoking a cigarette; and Chace Crawford was there having a business meeting. One would expect no less from Ian Schrager, the architect of culture who brought the world Studio 54 in the '70s and practically invented the hipster boutique hotel in the '80s and '90s. But the hotel, built in 1925, was attracting celebrities long before Schrager reopened it in 2006: Humphrey Bogart got married here, and the bar was a favorite haunt of Babe Ruth.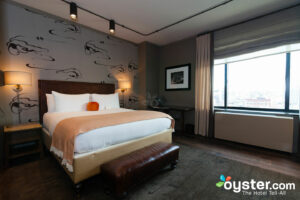 Soho Grand continues to attract its fair share of celebrities with its hip boho-industrial design and lounge party scene. The scene is particularly frenetic on Thursday, Friday, and Saturday nights, when a DJ spins the tunes. Red-carpet-worthy visitors have included Reese Witherspoon, Sarah Jessica Parker, Lindsay Lohan, Kirsten Dunst, and George Clooney.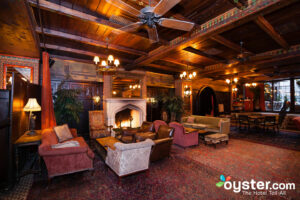 Ashley Olsen, Blake Lively, and Rachel Bilson have all reportedly stayed at The Bowery Hotel, and Keifer Sutherland was snapped by the paparazzi as he stumbled into the hotel in the wee hours of the morning. Our reporter shared an elevator with comedienne Sarah Silverman, who told her she always stays here when visiting from L.A.
The Mercer's 75 loft-style guest rooms, beautiful staff, personalized service and swanky SoHo location make it a go-to choice for celebrities and other fashionable members of the entertainment industry -- from Leonardo DiCaprio, to fashion designer Calvin Klein, to oddball rock star Marilyn Manson, to Russell Crowe (who made headlines in 2005 for allegedly throwing a telephone at a Mercer check-in clerk). The engineer who installed our reporter's DVD player said he'd recently fixed the electronics in the room of hip-hop mogul Russell Simmons.
The Hotel on Rivington is a secretive hot spot for well-heeled travelers who like their neighborhoods cool and their thread counts high. This monied group inevitably includes celebs; the bellman told our reporter that just the week before her visit, Jay-Z held a star-studded birthday party for rapper Fabolous in the three-level penthouse. Demi Moore, former hubby Ashton Kutcher, and Edward Norton have also visited the hotel for parties.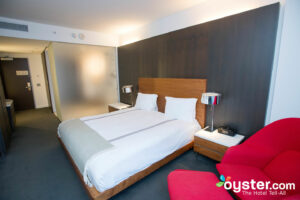 Opened in 2009, the Smyth Hotel has quickly become popular amongst celebs. Just minutes from many of the neighborhood's high-end restaurants and a few minutes more from SoHo's shopping, the cool, modern rooms are stocked with enough name-brand amenities to please even the most discriminating starlet. Jake Gyllenhaal chose to party it up in the Smyth Lobby Bar shortly after his split from Reese Witherspoon, and Jessica Alba stayed at the hotel when in town for the TriBeCa film festival -- she even set off the fire alarm when trying to make fish sticks in her room! Maybe she should stick to acting...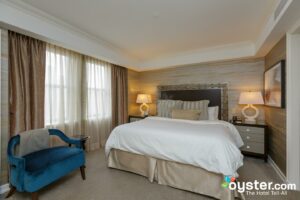 The Essex House is one of New York's go-to luxury hotels for notable names. Sheryl Crow has been photographed walking out of its golden doors, and Angelina Jolie is rumored to own a penthouse here. Our reporter saw former slugger Reggie Jackson and Denver Broncos coach Mike Shanahan at the South Gate bar.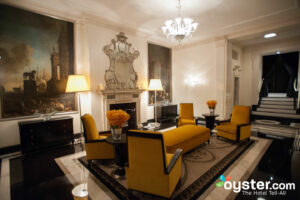 The Carlyle has been a discreet host to artists, presidents, and local and international celebrities since 1930. In fact, its expert discretion -- photos aren't even allowed in the restaurants when there are people present -- has earned the hotel its status as a vault to some of the city's biggest secrets, scandals, and intrigue. Even JFK and Marilyn Monroe trusted their trysts to its strict security. Nowadays it's still a celebrity favorite -- Tom Cruise and Katie Holmes hosted a tea party for their daughter, Suri, here.
The Standard became popular with celebrities and the fashion crowd almost overnight. Madonna and Lindsay Lohan attended the opening of the Boom Boom Room, the new glam mirrors-and-brass cocktail lounge, and the back room of the Standard Grill has drawn its fair share of celebrities as well.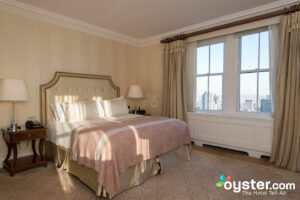 An elegant, historic hotel across the street from Central Park, the Pierre offers a taste of grand old New York to guests staying in any of its 189 freshly renovated guest rooms. Famed residents of yore include Natalie Wood and Elizabeth Taylor, and nowadays, The Pierre draws everyone who's anyone -- from reality stars to politicians. (When our reporter was visiting, Mayor Bloomberg attended a benefit at the hotel). Saturday Night Live cast members Kristen Wiig and Seth Meyers were once spotted at an event hosted by the Academy of Television Arts and Sciences, and Romano Singer, of Real Housewives of New York City fame, held her vow renewals ceremony in The Pierre's extravagant, Rococo-inspired rotunda.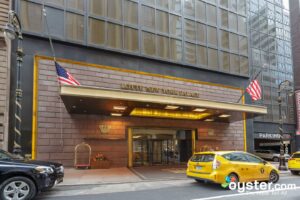 The Palace is one of the main shooting locations for the TV show Gossip Girl, which typically films at the hotel one to two days per month. Plenty of other celebrities, royalty, and well-to-do guests regularly stay at the hotel, particularly in the VIP Towers section. In fact, until recently, the hotel was even owned by royalty -- the sultan of Brunei.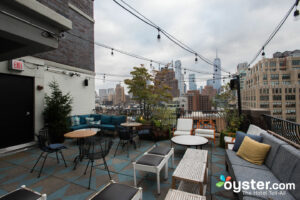 After seven years, 60 Thompson has yet to lose its cachet. The celeb factor here is quite high on the exclusive rooftop bar. Kirsten Dunst is reputedly the hotel's No. 1 fan and has often been spotted partying during the week at Thom Bar and A60. Thom Bar also made an appearance on an episode of MTV's The City when Diane von Furstenberg hosted a Fashion Week afterparty.