Best Indoor Hotel Water Parks in the United States
Planning a family vacation is no easy feat. There are so many things to consider: adjoining rooms, price, kid-friendly dining, and perhaps most importantly, entertainment. Fortunately, a handful of family-focused resorts across the U.S. aim to at least make sure the latter is taken care of with on-site, indoor water parks; at these facilities, your tots will have plenty to keep them happy — no matter the weather. Here are our 10 favorite hotels with indoor water parks in the United States.
See All United States Hotels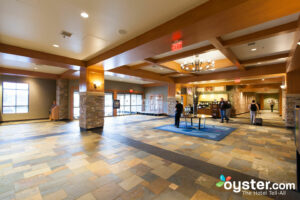 The extensive Water Park of America -- the largest water park in Minnesota (at 70,000 square feet) -- is the Radisson Hotel Bloomington's main feature, with its bridges, water slides, in-pool basketball hoops, and fake lighthouse. It includes over 24 rides, as well as an indoor wave "flowrider" for surfing, and an arcade when kids need a break from the water. Plus, it's home to the tallest waterslide in the country, securing its spot at the top of our list.
At 66,000 square feet, the indoor water park at Wilderness at the Smokies can't quite compete with our number-one pick in size, but it is the largest in Tennessee and guests get free access to it, which is rare for one this large. It has the most ambitious features (compared to the property's outdoor water parks), which include a 450-foot-long enclosed looping waterslide, five-story-high rafting ride, huge wave pool, and surf rider.
Wisconsin Dells is home to several top-notch indoor water parks, but the one at Mt. Olympus takes the cake for the destination. The biggest resort in the region, this mid-range family-friendly option has an outdoor water park as well as an indoor one; the latter includes a pool complex with a lazy river, rollercoasters, and additional waterslides, as well as a pirate ship. Guests get free access here as well.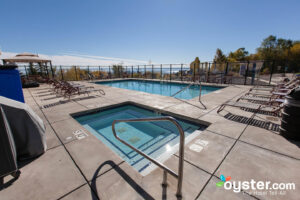 Edgewater falls at number four, in part because it can't compete with the size of those in the top three spots. But it's still quite large and designed to thrill -- which it does, with a lazy river, fast-moving vortex pool, and a four-and-a-half-story waterslide. For little ones, there's a play area suitable for toddlers and Adirondack chairs are positioned by the water so adults can take a seat and keep an eye on the kids.
One of three hotels on the enormous Wilderness Resort in Wisconsin Dells, this upper-middle-range option also offers the perk of free access to the water park for guests. There are actually technically eight water parks here, with a number being indoors and including activities such as a lazy river, tubing, a wave pool, and slides. Wilderness Hotel and Golf Resort sits on the top half of our list because it offers fun for adults, too, such as hot tubs and a swim-up bar.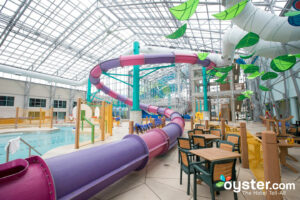 Kids love the mythical feel of the two water parks at Zehnder's, one of which features a retractable roof for when the Michigan weather gets warm enough; this one is meant for older kids, and features massive slides, in-pool basketball, a lazy river, and more. The area for younger kids has a number of sculptural features in the pool, including plastic mushrooms, water lily pads, and mini water fountains. There are life jackets and inflatable mats available for use in both. Some guests complain, however, that everyone entering the park must pay, even if merely supervising.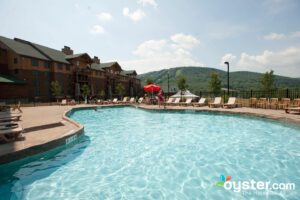 It's not quite as large as some of the others higher up on this list, but the water park at Hope Lake Lodge certainly has its perks -- including the fact that it's open daily, and hotel guests get free access to the facility's pool and hot tub. The only indoor water park in Central New York, here visitors can enjoy features such as tube slides, an activity tower, and a wave pool with two types of waves. Plus, there's an adjacent cafe for when you need a snack.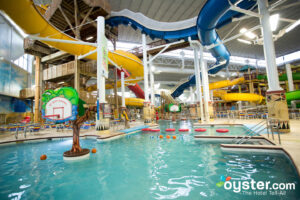 Let's be real. Other than the business travelers, every single guest at Kalahari is here for the water and theme parks. There's an outdoor water park open for the summertime, and inside, there's a year-round water park that's even more massive. The highlight here is the Flowrider Surf Simulator, where riders can catch a wave on a surfboard. Additional facilities include the Zig-Zag Zebra, a wave pool, indoor and outdoor hot tub, and a swim-up bar. Apart from the surf simulator, the indoor park is more suited to little ones than teens, though.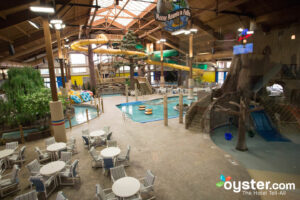 This indoor water park can also be found in Wisconsin -- but in the Lake Geneva area versus Wisconsin Dells. It has a woodland theme, and includes classic water park features such as slides, a lazy river, and a pool specifically for tiny tots. Booking a one-bedroom suite here scores you four day passes, while rates for a two-bedroom suite include six.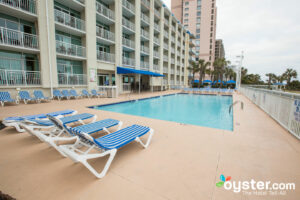 Located in the popular summertime destination of Myrtle Beach, Dunes Village Resort (not surprisingly) focuses on its outdoor water park. But it does have an indoor water park as well, and -- though small -- it is certainly the best in the area. It features a lazy river, large waterslide, pool with basketball, and hot tub. Guests are granted free entry.