A combination of the words apartment and hotel, aparthotels offer apartment-style guest rooms, usually with kitchens and living areas. They're great for families, groups of friends, and even business travelers who want the comfort of a home as well as the pampering amenities of a hotel (like room service and a spa). In unfamiliar places, an aparthotel can be a good choice, as it feels like a home away from home. With that in mind, here are our picks for the best aparthotels in London.
In a neighborhood where real estate prices are astronomical, Go Native Mayfair might just be the most affordable way to achieve the dream of a Mayfair address — if only for a short-term stay. Surrounded by chic designer boutiques and top-notch restaurants, plus a four-minute walk from Hyde Park, the Mayfair branch of the Go Native chain offers a touch of luxurious city living. There are 11 upscale, fully serviced apartments. The attractive one- and two-bedroom units include full kitchens, marble bathrooms, and small living areas, making them perfect for families and those who like to feel like locals. However, keep in mind that they're expensive and lack amenities and on-site staff.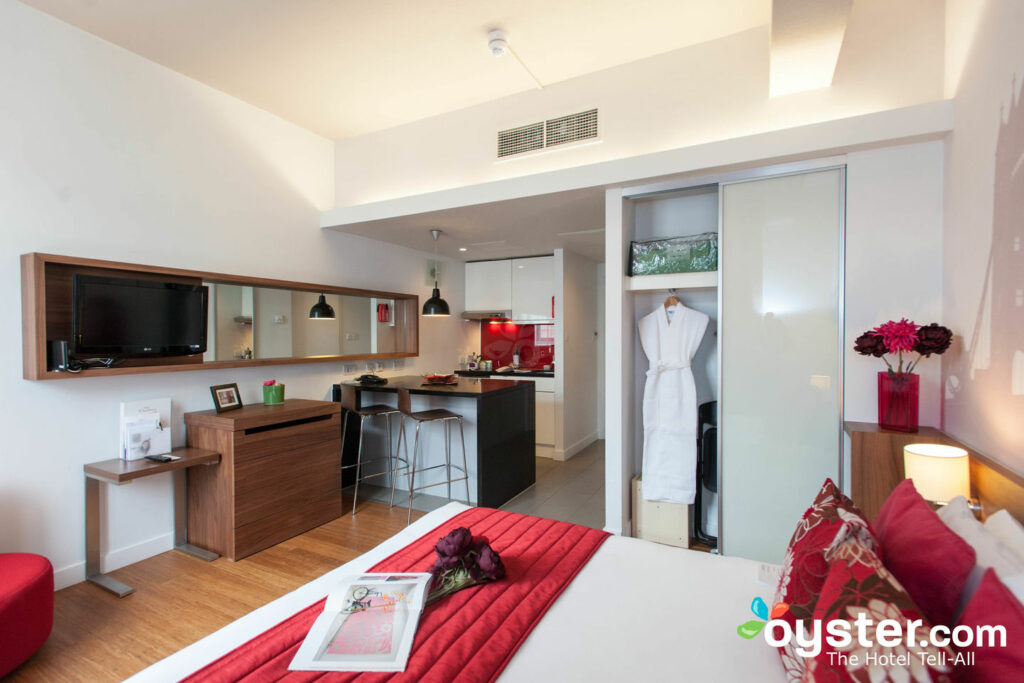 Located on an attractive, historical, and busy road in central London, Citadines Prestige Holborn – Covent Garden is a six-floor hotel with 192 tastefully decorated apartments. Sleek and clean, the accommodations come with well-equipped kitchens and modern bathrooms, plus free Wi-Fi and flat-screen TVs. Parquet floors and wood paneling keep the interior feeling homey, and for that authentic home-away-from-home vibe, the one-bedroom units feature a pull-out sofa bed to accommodate extra guests. And as a bonus, the property features a small on-site fitness room for guests who wish to keep up with their workout regimes.
Housed inside a charming Georgian townhouse near Kensington Gardens, the Space Apart Hotel is home to 30 studio-style apartments with full kitchens and stylish brushed-glass bathrooms. Inside, the mood is modern and a touch edgy, with zebra-print carpeting on the stairway, funky, futuristic overhead lamps, and a slick, oversized mirror on the wall. The property is ideal for business travelers and tourists who are happy swapping typical hotel amenities like gyms, bars, and restaurants for the benefits of a larger, self-contained space.
Offering the best of both worlds, the Town Hall Hotel in London's artsy East End presents guests with spacious, light-filled studios, rooms, and apartments along with all the amenities of a boutique hotel. Modern conveniences include stocked kitchens, free Wi-Fi, and luxurious bathrooms. Located a short drive from the galleries, markets, and nightlife of Shoreditch, the hotel is well-positioned for those who want an alternative to the typical tourist destinations. The on-site bar, swimming pool, restaurant, and fitness center round out the offerings nicely.
Located one block from Harrods department store in the heart of posh Knightsbridge, Beaufort House has 21 spacious and bright apartments with one to four bedrooms. The apartments here are decorated in an impressively regal fashion, with most featuring large chandeliers, plush velvet sofas, and hardwood floors. There's no on-site restaurant or bar, but all apartments have dining areas and a full kitchen that's stocked with basic groceries free of charge. Some of London's best museums are a short walk from the property, too. Guests also have free access to a nearby gym with a pool, sauna, and steam room.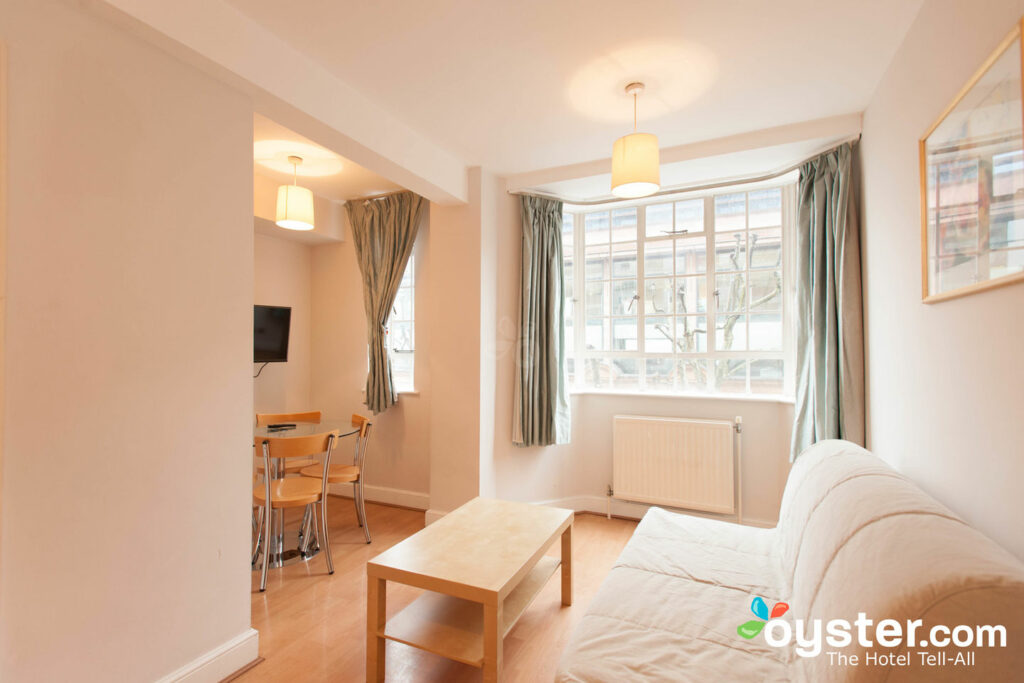 Conveniently located close to the museums of South Kensington and trendy Sloane Square, the Chelsea Cloisters offers a range of accommodation options, from basic studios to two-bedroom serviced apartments. The property consists of 250 units with fully equipped kitchens, washer/dryers, and contemporary decor. Most rooms have futons in the living area, while some have fold-out sofa beds. Daily housekeeping is a bonus, as are the on-site bars and restaurants (Gaucho, the Argentinean steakhouse, is particularly well-regarded). To top it off, guests can get a new hairdo at the on-site salon and imbibe at the basement watering hole, Barts Bar.
Located in the heart of London's upmarket Square Mile, this hotel is home to apartment-style rooms with well-equipped kitchenettes and 40-inch TVs. Guests can also use all of the facilities at the Montcalm Hotel just across the road. This includes free use of the gym, sauna, and steam room, as well as six meeting rooms. Though geared towards business travelers, due to its location, the hotel also attracts plenty of tourists, who are drawn by the style and extra space to relax in rooms.
You'll Also Like:
All products are independently selected by our writers and editors. If you buy something through our links, Oyster may earn an affiliate commission.