For first-timers to Spain, there's so much you'll want to see and do that it might feel like there's no possible way to fit it all in. We created an ambitious, yet relaxed, journey through three can't-miss cities (Madrid, Seville, and Barcelona), with fun day trips to outlying areas. Presuming that you fly in and out of Madrid, follow this itinerary for an unforgettable 10-day (nine-night) adventure. The good news is that you won't need to rent a car. (If the pace still seems too fast, consider skipping an attraction or day trip in exchange for downtime -- this is, after all, your holiday.) Note: If you've been to Spain before, consider using any of these cities as a base to explore some of the country's regions (and/or islands) on a deeper level.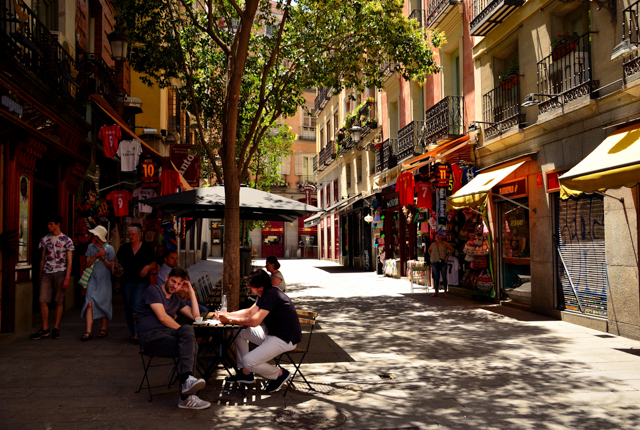 You've arrived in Spain's vibrant and elegant capital city, likely after a long flight. Once you check into your hotel, you'll stay here for three nights, so drop off the luggage and hit the pavement. Madrid is at the heart of all that makes modern Spain tick, offering world-class museums, charming cafes, amazing tapas, cosmopolitan nightlife, and not to mention, an excellent metro system to get around. Take a walking tour through the city's well-known sites like Plaza Mayor, the Royal Palace of Madrid, and Puerta del Sol, and meander through Buen Retiro Park if the weather is nice. If that's not enough to keep you busy for the first day, take the time to explore Barrio de las Letras, the neighborhood directly in the center where some of Spain's most famous writers lived. Look for famous literary quotes and colorful bohemian art that line the cobblestone streets.
Once you're changed for the evening, head to Templo de Debod, an ancient Egyptian temple moved here from Aswan and rebuilt in the city. Crowds tend to gather nightly to watch the stunning sunset view. Linger through the area until dusk, and then treat yourself to a mojito and dinner.
Our top hotel pick is the sleek Petit Palace Plaza del Carmen, located on an attractive square in Sol, near many restaurants, shops, and attractions. Modern, yet budget-friendly, rooms have floor-to-ceiling windows, laptops for guest use, and free Wi-Fi; additional hotel freebies include bike rentals and coffee in the lobby.
Where to Stay:
Day 2: Segovia or Toledo (Overnight in Madrid)
Start your day off and have breakfast like a real Spaniard by treating yourself to a helping of tosta con tomate (toast with tomato sprinkled with a little salt and olive oil), which can be found at any cafe. Pair it with cafe con leche (coffee with milk) and a glass of zumo de naranja natural (freshly squeezed orange juice) for a true Spanish experience.
Now that you have experienced a slice of the city, it's time to take a day trip to either Toledo or Segovia — both medieval walled cities within a 30-minute high-speed train ride from Madrid. Toledo, for its part, was named a UNESCO World Heritage site in 1986, and is where Christians, Muslims, and Jews lived together for centuries. It is also the place where El Greco lived and painted in Spain. Segovia, though, is often considered the prettier, less expensive sister of the two. You can walk from the Roman aqueduct on one end of town, pass the city's wonderful cathedral, and arrive at the castle all the way at the other end of town in about 15 minutes. Everywhere you turn during that walk, or along any random street you might take, is a feast for the eyes.
Another day trip idea: Head to the historical residence of the King of Spain, in the town of San Lorenzo de El Escorial.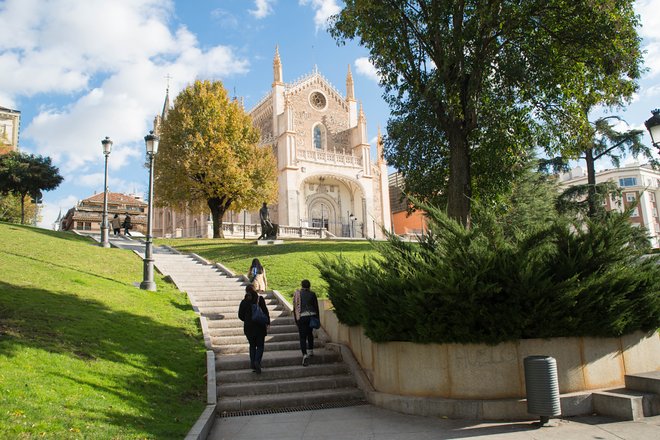 This is your last day in Madrid, so spend the day getting to know the city on a more intimate level. Simply wander the streets, or as Madrileños put it, "dar un paseo" (go for a walk). This is one of the best ways to experience local neighborhoods like Las Salesas for boutiques and bakeries, and Malasana, which has a hipster vibe. Take time to pass through some of Madrid's many colorful markets sampling jamon and cheese. There are traditional markets all over the city, with stalls of authentic Spanish delicacies like patatas bravas, jamon serrano, Spanish tortilla, and a variety of pinchos and tapas, as well as specialized international stands.
Do as the locals do and have a long leisurely lunch, usually served anywhere between 2 p.m. and 5 p.m. This is the largest meal of the day and usually precedes a relaxing siesta. End the day with a rooftop drink overlooking the city, and a traditional tapas crawl. The most famous street for trying these tasty little plates is just outside of the center on Calle Cava Baja in the La Latina neighborhood. Finish the night off with churros and chocolate.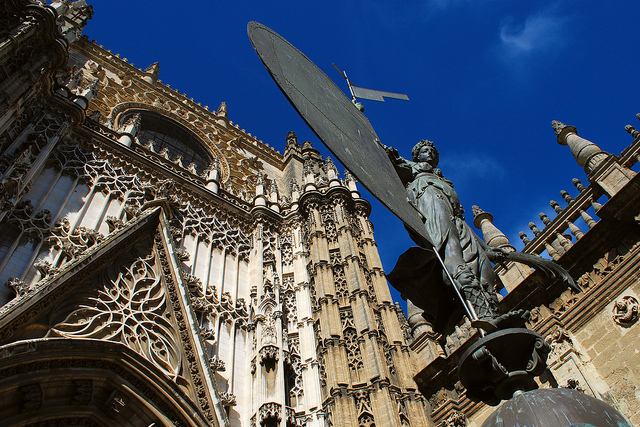 Today, you'll be traveling south by train to the flamboyant, charismatic, and ever-evolving Andalucian metropolis of Seville. Spain boasts one of the fastest and most efficient national rail systems, so you're in good hands here; you can get to Seville from Madrid in less than three hours. According to myth, the city was founded 3000 years ago by the Greek god Hercules and combines gorgeous buildings with a vibrant flamenco and gypsy culture. Also, Sevilla's Plaza de Toros de la Real Maestranza de Caballeria is arguably the most prestigious in Spain and you might see a "first fight" for bullfighting.
As for where to stay, EME Catedral Hotel is ideally located right next door to the Seville Cathedral, in the heart of the historic center. With stylish, modern rooms featuring upscale amenities; a rooftop terrace complete with a hopping bar and a pool with striking views; and a relaxing spa offering a wide array of treatments, this boutique property sets the bar for Seville cool.
Where to Stay: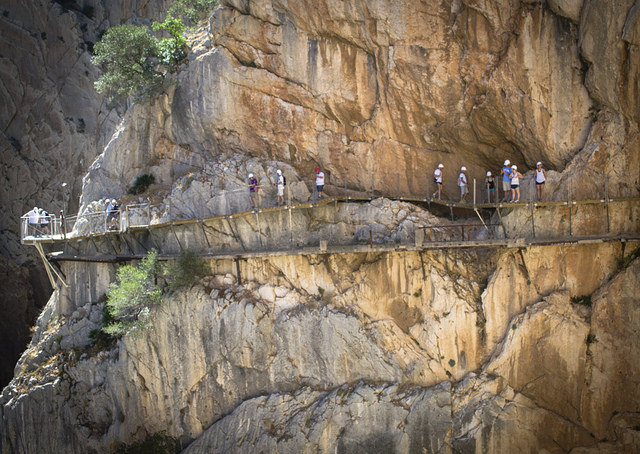 Wake up and enjoy breakfast near the hotel as you'll need the energy. Today is a day trip to the outskirts of the Andalucian coast to hike the Caminito del Rey, located in the region of Malaga. The trail was closed for many years due to safety issues, however extensive renovations took place and it reopened again at the start of 2015. Today, the dramatically beautiful hike has been repaired, and handrails as well as bridges and stairs have been added to create a spectacular (and safe) experience. The Caminito del Rey is nearly five miles long and takes around four hours to complete.
If you're looking for something less active and more cultural, make a trip to Cordoba (45 minutes on AVE high-speed train) to see the Moorish sites. Alternatively, head to Granada to see the Alhambra, a stunning Arabic palace and fortress complex, or hire a car to explore the coastal towns and communities along the Costa del Sol.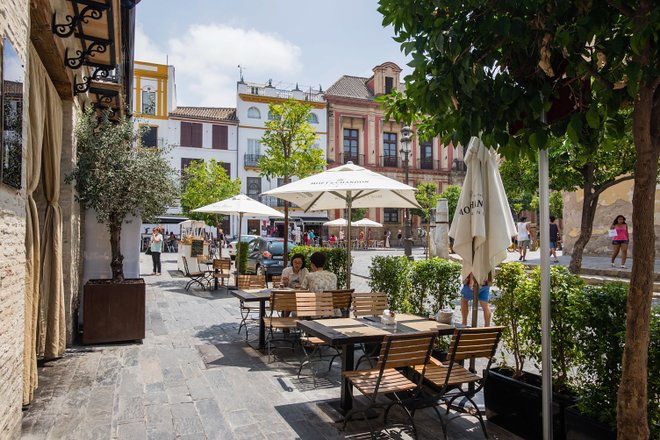 Wake up in Seville and treat yourself to a leisurely breakfast. Today is your one full day in Seville, so take advantage of all the sights. Major landmarks include the ornate Alcazar castle complex, built during the Moorish Almohad dynasty, and the 18th-century Plaza de Toros de la Maestranza bullring. The Gothic Seville Cathedral is the site of Christopher Columbus' tomb and the Giralda, a minaret-turned-bell tower, offers some of the best views in town when climbed. Spend the afternoon relaxing by the hotel pool.
For your last evening, sample the city's innovative tapas before seeing a flamenco show. Seville's close proximity to the Guadalquivir River makes it one of Spain's most productive agricultural regions, while its location by the coast brings a wide variety of fresh seafood and fish. It's best to either make a restaurant reservation in advance or arrive before the locals do, as they come in droves. El Rinconcillo is Seville's oldest tapas restaurant, open since 1670.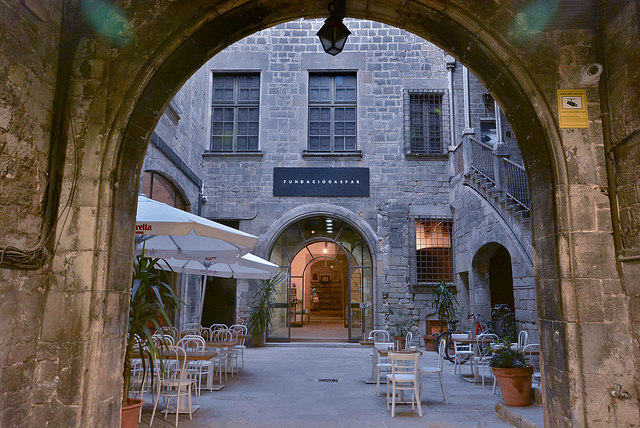 Today you'll travel from Seville to Barcelona — it's less than two hours by air, and fares can be found on budget carriers like Ryanair for as low as $59. The cool Catalan capital has plenty to offer with its walkable streets, Art Nouveau architecture, designer shops, and stylish bars and clubs. Start your Barcelona experience by taking a mandatory walk through the heart of Las Ramblas and Passeig de Gracia before exploring less-touristy neighborhoods. Dinner and drinks can be found in the labyrinthine alleys of the Gothic Quarter (a former Roman village), with hidden restaurants, stylish cocktail bars, backpacker pubs, and music clubs.
Splurge for your last hotel of the trip by staying on a prime piece of Las Ramblas real estate. The Hotel 1898 evokes Spain's opulent late 19th-century past, with its architecture and decor, but guests get thoroughly modern pampering, with top-notch service, plush rooms, a spa, and excellent dining. And unlike other Las Ramblas area hotels, Hotel 1898 has not one but two pools — an indoor pool in an atmospheric grotto and a rooftop pool with panoramic views of Barcelona.
Where to Stay:
It's time for a day trip to the Catalan countryside, outside of the city center. There are several options depending on preference and time of year. During the summer months, choose a number of towns along the Costa Brava, which holds a record number of European Blue Flag beaches. If you prefer culture over the beach, stroll the streets of Pals, a hilltop town with stoned balconies, quaint arches, and a maze of cobbled streets.
Meanwhile, the Jewish quarter in Girona is one of the oldest and best preserved in Europe. Walking around these streets allows you to discover small passageways, charming gardens, and viewpoints overlooking the city. (Fun fact: Scenes from "Game of Thrones" were filmed here.)
Today is your last full day in Barcelona (and Spain!), so make the most of it. You don't need a tour guide to see Gaudi's major works in Barcelona — create your own DIY walking tour. Alternatively, the metro is easy to use, so pop around the city stopping at the Sagrada Familia, Park Guell, Casa Mila, Casa Calvet, and Casa Batllo (buy tickets in advance for some of these sites in order to avoid the long lines.) Head to La Boqueria, Barcelona's famous indoor public market, and pick up some quality souvenirs for your loved ones.
Relax for a few hours by the hotel's stunning pool before you spend the night hitting Barcelona's best tapas bars. Start the night sipping Catalan cava. La Vinya del Senyor is a cozy, understated restaurant with several by-the-glass boutique cavas to choose from. If you're lucky enough to snag a table on the terrace, you'll be rewarded with views of Santa Maria del Mar's 14th-century facade.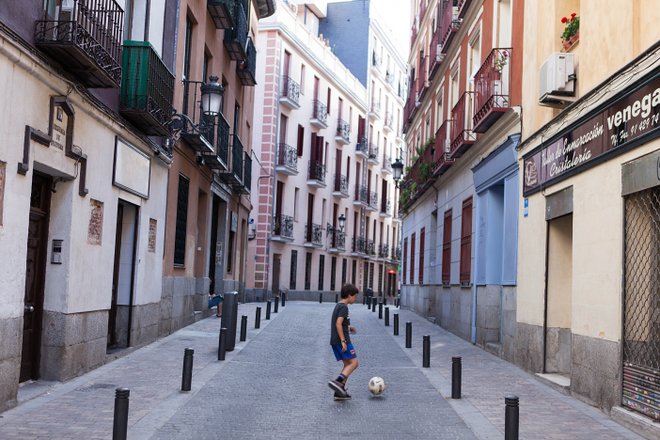 Take a flight from Barcelona to Madrid and connect to your flight home. Start planning the next trip — Spain has a way of winning you over and there's much more to see and do!
An on-the-go itinerary calls for a durable sneak to accompany your adventures. With Allbirds Wool Runners, there's no need to sacrifice style when it comes to comfortably strutting the streets.
You'll Also Like: