Despite the devastating hurricanes that rocked many of the Caribbean's most gorgeous islands in 2017, the region saw 26 million tourist arrivals -- a 2.7 percent increase from 2016. And luckily, 2018 proves to be even better for these stunning locations. That means you might face some incredibly crowded beaches. To help you plan your trip and find a little peace (or a bustling stretch of sand), we've used data from the World Tourism Organization to round up the most- and least-visited Caribbean destinations.
The Most-Visited Destinations
The Dominican Republic saw some of the strongest growth in 2017, drawing more than six million visitors. And 2019 will prove to be another big year for tourism, especially with large resort openings like the , situated along the previously isolated north shore. As the second-largest country in the Caribbean, the D.R. is known for its golfing, stunning resorts, and .
Dominican Republic Hotel Pick:
Although still foreign to many Americans, Cuba has been a tourist hot spot for years. Popular among Canadians and Europeans, the country has tons to offer its visitors, from vintage cars to breathtaking colonial architecture. Traveling to this unique destination can still be difficult for Americans, but you can go provided you visit under one of .
Cuba Hotel Pick:
Puerto Rico's warm weather and white-sand beaches keep it ranked as one of the Caribbean's top travel destinations — and rightfully so. Easy to reach from the U.S., Puerto Rico is also relatively inexpensive for visitors and friendly to English-speaking travelers. And while the island was devastated by Hurricane Maria in 2017, many of its resorts have re-opened and, as we reported back in August, the destination is .
Puerto Rico Hotel Pick:
If you're searching for a warm beach in the middle of February, look no further than Jamaica. With temperatures in the 80s and 90s year-round, snowbirds flock to this island during peak season, which runs from December through April. Loaded with , Jamaica offers excellent food, beaches, and plenty of water sports to keep active tourists engaged. Note that the U.S. State Department relating to ongoing crime and violence in the country.
Jamaica Hotel Pick:
It's easy to understand why more than one million people visited the Bahamas in 2017. Composed of more than 700 islands, the country has plenty to keep travelers occupied, from world-class scuba diving and deep-sea fishing to championship golf courses and legal gambling. And of course, classic Bahamian fare like grilled conch is reason enough to visit.
Bahamas Hotel Pick:
The Least-Visited Destinations
1. Montserrat, 8,000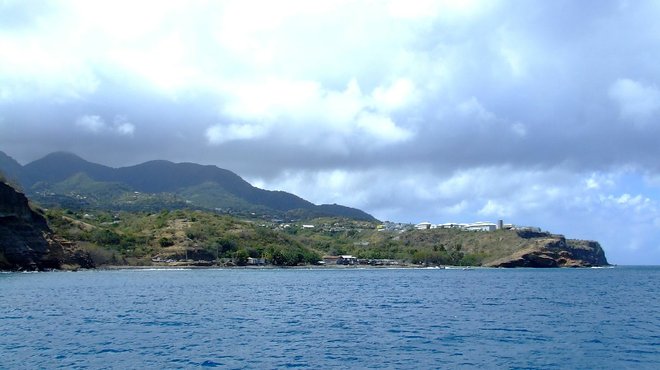 Montserrat is part of the Caribbean's Leeward Islands and is home to just 5,000 people. Largely abandoned after a volcanic eruption in 1995, the small island has seen a resurgence lately, both in population and tourism. While it's not loaded with all-inclusives or white-sand beaches like some other Caribbean destinations, adventurous visitors will discover rainforests filled with rare flora and fauna, black-sand beaches, and shoreline caves here.
Often confused with Antigua, its neighbor to the east, Anguilla is a small secluded island in the British West Indies that's seen a remarkable influx of luxury hotel development in the past few years. The island was severely damaged by Hurricane Irma in the fall of 2017, but today, Anguilla has largely bounced back. Stay at the modern Zemi Beach House, which features villas with private plunge pools.
Anguilla Hotel Pick:
3. St. Vincent and the Grenadines, 76,000
A paradise for sailors, St. Vincent and the Grenadines consists of the main island, St. Vincent, surrounded by a handful of smaller islands. Some, like Bequia and Admiralty Bay, are well-known for sailing competitions and luxury yachts that visit each year. Long a playground for the rich and famous, St. Vincent and the Grenadines is home to some of the world's most exclusive places to stay, like Petit St. Vincent, a private island resort with just 22 rooms.
St. Vincent and the Grenadines Hotel Pick:
Dominica was devastated by Hurricane Maria and is still recovering, but the tiny island nation still welcomes some eco-minded tourists each year. Called "the Nature Island," Dominica is largely appealing to visitors looking to dive, snorkel, or hike. With an active volcano at its center, the island is home to the 115-mile Waitukubuli National Trail. (For those seeking a bit of Caribbean luxury, it's also home to Secret Bay, a chic resort. Anichi Resort, an Autograph Collection property, will open in late 2019.)
Dominica Hotel Pick:
For as small as it is, St. Kitts and Nevis has a remarkable collection of luxury hotels and inns, many of which are set within the ruins of old sugar plantations. (Family-run Ottley's Plantation Inn is a favorite.) In addition to scenic beaches like Frigate Bay, the country is filled with abundant hiking trails.
St. Kitts and Nevis Hotel Pick:
Data courtesy of the United Nations World Tourism Organization 2018 Tourism Highlights.
You'll Also Like: