America's love for automobiles paved the way for the iconic U.S. road trip. Motels, a name that blends the words "motor" and "hotel," really took off in the '30s and '40s, when tourists needed a safe and inexpensive place to sleep while exploring the far reaches of the country. These properties provided some of the services associated with hotels, but decor, parking lots, and regional architectural flair differentiated them from their pricier hotel counterparts. However, after World War II and the construction of limited-access interstates, motels started to fall out of favor. And eventually, they were superseded by a new craze: uniform chain hotels. Today, some motels celebrate their vintage pasts and put on a new retro shine. With that in mind, take a look at our list of eight retro motels, from California to Wisconsin, all worthy of a visit.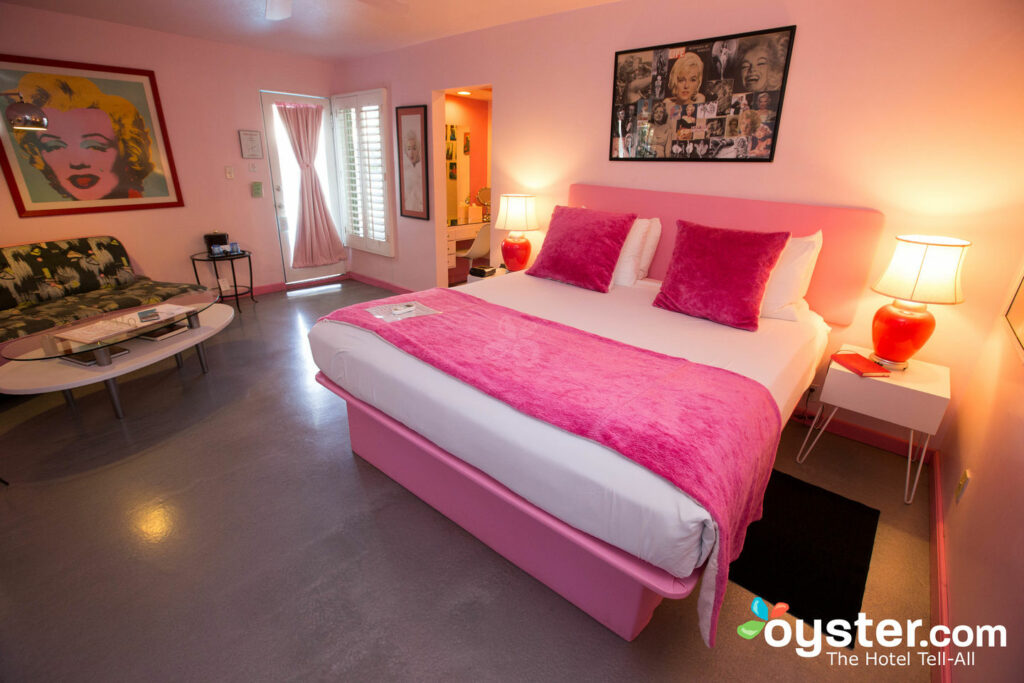 If it was good enough for Marilyn Monroe, it's good enough for us. Established in 1938, this retro boutique serves as part bed-and-breakfast, part roadside motel, with just 10 themed rooms and a whole lot of glamour. The overall look is typical of punchy Palm Springs, and there's a unique Bermuda-style roof around the quadrangle courtyard. Unexpected perks include a freshly cooked breakfast, bikes to borrow, and '50s music played by the pool. Marilyn fans should book the Pretty In Pink suite, where the actress stayed in the 1950s.
Originally built around 1910 as a group of summer cabins, The Motor Lodge has been through over 100 years of various owners and styles. Today, it's considered a boutique motel with an excellent location about a 10-minute walk from the historic downtown area and Whiskey Row. Each of the 12 rooms has a vintage style and private patio; some feature gas fireplaces. Fun treats include a glass of wine on arrival, homemade cookies on departure, and bikes to borrow, including a vintage tandem bicycle. Look for the bright orange vintage Ford pickup truck parked out front.
The third-generation, family-owned Black Hawk Motel originally opened in 1945 (which explains the now politically incorrect name). Today, it's one of the best budget motels in the Midwest, thanks to its freebies and convenient location about a 10-minute walk from the main tourist drag on Broadway and a nine-minute drive from Noah's Ark Waterpark. The motel throws in free passes to Noah's Ark and the Kalahari Indoor Theme Park, making it an even better value for families. Plus, there are indoor and outdoor pools, two playgrounds, and a game room. One of the rooms has a romantic whirlpool, but this motel mostly caters to family vacations.
The architecture, design, and breakfast at Santa Fe Motel and Inn all pay homage to its Southwest location. It's housed in a traditional sand-colored adobe building, and the colorful lobby is adorned with wood beams, painted tiles, and terra-cotta floors. Outdoors, there's a lovely courtyard with a kiva fireplace. Guest rooms continue the theme with Native American blankets on the beds and dried chili peppers hung near the entrances of private patios. Guests can walk to Santa Fe's famous plaza in about seven minutes. For breakfast, expect some local favorites like tortillas and green chilis.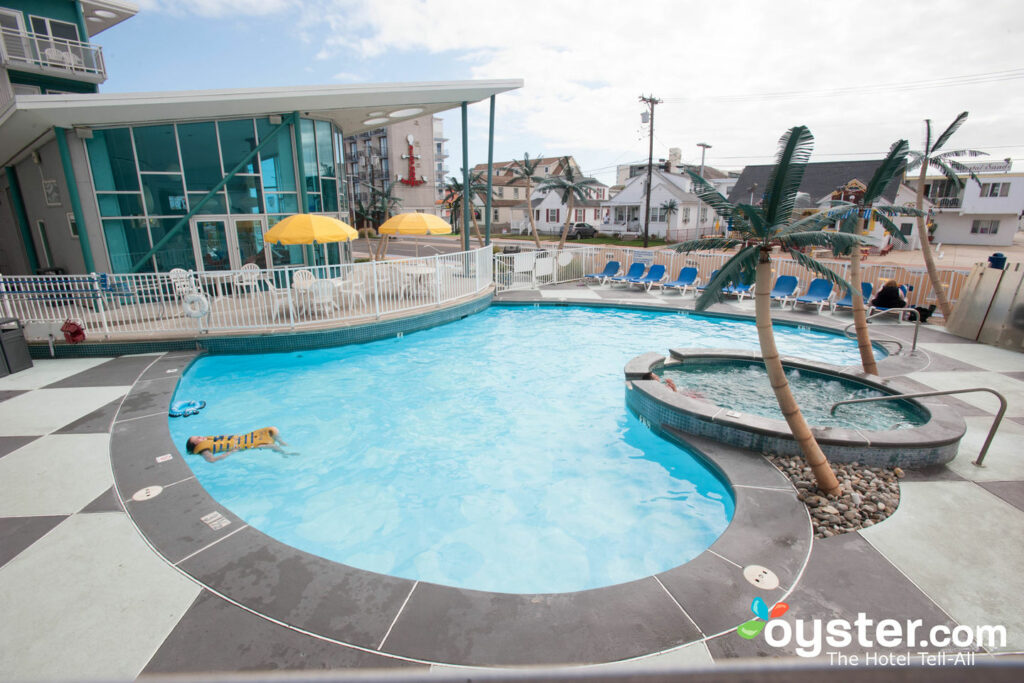 Less than two blocks from the beach and Wildwood Boardwalk, The StarLux has major wow factor. The 45-room property is a newer hotel with an intentional retro motel design (think lava lamps in the rooms, actual Airstream trailers, and an outdoor kidney-shaped pool decorated with artificial palm trees). Freebies include beach chairs, boogie boards, bikes, and a continental breakfast. The family who owns the hotel also owns nearby water and theme parks — StarLux guests get major discounts.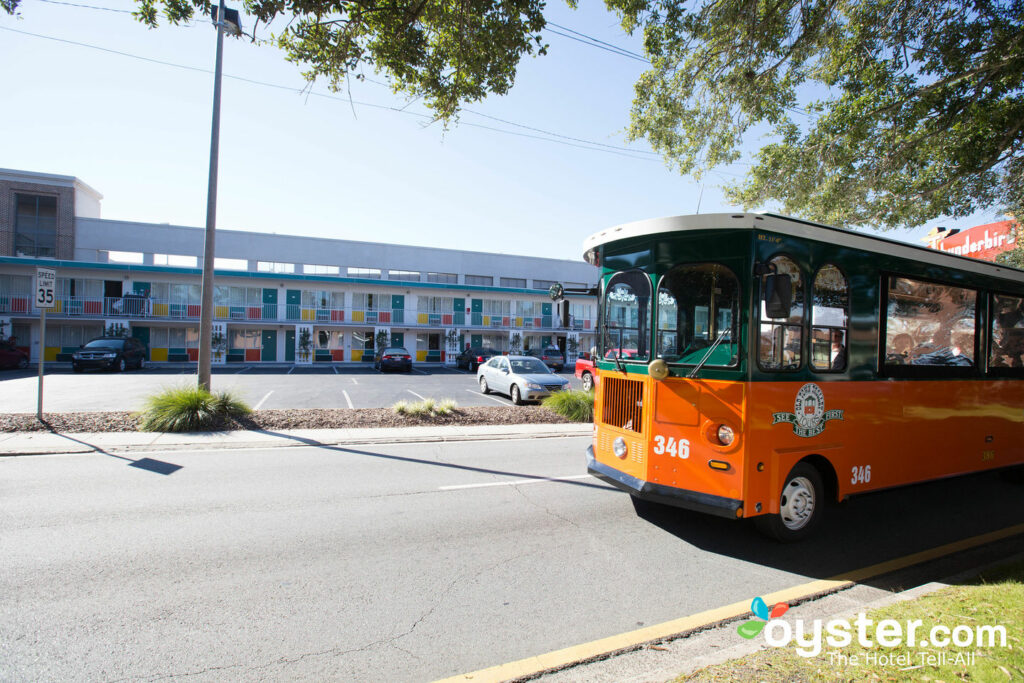 Cans of RC Cola and packages of Moon Pies next to the beds are just a few examples of the fun, retro details at The Thunderbird Inn. The neon vacancy sign and color-blocked exterior are reminiscent of a roadside motel, and a 2018 remodeling with an eye on the '60s brought lots of kitschy extras and accents. Guests are served fresh popcorn on arrival and free Krispy Kreme donuts are provided each morning. Dog lovers, take note: The Tbird (as it's affectionately called) has an enclosed dog run and offers bedding and treats for pups.
You might not expect to find a motor lodge in the heart of the Castro neighborhood in San Francisco, but Beck's Motor Lodge has staked out a spot here since the 1950s. It even has its original parking lot (unheard of these days). The 58-room motel underwent a redesign in 2016 that saw added details like analog clocks, a bold color palette, and graphic-print wallpaper — all of which retain the retro theme. The property also plays an important role in the LBGTQ scene. The vigil for Harvey Milk marched past the motel's front door in the '60s. Rooms no longer cost five dollars a night, but the parking is still free.
The original owner of the Red Caboose Motel purchased 19, 25-ton railroad cabooses in 1969, and eventually turned them into a truly unique motel experience in rural Pennsylvania. In 2016, the motel was purchased by a family who updated the restaurant and facilities. Visitors can choose from a Large Family Caboose (with a double bed and four bunk beds) and a Honeymoon Caboose (with a queen-size bed and whirlpool bath). Unusual motel amenities include free movies played in a barn, a miniature train ride, and a petting zoo. The all-day restaurant is also located inside a restored train car.
You'll Also Like:
All products are independently selected by our writers and editors. If you buy something through our links, Oyster may earn an affiliate commission.