Unfairly, South America doesn't get the same foodie love you'll find from devotees of European and Asian cuisines. With a population of over 400 million people living in 12 culturally rich countries, and distinct culinary traditions that marry Old and New World flavors, South America serves some seriously good food. That said, here are our picks for what to eat in every South American country. It was difficult to choose just one favorite item, but we made our selections based on availability, distinction, and suggestions from locals. Hope you're hungry.
It's unbelievable that alfajores haven't become a cookie craze at a hip Brooklyn bakery, akin to the next cronut. Alfajores consist of two sweet (but not too sweet) shortbread biscuits sandwiched with a layer of fruit jam or dulce de leche (thickened condensed milk, much like caramel) between them. The whole crumbly cookie sandwich is then coated in white or milk chocolate. Sold by the piece and by the box, the cookies are eaten for breakfast, dessert, and with coffee throughout the day in Argentina. Havanna Alfajores are popular souvenirs, and can easily be found in grocery stores and airport gift shops.
Silpancho, Bolivia
https://www.instagram.com/p/BOxulQ6gs_Z/
There are several variations of silpancho, a typical Bolivian lunch from the city of Cochabamba (but found in restaurants and homes throughout the country). The traditional way to serve the carb-heavy dish is with a base layer of white rice topped with a layer of sliced boiled potatoes, followed by a layer of fried steak that has been pounded thin and coated in breadcrumbs. The hearty plate is finished with chopped tomatoes, onions, parsley, and a fried egg (or two).
Pão de Queijo, Brazil
https://www.instagram.com/p/BSzMM6jD1bY/
Pão de queijo (cheese bread) is a beloved and inexpensive breakfast dish and all-day snack throughout Brazil. Though it's referred to as bread, it's actually a type of starchy cookie, made with cassava starch, eggs, salt, vegetable oil, and cheese. The original recipe was made by African slaves in North Brazil, who ground their own cassava root. Today, the bite-size snack is sold in grocery stores, bakeries, and in a pre-made frozen form, for baking fresh at home.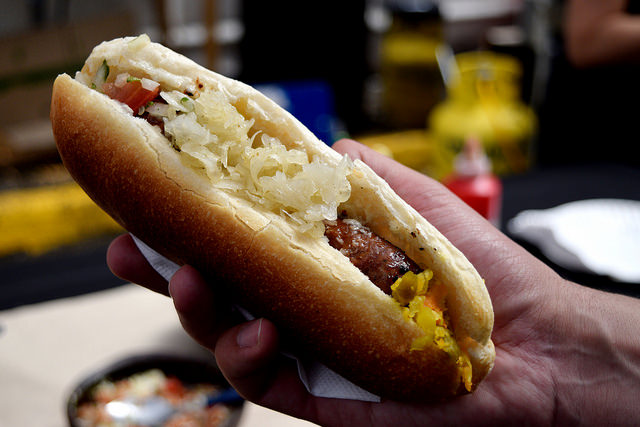 Choripan is a combination of the words, chorizo (sausage) and pan (bread), though technically in Chile, choripan is made with longaniza sausage and not chorizo. Much like American hot dogs, choripanes are popular at sporting events and as an appetizer before a barbecue. Instead of ketchup, Chilenos usually top their sausages with mayonnaise and/or pebre, a condiment made with chopped onions, tomatoes, olive oil, garlic, and ground spicy aji peppers.
Bandeja Paisa, Colombia
https://www.instagram.com/p/BSzF57DAxZj/
You could compare Colombia's favorite lunch, bandeja paisa, with the traditional English breakfast. Because so much food is served, the meal is usually presented on a platter and includes red beans cooked with pork, white rice, ground meat, fried eggs, plantains, chorizo, an arepa, black pudding, and avocado. Hogao sauce, a savory mix of sauteed tomatoes, onions, garlic, and cilantro, is also served with the dish.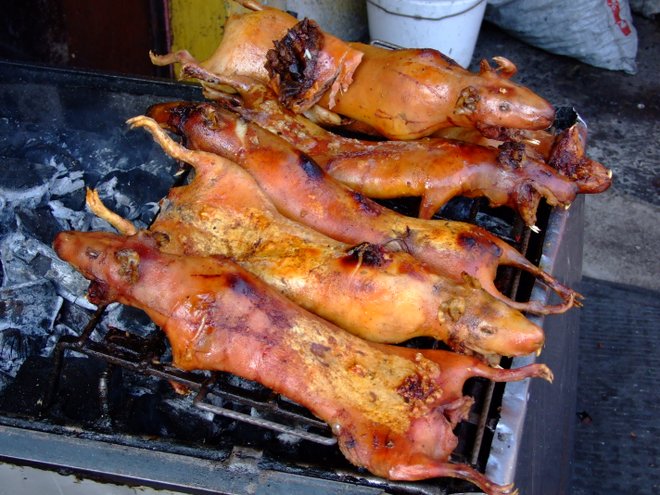 Guinea Pig, or cuy as it's known in the indigenous language of Kichwa, is considered a valuable delicacy in Ecuador. Guinea pigs are sold live at markets or cooked by street vendors. You can find cuy served in restaurants and prepared in many different ways. The succulent meat is often cooked over a spit or deep fried, and the flavor can be compared to dark meat chicken.
Pepperpot, Guyana
https://www.instagram.com/p/BOdEaZLj6Hy
Pepperpot is the traditional Christmas meal in Guyana, but it's easily found throughout the year. The hearty stew was originally made by Amerindians, who concocted the dish as a way to preserve meat. Lean meat is steamed to remove all the fat (so it keeps longer) and then flavored with orange peel, cloves, brown sugar, hot peppers, cinnamon, and the most vital ingredient: cassareep, which is a flavorful brown sauce made from extracting and boiling juices from aged cassava root. Juices from the stew are sopped up with plait bread.
Chipa, Paraguay
https://www.instagram.com/p/BSyc8koDtcU/
In Paraguay, Holy Week (the week leading up to Easter) is devoted to making chipa, which represents the body of Christ. Fortunately, chipa is available year-round and can be purchased from street vendors and at bus stations throughout the country. Fresh chipa is chewy, made with a combination of lard, eggs, milk, Paraguayan cheese, salt, manioc flour, and anise, rolled into a bagel shape, and baked in a traditional tatakua (or any stove).
When most Americans think of eating raw fish, they think of sushi. One visit to Peru should change that line of thinking forever. Ceviche was likely invented when the Spanish introduced citrus to Peru's fish rich coast. Today, there are more than 20,000 cevicherias in Lima alone. Most chefs are making the nation's most famous dish with just five ingredients: raw fish, salt, onion, lime, and chili. The acid in the lime juice is what "cooks" the fish, so technically it's not quite raw.
Cassava Bread, Suriname
https://www.instagram.com/p/zRRnGVIs0Q
Suriname isn't the most well-known country in South America, but its multicultural population is home to everybody from East Indians to indigenous groups to Dutch and Chinese individuals. It's no surprise, then, that Suriname's cuisine reflects its vibrant heritage with a wide range of interesting dishes. Tying them all together is cassava bread, made by the Maroons and Amerindians by mixing cassava flour and frying it until crisp. The mild bread is a popular accompaniment for soups, stews, and dips.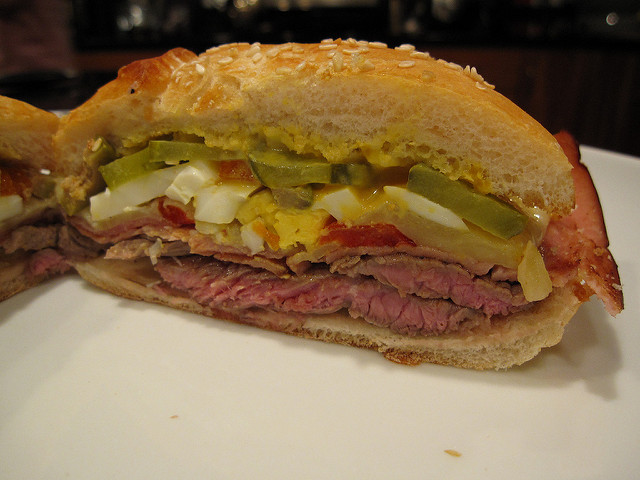 Chivito isn't the oldest culinary tradition in Uruguay, but it is one of the most delicious. Uruguay's preferred sandwich has an Italian bent, made with a thin slice of churrasco beef, mozzarella, tomatoes, olives, and mayonnaise on a bun. Bacon, hard-boiled eggs, and ham are often added for South American flavor, and the whole thing is served with French fries.
Arepas, Venezuela
https://www.instagram.com/p/BR8YdiclA1H/
Venezuela's beloved arepas are much like Mexico's tacos, but instead of a flour tortilla, arepas are made with griddled cornmeal cakes and stuffed with a never-ending list of savory fillings. Classic choices include ceviche (see Peru above), black beans and queso fresco, stewed beef, poached chicken, and avocados and eggs. Areperas are ubiquitous throughout Venezuela.
You'll Also Like:
All products are independently selected by our writers and editors. If you buy something through our links, Oyster may earn an affiliate commission.