Best Hotel Spas in Cancun
If you're planning on visiting Cancun, you're likely headed to the famed Caribbean coast to have fun and relax. After all, how much business can you get done on 14 miles of white sand beaches? Adding a spa day to an itinerary that likely already includes parasailing, snorkeling, pool lounging, tequila tasting, horseback riding, and all-inclusive buffets is a real no-brainer. Whether you're on your honeymoon or just need a little me time, Cancun's hotel spas can get you to a heightened state of pampered bliss well before it's time to have a sunset margarita.
See All Cancun Hotels
1
Many guests check into Beloved Playa Mujeres just for access to the Beloved Spa. Its facilities include incredible extras like an ice glacier room, heated lounge beds, and a crystal steam hammam. The hour-long guided Aqua Viva circuit is included for free with treatments or can be booked separately. With a holistic theme, the spa goes beyond the average back rub. For instance, the sacred earth massage is performed with warm basil and mint oils, hot stones, and plants. Manicures start with a green tea bath and scrub. Chic all-white decor and a sand garden add to the very zen vibe.
2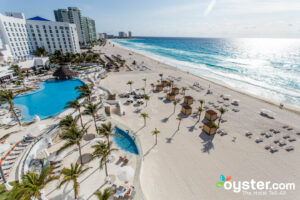 You know the spa is going to be more than an afterthought when the word spa is actually in the resort's name. Le Blanc Spa Resort provides one of the largest spa facilities in Cancun with 19 treatment rooms and three suites with hydro tubs. Every service begins with a complimentary "health through water" treatment, inspired by Greek Roman rituals. Guests begin with a shower, then detox in the sauna and steam rooms before showering again and relaxing in the whirlpool with an aromatic facial towel. Then it's on to the cool and warm pools before another shower. Chlorophyll water is provided for hydration after each phase of the ritual. Treatments include an aloe wrap to soothe sunburned skin and the citrus facial with a peel-off algae mask. You may need more than one day to experience everything.
3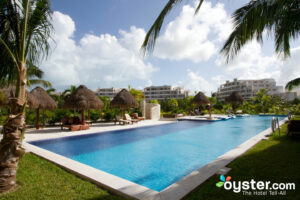 Calling all brides and grooms! Miilé Spa at the Excellence Playa Mujeres is located in a secluded area of the resort and specializes in couples. There are double massage beds, a hydrotherapy pool with high-pressure hoses, and spa suites with private relaxation areas where guests can soak in a mud bath or have a Vichy shower. Extensive wedding packages are popular. These cover everything from a lavender scented body wrap to nail services, hair detox, and a bridal updo. Men can get a facial with sandalwood and a shiatsu massage. Couples should consider a package that includes a bath for two with floating petals and sparkling wine. Marital bliss, here you come.
4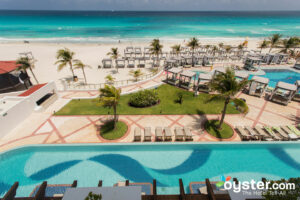 The Spa at Hyatt Zilara Cancun is a Mayan-inspired retreat with innovative treatments. Sure, you could book a straightforward Swedish massage and moisturizing facial, but we suggest really splashing out with some of the more unusual treatments on offer. The Chicxulub Clay and Banana Leaves massage uses clay made from the crater where a meteor impacted Mexico and supposedly killed the dinosaurs. Guests can book two hours in the traditional temazcal for a steam bath and then get their ears candled before a decadent chocolate massage.
5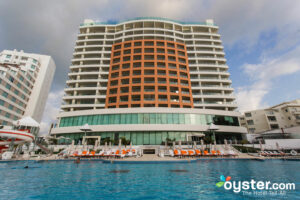 The Awe Spa keeps with the same contemporary decor found throughout the resort. Guests relax in the steam room and sauna before receiving a relaxing treatment in one of the nine spa suites. Beauty treatments are available as well. The real highlight here is the Fish Spa, where tiny garra rufa fish gently nibble dead skin off human feet. The result is baby smooth feet and zero calluses, but it might take a tequila shot to work up the courage to place your feet in an aquarium of hungry fish.
6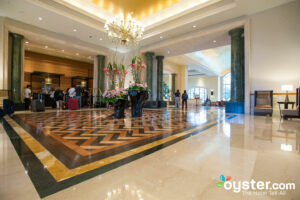 The three-level spa area contains a publicly accessible first floor where guests can work out in the updated gym or sip on a green juice from the green bar. There's also a large whirlpool and indoor lap pool with lagoon views on this level. Those who pay a fee or book a treatment get access to the Mayan-inspired second level where the treatment rooms are located. Separate lounges for men and women are provided. Many of the treatments are customizable. For instance, therapists blend individually prepared scrubs using local ingredients in the body exfoliation treatment. Nail services are also offered.
7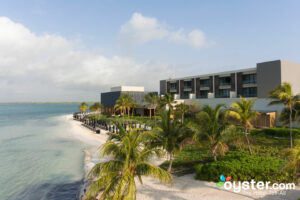 This ahh-mazing spa is built around a collection of hot and cold pools with specific showerheads and massage properties. The sounds of trickling water provide a soothing backdrop and ESpa and L'Occitane products are luxurious. Beautiful treatment rooms are done in natural wood and set with wicker furniture. After a cacao oil massage or a rose quartz crystal facial, guests can linger over herbal tea and fresh fruit in the cozy relaxation lounge or outside by the chic co-ed pool.
8
Gem Spa at Grand Fiesta Americana Coral Beach Cancun provides 10 separate water treatments, including a sensations pool that brims with bubbles. Before and after treatments, guests relax in the aromatherapy steam room, clay steam room, ice room, sauna, rain shower, whirlpool, and polar pool. As the spa's name suggests, treatments utilize chakra-balancing gems. For instance, the Seventh Wonder luxury massage incorporates seven quartz stones placed on the body's seven chakras with aromatic oils. The spa boutique sells gemstones for truly special souvenirs.
9
Hotel Xbalamque Resort & Spa is the only budget option on our list, but we love their impressive spa for regional techniques, rituals, and prices that draw tourists and locals. The hotel's spa offers a sauna and a variety of treatments, including massages and a traditional Mayan Temazcal ritual with steam and herbs. Treatment rooms have a nature theme and some include hand-painted elements of fire and ocean. There's also an independently operated Pilates room within the hotel for daily classes.