Best Boutique Hotels in Tamarindo, Province of Guanacaste
Take a look at the best boutique hotels in Tamarindo.
See All Tamarindo Hotels
1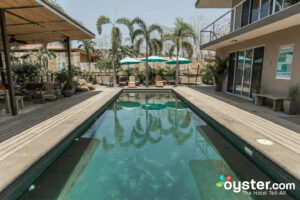 Tamarindo Bay Boutique Hotel is a three-pearl, adult-only hotel located a short walk from lively downtown Tamarindo. The hotel's nine guest rooms feature stylish, minimalist decor with a Zen feel and understated color schemes. The eco-friendly outdoor pool and common area have a refined, relaxing feel, and a wonderful free breakfast buffet is served on a scenic second-floor terrace. Other freebies include use of bikes, snorkel gear, and boogie boards. The hotel's location on a gravel road isn't particularly inspiring, but it's under a 10-minute walk to the shops, restaurants, bars, and beach of central Tamarindo. Travelers looking for a hotel with direct beach access might also consider Sueno del Mar Beachfront Bed & Breakfast.
2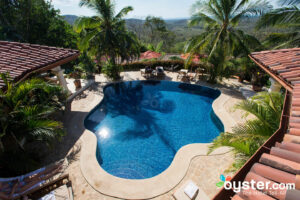 Los Altos de Eros is an upscale, adult-only, six-room boutique hotel set on 28 acres of mountaintop terrain. The vibe is social and villa-like with rooms ringing a free-form infinity pool that overlooks the stretching mountains and valleys of the Guanacaste region and the distant Pacific. The hotel is somewhat isolated, and requires a journey up a steep, rocky road to access, but that's part of its appeal, especially to honeymooners and romantics. It's a 20-minute drive to Tamarindo and the nearest beach, but transportation is included in the all-inclusive room rate.
3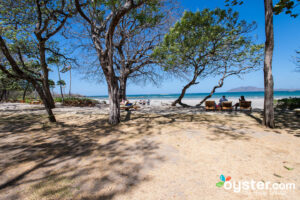 The laid-back, upper-middle-range, 34-room Hotel Capitan Suizo is one of Tamarindo's most revered properties. Its location at the southernmost end of Tamarindo Beach is more private and less traveled than other parts of the busy stretch of shoreline, making it attractive to well-heeled guests who prefer a quieter vibe as well as the perks of a spa, gourmet restaurant, private pool, and attentive service. The spacious bi-level rooms and Bungalows feature separate living areas and private terraces, some with direct access to the beach, while the jungle-like backdrop of flowering plants, tall palms, and dramatic Guanacaste trees keeps guests in touch with nature, including active families of howler monkeys.
4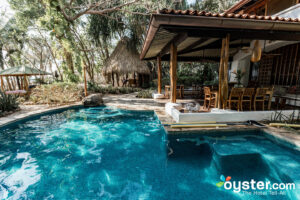 Sueno del Mar Beachfront Bed & Breakfast is a three-pearl bed-and-breakfast located on Langosta Beach. This small property's four rooms and two casitas feature distinctive Central American decor, whitewashed walls, and vaulted wooden ceilings. Nestled amid tropical plant life, the small pool and beach have a private, secluded feel. And the hearty free breakfast served on an airy patio is well above-average. The property's location in the town of Langosta feels out-of-the-way, but the nightlife and shopping of Tamarindo is about a 20-minute walk or a short drive away. Travelers may want to compare rates and amenities with Tamarindo Bay Boutique Hotel.
5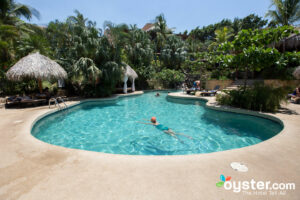 Jardin del Eden Boutique Hotel is a three-and-a-half-pearl adults-only property located in the buzzing town of Tamarindo. The hotel's 43 guest rooms are polished and tidy, with many featuring striking themed decor. Playa Tamarindo is right across the street, and there are ample dining and entertainment options within easy walking distance. True to the hotel's name, amenities aim to create the feel of a hidden paradise, including a lagoon-shaped pool shrouded in greenery, secret pathways, and a private garden with gated access. Travelers who prefer a more streamlined, sophisticated look might consider the nearby Tamarindo Bay Boutique Hotel instead.
6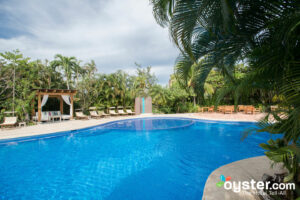 A serene, wellness-focused 31-room boutique retreat on the outskirts of bustling Tamarindo, Cala Luna has an organic, beachy ambience. A large pool, lounge, and restaurant serve as the hotel's social center while an intimate spa and yoga pavilion are tucked away in the jungle-like surroundings. Couples hide out in upscale, bungalow-style rooms with vaulted ceilings and spacious baths while families prefer the two- and three-bedroom villas with private pools. The hotel's wellness focus is emphasized by daily yoga classes and a restaurant that uses organic and sustainable food sources, some from the on-site garden. While not located on the ocean, a five-minute walk along a landscaped path leads guests to a secluded beach, although it is rocky and not suitable for swimming, especially at low tide.
7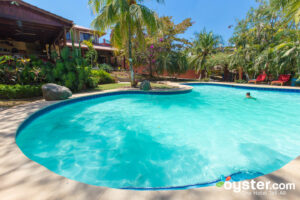 Hotel Luamey is a three-and-a-half-pearl property located in the bustling surf town of Tamarindo. The hotel's eight guest rooms are stylish yet cozy, and all have furnished balconies or terraces. The hotel's serene pool and intimate restaurant feel secluded from Tamarindo's lively nightlife scene, yet the town's bars, shops, and beach, can all be reached in less than a 10-minute walk from the hotel. The property also offers a limited gym and free parking and Wi-Fi. Travelers would do well to compare rates and amenities at the equally beautiful Tamarindo Bay Boutique Hotel nearby.
8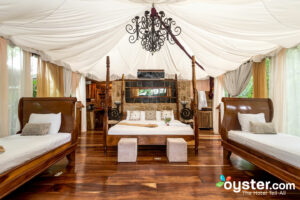 The three-pearl Ocho Artisan Bungalows is a gorgeous hotel with eight unique bungalows on the beach in Tamarindo. Beautiful bungalows feature tented fabric ceilings with local wood finishes, and they're equipped with kitchenettes and large outdoor patios. Ocho's small pool is surrounded by cushioned daybeds, and the hotel has a handful of surfboards for guests to take to the beach. There's a tiny lobby bar, but no on-site restaurant or breakfast service, although guests can easily walk to the shops and restaurants in Tamarindo. Travelers looking for a hotel with more amenities might prefer Cala Luna Boutique Hotel & Villas, though it isn't on the beach or within walking distance of downtown.
9
Hotel Arco Iris is an immaculate, mid-range, 13-room boutique hotel with a sparkling pool, a restaurant run by a Le Cordon Bleu-trained chef, and perfectly manicured gardens. Located just outside the noise of Tamarindo, yet still within walking distance to the nightlife and beach, Hotel Arco Iris offers rustic-chic private bungalows with hammocks and Deluxe Rooms with terraces that overlook the gardens. If ocean views are a must, The Best Western Tamarindo Vista Villas has ocean views and lower rates, but its pool gets noisy and its rooms are drab.
10
This 18-room, no-frills surfing mecca sits on a prime stretch of Tamarindo Beach perfect for learning to surf. The vibe is friendly, laid-back, and fun. Guests are encouraged to kick back in the two lively restaurants, the brewery, or the tiny pool. There's also a busy surf shop that outfits guests with surfing gear. Rooms are bare-bones basic, lacking clocks, TVs, and adequate lighting, but that's part of the plan. Guests don't come to Witch's Rock to lounge on high-thread-count sheets (they're pretty thin) or linger in luxurious bathrooms (hot water is sporadic), they come to hone their surfing skills and embrace the camaraderie and campy lifestyle that goes along with the sport.
11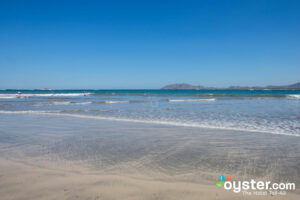 Family-owned Casa Cook is a comfortable mid-range beachfront property with only four units, two of which face the ocean. Though not upscale, they are equipped with dining areas and kitchens, and guests are close to town for restaurant and bars -- accessible by walking Playa Tamarindo's sandy shore. The wide beach is great for young ones with safe swimming conditions and consistent waves for learning to surf (there's also a pool). A friendly staff is available around the clock, and the entire place can be reserved for groups. Wi-Fi is spotty for those who need to get work done, however.
12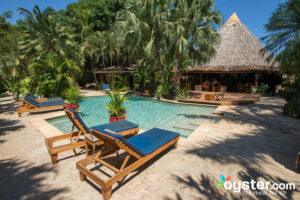 This budget-friendly hotel in Tamarindo has 22 rooms in two types: Standard and Deluxe. Tropical grounds include an outdoor pool, and guests are within walking distance of great beaches with consistent waves for surfing. Simple rooms have air-conditioning, small flat-screen TVs, pillow-top mattresses, and furnished patios (mini-fridges are available for an extra fee). The restaurant, Monkey La-La, is under a palapa roof and serves free breakfast before turning into a bar and restaurant with regular musicians that attract an outside crowd. Noise from the bar might disturb early sleepers, so this is not the best option little ones. Friendly staff can arrange affordable activities and shuttles to the airport, and there is free Wi-Fi.
13
Both affordable and stylish, Hotel Nahua delivers more than the average mid-range option. Nahua's 10 clean rooms have a simple industrial chic vibe with poured concrete floors and crisp white bedding. There's an on-site health cafe, a beautiful pool, and free Wi-Fi, plus the hotel's hands-on owner is always available to help guests during their stay. Hotel Nahua's quiet location is ideal for travelers who want to be within walking distance of the beach and downtown Tamarindo, but don't mind being slightly removed from the center of the action. Rooms could definitely use more lighting, and we wish the on-site restaurant was open year-round, but for the price, you'll be hard pressed to find better value in Tamarindo. It's worth comparison shopping with Hotel Pasatiempo across the street, which has warmly decorated rooms but is typically pricier.