Best Boutique Hotels in Miami
A team of Oyster reporters spent weeks exploring the best (and not so great) hotels in Miami. We slept in the beds, ate in the restaurants, tested the service, and scoped out the beaches, all with an eye toward selecting the most distinguished properties. From amazingly luxurious to uniquely charming, here are the best boutique hotels in Miami.
See All Miami Hotels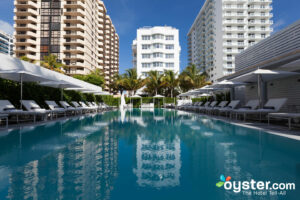 The 74-room boutique Metropolitan by COMO is a gorgeous Art Deco property from the luxurious COMO brand. The pistachio and gray guest rooms are stylish, and outfitted with modern features like 42-inch flat-screen TVs, Nespresso machines, and free Wi-Fi. The hotel's other amenities include a pretty outdoor pool, beach service, fine-dining restaurant and bar, elegant spa, and rooftop hydrotherapy pool. Service is genuinely friendly and doting, and the hotel attracts an upscale clientele of primarily couples. If you're looking for a calm, relaxing getaway in South Beach, Metropolitan by COMO is the premier pick.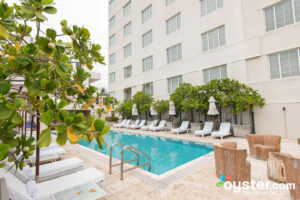 A beautifully designed hotel with pomp-free service at all levels -- from housekeeping to porters to private designated assistants -- Tides South Beach brings rarely seen substance to the price tag. Though the small pool is less than breathtaking, the huge, immaculate rooms more than compensate. Plus, the beach is just across the street.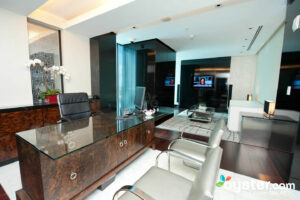 Located on the topmost floors of the JW Marriott building, the 44-room Hotel Beaux Arts is even more upscale than theMarquis. Though its shared facilities with the Marquis may detract from its intimate, boutique feel, guests do have a specialcheck-in area in the lobby, and the hotel is ultra luxe: all rooms have flat-screen TVs and iPads, the bathrooms are marble with separate bathtubs and showers, the decor is sleek (cherry wood floors, floor-to-ceiling windows, plush beds, minimalist furniture), and the views are amazing.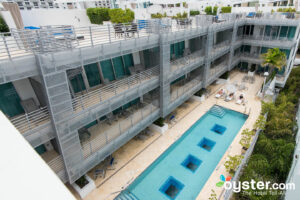 Z Ocean Hotel balances modest amenities and service with big, comfortable suites, a prime location, and reasonable rates. Marketing itself to adult couples, it successfully achieves an intimate, laid-back vibe.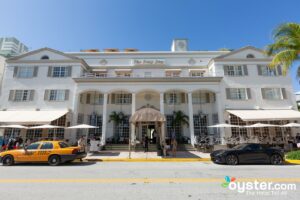 A drop-dead gorgeous hotel with plantation-style shuttered windows, colonial columns, and ceiling fans, The Betsy provides a rare dose of tranquility on Ocean Drive. The hotel is a study in tasteful luxury: rooms, albeit not very big, are comfortable, bright, and well-appointed; the popular BLT Steak restaurant is on-site; the pool, while unspectacular, is accompanied by potted orchids and is long enough for morning laps.
Separated from busy South Beach by lush gardens, this 46-room art deco hotel is a low-key oasis. There's a top-notch restaurant, free off-site gym passes, and a small but serene pool. For the price, other hotels offer more features or direct beach access, but the massive, Wallace Tutt-designed rooms are hard to beat.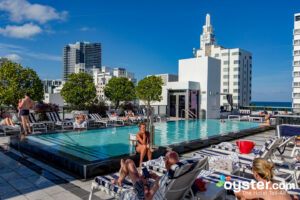 This historic Art Deco hotel on Collins Avenue got a breath of new life when it reopened as a stylish 87-room boutique in late 2012. Retro-chic rooms have black-and-white photos on the walls and beachy blue-and-white decor; all have whopping 55-inch flat-screen TVs, iPod docks, and sleek bathrooms with walk-in showers (but no tubs). The sunny rooftop pool; clubbylounge with fancy, fresh cocktails; and the super-hip basement nightclub with 80s decor and a soundtrack of 90s hits are all draws. But be warned that the signage can be confusing -- it says The Gale on the front and The Regent on the back, for the two historic hotels that were combined to form the current property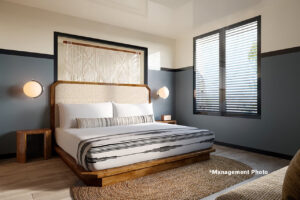 Three blocks from the beach, Vintro Hotel South Beach is an upscale Art Deco boutique hotel. The 50 guest rooms have retro furnishings in citrus tones, and feature flat-screen TVs, Illy espresso machines, and rainfall showerheads. However, some rooms have parking lot views, or lack views altogether. But, there are quite a few amenities to lure travelers: vouchers for beach chairs and towels; a rooftop plunge pool; on-site fine dining restaurant; lobby bar; free bicycles; and free Wi-Fi. For adults 18 and over only, the hotel is a great pick for couples who don't mind sacrificing direct beach access for a hip atmosphere.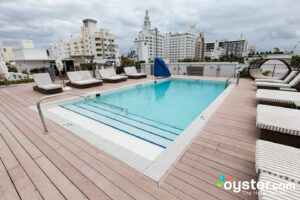 With a spacious rooftop pool offering incredible views, a restaurant with a bold Mediterranean menu, and large contemporary guest rooms, The Redbury South Beach is a beautiful, upscale boutique hotel located right in the center of South Beach. Decorated in a bright Art Deco style, with clean lines and lovely outdoor spaces, this property offers guests direct access to the beach, as well as a wide variety of restaurants, shops, and entertainment options within walking distance. Guests have access to private beach facilities and a fitness center through the hotel's sister properties, as well as restaurants and nightlife options around the city. Due to the central location some rooms can be a bit noisy, and there is a resort fee (covering in-room Wi-Fi access) as well as a fee for valet parking.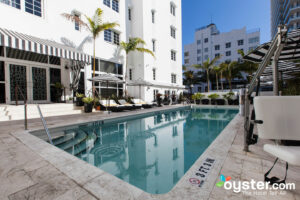 The 104-room Hotel Croydon is a competitively priced, upscale property located in Mid-Beach, north of popular South Beach. This stylish property offers panoramic views from a rooftop sundeck, a trendy tavern with indoor and outdoor seating, and a modern gym and spa. The beach is a short walk away, and there's an outdoor pool with chic lounge chairs on-site. The rooms are stylish and modern; some have sea views. There is a hip boutique on-site and Wi-Fi is free throughout.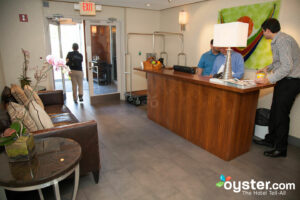 The 48-room, mid-range Edgewater South Beach offers good value for the price compared to its competitors. The location is perfect for beach lovers and those who want to be at the center of the lively SoBe scene, and the spacious rooms and suites come with the convenience of well-equipped kitchenettes. The Edgewater lacks a pool and hot tub, but the basic continental breakfast and evening happy hour are appreciated extras. On the lobby level, an independently operated bar and restaurant with outdoor patio seating attracts lots of foot traffic during the dinner hour. Pets are welcome and a valet will park your car, but both services cost an additional fee.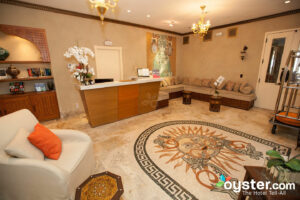 This intimate, upper-middle-range boutique hotel is beautifully designed and has an excellent South Beach location, just one block from the sand and from the shops and restaurants on Ocean Drive. Free Wi-Fi and access to a Crunch gym are nice extras, but there are fees for a cold breakfast and valet parking. SPIGA Italian restaurant on-site has candlelit tables at night. This is more suited to couples looking for a romantic getaway than to spring break revelers.