Best Montauk Hotels on the Beach
One of the most naturally beautiful spots in the Hamptons, Montauk is a laid-back beach town on the very end of New York's Long Island, surrounded on three sides by water. Take a look at the town's top hotels on (or across the street from) the beach.
See All Montauk Hotels
1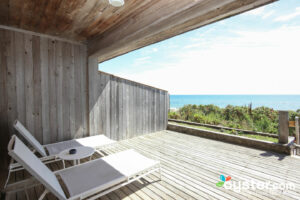 The upscale, 109-room Gurney's Montauk Resort & Seawater Spa is a Hamptons mainstay. It's one of the largest resorts in the area, and it also has the best beachfront location. No other Montauk resort compares in terms of features, and no Hamptons resort can match its truly terrific (and massive) stretch of sand and endless ocean views. The free spa facilities (including an indoor pool and Roman bath) are also a highlight. Ongoing renovations have made (most of) the rooms contemporary and attractive, and many have stunning ocean views from private verandas. The elegant fine-dining restaurant also has views of the water. Just note that there have been some minor growing pains as this older property -- once a time-share resort popular with local Long Islanders -- transitions to a Hamptons hot spot. Note that Gurney's labyrinthine layout means reaching some rooms can be a hassle, plus there are no elevators, and lots of stairs.
2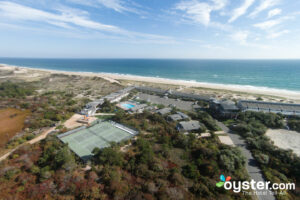 While Gurney's is a sleek Hamptons hot spot, Driftwood on the Ocean is a quiet condo-style property with a laid-back beach setting and vibe. The 52 privately owned condo units consist of Studios and One- and Two-Bedroom Suites, some with pleasant beach-cottage decor and others with furnishings that have seen better days. All have kitchenettes or kitchens, and some have patios or decks that overlook the ocean. The well-maintained grounds include barbecue grills, picnic tables, playgrounds, basketball and tennis courts, shuffleboards, and a large pool. The property, which has a front desk and operates like a hotel, also has a fitness center and communal lounge, but there's no on-site restaurant -- which isn't uncommon in the area, although Gurney's fine-dining restaurant offers fresh seafood and ocean views.
3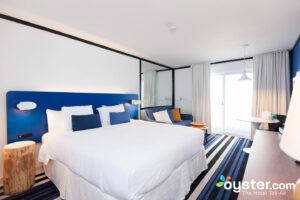 Renovated in 2014, the modest Montauk Blue Hotel is a budget property with clean, modern rooms and a great location right on the beach. Although the hotel has few on-site amenities (no tennis courts or fitness center here, like at Driftwood), it's close to a number of shops and some rooms lead right out onto the sand. In addition to free parking and free Wi-Fi, the property also offers a clean and spacious indoor pool and whirlpool, as well as a large oceanfront deck for sunbathing. All rooms come with air-conditioning, cable TVs, mini-fridges, and patios or balconies, but travelers wanting a kitchen or kitchenette should consider Driftwood.
4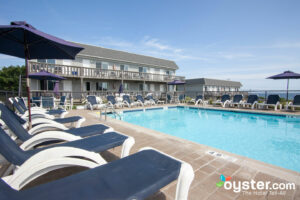 The family-friendly Hartman's Briney Breezes Motel is a small, welcoming property with a great location by the water and a few minutes from the Montauk town center. Owned by a local couple who live on the property, the hotel is casual and comfortable, offering thoughtful amenities including free Wi-Fi, free parking, barbecue grills, a heated outdoor pool, and green space, as well as reserved tee times for guests at the local golf course. Rooms are simple but clean and spacious and have pull-out sofa beds and kitchenettes, but balconies are shared which can limit privacy. But while Gurney's, Driftwood, and Montauk Blue have true beachfront locations, Hartman's is separated from the beach by the main road.
5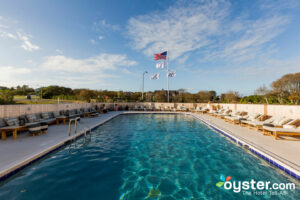 Hero Beach Club is ideal for couples and families who wish to be near the beach and walking distance to town. Rooms have a range of colorful styles, but all come with flat-screen TVs, mini-fridges, coffeemakers, and balconies or porches. Some rooms have kitchenettes, while Efficiency units have full-size kitchens, minus a microwave. However, there have been some complaints of noise in rooms. On-site features include a pool, a large lawn with picnic tables, on-site parking, and free Wi-Fi, but there's no on-site dining. Travelers may wish to compare rates at the similar Montauk Blue Hotel.
6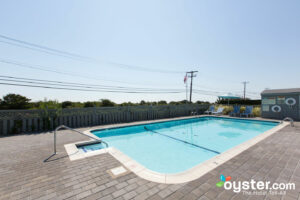 There are 29 individually-decorated rooms at this three-pearl, condo-style Montauk property. It's a popular choice for a peaceful vacation, as the resort's quiet setting is a 15-minute walk from downtown Montauk. There's also a beautiful beach just across the street. All rooms have air-conditioning, a full kitchen, living area, and balcony or patio, some of which have fabulous ocean views. The hotel has a heated pool, barbecue and picnic area, and free yoga and fitness classes during the summer. Wi-Fi is also free throughout the resort.
7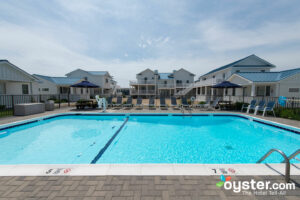 Montauk Soundview Resort Hotel is a laid-back family-friendly property overlooking Napeague Bay. The cozy, mid-range hotel offers a relaxed, self-catering stay away from the crowds, but within a five-minute walk of the restaurants and shops near famous Gosman's Dock. The 23 apartments and cottages have televisions, Wi-Fi, full kitchens or kitchenettes, and outdoor space that ranges from a small lawn to water-view balconies. Decor varies from room to room, and while some feel a little more worn than others, most have a pleasant beachy look. The coin-operated laundry room is a handy feature for families, but otherwise, there's no indoor common space. Instead, guests tend to relax around the outdoor pool or on the "beach" -- a sandy stretch elevated above the bay. There's no swimming here, but it offers sunbeds, grills for guest use, and a small playground for kids. Beach Plum Resort offers beach access directly across the street.
8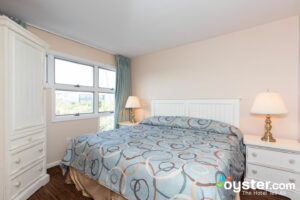 The best thing about the lower-middle-range, 150-room Royal Atlantic Beach Resorts is the location of its main building, which is directly on the beachfront and within walking distance of Montauk town center. Guest rooms on the ground floor have direct access to the beautiful 1.61 mile-long sandy beach. Rooms, which have kitchenettes and balconies, are spread over three motel-style buildings (only one is on the beach). But decor is dated and overdue for an update, and guests have complained about cleanliness. Travelers might want to also consider Driftwood on the Ocean, a comparable property offering cottage-style rooms and more amenities, such as a fitness center and sports facilities, a communal lounge, and a laundry room.