Best Value Montauk Hotels
On the easternmost tip of New York's Long Island, Montauk is a town where local fisherman rub shoulders with luminaries of Hollywood and Wall Street. Many Montauk hotels cater to this A-list clientele, but for travelers simply looking for a low-key beach getaway, these are our favorite Montauk motels and resorts.
See All Montauk Hotels
1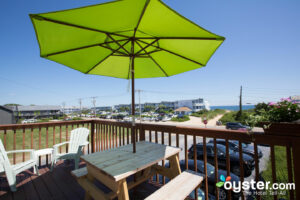 This 26-room, mid-range property is a throwback to a time when American seaside resorts were more about location than frills. The inn faces the Atlantic Ocean, but the sand is separated by a street and a row of houses. It has simple rooms with ocean-themed decor, free Wi-Fi, flat-screen TVs, mini-fridges, small microwaves, and tea/coffee facilities. A cheerful courtyard with pastel umbrellas, redwood picnic tables, and a Weber barbecue grill, along with a pool at a hotel next door. Guests who arrive before check-in can drop off their luggage, put on a bathing suit in the changing room off the lobby, and head straight to the beach. All in all, this is a relaxed and casual -- and affordable -- seaside resort in a swanky Hamptons location.
2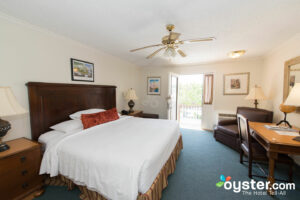 The two-and-a-half-pearl Kenny's Tipperary Inn offers charming and tidy accommodations for a relatively affordable price in Montauk. It's not located on the beach, and away from town center, but it's in a peaceful location about a five-minute walk to Lake Montauk and to the Block Island Ferry (and the hotel offers free parking passes to Ditch Plains and other area beaches). With its well-tended grounds, Zen garden, gazebo, and fire pits, Kenny's exudes local character -- and there's a seasonal outdoor pool -- but breakfast isn't available on-site. Its 33 units come with shared or private balconies or patios, mini-fridges, free Wi-Fi, and flat-screen TVs. Apartments with kitchens are also available. Coffee/tea facilities don't come standard here, though, like they do at The Ocean Resort Inn.
3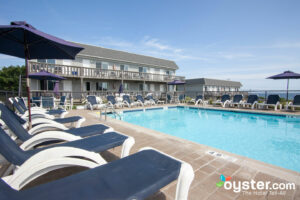 The family-friendly Hartman's Briney Breezes Motel is a small, welcoming property with a great location by the water and a few minutes from the Montauk town center. Owned by a local couple who live on the property, the hotel is casual and comfortable, offering thoughtful amenities including free Wi-Fi, free parking, barbecue grills, a heated outdoor pool, and green space, as well as reserved tee times for guests at the local golf course. Rooms are simple but clean and spacious and have pull-out sofa beds and kitchenettes, but balconies are shared which can limit privacy (Kenny's Tipperary Inn has some rooms with private balconies). Most rooms have a view of the ocean, but there is a main road that runs between the property and the beach.
4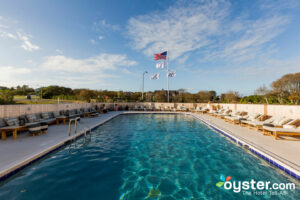 The two-pearl Hero Beach Club is a beachfront motel within walking distance to Montauk's central plaza. Rooms have a range of colorful styles, but all come with flat-screen TVs, mini-fridges, coffeemakers, and balconies or porches. Some rooms have kitchenettes, while Efficiency units have full-size kitchens, minus a microwave. However, there have been some complaints of noise in rooms. On-site features include a pool, a large lawn with picnic tables, on-site parking, and free Wi-Fi, but there's no on-site dining. Travelers may wish to compare rates at the similar Montauk Blue Hotel.
5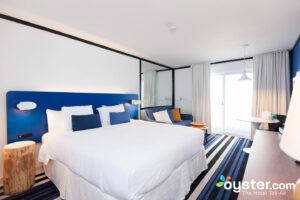 Renovated in 2014, the Montauk Blue Hotel is a modest budget with a beautiful location right on the beach. Although the hotel has few on-site amenities, it's close to a number of shops and some rooms lead right out onto the sand. In addition to free parking and free Wi-Fi, the property also offers a clean and spacious indoor pool and whirlpool, as well as a large oceanfront deck for sunbathing. There is no on-site restaurant or gift shop, but vending machines are available and there are a number of restaurants nearby.
6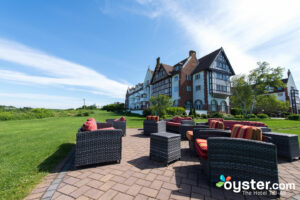 For older couples and families looking to stay outside of Montauk's bustle, this is a competitively priced choice with history to boot. Built in 1927 as a getaway for the rich and famous, Montauk Manor is a Tudor Revival-style hotel perched on a grassy hilltop overlooking the water. This three-pearl 12-acre property has a quiet vibe and is just a short drive (or free shuttle trip) from town. The 140 privately owned condo-style units have kitchens and flat-screen TVs -- many also include balconies or terraces -- but decor varies considerably and bathrooms tend to be dated. The hotel features tennis courts, heated indoor and outdoor pools, organic spa treatments, and an on-site Italian restaurant serving all meals (uncommon for area hotels).
7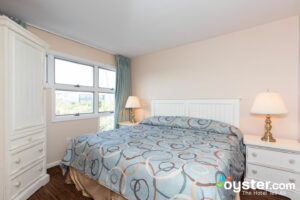 Royal Atlantic Beach Resort is a motel-style beach property popular with families and couples. Its main building is directly on the beachfront and within walking distance of Montauk town center. Rooms, which have kitchenettes and balconies, are spread over three two-story buildings; those on the ground floor of the main building have direct access to the beautiful sandy beach. But decor is reminiscent of '70s-style motels and looks as if it hasn't been updated in decades, and there have been reported cleanliness issues.