A hotel room with a scenic view is one thing -- but the simultaneously terrifying and electrifying feeling that comes with seeing a city from high above is reason enough for some travelers to make the trip. While some properties focus on designing rooms with jaw-dropping vistas, others extend the viewing opportunities to rooftop amenities like bars and swimming pools. Among the list of destinations with the most high-rise buildings, Asian cities make up five, and there are plenty of hotels that follow suit. If gazing out at neighboring buildings from more than 60 stories up gives you a rush, then this list of nine properties across Asia is for you.
A quick scroll through TripAdvisor reviews reveals adjectives such as "magical" and "breathtaking" applied to the views from Park Hotel Tokyo. Another memorable line? "I absolutely couldn't keep my eyes away from the view from my hotel room." In fact, many rooms at this upscale property in the heart of downtown look out on Tokyo Tower (the hotel occupies the top 10 floors of the 34-story Shiodome Media Tower, which doesn't hurt). You can even see Mount Fuji from the hotel's centerpiece, a light-filled atrium, on clear days.
This upscale hotel has a quiet location outside of the downtown area, with close proximity to major hospitals. Being next to the Novena MRT station allows for easy access to locales throughout the city, but you might just want to hole up inside instead. There are 25 floors to choose from, but Club Suites on the 22nd floors offer panoramic views of Singapore, plus sculpted granite bathtubs and rainfall showers. Plus, you'll have access to an indoor pool and the Living Room, a lounge with free breakfast and evening cocktails, both on the 22nd floor.
With 17 stories, the Intercontinental Hong Kong isn't the highest of high-rises, but its location on the edge of Victoria Harbour in East Tsim Sha Tsui allows for spectacular vistas. Deluxe Suites have wraparound views of the water, even from their bathrooms. But for an even more perilously close-to-the-water feeling, spring for a Presidential Suite with a 2,500-square-foot rooftop terrace and infinity pool gazing across the water and Hong Kong Island — both of which are also visible through two-story windows inside the suite.
This luxurious property located near Bangkok's Central Business District has a gorgeous spa and an elegant lounge for business travelers. But it also stands out for its variety of views. The Romsai international buffet, for example, sits at ground level and features a wall of enormous floor-to-ceiling windows that reveal a vast tropical garden complete with waterfalls and koi fish. For a change of pace, head up to the 21st-floor outdoor pool, which is surrounded by high rises. Or, settle in for dinner and tropical cocktails at the appropriately named Vertigo and Moon Bar on the rooftop, 61 stories above the city.
The Prince Park Tower Tokyo is a luxurious high-rise hotel in Shiba Park with 626 rooms spread across 35 floors. While the decor could use an update, the Tokyo skyline views — particularly from Panoramic Floor rooms — are stunning and visible through oversize windows, including in the bathrooms. The on-site 12-lane bowling alley is an added bonus.
The Grand Hyatt Taipei is a massive property in the Xinyi District catering to business travelers. But along with its variety of meeting venues, numerous restaurants and bars, and heated outdoor pool, the hotel offers skyline views from many of its 853 rooms. Try taking in the urban landscape from the Presidential Suite, a plush apartment-style unit with a private butler and marble bathtub. The less pricey Grand Executive Suite features an additional window in the bedroom for jaw-dropping Taipei views as soon as you wake up.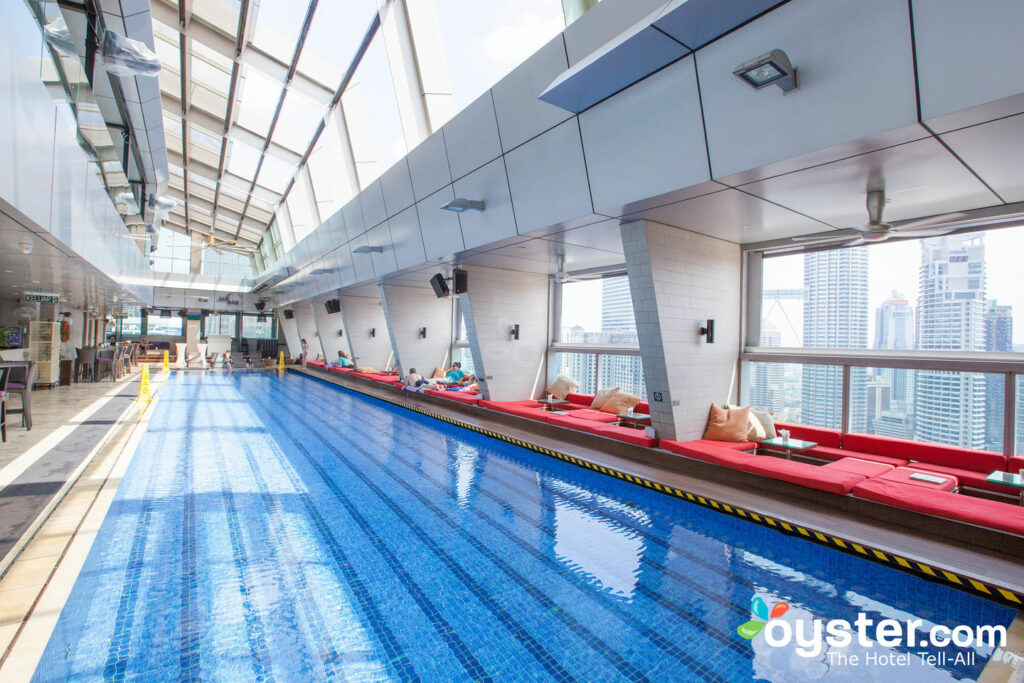 Whether you're sipping cocktails at the rooftop nightclub, working out at the glassy fitness center, or swimming in the window-enclosed indoor pool, the views at Traders Hotel in Kuala Lumpur will likely make your stomach drop at some point during your stay. And then there are the rooms at this luxury property — some of which feature huge windows that frame the Petronas Twin Towers.
Swissotel The Stamford is the tallest hotel in Singapore, so you can count on dizzying views throughout the property. With its location in the commercial center, the hotel is surrounded by towering office buildings — although some look paltry from the Swissotel's impressive 73-story vantage. Dine on modern French cuisine at Jaan restaurant, which also boasts a panoramic backdrop of the city, and stay in a Classic Harbour View Room for endless views across Marina Bay.
Lanson Place Hotel is a stylish boutique property sandwiched between Victoria Park and high-rise apartments in Causeway Bay. Stay here for the elegant European-luxury vibe, access to some of the priciest shopping in the world, and a taste of fast-paced local life. Just don't say we didn't warn you about the views from the rooms, where neighboring high-rises seem close enough to touch.
You'll Also Like:
All products are independently selected by our writers and editors. If you buy something through our links, Oyster may earn an affiliate commission.