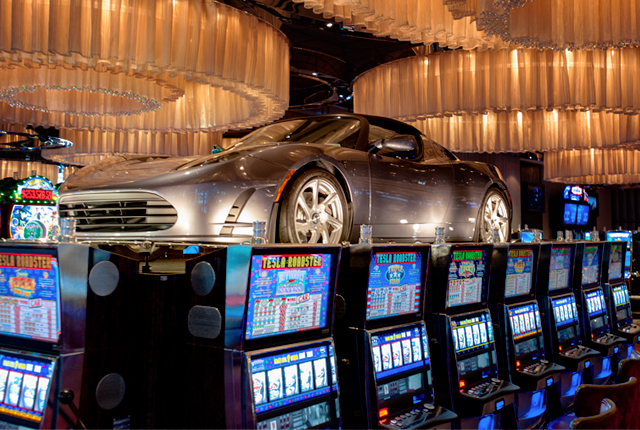 Las Vegas and Atlantic City are two major tourist destinations known for gambling and nightlife, yet they're 2,500 miles apart. The latter has a famed boardwalk, while the former is home to the legendary Strip. The reason you might choose to travel to Las Vegas over Atlantic City, or vice versa, might depend on a few things. While they have obvious similarities, such as glitzy shows, 24/7 table action, and epic pool parties presided over by DJs, there are definitely differences worth noting. Curious about what really separates one from the other? Below, we break it down for you, so you can decide which destination will prevail for your next getaway.
Hotels
Both Las Vegas and Atlantic City are home to a slew of casino hotels with top-notch amenities, like palatial pools, state-of-the-art fitness centers, and posh spas. In Sin City, the Encore at Wynn Las Vegas is about as opulent as it gets, with enormous, beautifully designed rooms that have spacious bathrooms and snazzy features like bedside curtain control. Vegas also has casino-free hotel options for those who want a nightly respite from the sound of slot machines. For one, the Mandarin Oriental trades in casino features for a beautiful spa, two fine-dining restaurants, a peaceful pool, and the rarest of Las Vegas features: serenity.
In Atlantic City, the Borgata Hotel Casino & Spa is the closest you'll get to that sexy Vegas vibe. The luxury property houses a pampering spa as well as an Italian-inspired indoor pool. Its neighbor, The Water Club at Borgata, draws guests who are not as into gambling as they are into relaxing in a chic, upscale environment. There's no casino here, but it does offer a relaxing spa and five heated pools. Both properties are in the Marina District, a quieter area about three miles from the iconic Atlantic City boardwalk.
In both Las Vegas and Atlantic City, you'll find more affordable room rates and thinner crowds (though neither is ever really a place for solitude) between Sundays and Thursdays. This is especially true in Atlantic City, where seasonal demand plays a larger role than it does in Las Vegas. Midweek rates in January, February, and March in Atlantic City can be surprisingly low.
Family-Friendly Vibe
Are either of these destinations going to be your first choice for a vacation with young kids? Unlikely. But maybe you're headed to a convention in Las Vegas and want to bring the family along, so that the trip can double as a vacation. Or, you live in New York City, Philadelphia, Baltimore, or Washington, D.C. and want to try taking the kids to Atlantic City for a long weekend. In either scenario, can you all have a good time? Absolutely.
In Las Vegas, kid-pleasing attractions are not hard to find, from the SpongeBob SquarePants movie and ride at the Excalibur Hotel and Casino and Mandalay Bay Resort & Casino's shark reef aquarium to the roller coaster at New York New York Hotel & Casino and the respectable indoor amusement park at Circus Circus Hotel & Casino Las Vegas.
Over on the East Coast, Atlantic City's Steel Pier, an amusement park with two coasters, a Ferris wheel, a double-decker carousel, and other classic rides, rivals Coney Island in Brooklyn for old-timey family fun. Parents and their little ones can be found enjoying the Gardner's Basin area, where you'll find the Atlantic City Aquarium and catch whale and dolphin-watching excursions. There's also a clean, free swimming beach (next to a boardwalk crammed with candy shops and arcades, no less). Because of that, and the fact that the raunchy side of Vegas is always on full display (think prominent signs for strip clubs, handouts for escort services, and more liberal open-container laws), Atlantic City might be the better bet for finding a family-friendly atmosphere.
Fresh Air Fun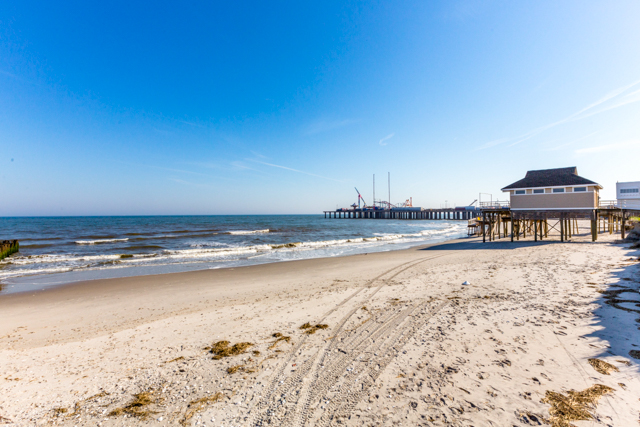 Some of the areas around Las Vegas have gorgeous scenery. Lake Las Vegas in Henderson and Red Rock Canyon in Summerlin. Lake Mead and the Hoover Dam are a little farther, but still an easy ride. If you have enough stamina, you can even make a (long) day trip to Zion National Park in Utah.
Boaters can take full advantage of being able to sail to Atlantic City, docking at one of the city's marinas. Rent a slip overnight and sleep on your vessel, or weigh anchor for just a few hours to grab a drink at one of the nearby hotels. The hotels in the Marina District cater to boaters. The Golden Nugget, for example, offers a slew of amenities for visitors who arrive via water — shower and laundry facilities as well as pool access, among others. In general, water-based activities abound in Atlantic City, including parasailing, deep-sea fishing, and chartered cruises. The beach is clean, patrolled by lifeguards, and free to everyone.
Transportation
Once you've arrived in Las Vegas or Atlantic City, there is no need for a car in either place. Las Vegas has plenty of buses, cabs, and limos (though the ride from one end of Las Vegas Boulevard to the other in the shank of the evening is often a crawl). Plus, the budget-friendly monorail makes seven stops from one end of the Strip to the other. In Atlantic City, inexpensive shuttle buses called Jitneys, run reliably between all the major hotels, the Marina District, and the boardwalk area. You can even hop aboard a rolling cart to traverse the length of the boardwalk, which was the first in the United States.
Activities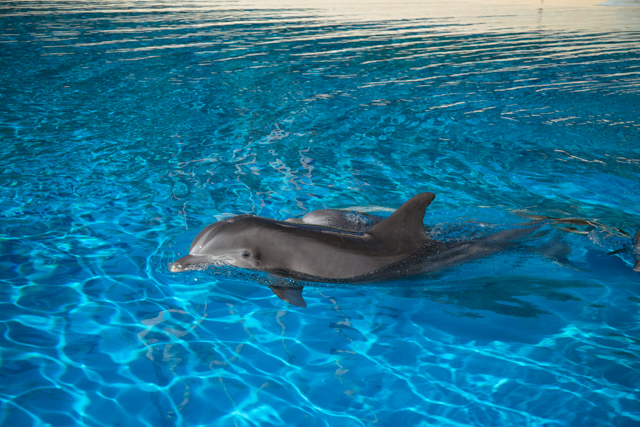 Even if you take gambling out of the picture, both destinations have plenty to keep you busy. In Las Vegas, Siegfried & Roy's Secret Garden and Dolphin Habitat at The Mirage Hotel & Casino houses lions, tigers, panthers, and bottlenose dolphins in a zoo-like setting. The performers and shows in Las Vegas are household names (think Blue Man Group, Celine Dion, Cirque du Soleil, "The Lion King," and more). Some of the entertainment is even free, such as the erupting volcano outside The Mirage Hotel & Casino, the famous dancing fountains at the Bellagio, and the magnificent floral displays in the lobby of the Wynn Las Vegas.
Atlantic City also hosts headliners who are not too shabby — Bruce Springsteen and Lady Gaga, to name two. But unlike Las Vegas, the big names are largely reserved for the weekends. During the week, shows are mostly the cabaret type.
Shopping is a form of entertainment for many. Las Vegas has long catered to well-heeled shoppers throughout its hotels and upscale retail havens, such as the Forum Shops at Caesars Palace Hotel & Casino. At the north end of the Strip, the flashy Fashion Show mall contains scores of mainstream stores, such as Zara.
In Atlantic City, the Playground is a high-end mall overlooking the Atlantic Ocean, right across from Caesars Atlantic City. Here, wares from Louis Vuitton, Tiffany & Co., and more are ogled by discerning shoppers. From the third level, you can get lovely views of neighboring Brigantine Beach. If you're looking for something more affordable, head over to Tanger Outlets, about a 10-minute stroll from the boardwalk at South Missouri Avenue.
Dining
Las Vegas is truly a foodie heaven. The Strip is peppered with world-class restaurants helmed by celebrity chefs, showcasing seemingly every type of cuisine. While cheap food (cheap, good food at least) is in short supply, you can eat well for a reasonable price at casino buffets. The Bellagio's buffet is a top pick.
Buffets can be found in Atlantic City, but they're less showy and cost just as much. So while Atlantic City holds its own with several superb restaurants (most notably, the Wolfgang Puck American Grille, Angeline by Michael Symon, and Bobby Flay Steak, all at Borgata Hotel Casino & Spa), it can't stand up to the bounty and variety of outstanding eateries in Las Vegas.
Weather
On average, there are 294 sunny days a year in Sin City, which is situated in the Mojave Desert. It is dry and warm most of the year. Even January is mild, with temperatures in the 50s during the day. Summers, however, can be blistering, The 104-degree weather is not for everyone. Atlantic City, on the other hand, typically gets 203 sunny days a year and tends to be humid. The summer heat is tempered by the ocean breeze, and the winter months usually bring a few inches of snow.
You'll Also Like:
All products are independently selected by our writers and editors. If you buy something through our links, Oyster may earn an affiliate commission.