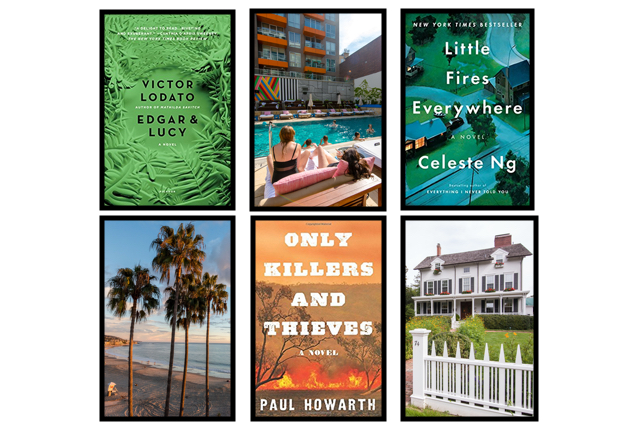 Like sunscreen, sunglasses, and swimwear, a good book is a summer travel essential. Enhanced by the destination in which you read it, a book can turn those hours spent sunbathing by the pool or lounging on the beach into an enriching, enlightening experience -- or you know, fill the time between cocktails. To help with your reading list, we've perused the bookshelves and scoured the bestseller lists. From page-turning mysteries to existential short stories, here are the best summer reads for 2018 (plus, a tip on where to read them).
A family drama from author Celeste Ng, "Little Fires Everywhere" is an entertaining, engaging study on motherhood and morality. When a quirky artist and her teenage daughter move into a family's suburban rental, the owners soon become drawn to the alluring pair, threatening the status quo of their conventional lives. A page-turner with secrets at the heart of it, this book is best read in the Hamptons while imagining the mysterious worlds that exist beyond the picket fences of the coastal communities. Stay at The Hedges Inn, a picture-perfect Victorian gem with manicured gardens in East Hampton.
If you saw and loved the movie "Lean on Pete," adapted from Willy Vlautin's novel, then you'll be open to the author's latest release. "Don't Skip Out On Me" is the story of Horace, a solitary young ranch hand with dreams of becoming a world champion boxer. Drifting from Tucson to Vegas and onto Mexico, his journey is one of a young man beset by loneliness and doomed hope. Both heart-breaking and tender, it's the perfect book to read during a trip to Las Vegas, a destination with no shortage of dashed dreams. Horace, or his ring alter ego Hector Hidalgo, is a fan of old-school fighters, so stay at the iconic Flamingo Las Vegas Hotel & Casino on the Strip, and enjoy the book from a high-roller room with panoramic views.
"Edgar & Lucy" zeroes in on the relationships — including the secrets, loves, and losses — in one New Jersey family with Edgar Fini at the heart of it. A must for any fan of Donna Tartt's "Goldfinch," this 544-page drama is full of dark deeds, unlikely love, and adventure. Enjoy dipping in and out of it while dipping in and out of the rooftop pool at McCarren Hotel & Pool in New York City. Located in Brooklyn, the hotel is a stylish, scene-y spot.
The debut novel from author Paul Howarth, "Only Killers and Thieves" is a dark western set in the Australian outback in the late 19th century. A vivid tale of race, power, violence, morality, and above all, brotherly bonds, this story should be read on a beach surrounded by beauty to offset the gritty subject matter. When the parents of two brothers are murdered, the siblings head out on a journey of revenge that make — and break — them. If Australia is too far to visit, head to California instead. Stay near the water at The Inn at Laguna Beach. Perched on a bluff, the hotel delivers dramatic ocean views as well as easy access to the beach.
Patricia Highsmith fans will be able to get down with Christine Mangan's debut novel, "Tangerine," a thrilling mystery that takes place during a vacation in Tangier. After falling out of touch with an old school friend, a chance meeting in the unfamiliar Moroccan city brings Alice and her old pal, Lucy, together once again. However, things take a turn after a mysterious disappearance and the realization that all is not what it seems. Read the book in — where else — Tangier, while staying at the three-and-a-half pearl El Minzah Hotel. The historic property's beautiful Moorish architecture and large pool are its highlights. Given that the hotel is located close to many of Tangier's main sights, exploring the city like the protagonist, Alice, is easy.
A surreal series of short stories from "New Yorker" contributor Michael Andreasen, "The Sea Beast Takes a Lover" is guaranteed to be the strangest thing you read this summer — and that's a good thing. From an extramarital affair ending with an alien abduction to the desires of a lovesick kraken, Andreasen's writing is both bizarre and emotionally engaging. The presence of the mythical sea beast in the title means that travelers should read this in a place with a strong maritime history. We recommend Nantucket. Stay at The Wauwinet, a charming New England property surrounded by both the bay and the ocean. Located away from downtown in one of the most remote parts of the island, it's the perfect spot to muse over Andreasen's brilliant work.
No list of summer reads would be complete without at least one rom-com. "The Wedding Date" begins with a classic meet-cute as our two main characters, Alexa and Drew, stumble into each other on a stuck elevator. One thing leads to another and before you know it Alexa is playing the role of besotted girlfriend at Drew's ex's wedding. Will love bloom for real? You'll have to read and see. Bring the book with you to Tulum and stay at the stylish Be Tulum Hotel, an upscale, adults-only beachfront property. Once you've finished the book, there are plunge pools, a spa, an infinity pool, and a beach club to bump into your own wedding date.
You'll Also Like:
Oyster.com is a participant in the Amazon Services LLC Associates Program, an affiliate advertising program designed to provide a means for sites to earn advertising fees by advertising and linking to Amazon.com. Oyster also participates in the SkimLinks and SkimWords affiliate programs.
All products are independently selected by our writers and editors. If you buy something through our links, Oyster may earn an affiliate commission.