Best Beach Hotels in Grenada
Oyster knows what travelers look for in their hotels. When we visit properties around the world, we evaluate how every feature stacks up against the competition, from the rooms to the pools to the restaurants. So if you're planning a trip and need a place to start, you've come to the right place. Take a look at our top beach hotel picks in Grenada, and get inspired!
See All Grenada Hotels
1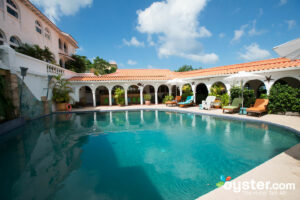 Mount Cinnamon, an upscale boutique hotel tucked away on a hillside perched over Grand Anse beach, features spacious villas and suites with colorful, contemporary decor. The resort's excellent beach cabana area is its stand-out feature, providing a relaxed oasis with comfortable loungers and daybeds, a bar and cafe, and games in a lovely garden. Grand Anse is one of the most striking and popular beaches on Grenada, known for its long stretch of white sand and calm waters. Mount Cinnamon is situated at the quieter side of the beach, though there is still a lot of foot traffic and the occasional vendor.
2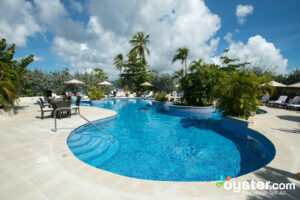 Spice Island Beach Resort has been family owned and operated since it first opened on Grand Anse beach in 1961, though this chic, all-inclusive luxury resort feels brand new. Spice Island's property boasts a quarter-mile of beachfront on the famous two-mile long Grand Anse beach. Grand Anse is the most popular beach on the island, so its far from an isolated getaway here. There is a good amount of foot traffic on the sand, from both local vendors selling wares and guests from other nearby resorts. (The beachfront suites do provide a private lounging area.)
3
The Grenadian by Rex Resorts, known simply as The Rex to locals and regulars, is likely Grenada's biggest property by acreage, and is an old household name on the island. Flanking each side of the large pool area, there are two separate picturesque white-sand beaches, each with a different atmosphere. To the left is Magazine beach, a long stretch of beach that is quieter and more tranquil.  On the right side is where the dive shop and water sports are located, which is more lively, with lots of kids playing games. The resort is not bordered by any other hotels, so the beaches are largely peaceful, though some vendors will make their way around.
4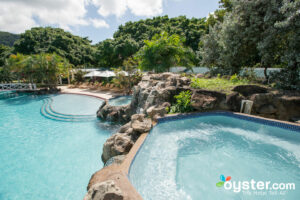 The Radisson is a modern, upscale 229-room chain hotel with a quarter-mile of beachfront on the bustling Grand Anse. The resort has 1200-feet of beachfront on the famed Grand Anse, and for better or worse, it's in the most popular section of the most popular (and largest) beach in Grenada. There is a gate separating the property and gardens from the beach. There is a lot of foot traffic on the sand here – it is not a quiet, secluded getaway. Vendors stroll up and down the beach at all hours, trying to tout their wares and chatting up the tourists.
5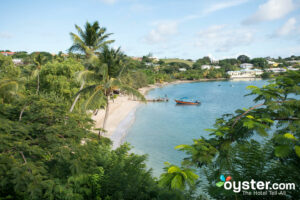 This 30-room luxury boutique hotel is located in an isolated cove with a quiet, tranquil white-sand beach. It sits on a small beach on a peninsula called Lance Aux Epines, about a 10-minute drive from the action at the popular Grand Anse beach area. The property is spread over 8 acres in a very quiet, private area with few other resorts close by (Lance Aux Epines Cottages down the beach is another small, quiet property) -- making it a peaceful, secluded experience.
6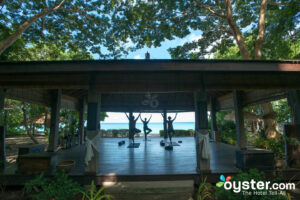 A bumpy back road leads to this eclectic, posh but laid-back boutique resort tucked away on a steep, leafy hillside on a peaceful, secluded beach. A highlight of Laluna is the lovely, secluded cove it is set on, with rock cliffs on either end. This serene, isolated beach is a tranquil paradise -- especially compared to the big beaches like Grand Anse, which gets a lot of foot traffic and vendors selling souvenirs. The gentle sea features the bright turquoise hues that the Caribbean is known for. There are many daybeds and padded lounge chairs tucked in different corners of the property, and plenty of shade to be found. Water sports like kayaking, snorkeling and sailing are included.
7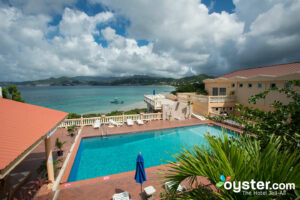 The highlight of the mid-range Flamboyant Hotel and Villas are its stunning views, peeking out from a hillside overlooking the beloved Grand Anse beach. Guests should be ready for a climb though, as the rooms are located up several steps on a steep incline. Grand Anse is a two-mile stretch of golden sand and calm blue waters that is known as the most beautiful and popular beach on the island.  It's fame also brings vendors, who will approach guests to sell souvenirs. However, this end of the beach is slightly quieter.  Guests can also walk over the hill to Mourne Rouge beach, which is a smaller and more isolated, serene beach area.
8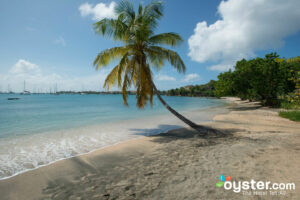 The Lance Aux Epines Cottages offers four apartments and seven quaint cottages on a lovely, peaceful beach. Lance Aux Epines Cottages is located on the southwest corner of the vibrant island of Grenada. The property rests on a small section of serene beach in Prickly Bay, which is a quieter area that does not get a lot of foot traffic, as at bigger beaches like Grand Anse. The water is calm and the beachfront is relaxed and peaceful, with plenty of chairs and shady areas.