Best Luxury Hotels in Grenada
Oyster knows what travelers look for in their hotels. When we visit properties around the world, we evaluate how every feature stacks up against the competition, from the rooms to the pools to the restaurants. So if you're planning a posh trip and need a place to start, you've come to the right place. Take a look at our top luxury hotel picks in Grenada, and get inspired!
See All Grenada Hotels
1
This 225-room luxury all-inclusive, couples-only resort is one of the newest additions to the Sandals brand. It's spread over a sprawling 17-acre property on the southwestern tip of the island, but all the main property features are centrally located, so it's not difficult to find your way around. With five pools, a lovely spa and fitness center, numerous activities, and 10 restaurants, couples won't be at a loss for things to do. It's the romantic touches such as fire pits, gazebos, and swinging chairs on a pier looking out over the water that make the property distinctly Sandals.
2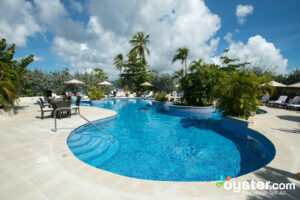 This luxury all-inclusive resort is one of the most elegant and well-regarded hotels on the island, with 64 posh suites dotting a quarter mile of beachfront. Spice Island is a serene oasis amidst the bustling Grand Anse beach area, with clean lines, and a polished, upscale vibe that still maintains the laid-back charm of the Caribbean. The resort includes two restaurants, a beautiful spa, and a variety of activities, but peace and relaxation are also easy to find. The nice pool area is quiet and private, yet the beach -- though beautiful and clean -- is shared by locals and guests of nearby resorts.
3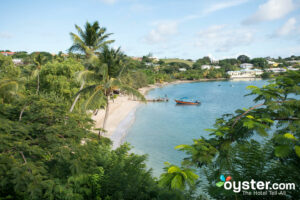 This 30-room luxury boutique hotel is located in an isolated cove with a quiet, tranquil white-sand beach. The light, airy suites feature contemporary decor and stylish bathrooms, and some offer private plunge pools. This family-operated property offers some personal touches, such as private breakfast served on your room's deck. Two well-regarded restaurants, a pool, fitness center and spa with sweeping views are available, though most guests are content to relax on the palm-tree-shaded sand.
4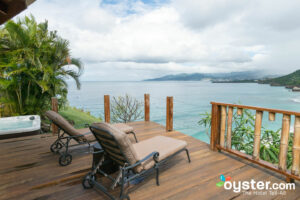 This seven-room, upscale boutique resort features one- and two-bedroom self-catering villas in a lush, jungle-like setting. The artfully rustic villas feature natural wood finishes, beautiful, well-stocked kitchens, and -- most importantly -- picturesque decks with private hot tubs and great views. Down a steep hill, there is a spacious beachfront restaurant and bar, as well as a quiet, tranquil beach.
5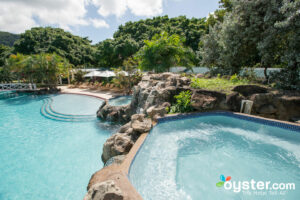 The Radisson is a modern, upscale 229-room chain hotel with a quarter-mile of beachfront on the bustling Grand Anse. Renovations provided updated furnishing and a sleek, clean feel, though as with some corporate brands, the look tends to be a bit generic – there's not much by way of Caribbean flavor. Even if there isn't much local "spice" within the fences (Grenada is the Spice Isle, get it?), guests are a short walk along the sand from local food and crafts. But with lovely amenities such as the excellent oasis pool, the Radisson offers a great value for an upscale property directly on the beach.
6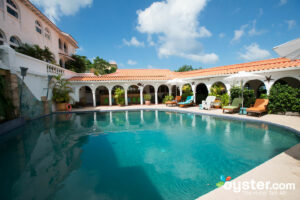 Mount Cinnamon, an upscale boutique hotel tucked away on a hillside perched over Grand Anse beach, features spacious villas and suites with colorful, contemporary decor. The self-catering rooms offer full kitchens and great views, but guests should be ready for a steep walk down to the beach. The resort's excellent beach cabana area is its stand-out feature, providing a relaxed oasis with comfortable loungers and daybeds, a bar and cafe, and games in a lovely garden.
7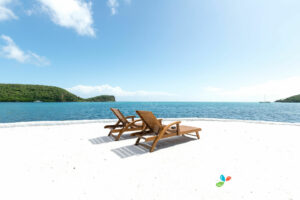 The unique, artistic design of this 11-room boutique hotel helps it stand out against the upscale competition. The main building looks like something between between a spaceship and a Hobbit mansion, and is meant to blend into the natural landscape. Other highlights include the picturesque infinity pool and elegant, spacious rooms. However, for true beach bums, the man-made beachfront area may be a drawback.
8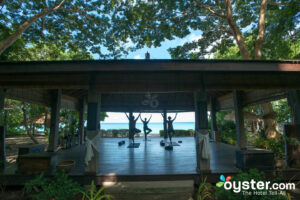 A bumpy back road leads to this eclectic, posh but laid-back boutique resort tucked away on a steep, leafy hillside on a peaceful, secluded beach. Laluna Hotel's blend of Indonesian (teak daybeds, Balinese spa), Italian (pastas and wine), and breezy Caribbean elements mingle into a unique, effortless cool. The daily yoga classes, simple cottages, and organic garden help make this 16-room upscale resort the epitome of bohemian-chic.