New York City is notoriously expensive. Locals learn cost-cutting tricks early, and it isn't long before first-time tourists discover the price of visiting the Big Apple, particularly when it comes to hotel rates. Until a handful of years ago, alternatives to staying in a pricey Midtown or Time Square hotel were slim, but the rapid gentrification and development in Brooklyn have opened up hotel options with more affordable rates and tons of perks. We've scoured the borough and found the best bang-for-your-buck hotels in Brooklyn.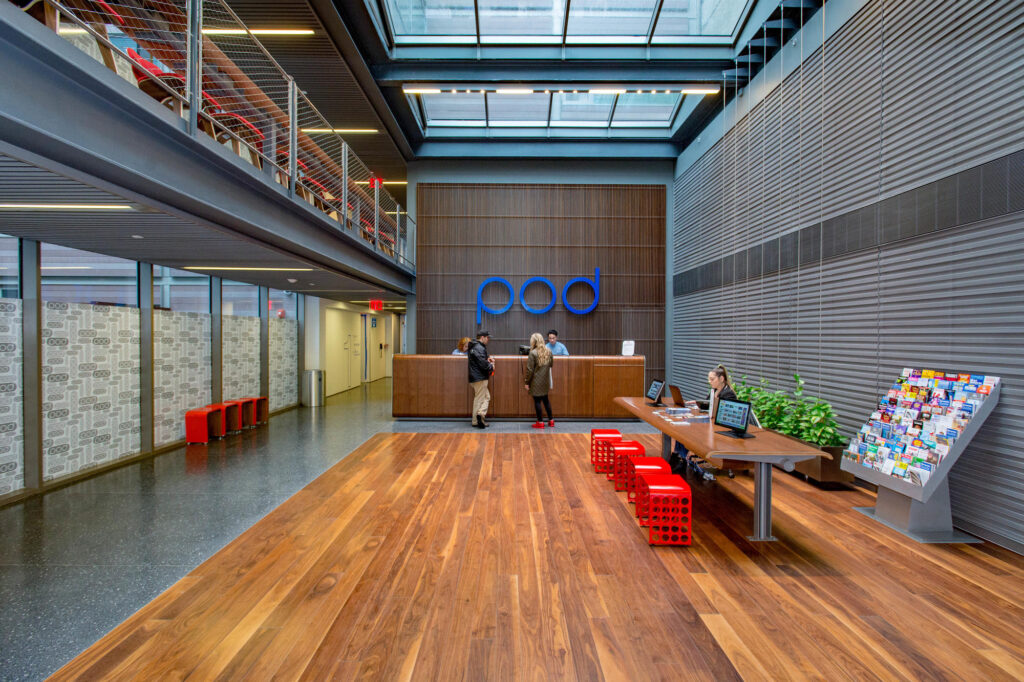 An excellent location in the heart of Williamsburg, a solar-powered rooftop bar, plenty of outdoor garden space, an on-site restaurant, and great freebies just might make Pod Brooklyn the best bang-for-your-buck hotel in town. Rooms are tiny (it is a Pod hotel, after all), but sport full bathrooms, flat-screen TVs, small work desks, and a chic minimalist design. Rates are typically below $150 a night, but can sometimes dip below $100 in the low season. Plus, expect perks like weekly walking tours, summer yoga, fast Wi-Fi, welcome drink tickets, and free bike rental.
Just two blocks from the subway, this brand-name boutique property has bargain rates compared to hotels in Manhattan. In addition to clean and contemporary rooms, guests also rack up freebies like a breakfast buffet, Wi-Fi, on-site parking, and 24-hour access to decent fitness and business centers. Rooms come stocked with microwaves and mini-fridges, flat-screen TVs, CuisinArt coffeemakers, and cotton robes. However, the hotel's location in Crown Heights is right across from the elevated LIRR train tracks, so definitely BYO earplugs.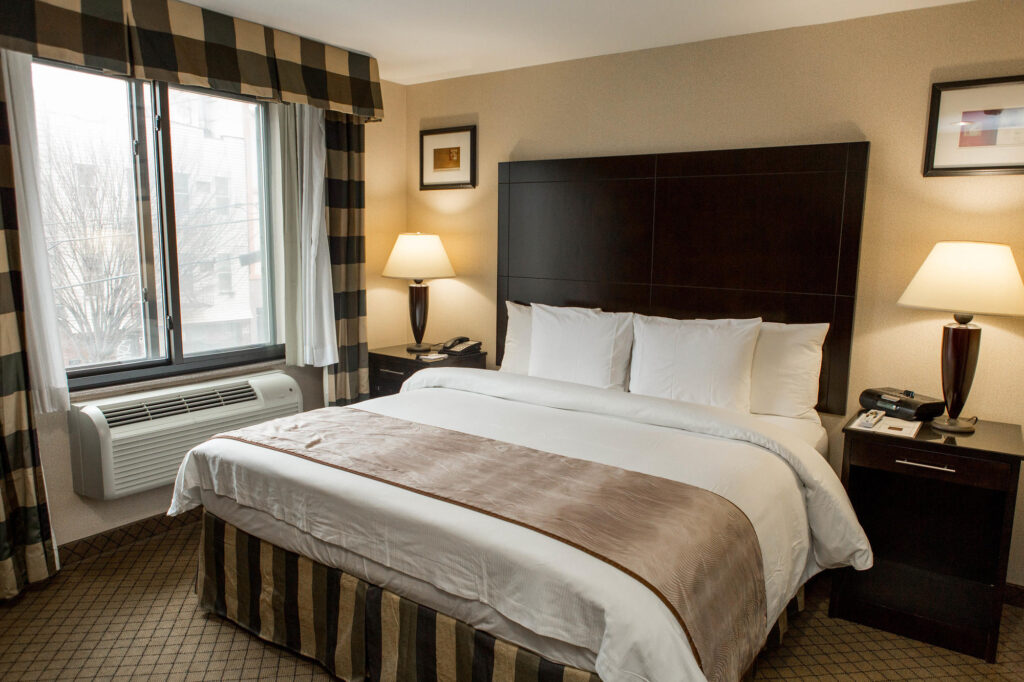 Colorful and contemporary rooms aren't the only draw at this bang-for-your-buck mid-range hotel in Williamsburg. It's also an eco-friendly and LGBTQ-friendly space. Rates include parking, a continental breakfast every morning, high-speed Wi-Fi, and 24-hour self-serve coffee. Guests also have access to a small business center with a computer work station. We especially like the fact that rooms, which also come with DirecTV (including premium channels), iPhone docks, free bottled water, and a mini-fridge, have soundproof windows to block out all the city street noise.
This upper-middle-range boutique property doesn't have much in the way of on-site amenities (only a business center), but its value lies in its big rooms. Clean, modern rooms are on the spacious side for NYC and all come with bathrobes, flat-screen TVs with DirecTV and premium channels, and other comforts like minibars, bathrobes and slippers. They're also not shy with brand names: Units are also outfitted with Keurig coffee machines, Kartell furniture, comfy Sealy beds, Grohe rainfall showerheads, and iHome docking stations with Bose speakers. Oh, and 90 percent of the rooms have balconies (though the view is nothing to write home about).
Located on an industrial street between Park Slope and Gowanus, this pet-friendly hotel may not have the chicest of locales. However, tons of bars, restaurants, and shops are only a block or two away on either side, plus it's just a 15-minute walk to the Barclays Center and multiple subway lines at Atlantic Terminal. The comfortable and spacious rooms are pretty on par with what you'd expect from a mid-range brand-name hotel, and are stocked with mini-fridges, microwaves, and flat-screen TVs. Some rooms have whirlpool tubs. The value comes from freebies, particularly the generous hot breakfast with items like eggs, pancakes, sausages, and fresh fruit. Parking costs extra, but Wi-Fi is free.
This upscale spot may have a heftier price point than most of the other properties on this list, but it still packs a punch in terms of value. In addition to having the Sheraton name, it's one of the larger hotels in Brooklyn, boasting 321 rooms and over 6,000 feet of conference and meeting room space. Guests can expect Sheraton-brand beds with down pillows, flat-screen TVs, and contemporary bathrooms. Wi-Fi is also free in common areas. The real bang-for-your-buck appeal comes in the hotel's on-site features: There's a Starbucks, Italian eatery, Japanese restaurant and rooftop bar, a sizable fitness center with modern equipment, and an indoor pool and hot tub. Plus, a convenient downtown Brooklyn location just two blocks from the subway doesn't hurt either.
This downtown Brooklyn boutique hotel is within walking distance to restaurants, bars, and shops on Atlantic Avenue, plus it's close to the Atlantic Terminal subway hub and Barclays Center. Rooms feel more modern and stylish than expected for a hotel in this category, and all come with 42-inch flat-screen TVs, Keurig coffee machines, fun chalkboard paint walls, and minibars. Some rooms even sport murals by local artists and suites feature living room spaces with hammocks or dining tables and added bunk beds. Take advantage of freebies like breakfast, Wi-Fi, and bike rentals.
Situated between South Williamsburg and Bed-Stuy, this mid-range hotel is a great bang-for-your-buck option for families since most rooms come with full kitchens (the closest supermarket is just a block away). Rooms are comfortable and the hotel has free breakfast, 24-hour coffee, Wi-Fi, a small fitness center, and a business center. The Brooklyn Navy Yard is just a 15-minute walk away, but there's not much else in the immediate vicinity for tourists. However, the hotel is surrounded by bus lines and there is a subway within a 10-minute walk.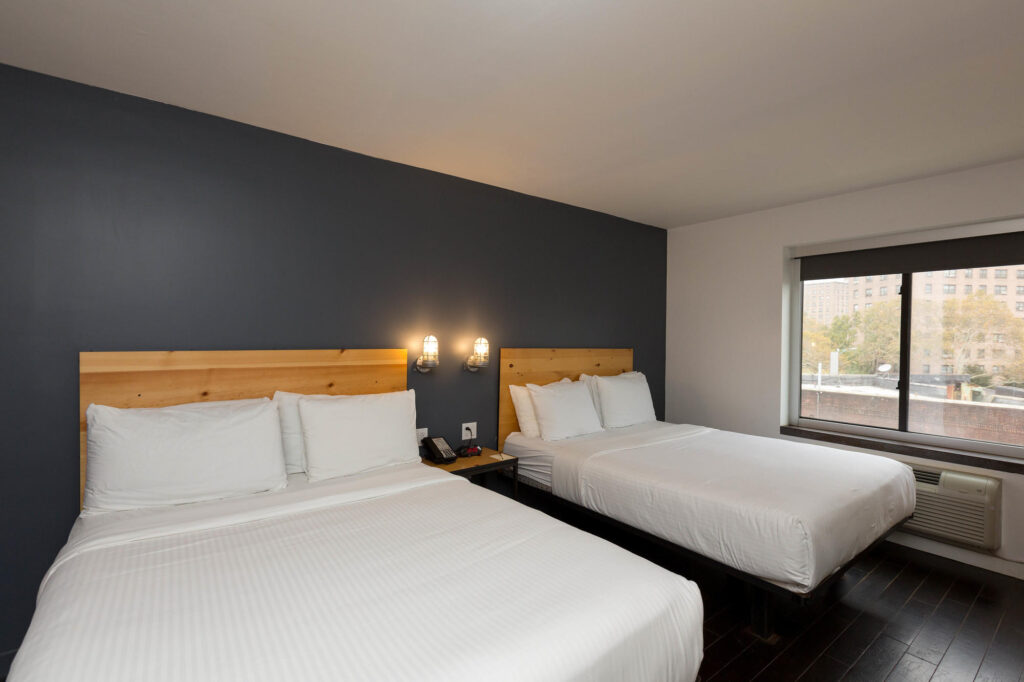 This fun and funky boutique hotel reflects the young, artistic neighborhood of Bushwick that it calls home. Murals and artwork from local artists give the hotel a unique gallery vibe. Rooms feature an industrial-minimalist look, platform beds, flat-screen TVs, and coffee stations. Free Wi-Fi, day passes to local gyms, and a continental breakfast add value to the already affordable rates. There's also a 24-hour business center, overnight security, and free daily newspapers available in the lobby.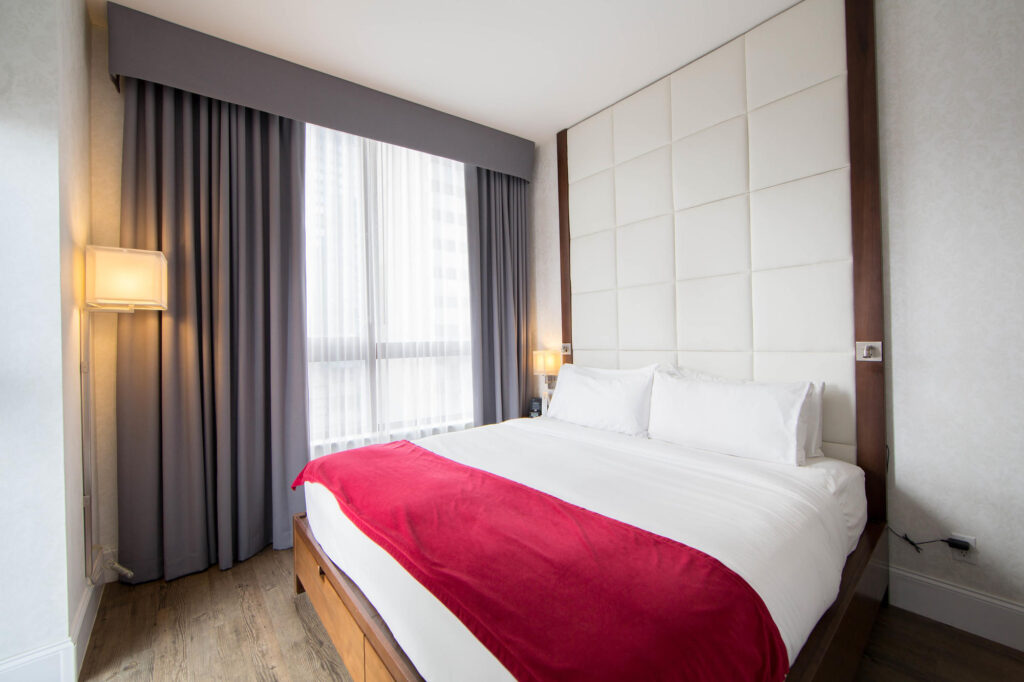 This mid-range property has an exceptionally convenient location in downtown Brooklyn and highly competitive rates. To say the 128 rooms here are small is an understatement, but each one is designed to be both chic and superbly functional. All rooms have Keurig coffeemakers, free Wi-Fi, flat-screen TVs with satellite channels, and mini-fridges; some even have small patios. The lobby level of the hotel is home to a Brewhouse with food and drinks, and room service is available after hours. Other on-site perks include a rooftop terrace, business center, and fitness center.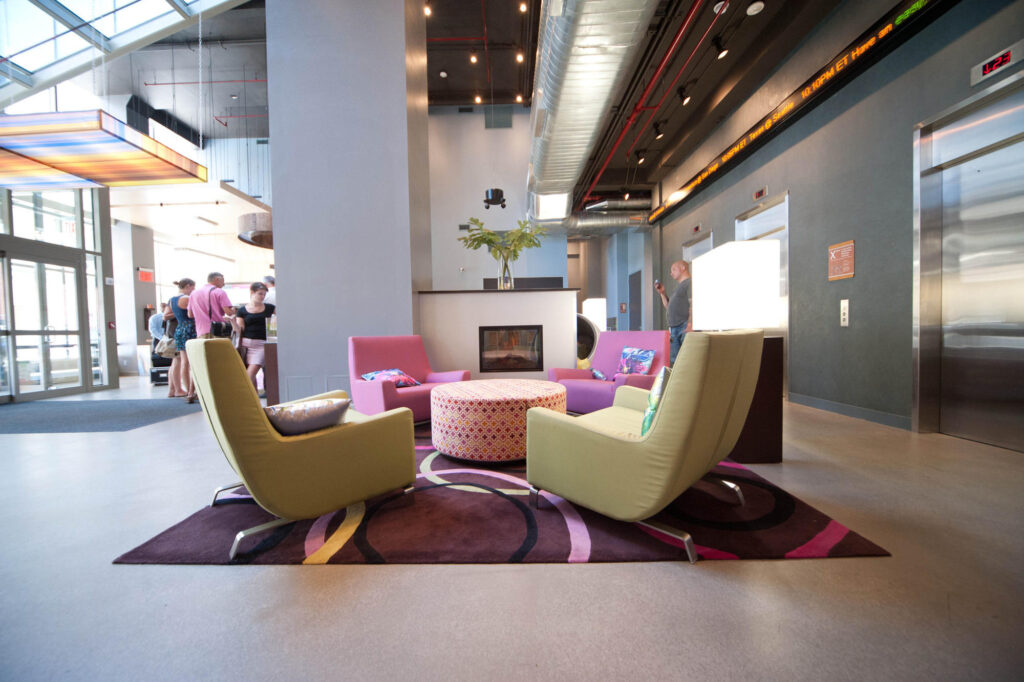 Aloft New York Brooklyn is a stylish hotel in downtown Brooklyn with great rates. Rooms are spacious and modern, featuring walk-in showers, Bliss toiletries, comfy signature beds, and a 42-inch TV with connectivity capabilities. You'll also get free Wi-Fi throughout, a business center, and an all-day cafe. A rooftop bar keeps the party going with a view, and guests can try their luck on the pool table or work it out in the small 24-hour fitness room.
Rates at this upscale hotel are on the higher end for Brooklyn, but you'll get about twice as much bang for about half as much buck compared to a Manhattan hotel. Any time we can save a few hundred bucks and still snag features like pillow menus, balconies, and free neighborhood tuk-tuk transportation, we're in. This pet-friendly property also boasts free Wi-Fi, a rooftop pool, a hip on-site bar, and stylish rooms with Bluetooth speakers, minibars, and white noise machines. Oh, and it's also in North Williamsburg, one of the trendiest neighborhoods in the borough.
When McCarren Hotel & Pool opened, it was the talk of the town among locals, thanks to its hip rooftop pool. The mid-century modern design gives it style points, while reasonable rates add value. Rooms sport beds with Frette and Sferra linens, plus minibars, flat-screen TVs, and iPod docks. Upgrades to suites bring Nespresso machines, free coffee, and wet bars. And then there's the aforementioned rooftop pool, which also has a good bar happy hour and stunning views. Free Wi-Fi, a 24-hour gym, and an on-site restaurant sweeten the deal.
You'll Also Like:
All photos courtesy of Oyster.com
All products are independently selected by our writers and editors. If you buy something through our links, Oyster may earn an affiliate commission.