Best Kid-Friendly Hotels in Portugal
Take a look at the best kid-friendly hotels in Portugal.
See All Portugal Hotels
1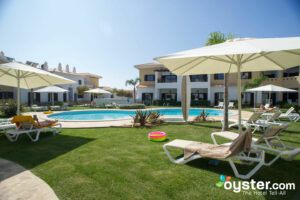 Sagres Time Apartamentos is a mid-range property offering 40 one- and two-bedroom apartments. It's located in a quiet residential area of Sagres that is rather unexciting, but it's within a five- to 15-minute walk from the beach, restaurants, bars, and shops. Apartments are spacious and modern, if plain, and kitchens are fully equipped with everything needed for cooking and dining. All living areas and bedrooms have air-conditioning and flat-screen TVs, and housekeeping visits daily. There aren't many features here, but the outdoor pool is a popular spot. Travelers looking for a place with more amenities could check out the lively Memmo Baleeira Hotel, which has a restaurant, bar, free breakfast, and a fitness center and spa, though rates will be a bit higher.
2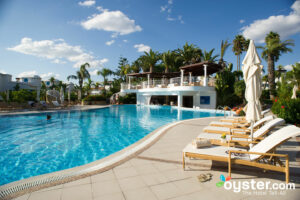 Situated on a cliff facing the ocean, the luxury Vila Vita Parc Resort & Spa has the feel of an elegant estate and village spanning 54 acres of garden grounds. The property has 180 rooms, the most basic of which have contemporary decor by local artists, sunken living rooms, and outdoor areas. Many features are off-site or seasonal, but the resort presents a slew of dining and recreation options, along with access to a small beach with Portugal's largest reef offshore. The nine restaurants include a two-star Michelin spot, and there are seven bars and an elegant wine cellar. Other bonuses are the European-style holistic spa, eight swimming pools, kids' clubs, and golf facilities. Across the road, the resort's main competitor, Blue & Green Vilalara Thalassa Resort, offers a well-respected Thalassotherapy spa and more tranquility, but less of a luxury-estate feel.
3
The Cliff Bay (Porto Bay) is a luxury hotel with a striking cliff-side setting overlooking the Atlantic, a bit more than a mile from Funchal's city center. It's home to Madeira's only Michelin-star restaurant, two swimming pools (one freshwater, one saltwater, and a kiddy pool), and a luxe spa. The 200 rooms are pleasant, bright, and spacious, and most have balconies with superb ocean views. The resort as whole is well-oiled with plenty of polish, if not a huge amount of character. For that, travelers might want to check out the 18th-century Quinta Jardins do Lago -- far from the sea but set within lush botanical gardens.
4
Algar Seco Parque is an attractive three-and-a-half-pearl hotel offering stellar ocean views and classic Portuguese style. The scenic property, set on a hillside, is about 10 minutes by foot from the heart of the village. Artisanal landscaping and bountiful flowers lend it incredible character, while the hotel includes a nice mix of 47 total traditional suites, bungalows, and villas offering either pool or sea views. All include amenities like flat-screen TVs and spacious, Mediterranean-style bathrooms and kitchens. There are three pools (including one for kids), as well as a breezy bistro that overlooks the ocean and the pools. Guests seeking more diverse amenities may prefer the nearby Tivoli Carvoeiro Hotel.
5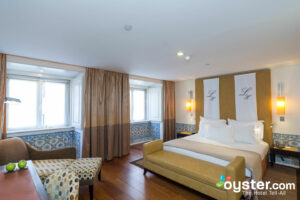 This 40-room hotel housed in an 18th-century building on bustling Avenida da Liberdade mixes modern decor with restored historic touches. (Most of the ironwork is original, as is the wooden front door.) The predominant look is sleek and contemporary. While the room decor isn't quite luxurious, it's certainly attractive, with warm chocolate and beige tones, pops of pattern, wood floors, and sepia-toned photographs. The reading lights attached to the headboards are a convenient detail. Many rooms have Juliette balconies looking out onto the tree-lined street, reminding guests of the hotel's fabulous location; numerous major sights -- as well as popular neighborhoods -- are within walking distance.
6
The Suite Hotel Eden Mar in Porto Bay isn't Funchal's most exciting property, but its no-fuss approach seems to be one of the reasons it's so popular with repeat guests. For a three-pearl, mid-size hotel (146 rooms), there's a good choice of facilities, and the beautiful hillside gardens are a highlight. Plus, as part of the Vila Porto Mare resort, guests also have access to facilities including a spa and tennis courts at two sister hotels. The relaxed vibe and quieter setting away from the city center appeal to young families and more mature guests. Rooms have at least partial sea views and amenities like air-conditioning and a kitchenette, but lack character. It's worth comparing rates at the Pestana Carlton Madeira, which has similar features and is closer to the center.
7
Housed in a 19th-century palace in a quiet, upscale neighborhood a little outside of the city center, the Olissippo Lapa Palace is one of the most iconic luxury hotels in Lisbon. It is known among well-heeled couples and business travelers for its opulent interiors, charming gardens complete with a pool, and excellent Mediterranean restaurant. The quiet spa has an indoor pool and several massage rooms, and the fitness center, though small, has plenty of cardio and strength-training equipment. Elegant rooms have upscale amenities and lots of Old World character, but some may find the rich fabrics, plush carpets in pastel tones, and ornate antiques a little stuffy. The Pestana Palace Hotel has a similar historic feel but lower rates.
8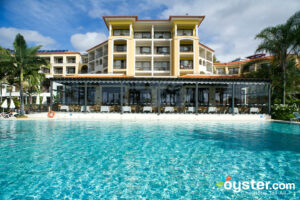 The upper-middle-range, 198-room Porto Mare features a plethora of on-site facilities and dining options, as it sits in the center of the Vila Porto Mare resort complex. The hotel is close to Lido Promenade and free shuttles run into Funchal's old town multiple times a day, but the closest beach is roughly a 30-minute walk away. Though there are ample restaurants and shops nearby, guests may be content to stay at the hotel, as there are an array of pools -- both indoors and outdoors -- a kids' club, and sports facilities. Earth-tone rooms have flat-screen TVs, docking stations, and mini-fridges, while suites add kitchenettes. Some areas are looking a bit dated, but overall, it provides a solid stay for couples and families. Couples may prefer the more modern and stylish Pestana Promenade Ocean Resort Hotel.
9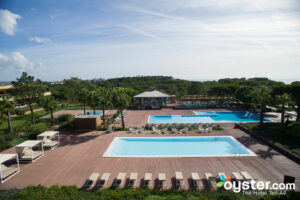 EPIC SANA Algarve Hotel is a 229-room luxury resort characterized by ultra-modern interiors and upscale facilities. Its lush, immaculate grounds offer direct access to a beautiful stretch of sandy beach on the Algarve coast. The 229 chic rooms feature high-end amenities such as Nespresso machines, and many have views of the Atlantic from their terraces. Sleek bathrooms have both showers and standalone soaking tubs. With great dining, decent family-friendly facilities, and a super-luxe spa, the hotel stands out as one of the best in the region. In the area, only the intimate and significantly pricier Vila Joya is more luxurious; Salgados Dunas Suites and Vidamar Resort Algarve are slightly less expensive and less luxurious.
10
The Pestana Alvor Park Hotel is an upper-middle-range hotel in a quiet neighborhood near central Alvor. The 55 modern apartment-style rooms have kitchenettes and dining rooms, and appeal to families and couples who like room to spread out. The hotel has its own indoor and outdoor pools, along with a Turkish bath, and guests can use the facilities at the Pestana's sister hotel Pestana Dom Joao II. There are a restaurant and snack bar on-site, but guests seeking direct beach access and more modern rooms should consider Pestana Alvor Praia or the Pestana Dom Joao II, though both are more expensive.
11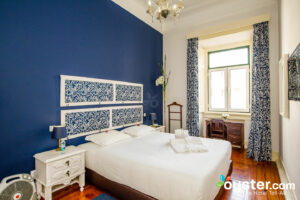 The Typical Lisbon Guest House is a small bed-and-breakfast in a 1930s building near Campo Pequeno, about 20 minutes outside of the historic center. This lower-middle-range property has 11 well-maintained rooms decorated with charming vintage decor and equipped with flat-screen TVs and free Wi-Fi. However, all guests must share bathrooms. Period details highlight the building's history: wrought-iron balconies, hand-carved wooden doors, and stained wooden floors. Breakfast is free and well-received, and guests can dine on a terrace offering views of the nearby residential neighborhood. A shared kitchen is provided, and restaurants and public transportation are within short walking distance. Travelers could also consider the Whatever Art Bed & Breakfast, an artsy guest house close to Campo Pequeno bullring.
12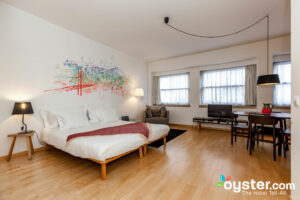 Made up of 19 spacious apartments, the upper-middle-range Lisbonaire Apartments offers a chic, cozy place to stay in the trendy and picturesque city center near Avenida da Liberdade. Though there are no on-site dining options, the stylish apartments have full kitchens, living rooms, dining areas, and modern bedrooms, as well as washers (but no dryers). They also offer children's amenities like high chairs or baby bath tubs upon request. The property has lovely common spaces, including a rooftop terrace and a common room stocked with games, a flat-screen TV, and an honesty bar -- but the fitness room is small and offers limited equipment. Alternatively, travelers can check rates at Lisbon Short Stay Apartments Baixa, which offers a breakfast buffet (for a fee) and a trendy tapas bar -- but rooms may get noise.
13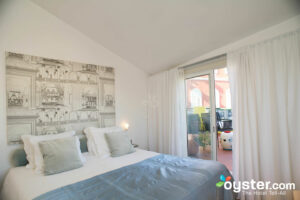 ZUZABED & Breakfast B&B offers a homey experience within a five-minute walk from Rossio Square. The budget property's 12 rooms are smallish, but lovely, with modern bathrooms and free Wi-Fi. Two of the rooms share a pretty terrace with views of St. George's Castle. There's a free tasty breakfast included, and free muesli bars provided in rooms. However, guests with limited mobility should note that there are no elevators and plenty of stairs. ZUZABED also has beautiful full apartments and villas available in Bairro Alto, Chiado, Principe Real, and Algarve with fully equipped kitchens.
14
The 90-room luxury H2otel in Unhais da Serra Portugal is a a stunning mountainside resort that offers majestic views, a restaurant focused on local foods, a massive spa complex, and a wide array of activities for nature enthusiasts. Made of glass, granite, and wood, the architecturally distinctive property, part of the H2otel chain, has a modern atmosphere that blends into its natural surroundings. Tastefully decorated rooms have flat-screen LCD TVs, aromatherapy toiletries, and beautiful views. The only real downside is the remote location, but then that's also part of the appeal.
15
The 124-room Grande Real Villa Italia Hotel & Spa is a luxury chain property offering gorgeous views of the Atlantic Ocean. The hotel is breathtaking, with marble flooring in a spacious lobby, outdoor saltwater pools, and a large indoor spa. Room decor is fresh and lovely with tasteful photos, creative lighting, and pretty linens. Grande Real is perfect for a romantic holiday but also has a children's playroom, with babysitting services available for a fee. Visitors may also consider the similar Hotel Cascais Miragem, another luxury hotel nearby that generally comes at a lower price.