The world is not in short supply of beautiful beaches. The factors that make a great beach, though, are highly subjective. For our very own list, we took into consideration aspects like safety, accessibility, and unique surroundings. Each sandy stretch has stunning scenery, but beyond that, the locations are richly varied. Without further ado, read on for the best beaches that should be on every traveler's bucket list.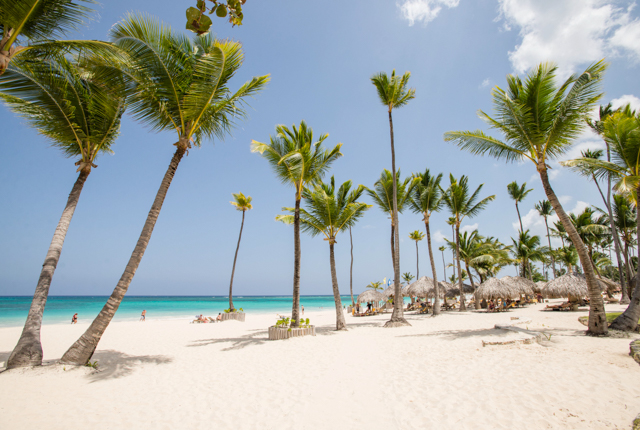 Ask anyone who has been to Punta Cana and they will tell you that the beaches here are among the most picturesque that they've ever seen. Here, tall coconut palms dot much of the shore, and the soft, white sand leads to the clear turquoise ocean. But 50 years ago, Punta Cana was a far cry from being one of the Caribbean's most popular resort destinations, as it is today. It all started in 1969, when a savvy group of American investors saw potential in the gorgeous coastline. These days, almost everyone who visits stays in one of the all-inclusive resorts along what has become the main tourist point: Bavaro Beach. This miles-long stretch is mostly populated with those who are staying in the resorts, but there is also a public access point with parking for others. The area is popular for water sports like windsurfing, kayaking, sailing, and snorkeling (activities are often included in the all-inclusive package). Swimmers shouldn't expect to go too far from shore, as the waves can get rough and the beach is certainly crowded. But one thing's for sure: You can't beat the views, people-watching, or the long beach strolls.
Where to Stay:
Four miles east of Sydney's central business district, Bondi — an aboriginal word for water breaking over rocks — is Australia's most famous beach. Many would agree that no trip Down Under would be complete without a visit here. That said, folks should be cautious with the consistent and sometimes rough-and-tumble waves (great for surfing). The beach is patrolled between sets of red-and-yellow flags, positioned to avoid the worst rips. In other words, make sure to swim between the flags. The area has a lively and distinctly Australian vibe, with great people-watching and even topless sunbathing (particularly near the southern end of the beach). For those who prefer a bit more peace and quiet, bring a towel and embark on the Bondi to Coogee Coastal Walk, which offers spectacular ocean views and secluded beaches between cliffs. It's easy to make a day of Bondi. Buses head to the beach at 10-minute intervals from Bondi Junction, or go direct from the city at Circular Quay (about 45 minutes). There are public restrooms, showers, and lockers available once you arrive. Grab some lunch at one of the cafes lining Campbell Parade. Then, sip stubbies with the locals after sun down.
Where to Stay:
The seemingly endless stretch of turquoise ocean along Cabbage Beach is located on the Bahamas' aptly named Paradise Island. Guests arrive from the airport either by a private car hire, rental car, or taxi, and many stay at one of the resorts, especially the Atlantis. This pinch-me-now turquoise beach experiences the thickest crowds at the Atlantis's Coral Towers from cruise ship day-trippers, along with a high concentration of vendors and jet skis who make their way around these parts.
For more peace and quiet, continue on foot east towards One&Only Ocean Club. This sophisticated resort became One&Only Ocean Club in 2002, but its history goes further back. Huntington Hartford II (the late A&P heir, and the man responsible for changing the island's name from Hog Island to Paradise Island) bought the property in 1962 to create a 52-room hotel and golf course. The swanky property attracted members of royalty, and notable names like Zsa Zsa Gabor and William Randolph Hearst. Mr. Huntington is also the man behind the extraordinary Versailles-inspired garden with tropical flowers and classical statues. He imported marble statues from Europe, including a 12th-century cloister, which had to be taken apart and shipped from France. The beach and the garden are both free to enter.
Where to Stay:
This beautiful two-and-a-half-mile beach in the heart of a densely populated neighborhood of Rio de Janeiro has stunning views of Sugarloaf Mountain to one side, and Copacabana Fort, which dates back to 1914, on the other. The people who flock to this vibrant spot every day are active and fun loving. When not swimming, participating in a range of sport activities, or sunbathing, beachgoers like to build impressive sand sculptures. Grab some agua de coco (coconut water) from one of the vendors to stay hydrated, or stop in one of several beach bars for a cold cup of chopp (draft beer). The beach is marked by postos, or lifeguard stands, that offer changing rooms and restrooms for a small fee. A short walk will take you to one of the best shopping centers in Rio, as well as many restaurants and nightclubs. Since the beach is often crowded, some travelers just recommend taking a sunset stroll along the water, though keep your eyes peeled for shady types when walking around after dark.
Where to Stay:
Travelers to Phuket and Krabi will have plenty of coastline to experience, but for a day trip to one of the world's most jaw-dropping beach settings, take one of the many organized tours, usually by longtail boat, to Maya Bay on the uninhabited Koh Phi Phi Leh. This gorgeous spot is sheltered by steep cliffs on three sides and boasts soft white sand, exceptionally clear water, and an array of exotic fish. In fact, the whole bay is one big coral reef.
Maya Bay has become the main tourist attraction of the island since "The Beach," starring Leonardo DiCaprio, was filmed here in 1999. The best time to visit is between November and April when the seas are calm and access to the bay is easy. However, as it's so beautiful and well known, expect company. Though the movie depicts an undiscovered island paradise, this is certainly not the case in real life. Try to visit early in the morning or late afternoon to avoid the crowds. Since there are no overnight accommodations, most spend an hour swimming, snorkeling, kayaking, or walking through the island's sandy paths before rejoining the tour group.
Where to Stay: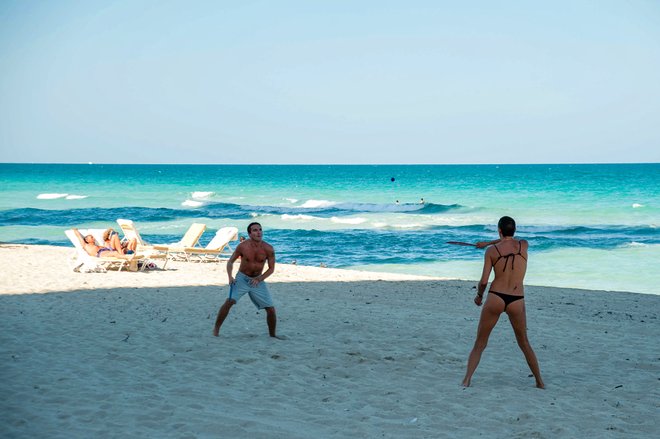 With nine miles of white sand against a bright turquoise backdrop, Miami Beach lives up to the hype. This year-round beach is entirely free for everyone to claim a spot in the sand and swim in the warm waves. Other activities that folks can partake in include volleyball, surfing, and water sports. Different sections of the beach cater to different styles. Trendy types can take part in the glitzy restaurants, bars, and dance clubs in South Beach. Sophisticated types looking for an upscale vacation can hit the spas, designer shops, or observe the Art Deco Historic District, which has more than 800 architecturally protected buildings. Up north are more laid-back residential communities, including Latin hubs for authentic Cuban food. Travel even further north to Bal Harbour and you'll find beautiful walking and biking opportunities along sandy paths separated from the ocean by lush tropical greenery. No matter where you head along the beach, several entry points on the way allow you to take a dip and escape Miami's heat. In other words, always bring a towel when exploring.
Where to Stay:
La Concha, one of Europe's most popular beaches, is located in San Sebastian, a charming town that's also known for its delicious food. During the day, take part in sunbathing, swimming, and paddling in the beautiful Bay of Biscay, which is dotted with anchored boats, or make the walk from one end of the bay to the other while photographing the gorgeous surroundings and mountainous Basque Country. The beach's natural shell-shaped landscape and golden sand make it unique. And the Spaniards' tendency to eat a late dinner also makes this one of the lengthiest beach scenes around. Many tend to stay on the sand well into the evening before heading to one of the pintxo bars (the Basque version of tapas). Plus, two of the World's 50 Best Restaurants are located here as well. It's hard not to fall madly in love.
Where to Stay:
Facing directly west, Grand Cayman's Seven Mile Beach is a bit of a misnomer, as it's actually five-and-a-half miles. That being said, this is one of the longest and nicest stretches of Caribbean coast and that's saying a lot. This crescent-shaped beach has gorgeous white sand, while the water is crystal clear and turquoise blue. The waves are calm for swimming and there's a range of water sports, including diving and snorkeling, especially near Cemetery Bay. The area around the beach is busy and touristy, with visitors from all over the world, and there are plenty of amenities and restaurants within walking distance. The beach, which is entirely public, can be walked from beginning to end (highly recommended at sunset). Make sure to check out Calico Jack's, an iconic beach bar on the north end, and look for the bartender named Marty, who is famous for pouring a stiff rum drink.
Where to Stay:
People from all over the world come to Oahu's North Shore to enjoy the laid-back pace and beautiful beaches. One of the most beautiful stretches of sand is Sunset Beach — long and wide, with the smooth, slightly coarse sand that the area is known for. Those who come here are looking for peaceful, naturally beautiful surroundings, which feel far from Waikiki's crowds and shopping malls. In lieu of upscale boutiques, the North Shore has roadside fruit stands; instead of chain restaurants, there are fish taco trucks.
Others visit during the wintertime to watch big-wave surfers in action. Sunset Beach is one of three surf breaks where the famed Triple Crown of Surfing contest occurs, so bring a camera and binoculars. In the summertime, the waves are less ferocious and give way to some amazing snorkeling. All year round, there are beautiful sunsets, which give the beach its name. The colorful old surf town of Haleiwa is five to 10 minutes away, with restaurants, art galleries, stores, surf shops, and the island's most famous place for shaved ice, Matsumoto Shave Ice. And unlike Honolulu, there's little nightlife, which is exactly how most prefer it.
Where to Stay:
Angelenos have no shortage of awesome beaches along its gorgeous Pacific coastline, nor a shortage of perfect beach days with consistent sunny weather. When you're ready to escape the tourists of Venice Beach and Santa Monica, drive to Malibu for some respite. Zuma is the ultimate Southern California beach with wide open sand that extends for miles. A popular local spot on weekends and holidays, this Malibu beach can hold crowds. The waves lure surfers, swimmers, boogie boarders, and windsurfers (just be careful of the riptides). Zuma is also a great place to watch gray whales make their winter migration. The water here tends to be a little colder than at other Los Angeles beaches, but with its ample amenities, it continues to be a perennial favorite. Food stands are located at each end of the beach and other amenities include restrooms, showers, volleyball nets, and eight parking lots. Also, make sure to check out the new Trancas Country Market, a rustic-chic shopping and dining destination on the northern end of the beach.
Where to Stay:
NOW WATCH: 8 Best Beaches in the U.S.
https://www.youtube.com/watch?v=RVj_l_iX0v0
You'll Also Like:
All products are independently selected by our writers and editors. If you buy something through our links, Oyster may earn an affiliate commission.