Hotel gyms can seem like such a treat -- Newfangled equipment! Fruit-infused water! Fresh towels! -- until you find yourself hitting the elevator's LL button and your heart sinks with each passing floor. Those dank, windowless gyms in basements or converted storage closets facing a parking lot don't provide a lot of motivation to hit the treadmill. Thankfully, some hotels prioritize their gyms and the fitness buffs that love them by literally elevating their fitness rooms and giving them to-die-for views. Best of all, you can feel like you're sightseeing, while working up a sweat. Here are our 10 favorite gyms that will give you a good reason to lace up your kicks and get moving.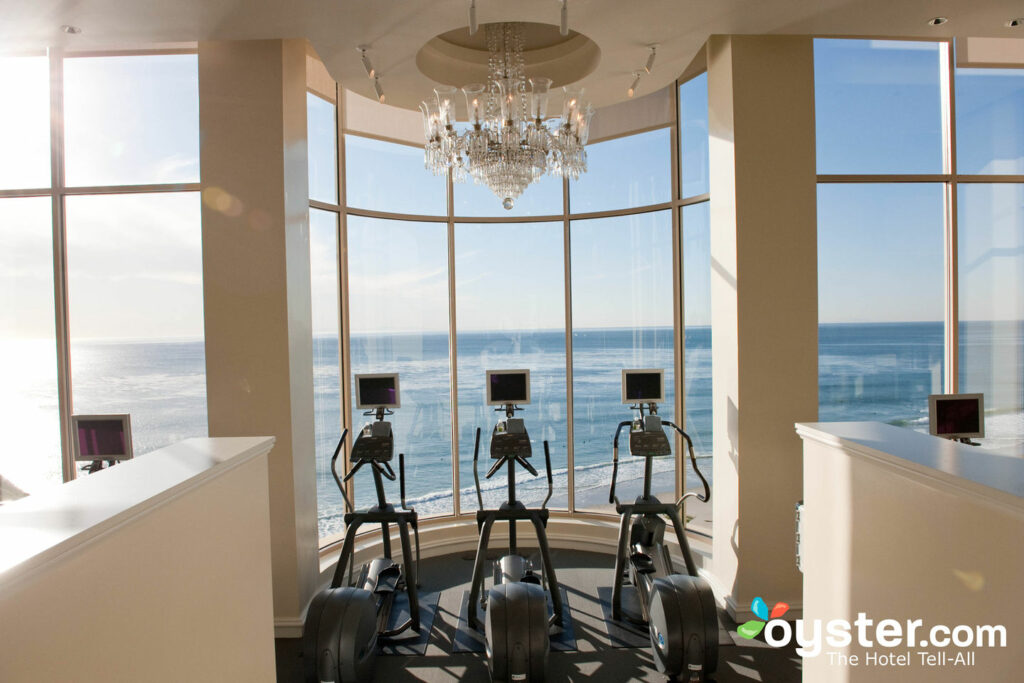 Orange County (aka the O.C.) isn't shy about adding a little bling, and this Ritz-Carlton gym follows suit. Orchids the color of Concord grapes greet guests at the entrance, and mirrors trimmed in etched glass decorate the locker room. The cardio machines are topped with a crystal chandelier. Despite all this glitz, it's the seaside views that really amp up the atmosphere. The windows frame a broad sandy beach edged with rocky coastline and even a few palm trees.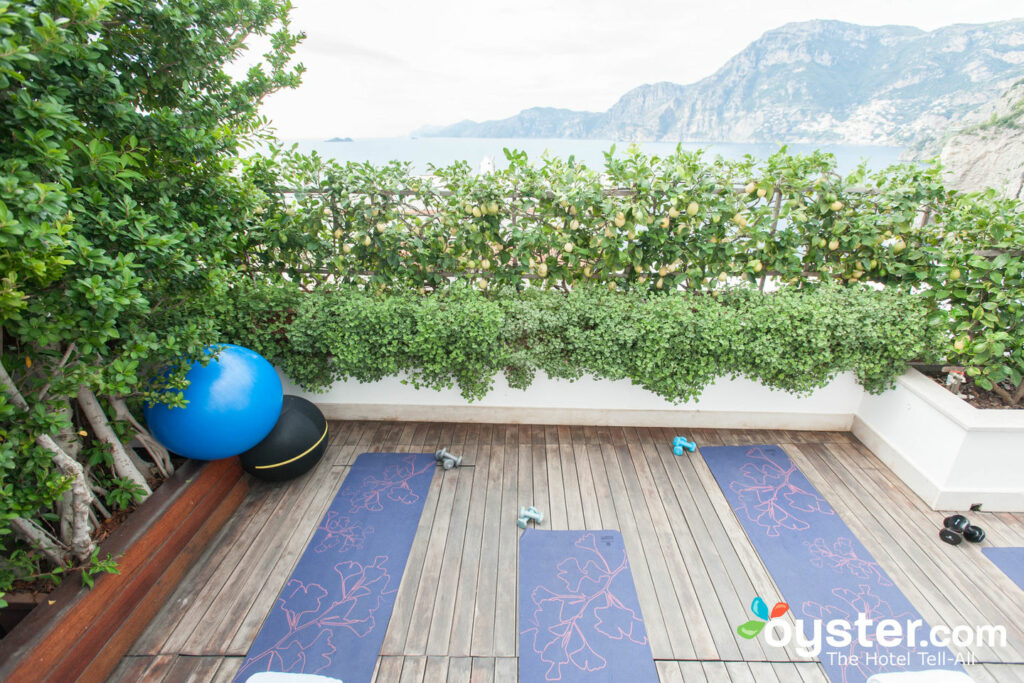 A tumbling stretch of coastline set with sun-bleached buildings overlooking the sea, the Amalfi Coast is a true contender for Italy's most beautiful spot. And Casa Angelina occupies a prime spot, on a cliff with views of Capri and Positano. The fitness center, with white walls and polished hardwood floors, showcases these views to full effect. But it's the little alfresco yoga terrace, trimmed with greenery and gazing at the seaside cliffs, that's pure fantasy fitspiration.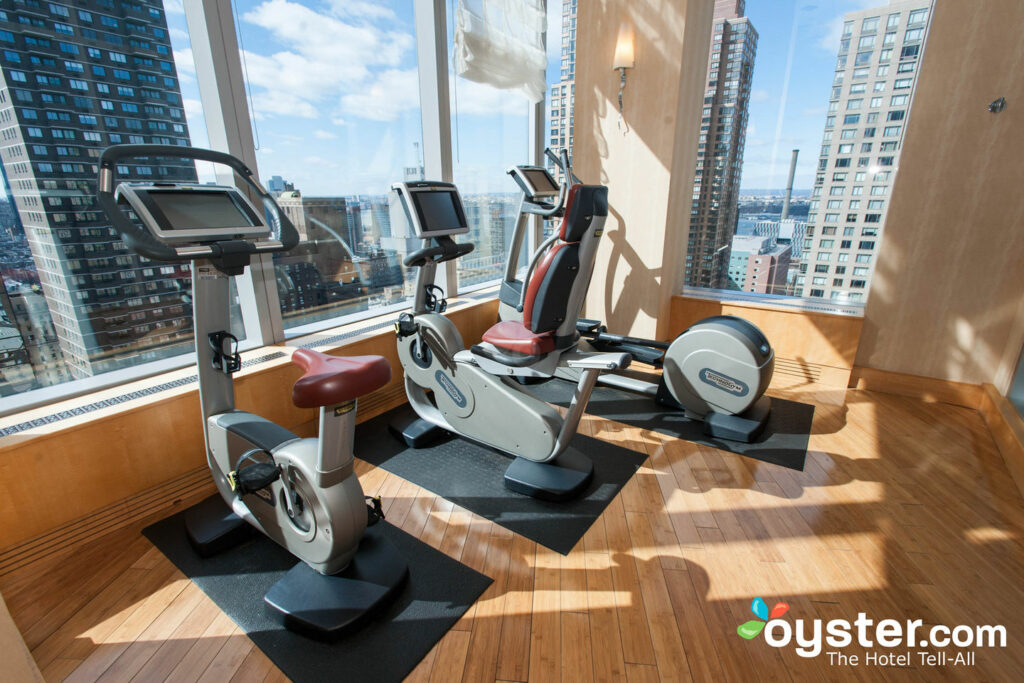 Parked on the edge of Midtown and the Upper West Side, the Mandarin Oriental sits in an area thick with skyscrapers. But the hotel's gym, at the tippy-top of the 36th floor, gives enough height to see a cross-section of the city with glimpses of Central Park and even the Hudson River in the distance. Cardio machines are pressed right up against the windows, giving exercisers a prime spot to drink in Manhattan's splendor. And swimmers will appreciate that they can do laps while taking in equally stunning views.
Angelenos have a reputation for making fitness a priority, and the Terranea Resort's gym lives up to those high standards. A variety of cardio machines in tidy rows sit under Art Deco-style pendant lights. A yoga studio with enormous French doors lets in coastal views and breezes. But it's the cluster of spin bikes out on the terrace, facing the deep aqua waves of the Pacific rolling in from the horizon, that really embody the idea of an L.A. fitness retreat.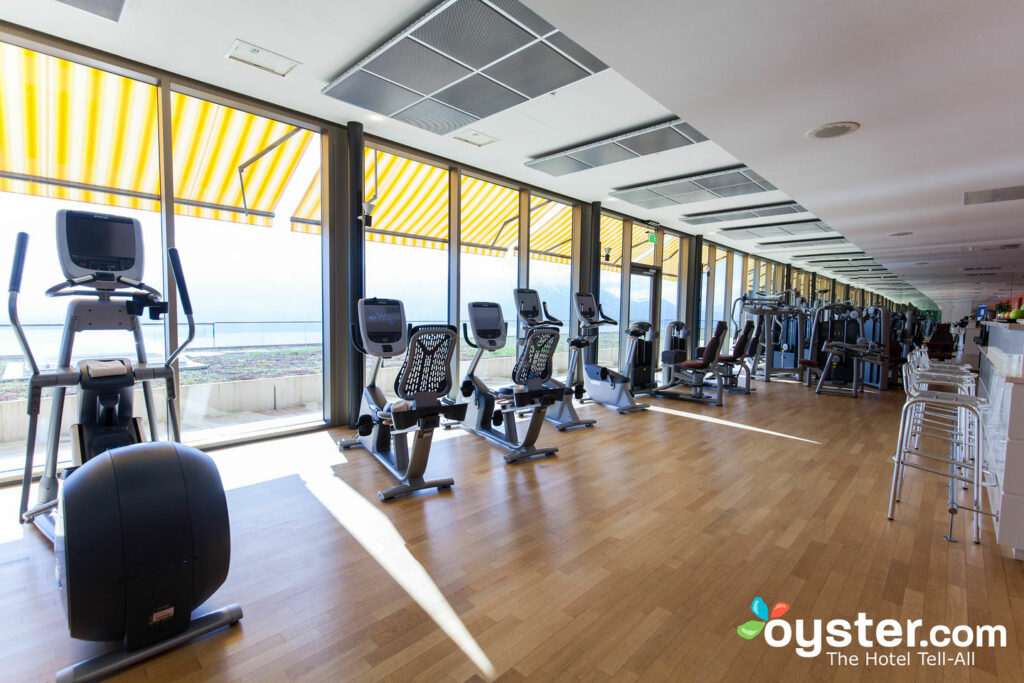 Switzerland has been drawing travelers for generations thanks to its incredible landscape skirting the Alps, and this traditional resort and spa has been making the most of its location for a solid century. While its stained-glass windows and wrought-iron staircase are from a bygone era, the spa and fitness facilities are appropriately modern. The cardio machines all have monitors, but it's fair to assume you won't even glance at them, as the view just beyond each screen looks out over Lake Geneva toward the French shores beyond.
The Park Hyatt is old money to the max, with a marble-clad lobby, wood-paneled walls, and modern art casually adorning the public spaces. It's a look that continues to the fitness center, with variegated wood shelves carrying newspapers along with neatly folded towels. Floor-to-ceiling windows here show off Midtown's towering high-rises, which are visible from every elliptical and treadmill. The very best views can be found by the pool, where three-story arched windows display the city just beyond. A cascade of cube-shaped lights crowns the whole scene.
London may lack the same chart-busting skyscrapers of other cities, but its skyline still commands attention. It's that mix of Victorian row houses and sleek glass-and-chrome buildings that's on full display in this Jumeirah property. Arched windows here look more like a conservatory than a Planet Fitness, and they're bordered by ellipticals, balance balls, and a plethora of modern equipment. The indoor pool, also encased in glass, gives another spot to look over London while doing laps.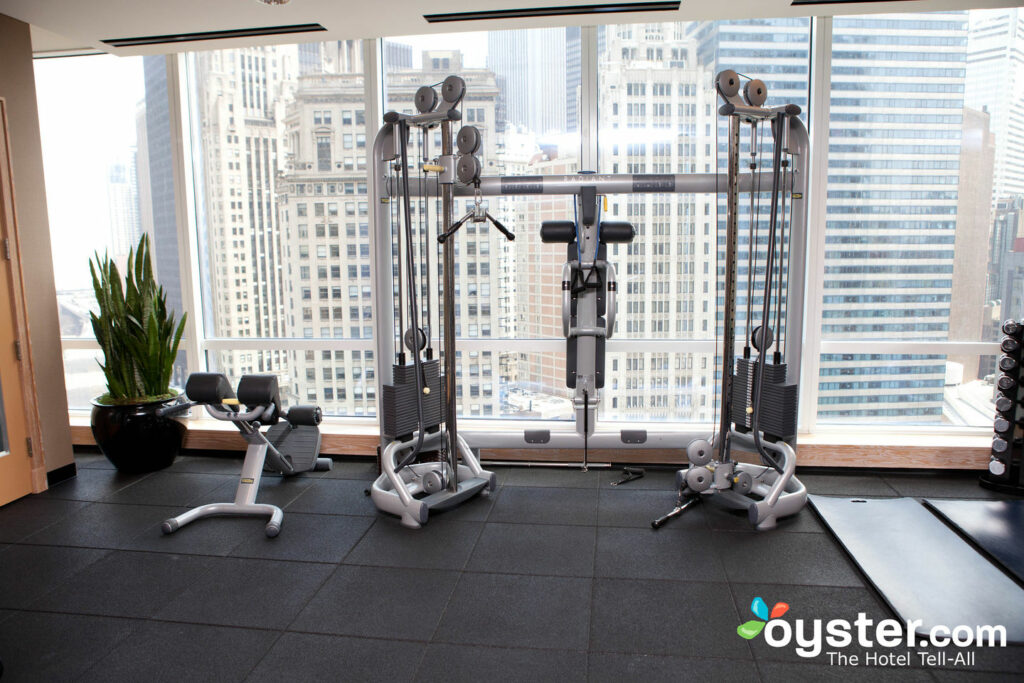 The three most important mandates of real estate — location, location, location — are well covered at this Trump outpost, with a spot right on the Chicago River blocks away from the Magnificent Mile. All this translates to incredible views from rooms, the hotel's restaurant, and yes, its fitness room. Floor-to-ceiling windows circle around the free weights, cardio machines, and weight-lifting equipment, essentially giving a panorama of the city as you move from one workout to the next.
New York isn't the only city boasting a Park Hyatt gym with views. The Seoul outpost in the city's financial district could easily rival the Big Apple's with its gleaming wood floors, banks of windows, and Technogym equipment, all surrounded by wraparound views of the area's skyscrapers. Those that prefer working out at night will be treated to buildings outlined in twinkling lights. The ultimate spot to soak it all in is the hotel's top-floor infinity pool, with water that laps right up to the windows.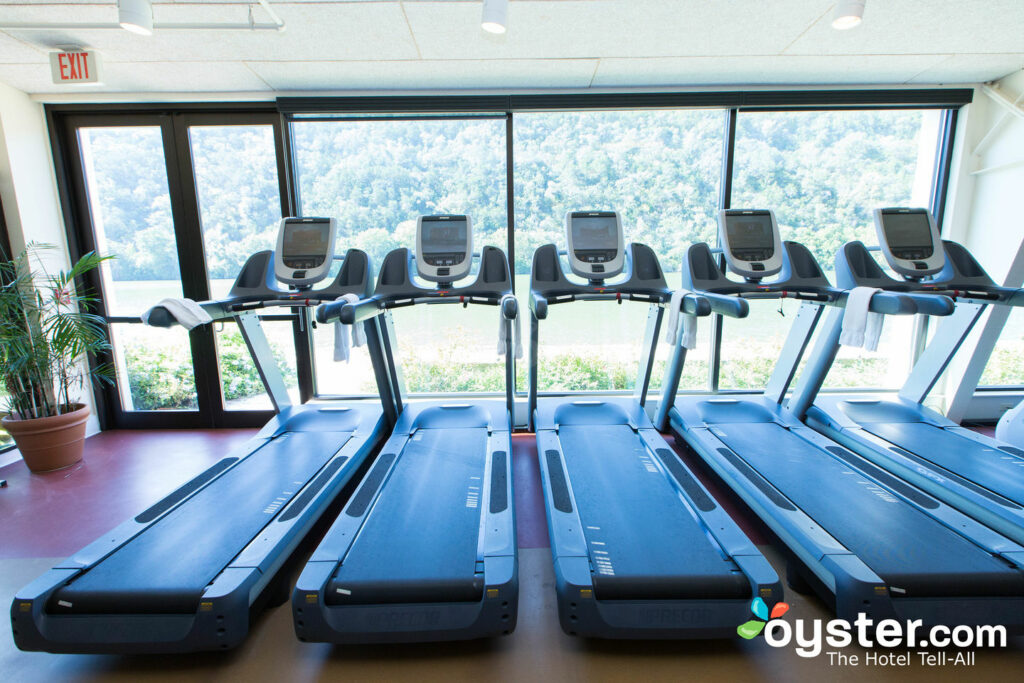 Some views, such as plunging vistas from vertigo-inducing skyscrapers, get your blood pumping, while others bring your blood pressure down with their serenity. This resort property belongs in the latter camp. Set on a U bend of its namesake lake, this property is surrounded by lush vegetation and admirable waterfront views. The well-equipped gym makes the most of these, as treadmills are right by a wall of windows looking over the water. Runners here can spot canoes and paddle boards making their way idly down the river in the Texas sunshine.
You'll Also Like:
All products are independently selected by our writers and editors. If you buy something through our links, Oyster may earn an affiliate commission.