Best Beach Hotels in New York
Take a look at the best beach hotels in New York.
See All New York Hotels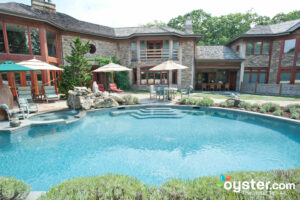 This elegant B&B in East Hampton is exactly what its name suggests: a house full of art. It was designed and decorated by the owners, Michael and Rosalind, who combine mutual talents in art and hospitality. There are only four rooms for rent, but there are all the amenities of a larger property, including endless communal spaces, an outdoor pool, and fitness center. Although big in scope, the Art House retains all of the personalized charm of staying with friends, making it a distinctive option in the Hamptons -- though it comes at a high price.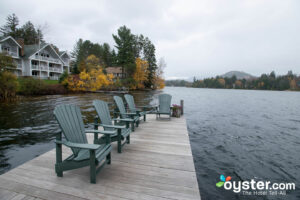 The historic, family-owned Mirror Lake Inn, with beautiful views of its namesake, has been around for nearly 90 years. This charming property is bigger than meets the eye, and the 131 carpeted, cozy rooms have lodge-y decor in varying degrees of elegance, and are located in several distinct sections of the resort. Suites might come with gas fireplaces, jetted tubs, and/or private balconies. There are three dining options, including The View (with an impressive wine list) and The cottage (with an apres-ski atmosphere). Guests can walk to downtown Lake Placid for more choice. Meanwhile, the indoor and outdoor pools, tennis courts, fitness center, and seasonal skating rink provide opportunities to work off the trademark cookies in the lobby — just watch the bill for those pesky extra fees. Phone calls are not allowed in common areas, which enhances the relaxed vibe.
The main highlight of this budget property is its beachfront location that's within a five-minute walk of restaurants and the Hampton Jitney stop. It's a simple and modest (but clean) property, and it doesn't offer many features beyond a gorgeous outdoor pool with an attractive sundeck and sweeping views of the beach. All 26 rooms have kitchenettes with microwaves, two-burner stoves (except Silver Studios) and fridges, plus free Wi-Fi. Many rooms also have beach views, some with private balconies/patios. Note that upper-floor rooms cost extra and breakfast is not served. Kenny's Tipperary Inn is a comparable alternative that offers similar amenities and rooms, all with balconies/patios, but it's not beachfront.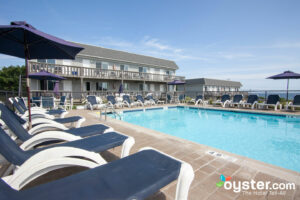 The family-friendly Hartman's Briney Breezes Motel is a small, welcoming property with a great location by the water and a few minutes from the Montauk town center. Owned by a local couple who live on the property, the hotel is casual and comfortable, offering thoughtful amenities including free Wi-Fi, free parking, barbecue grills, a heated outdoor pool, and green space, as well as reserved tee times for guests at the local golf course. Rooms are simple but clean and spacious and have pull-out sofa beds and kitchenettes, but balconies are shared which can limit privacy. Most rooms have a view of the ocean, but there is a main road that runs between the property and the beach.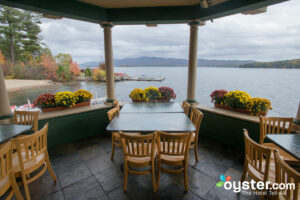 Not for the budget-minded, this hilly 11-acre lakefront lodge will feel like a vacation home-away-from-home. All of the 50 or so two-bedroom units (which fit up to six guests each) are well-decorated with lodge decor; quality is consistent despite the fact that many are owned individually and managed by the company. Expect lots of wood and plaid, as well as fully equipped kitchens with stainless steel refrigerators. Other notable features include covered porches, jetted tubs, charcoal barbecues, and laundry facilities (stores nearby sell toiletries and groceries). The Boathouse restaurant and bar provides a break from eat-in monotony, and like the property, it closes each year from November to April. Kids can keep busy at the private beach and indoor/outdoor pool, and couples will enjoy peace and quiet in the off season. Daily housekeeping comes with a fee. Wi-Fi is free.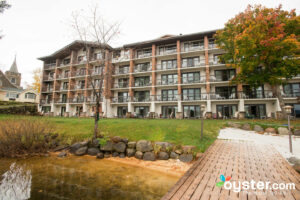 Location is key at this reasonably priced, 165-room property, which has been family-run since 1974. While other hotels in downtown Lake Placid sit across the street, eco-friendly Golden Arrow has direct water views from the lobby and many of its rooms. Renovations are ongoing, but all rooms have Keurig coffeemakers, mini-fridges, and microwaves; some are equipped with fireplaces, whirlpool tubs, and/or kitchens. Generations restaurant serves all three meals and has an attached bar serving local beer and infused vodkas. (There's a charming retail area attached to the hotel for take-away espresso and wine.) Pets are welcome with a set of rules, and water sports, parking, and Wi-Fi are free of charge.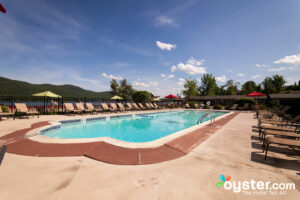 Scotty's Lakeside Resort is a seasonal mid-range property situated on Lake George, just north of the Village of Lake George and within a 10- to 15-minute walk of the town center. The 106 simple, homey rooms are small, but many have lake views, plus all offer amenities like flat-screen TVs, mini-fridges, microwaves, coffeemakers, and shared furnished porches. A nice beach area offers loungers, a beach volleyball court, and water sport rentals, plus there's an outdoor pool. The Beach Cafe and Bar sells casual fare for breakfast, lunch, and dinner. Note that a weak Wi-Fi signal is a common complaint among guests here. For an alternative, check out the Comfort Suites Lake George, which offers more features like a fitness center, waterslide, and free breakfast -- but it's not on the water.
The seasonal Blue Lagoon Resort has been running like clockwork since 1984. Owners Tom and Michele Wessling and staff keep the charmingly rustic property well-maintained, and faithful guests are happy to return. The small property has just 24 units in a range of sizes: Motel rooms with mini-fridges, microwaves, coffeemakers; Motel Efficiency rooms with kitchenettes; and freestanding two-bedroom Cottages with fully equipped kitchens (there's also one three-bedroom house). An office for basic necessities leads to a grassy lawn for barbecues and picnics. Best of all, though, is a private beach with Adirondack chairs, kayaks, and rowboats (those with motorized boats can pay a fee to use the launch and slips). Guests are just a quick drive to the village of Lake George for excursions and groceries. Nightly campfires are a highlight. Parking and Wi-Fi are free, but check-out is early.
This comfortable resort in Lake Placid stands out from other hotels bearing the same Crowne Plaza name. The hilltop setting takes advantage of beautiful lake and mountain views, and it also owns and operates the Lake Placid Club, which includes 45-holes of golf, a private beach on Mirror Lake, tennis courts and cross country ski rentals. There are 249 rooms, suites and chalets to choose from, as well as four restaurants and an English-style bar. Accommodations are clean and cozy, especially in the Adirondack wing where most are equipped with large balconies and gas fireplaces.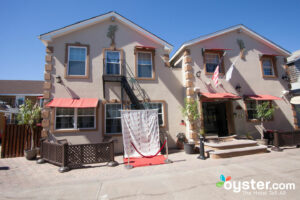 This lovely, 27-room boutique hotel is located just minutes from the ferry landing in the Ocean Beach section of the island, and is best described as a collection of lodgings versus a hotel, since there are rooms in the main hotel as well as separate cottages, bungalows, suites, and efficiencies. In other words, your stay will largely be predicated on the type of room you book. No matter what size space you end up in, however, you can rest assured that it will be clean and comfortable (though perhaps somewhat small) with comfy bedding as well as modern amenities. Some rooms have full kitchens and patios as well. There's also an interior courtyard with loungers and barbecue grills, and a private "beach" near the bay. The affiliated CJ's restaurant serves up a varied menu and strong cocktails. Bicycles and wagons -- the latter used to cart luggage from the ferry or umbrellas and towels to the beach -- are free for guest use.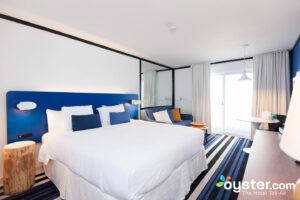 Renovated in 2014, the Montauk Blue Hotel is a modest budget property with clean, modern rooms and a great location right on the beach. Although the hotel has few on-site amenities, it's close to a number of shops and some rooms lead right out onto the sand. In addition to free parking and free Wi-Fi, the property also offers a clean and spacious indoor pool and whirlpool, as well as a large oceanfront deck for sunbathing. There is no on-site restaurant or gift shop, but vending machines are available and there are a number of restaurants nearby.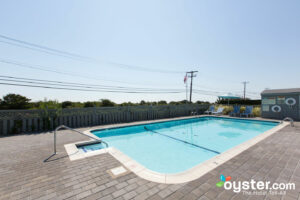 There are 29 individually-decorated rooms at this three-pearl, condo-style Montauk property. It's a popular choice for a peaceful vacation, as the resort's quiet setting is a 15-minute walk from downtown Montauk. There's also a beautiful beach just across the street. All rooms have air-conditioning, a full kitchen, living area, and balcony or patio, some of which have fabulous ocean views. The hotel has a heated pool, barbecue and picnic area, and free yoga and fitness classes during the summer. Wi-Fi is also free throughout the resort. It's worth comparing with the Montauk Yacht Club Resort & Marina, which has more facilities, including a restaurant.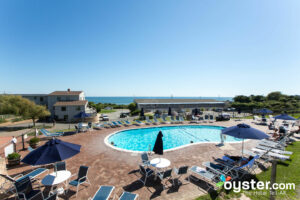 There are 88 individually decorated rooms at this three-pearl Montauk property. Many guests come back time and time again for a peaceful vacation, as the resort is in a quiet area that's a 15-minute walk from downtown Montauk, with a beautiful beach just across the street. All rooms have air-conditioning, a full kitchen, living area, and balcony offering the sights and sounds of the ocean -- several multi-room apartments are also available. The hotel has a heated pool, tennis court, sauna, and free Wi-Fi (although the signal can be spotty), but there is not on-site dining. Those wanting a hotel with a restaurant should check out the Montauk Yacht Club Resort & Marina.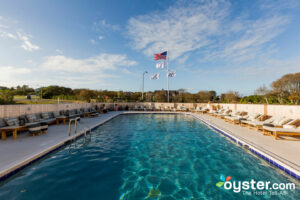 The two-pearl Hero Beach Club is ideal for couples and families who wish to be near the beach and walking distance to town. Rooms have a range of colorful styles, but all come with flat-screen TVs, mini-fridges, coffeemakers, and balconies or porches. Some rooms have kitchenettes, while Efficiency units have full-size kitchens, minus a microwave. However, there have been some complaints of noise in rooms. On-site features include a pool, a large lawn with picnic tables, on-site parking, and free Wi-Fi, but there's no on-site dining. Travelers may wish to compare rates at the similar Montauk Blue Hotel.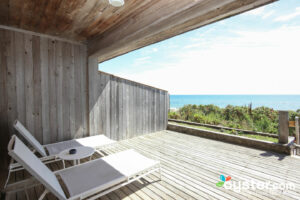 The 109-room, upscale Gurney's Montauk stands out among Hamptons hotels, quite literally: It's one of the largest resorts in the area, and it also has the best beachfront location. No other Montauk resort compares in terms of features, and no Hamptons resort can match its truly terrific, and massive, stretch of sand. The free spa facilities (including an indoor pool and Roman bath) are also a highlight. Ongoing renovations have made (most of) the rooms contemporary and attractive, and many have stunning ocean views from private verandas. The elegant fine-dining restaurant also has views of the water. Just note that there have been some minor growing pains as this older property -- once a time-share resort popular with local Long Islanders -- transitions to a Hamptons hot spot.